We use affiliate links. If you buy something through the links on this page, we may earn a commission at no cost to you. Learn more.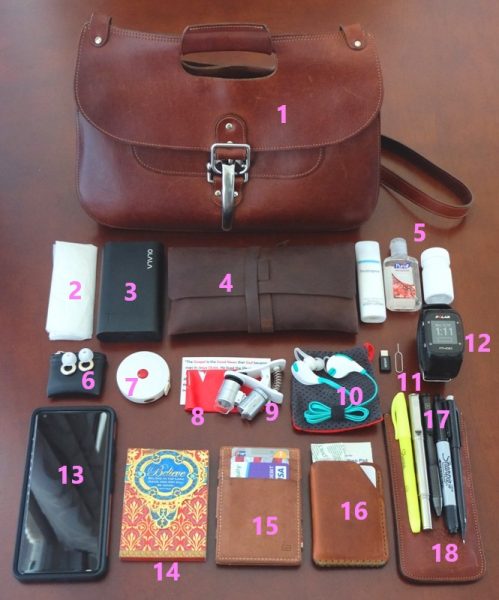 ARTICLE – My EDC hasn't changed much from last year. I no longer carry around my iPod Touch 6G and I have added a couple of things. Here is a list of my current EDC. The links for each item will lead you to the review of that item (if there is one) within which you can then click on the link at the end of the review to purchase the item if you are interested.
I've been using the Colonel Littleton No. 18 Leather Hunt Bag for about 1.5 years and it has held up well. It is very well made using full grain leather, is durable, and holds all that I need it to.  It also saves me from having to go shopping for a new purse every year which I loathe having to do.
2. Small trash bag
Just in case I need one, which happens every now and then.
This portable charger has saved my phone a few times while running around town. It has built-in micro-USB and Lightning cables which frees me from having to carry around additional cables.
This leather pencil pouch (7.75″ L x 4″ W) carries all my makeup as well as tweezers and fingernail clippers. It's not made from the best leather, but I haven't been able to find a full grain leather pencil/makeup case in this particular size.
5. Lotion/hand sanitizer/pill bottle
I periodically need hand lotion especially in the wintertime, hand sanitizer especially during flu season, and a small pharmacy packed inside my pill bottle for various needs.
This is a new item that I carry around with me. I use these to help dampen the sound level of our church service music each week which helps immensely with my hearing issues.
7. 60 inch/150 centimeter retractable tape measure
I use this tape measure all the time. It's so handy that even my husband uses it while we're out and about.
8. Microfiber cloth
I use this to clean the various screens/lenses that I carry with me (my phone's screen and camera lens and my clip-on microscope lens). Underneath the cloth is a wallet-sized card that summarizes the Gospel which lifts my spirits on bad days and reminds me how much I'm loved and that I'm never alone.
This is another new item. I carry this small clip-on microscope around just in case some interesting insects cross my path (I'm an entomologist – I like bugs!). I place the microscope's lens over my phone's camera lens to magnify the object. I can then take photos of the object too. Awesome.
Although the Jaybird X3 earbuds are my primary use headphones while at home, I use the MPOW Swift headphones when I'm away from home just in case I want to pass the time while in line at oh, say, the DMV or something (I might as well learn on YouTube how to build a house while I'm waiting). These headphones are really comfortable, inexpensive and sound great.
Since I upgraded my phone to the Google Pixel 2 XL, I needed an adapter to use with my OLALA portable battery which has the built-in micro-USB cable. I like the adapter and it works well. I also keep a SIM card tool with me just in case I might need a small pointy object.
I've had this watch for years now. It works with my Polar H7 heart rate monitor chest strap and calculates the stats that I'm interested in when I exercise. I also use it to alert me to texts messages and other notifications on my phone. It doesn't have any other smart features, but it provides enough to keep me happy.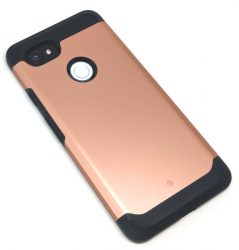 I love my Pixel 2 XL phone. It receives OS updates almost immediately which is of utmost importance to me. In addition, the camera is AWESOME – I use it to photograph all my review items. Furthermore, the screen is large enough to watch videos and the fingerprint sensor works really well.
I use the Caseology Legion case on my Pixel 2 XL phone (shown above) to protect it from drops (it's a military-grade drop tested case). I'd rather not have any case on this beautiful phone, but since I paid $850 for it and I tend to be clumsy, better safe than sorry.
14. Small notepad
You never know when you might need some paper…
This is my primary use wallet. It is a leather wallet which carries all my necessary cards (6 plastic cards and 5 paper cards) and dollar bills. I've used it for almost two years and it looks virtually new. I love it!
This is a "full grain English tan Dublin Horween leather (4.5 oz or 1.8 mm)" wallet. This wallet is an awesome durable minimalist leather wallet. It's gorgeous to look at and incredibly well made. I use it to carry around my restaurant cards, coupons, bandaids, and alcohol wipes.
17. Writing Utensils (in order from left to right in the top photo)
Sharpie highlighter

Sharpie Twin-Tip permanent marker

Pentel Twist-Erase Qe405 0.5mm Automatic Pencil with Jumbo Eraser
I keep things like the Sharpie highlighter and Twin-Tip permanent marker on hand for highlighting reading materials and for mailing packages.
The Big Idea Ti pens are my favorite pens. The Ti Arto pen (the silver pen) accommodates over 200+ refills and is a nice length pen that also has a great weight and feel to it but requires you to unscrew the cap and post it on the end of the pen. The Ti Pocket Pro (the black pen) automatically adjusts to the length of 80+ different refills and twists open when you need a pen in a hurry.
The Pentel Twist-Erase pencil (the black pencil) is my favorite mechanical pencil because of its simple design and the fact that it contains a replaceable twist eraser. My husband and I have used this pencil since our college days and that was in the last century. You might say it's vintage.
As you can see, I love leather. I love this leather pencil case. It is simple and very well made using full grain leather. It keeps all my writing utensils upright in my purse and easily accessible. It is rather tall (6.5″ H x 3" W), but it fits well in my Colonel Littleton No. 18 Leather Hunt Bag.