We use affiliate links. If you buy something through the links on this page, we may earn a commission at no cost to you. Learn more.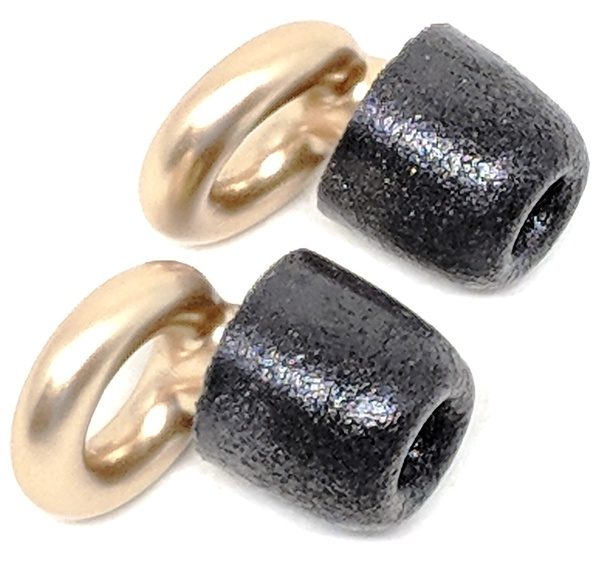 Over the last several years, I've noticed a problem developing in my left ear when exposed to continuous loud sounds (it sounds like there is cotton constantly moving around in my ear). I haven't gone to a doctor about this because it happens infrequently. I've tried using inexpensive protective foam earplugs (those intended for use in loud industrial environments) to help with this problem. However, I despise using them because I can't seem to get a good seal in my ear canal.
When I saw the Loop High Fidelity Earplugs news post on the Gadgeteer, I thought they were attractive and I liked the fact that you can replace the eartips with standard silicone or memory foam eartips. I put in a request to review them and after receiving them and trying them out, I found that I enjoy using them and they help alleviate my problem.
What is it?
The Loop High Fidelity Earplugs are plugs inserted into your ear canals designed to decrease the level of sound when exposed to a loud environment without decreasing the quality of the sound. They come in many colors: Midnight Black, Glorious Gold, Raving Red, Swinging Silver, Flirty Rose Gold, Brilliant Black, Funky Blue, and Electric White.
What's in the box?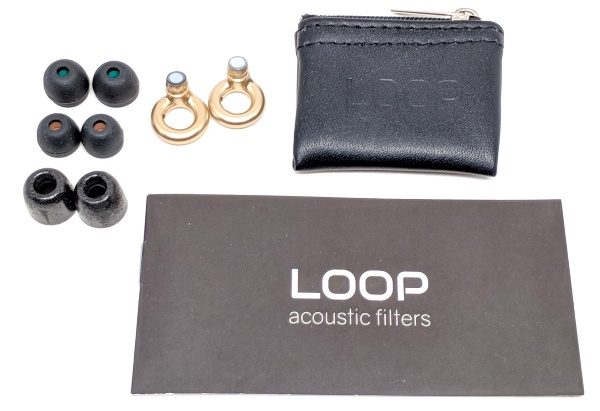 Loop High Fidelity Earplugs
Medium hybrid silicone eartips
Small hybrid silicone eartips
Comply memory foam eartips
Artificial leather pouch
User guide
Design and features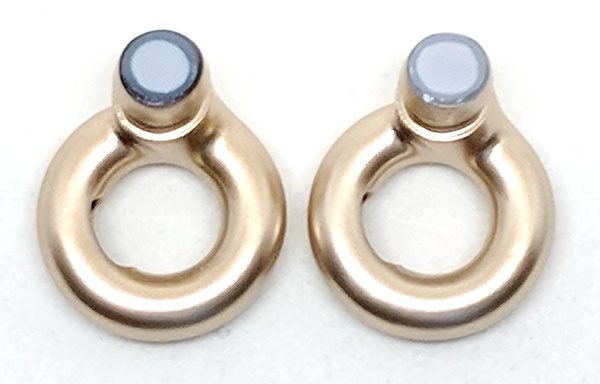 The Loop High Fidelity Earplugs are attractive earplugs made out of a hollow hard plastic material.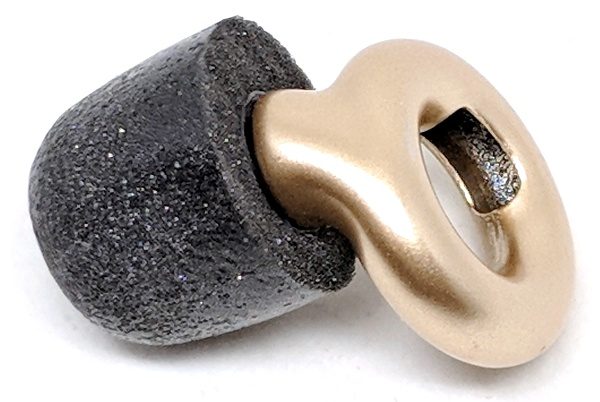 Many of the inexpensive protective foam earplugs create a muffled sound because they block your ear canals which act as resonators. To improve the clarity of speech and music and avoid a muffled sound, Loop earplugs use 3D printing technology to create a round compact acoustic hollow channel that mimics the resonator function of your ear canals.
Sound waves enter Loop via a small opening. They then travel through the hollow channel on the inside of Loop. This acoustic resonator has the same length as your ear canal and has a quarter wavelength resonance at 2700 Hz. … At the end of this sound tube we placed an acoustic filter which lowers all frequencies equally. This filter is installed in a laboratory by Dynamic Ear Company. To make sure there are no leaks, they use a UV light technology." (the Loop website).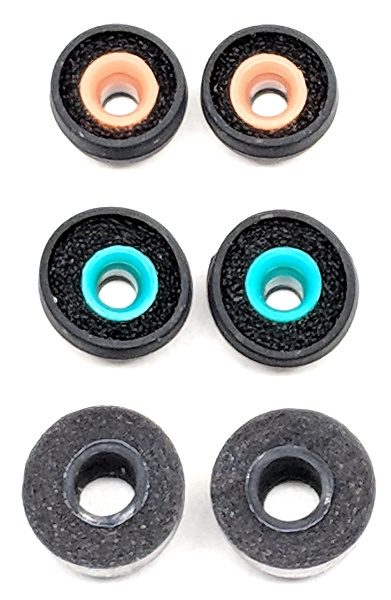 In order for the Loop earplugs to work, you must seal your ear canals. The earplugs come with small and medium-sized hybrid silicone tips as well as a pair of Comply memory foam tips. The top of the photo above shows the hybrid silicone tips which, when viewed from the underside, illustrate how the hollow spaces behind the eartips are filled with foam (they are filled with foam from the inner diameter of the tips to the outer diameter of the tips).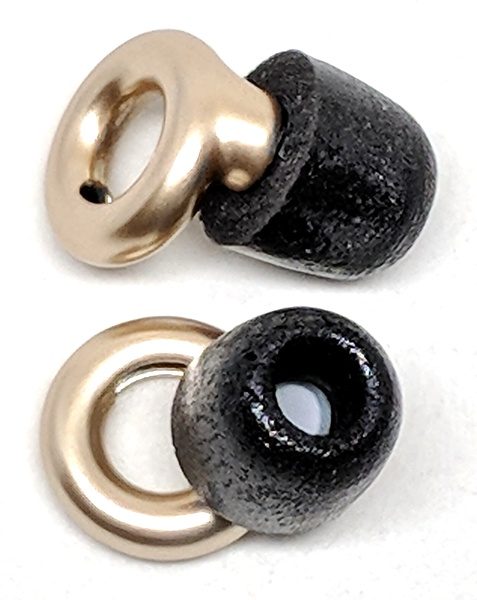 The eartips are easily attached to the Loop earplugs by pushing and twisting the tips onto the stem of the earplugs.
Use
After receiving the Loop earplugs, I tried using the medium sized silicone tips first, but they were too loose for my ear canals. I needed to use the Comply memory foam eartips to obtain an adequate seal; apparently, even though I am a small person, I have very large ear canals.
Inserting the earplugs into my ears was very easy to do once I figured out the correct orientation. The loop portion of the earplugs should not be oriented in an up or down position relative to the eartips but instead should be oriented horizontally. Once they were inserted, they were very comfortable to wear, although I must admit that I only wore them for about 15 minutes at a time.
I use the Loop earplugs each week when attending our church services. The music is quite loud and when I tested the sound level using the Sound Meter Android app by Abc Apps, the music level hovered around 80 dB. The Loop website states that the earplugs reduce the sound by 20 dB equally across all frequencies. I cannot say how much the sound level decreased when using the earplugs, but it made a significant difference to me and alleviated the issues I've been having with my left ear.
Also when using the Loop earplugs, I was unable to differentiate the sound quality of the Loop earplugs versus the inexpensive foam earplugs, but I was still able to hear people talking to me.
Protection
It is also important to note that the inexpensive protective foam earplugs that I've used have an ANSI/OSHA noise reduction rating (NRR) of 33 which equates to a 13 dB sound reduction. The Loop website does not state anything about being ANSI/OSHA compliant. It does state that the Loop earplugs are not suitable to use when shooting.
What I like
Reduces sound in loud environments
Very attractive design
Lightweight and comfortable
Easy to use
Eartips can be replaced using standard silicone eartips or memory foam eartips
Comes with nice zippered artificial leather pouch for storage
What needs to be improved
Final Thoughts
The Loop High Fidelity Earplug are wonderful to use. I have used inexpensive protective foam earplugs in the past and have so much trouble getting them to fit properly, but the Loop earplugs insert in seconds and fit perfectly and comfortably using the Comply memory foam eartips. They create a great seal and really help to decrease the sound around me when in a loud environment. Would I have purchased them at $29.95? Probably not, but at $20 or less, I definitely would have.
Price: $29.95
Where to buy: Loop and Amazon
Source: The product used in this review was provided by Loop