We use affiliate links. If you buy something through the links on this page, we may earn a commission at no cost to you. Learn more.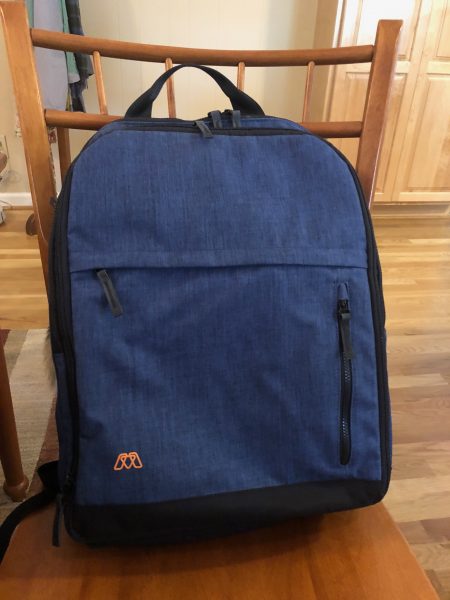 REVIEW – A while back, I looked at the first iteration of the MOS pack. One of the things I thought needed improvement was the space allocated to each pocket. I think MOS is reading our posts, because they have just announced two new packs, the Grande and the BlackPack that each offer ways to get more room for your stuff, without compromising the other unique features they offer. I've been carrying both of these packs for a while (alternating, not at the same time!) Let's look at the Grande first, comparing it with the original iteration, as well as the difference between these two.
Note: Photos may be tapped or clicked for a larger image.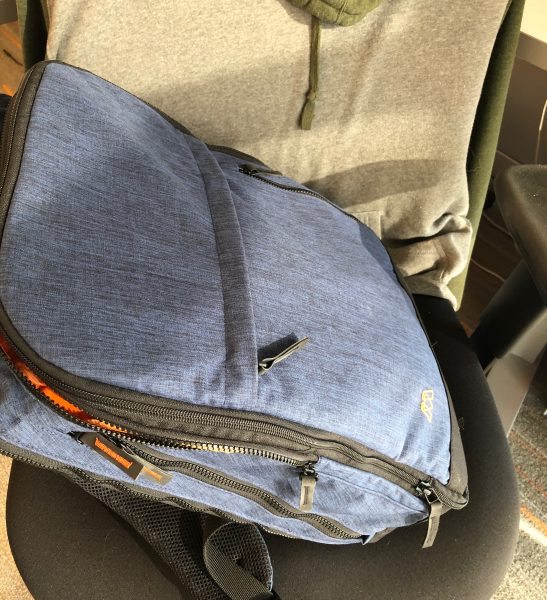 What is it?
From the outside, the packs don't appear to be changed, other than the Grande being larger until you start looking closely. The straps have been redesigned, and the outer pockets have been given a whole new interior. The side pockets and the top hard-shell pocket are pretty much the same, as is the haul loop/handle. The fabric of the Pack Grande is now available in several colors. I was sent a patterned cobalt blue-black, which I really like. The inside is where the huge changes have happened, though.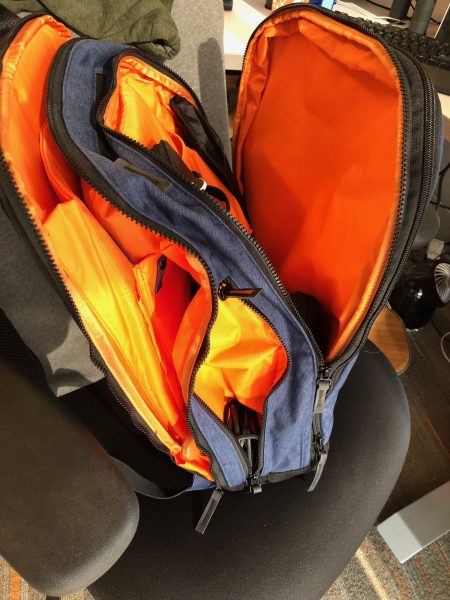 Hardware specs
(from the company website)
The laptop pocket is ~11.75" x 1.6" x 16.25" to the top of the pocket or 17.25" to the top of pack at the corners
Water Bottle pocket can fit up to a 40 oz water bottle
Mounting for the REACH C and REACH+ power adapters
Large tablet pocket that will fit a 12″ MacBook
Water-resistant
Hard-shelled quick access pocket
Passport pocket
Cell phone pocket
Interior cable management
Breathable back panels
EVA foam straps
YKK Vislon zippers with Hypalon zipper pulls
5-year warranty
What's in the box?
Just the pack and info cards/tags
Design and features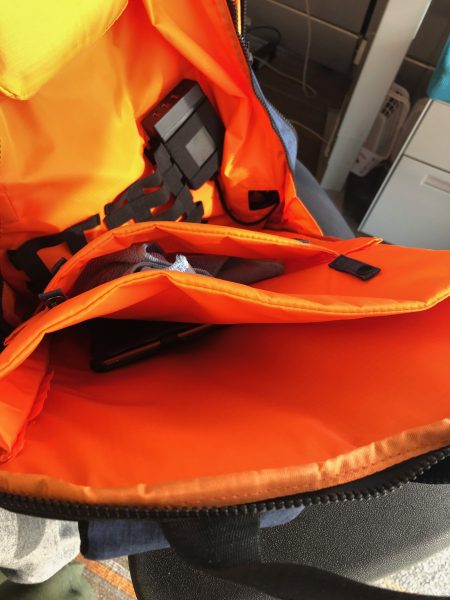 The first thing you'll notice inside is that all the sewn-in pockets have more space. Rather than squeezing in a naked iPad or laptop, you can carry a large gaming unit (up to 17" – Do folks still really carry these around?) and an iPad with a case, or even a second, normal-sized laptop. Both will slide easily into the padded sleeves together. My 12" Lenovo work laptop gets lost in the cavernous main laptop pocket. That's my 10.5″ iPad Pro peeking out from the bottom in the photo above. The microfiber cloth is in the tablet pocket mounted onto that.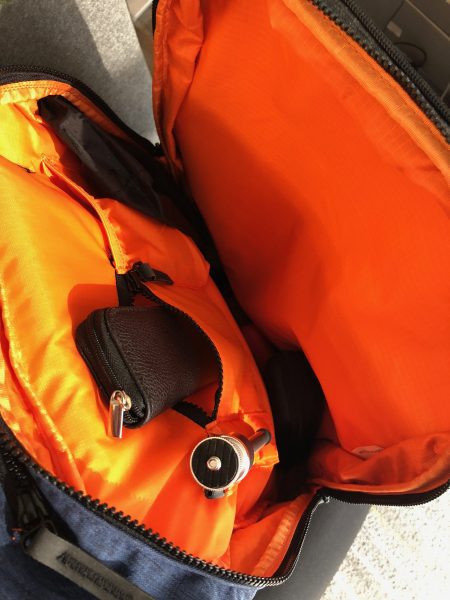 The power management pass-through is still incorporated in the left (as you carry it) side pocket, but the space is less tight when coiling the cable to store. (More on this later, as we discuss the new Reach-C power cable.)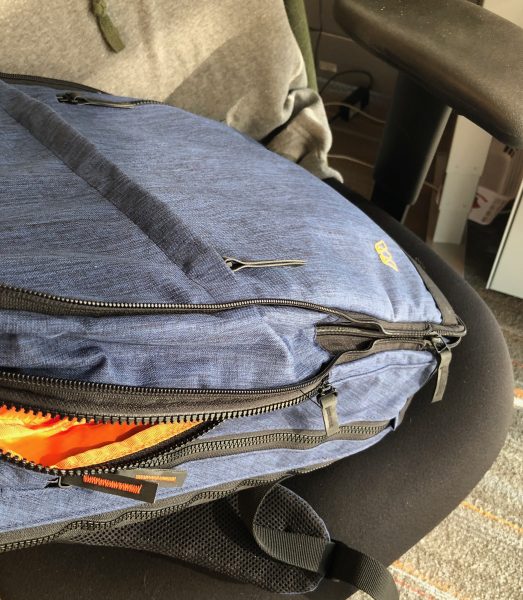 The MOS Pack Grande expands from 21 liters to 40 liters with a simple expansion zipper. This space is all added to the front compartment (which is already roomier than either of the others). This added space means not only can you get in something other than the Nest organizer and a few magazines or odd and ends, but you can slip in a change of clothes, gym shoes, or any other items you wish.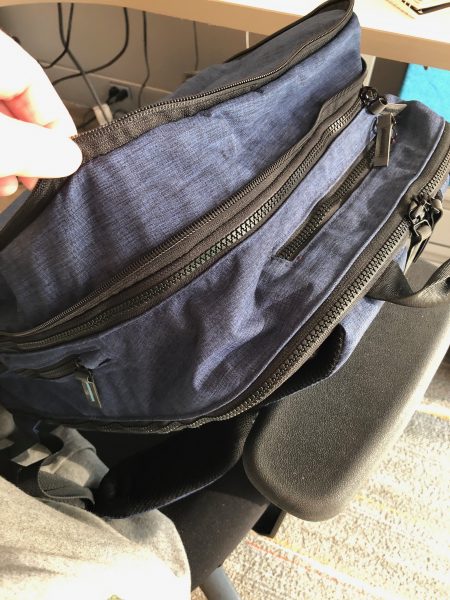 The front pocket has much more room, both inside and in the "Napoleon pocket" across the front. This pocket can hold items several inches thick – like your bike's U-lock, or an iPad mini, or a travel paint set. The larger pocket beneath can hold a raincoat or heavy gloves or your 3-1-1 goodie bag.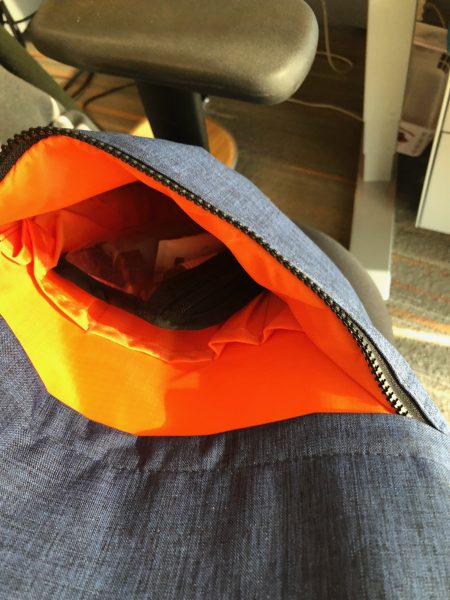 Performance
The Grande performs like a pro. It can hold enough for a full weekend with room for clothes, shoes, and all the extras. If your needs dictate, you can haul around a wealth of tech, plus enough room in the front pocket for your lunch, a sweater, and extras like chargers.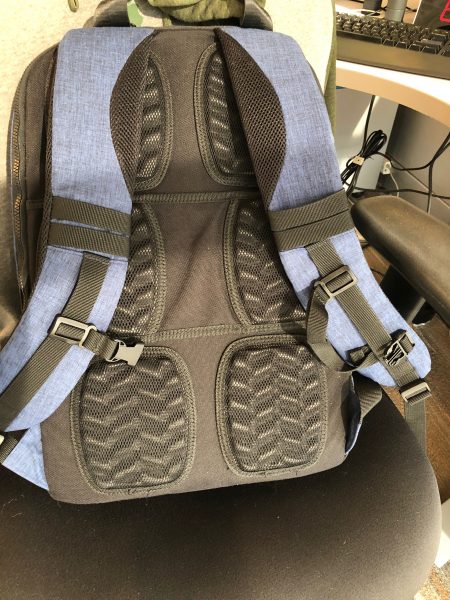 The straps have nicely cushioned areas where they hit the sides of your neck, which prevents them chaffing or cutting into you on long concourses. You can fit a 40 oz water bottle in the pocket, and it's sealed from getting any liquid into the insides.
The charging features, while not included, are pretty awesome.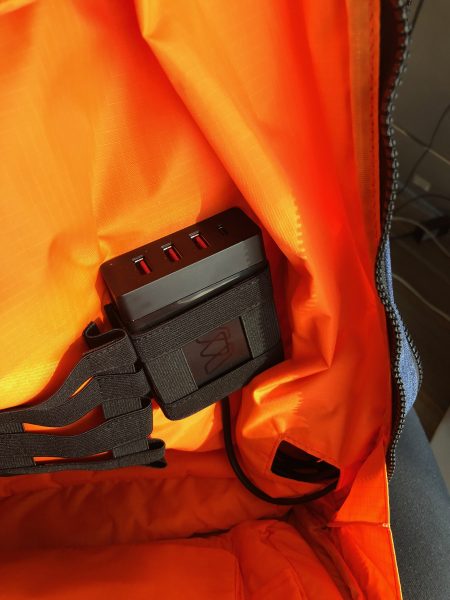 The new Reach-C has three USB-A charging ports and a USB-C port, as well as a removable power cord, so you don't have to thread it through the side pocket. If you don't (yet) need USB-C, the original Reach Plus, with only two USB and one AC 120 V port, or your third-party power bank can also fit in the straps. Actually, there's room for several of these options! There's room in the left side pocket for both plugs, if you need. The interior cable routing takes power cables from the elastic straps that hold these charging options in place to all corners and layers of the bag. It's easy to have all your electronics connected to just one or two power plugs, and plug them in during a layover or your temporary workspace.
Extras
The Nest ($39.95, on sale for $29.95) is a smaller, internal sub-pack, and fits into the front pocket of the Grande. It's relatively unchanged from the first iteration, but due to more space in the front pocket (and, with the expansion, a huge amount of extra space!), it's much more usable. Still doesn't fit a "normal" tablet, but your eReader or a novel from the airport bookshop will nestle in there along with your travel papers and snacks. It will then slip out and sit under your seat or in the seatback pocket in front of you, giving you more legroom while the rest of the bag stays in the rack.
Having an integrated charger really rocks on those long layovers when you're trying to keep up with email, online documents, and all your Slack channels. There are now two versions of the Reach travel charging solution. The original Reach+ ($19.95) still has one 110V outlet and 2 USB charging outlets with a captive 3 foot cable.
The Reach C, however, gives you three USB-A charging ports as well as a USB-C charging port.  The Reach C also has a removable four-foot power cable, which means it's easier to thread through the opening. And since there's no AC, you don't need the heavy-duty power cable. The Reach C is such a handy charger, it fits easily into other "charge-ready" bags, so look closely at bags you may have at hand and consider how it could fit in.
Reach C specs
USB-C Output: 5/9/12/15/20V, 3A
USB-C Power Delivery: PD 2.0
USB-A Output: 5V 2.4A
Cable Length: 4ft.
What I Like
Enormous inside!
Safety orange interior lets you see everything easily
Integrated power and cable management
An outside front pocket you can use
Hard-shell top pocket for fragile items
Expandable
What needs to be improved
Some of the interior straps are a bit fiddly
The Nest expansion still is tight, unless you have the expansion open.
Final thoughts
MOS has gone from a niche player in the tech accessory marketplace, to being a full-scale design shop. They still build innovative little items (like the Kick, a phone tripod attachment that fits in your coin pocket), but they also have several interesting options for power management, as well as their packs. All of their full-sized packs can fit both the Nest as well as either of the Reach power cords, making them fantastic for those who travel with technology – and isn't that everyone nowadays?
Price: $139.00
Where to buy: MOS website and Amazon
Source: The sample of this product was provided by MOS.