We use affiliate links. If you buy something through the links on this page, we may earn a commission at no cost to you. Learn more.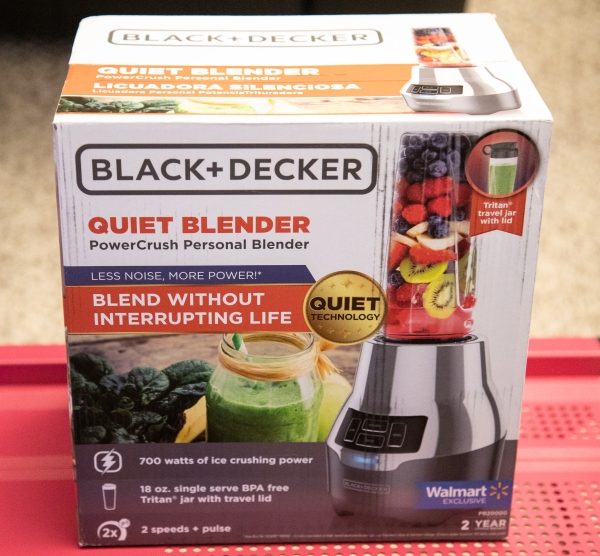 REVIEW – These days, there is a fast moving health and fitness movement that continues to gain momentum as many people look to better their health. A part of the healthier diet is a long list of healthy shakes and other healthy foods like vegetable liquid food replacements. This is no different in my household, and I welcomed the opportunity to test and review this personal blender. Here is my summary.
What is it?
The BLACK and DECKER PowerCrush Digital Blender with Quiet Technology uses a specifically designed blade that creates a vortex when spinning in order to crush and blend various types of ingredients including ice, vegetables,  fruit, etc. It can be used to make vegetable drinks and smoothies all in the included 18oz personal size cup. All of the parts that attach to the cup including the snap-on lid, the cup itself, and the blade and housing are dishwasher safe. The blender has 700 watts of maximum power and digital touch controls as its interface.
What's in the box

1 x PowerCrush Digital Blender
1 x 4-tip stainless steel blending blade
1 x 18oz Personal Jar
1 x Snap-on travel lid
1 x Instruction/Recipe booklet
Design and features
Design Specs:
Quiet Technology: Blend without interrupting your life. This PowerCrush Blender is quieter* and maintains all the powerful blending performance you expect from BLACK+DECKER.
PowerCrush 4-Tip Blade Technology: The 4-tip stainless steel blending blade works with the shape of the jar to create a constant flow and vortex that leads ingredients directly to the blades for fast blending performance.
700W Motor: The energetic motor delivers 700W at peak performance to easily crush and blend the toughest ingredients.
2 Speeds + Pulse: From smooth blending to powerful ice crushing, two speeds and a pulse function handle any job with ease. Includes LED power indicator.
Personal Jar: Use the 18oz., BPA-free Tritan plastic jar for single-serving smoothies on the go. Snap-on travel lid included.
This personal blender is designed to crush ice and fruit and other similar types of ingredients to create personal drink mixes like shakes, blended drinks, etc. On the front, there are 4 buttons embedded into the stainless steel body. The buttons control the on/off function as well as the speed/rotation options that are low speed and high speed, and the pulse function.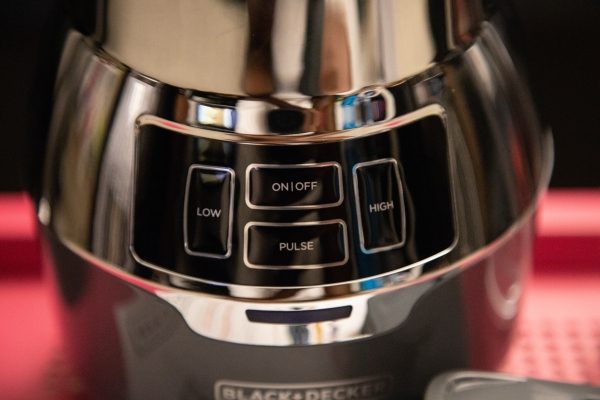 The base of the blender has a receptacle that interfaces with the blade and housing as seen below. At the bottom of the blender, there are air vents and routing for the attached power cable.
The pictures below show the 4-tip blade and housing, the 18oz personal size cup, and the snap on lid.
Performance
Based on the understanding that noise levels or the perception of volume is individually subjective, I found this blender to be quite a bit quieter than I am used to and than I thought it would be. It was not as loud as another famous brand, and for my tests, it did a decent enough job of crushing/blending frozen fruit. I did find that the other famous brand blender was able to make an even smoother blend in the less time, but that blender is also more powerful. I also tried a variety of fruits like blueberries, blackberries, strawberries, bananas with ice and the resulting mixtures were great. Below are before and after pictures of one of the frozen fruit mixtures.
What do I like
I like the size and the functional design
The finished stainless steel look
What can be improved
Either the power of the blender or the blade design to be more effective at making an even smoother blend
Final thoughts
The PowerCrush Digital Blender with Quiet Technology is a nicely designed blender that has enough power and capability to blend most fruit and vegetable combinations to make a nice smoothie or vegetable drink. While it could use a bit more power or maybe some adjustment to the blade design to remove even the smallest of grains from things like small seeds, etc, it does make the blend smooth enough that in my opinion, is quite acceptable. Also, the ability to have a conversation while blending without having to scream at the other party is quite nice and non-disruptive. I personally like this blender, and for my needs and based on the price, I give it a thumbs up!!
Price: $32.88
Where to buy: Walmart
Source: The sample for this review was provided by Black & Decker.