We use affiliate links. If you buy something through the links on this page, we may earn a commission at no cost to you. Learn more.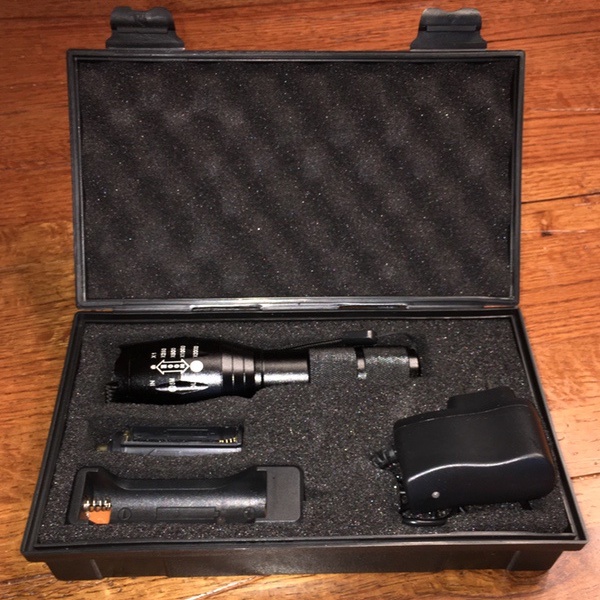 REVIEW – Open the case, my friend, and meet the tactical flashlight from Renogy. Not only does it look worthy of a spy movie, but it packs a lot of useful features in a budget-friendly package. Will it help you on your next mission? Let's find out!
What is it?
It's a portable tactical flashlight, with a beam that can be zoomed/focused. It comes with a rechargeable battery but can use regular batteries as well.
Hardware specs
CREE XML T6 LED emitting chip delivers maximum brightness of 600-1200 lumens.

Zoomable function, adjustable focus range up to 600 feet.

Aviation grade aluminum alloy, that's water and shock resistant.

5 light modes: high, medium, & low brightness, strobe and emergency SOS.

5.4 inches long, 1.6 inches wide, about 9 ounces total weight (flashlight only).

Includes one 18650 lithium-ion rechargeable battery.

Also compatible with three AAA Batteries.
What's in the box?
The Renogy Outdoor Tactical Flashlight comes in a foam-molded travel box. It includes the flashlight with a lanyard, a rechargeable lithium-ion battery, a charging cradle & power brick fir the battery, and an adaptor for three AAA batteries. An instruction manual is also included in the kit.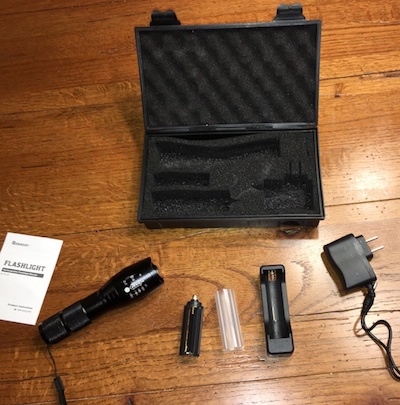 Design and features
The Renogy Outdoor Tactical Flashlight is a tough little guy. It's a small flashlight that's easy to pack and carry, but it has a weighty, substantial feel in your hand. It's built from aviation-grade aluminum alloy with a rock-solid build that's meant to take drops and hard knocks. Given the size and durability, it's ideal for outdoor use. It's also got that all-black covert operations look if you're into that sort of thing: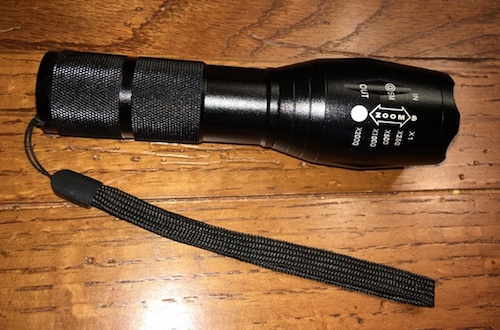 The plastic storage box uses molded foam inserts to keep all the bits and parts in one place. The box itself is 4-1/2″ by 8-1/4″ by 2″ deep, and will tuck nicely in a corner of your trunk or on your tool shelf. I hear the "Mission Impossible" theme in my head whenever I open it: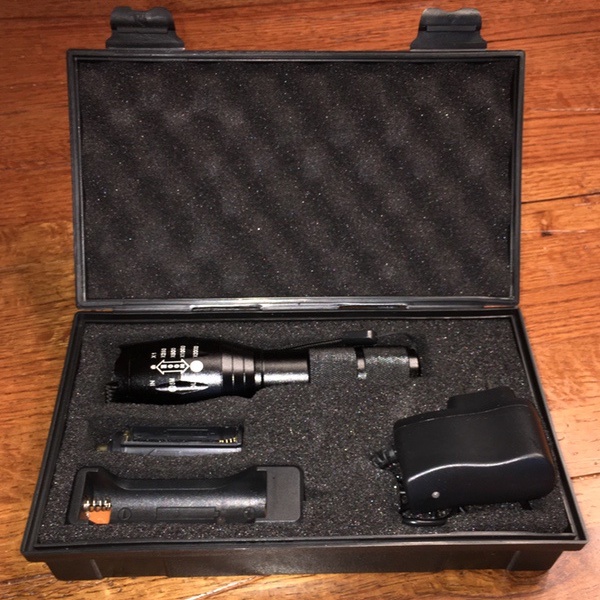 There's a single rubberized on/off button on the butt-end of the flashlight for all operations. The business end uses a CREE XML T6 LED emitting chip delivers maximum brightness of 600-1200 lumens. I'll be the first to admit that I don't know all that much about flashlight bulb ratings, but I can tell you that it is surprisingly bright given it's small size.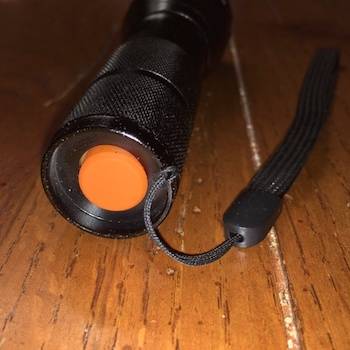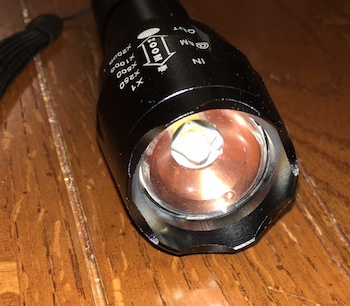 You have 5 modes on this flashlight, activated by repeated pressing of the on/off button. The first three toggle through high/medium/low brightness with a steady beam. The fourth mode is strobe, with a continuing blinking beam. The is an "SOS" mode that blinks in a slow, repeating pattern that I assume indicates "SOS" (It's been a while since my Cub Scout days). Cycling is engaged by repeatedly turning the flashlight on and off; it gets the jobs done, but it's a tad inconvenient having to click away to get to the settings you want.
The flashlight also features a zoom/focus feature. The head of the flashlight slides like a telescope, as you can see in the pictures below. The total travel is about 1″ from fully compressed to fully extended: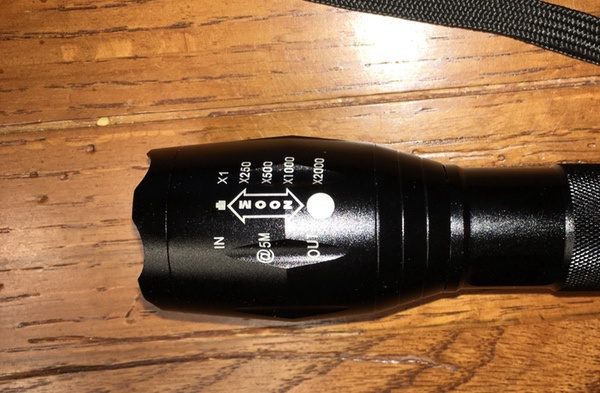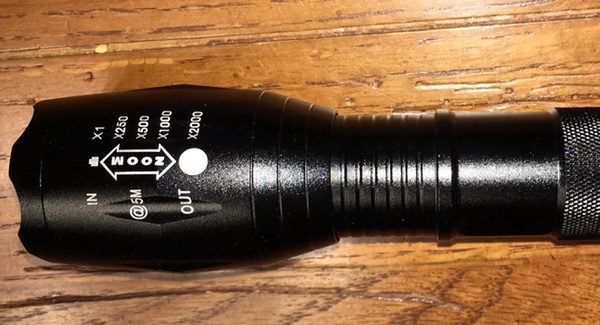 In "normal" unextended mode, the light beam is opened wide. Here's a shot of the beam in my garage at a distance of about 10 feet. It's bright and powerful!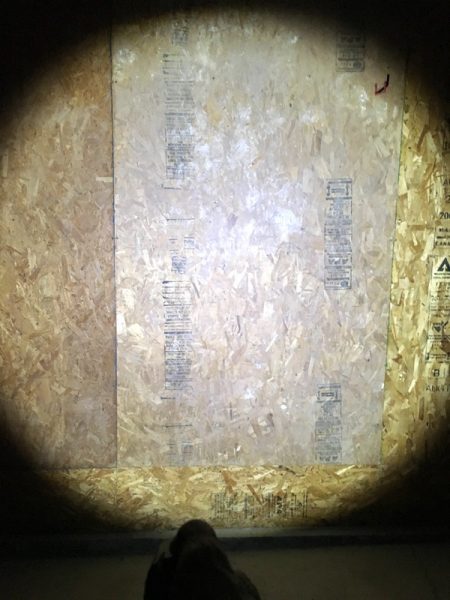 As you slide the head to zoom, it will focus and intensify the beam. The shots below were taken from the same distance with the same level of light power, changing the zoom: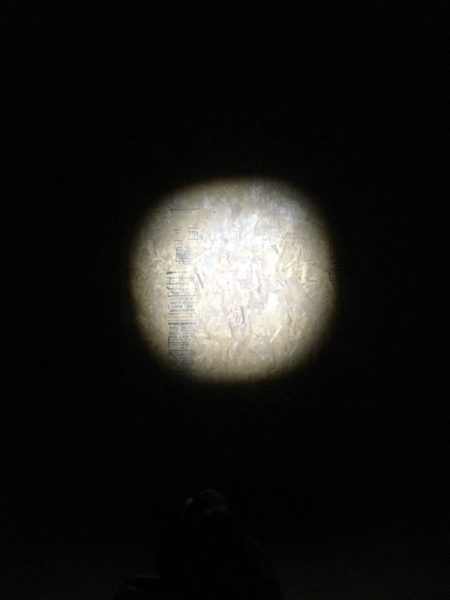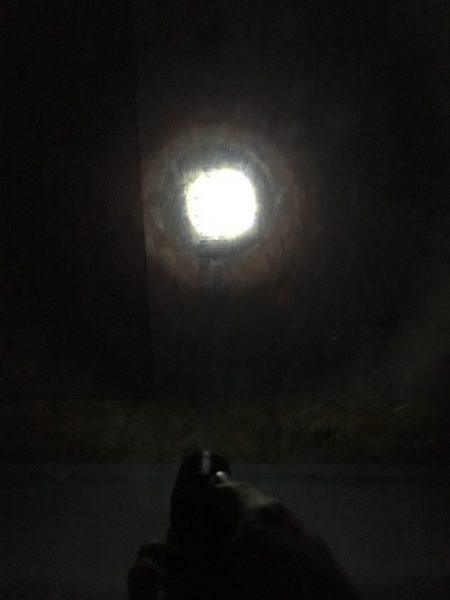 The next pic shows the light at max focus. See how the beam now takes the shape of the square LED light chip? According to Renogy, this zoom level gives the beam a 600-foot range.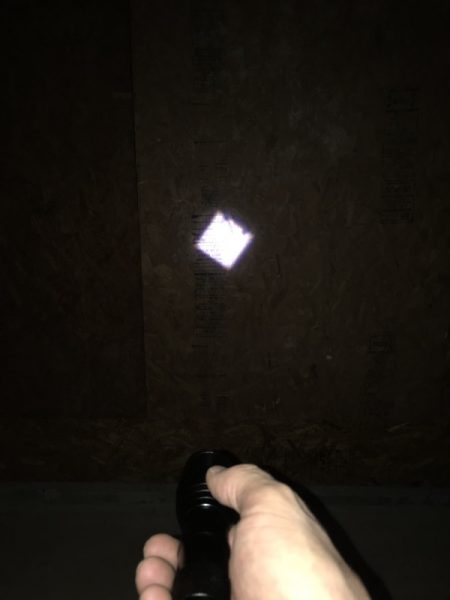 Not only is this flashlight powerful, but it is also rechargeable. The kit includes a 18650 lithium-ion rechargeable battery. The butt-end of the unit unscrews to insert the battery: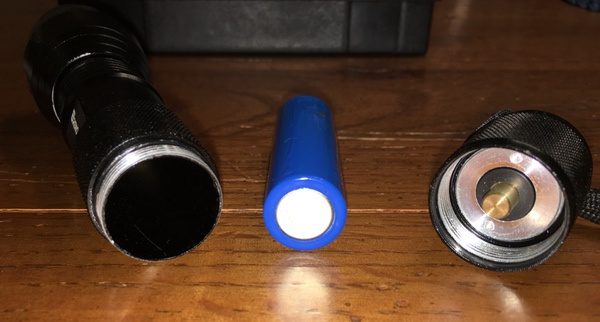 A charging dock and power brick are included in the package to recharge the unit. I'm doing some research into how long the battery will last under normal use, and I'm not having much luck. Given the LED chip light, however, I think it will go a long time between charges. I've had it for a month, and haven't charged it once.
If you're between rechargeable batteries at the moment, you also have a back-up system! The flashlight comes with an adaptor that will accept 3 AAA batteries, and can be loaded into the battery chamber in lieu of the lithium-ion option. That's a nice feature in a pinch.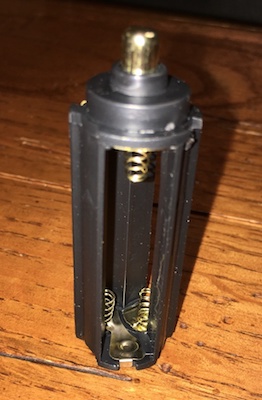 As far as general use goes, I took the Renogy Outdoor Tactical Flashlight on a camping trip back in August and it worked just fine. Plenty of powerful light in a small, compact package. The zoom feature was actually more useful than I thought, allowing us to focus the beam so that we didn't irritate our neighbors on late-night trips to the camp washroom while enabling a wide beam mode when we needed it around our own site. The mode changing function is a but awkward, but a few quick clicks gets you to the setting you need.
If you choose to accept this mission, know that you're getting a good price on the job! I am seeing this model going on Amazon Prime for under $20. That's crazy good for a well-built flashlight that includes all of these components. It looks to me like a solid value.
What I like
Durable, solid build
Very powerful for a small flashlight
Includes all the accessories you might need
Convenient storage case for all the parts
What needs to be improved
Switching between lighting modes is a bit klunky, but manageable
Final thoughts
It's hard to go wrong with a package like this. A well built LED flashlight that's powerful, long-lasting and rechargeable is a good item. When it includes the lithium-ion battery and all the other accessories at a price point under $20, it's a bargain. We'll see how it does over long-term use, but I think it's a good one.
Price: $19.49
Where to buy: Amazon.
Source: The sample of this product was provided by Renogy.