We use affiliate links. If you buy something through the links on this page, we may earn a commission at no cost to you. Learn more.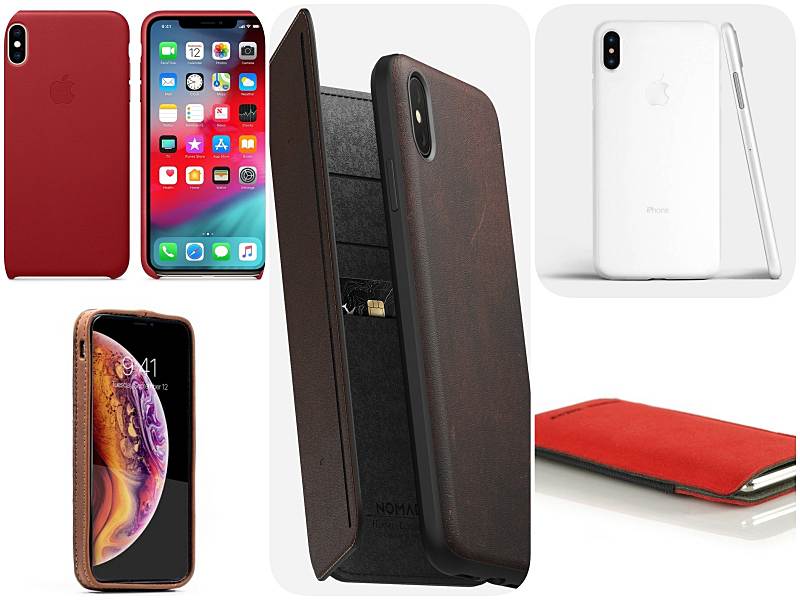 Like many of you including our very own Julie Strietelmeier I set my alarm for 3am EST to preorder the new iPhone Xs Max. Of course, I'll be needing a new case to protect my hefty investment, so I searched around to see what was available. Not surprisingly there are already a ton of options. Here are five that peaked my interest, in no particular order.
iPhone XS Max Leather Case – (PRODUCT)RED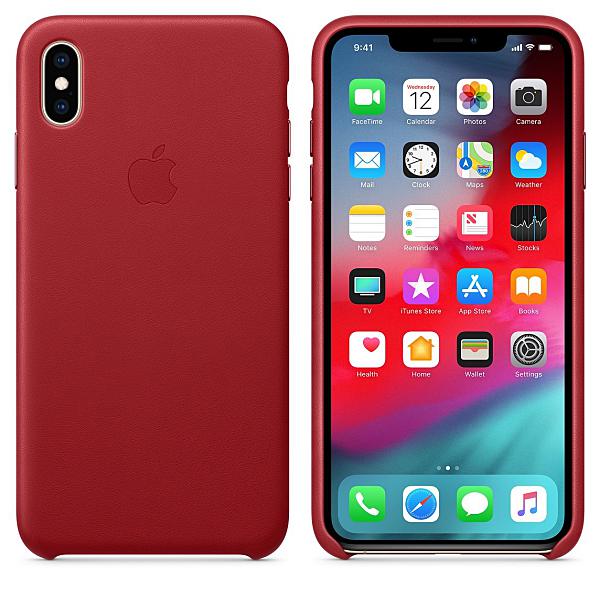 I know, I know it's another Apple product but, they do make a nice leather case. I really like the red leather and the fact that it has the Apple logo embossed on the back. And money from every purchase goes to a good cause. If you're not a fan of red the case is also available in seven other colors including Midnight Blue, Forrest Green, and Saddle Brown. You can purchase the case from Apple's website for $49.
Nomad Rugged Tri-Folio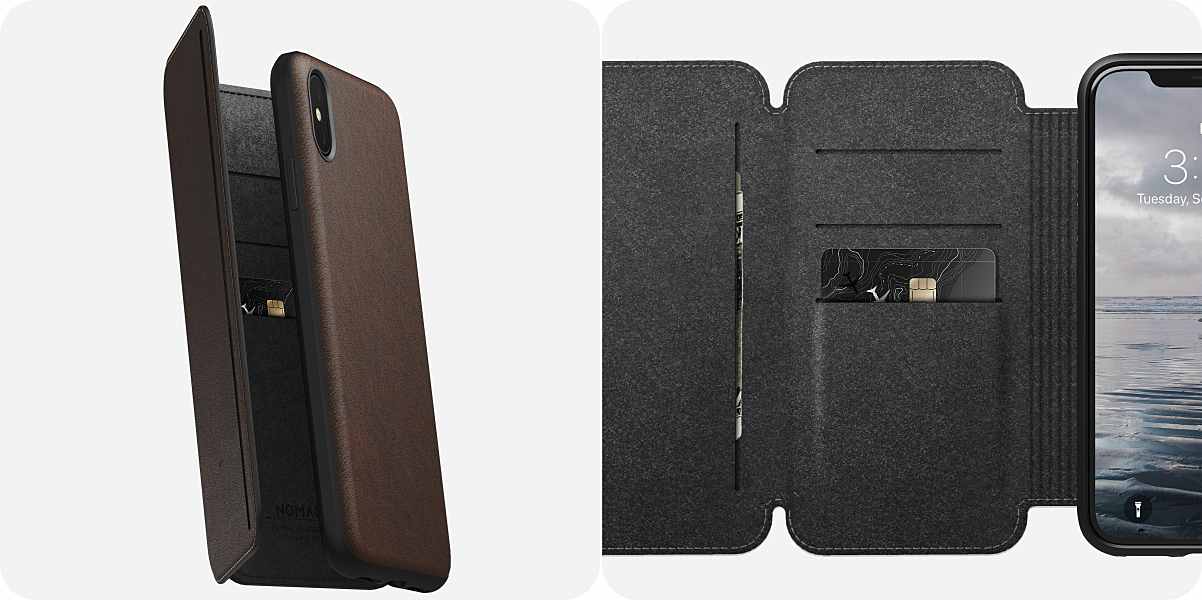 I got the chance to review a couple of Nomad's cases for the iPhone X, and I loved them. So it's no surprise that they would make my list. The Rugged Tri-Folio is different from other wallet cases. It has more flaps and even more storage. Designed to completely replace a traditional wallet it has four card slots and two pockets for cash or anything else cluttering your pockets. And of course, it's made of Horween leather with a high-grade polycarbonate body, bonded to a raised TPE bumper on the edge. Giving your new iPhone protection from all angles. You can pre-order it on Nomad's website for $79.95 with shipping on September 18th.
Waterfield Fused Suede Case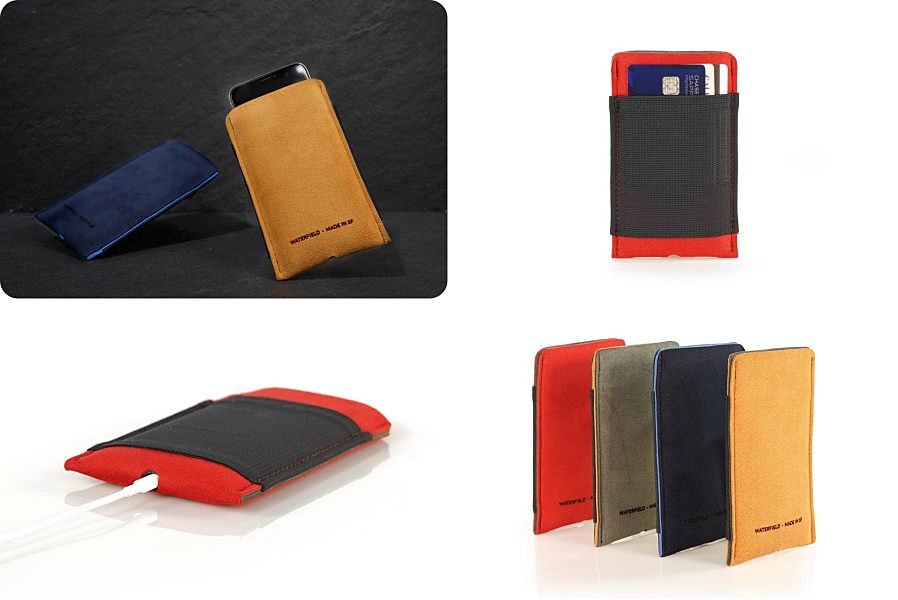 This new case from Waterfield is quite unique. It's more of a pouch then a case that your iPhone slides into. Made of soft Ultrasuede the case protects your phone from scratches and minor dings. There's also a mesh pocket on the back that can hold a few credit cards or a pair of AirPods. And there's a cutout on the bottom of the case that allows you to charge your iPhone or hold a conversation with the device still safely protected. The Fused Suede Case comes in two sizes for the iPhone Xs Max, one for using the phone without a case and one for using the phone with an existing case. It's available in four different colors, Ash, Camel, Navy, and Red. You can pre-order the Fused Suede Case on Waterfield's website for $29. Expected to ship by September 28th.
Pad & Quill Traveler Protective Case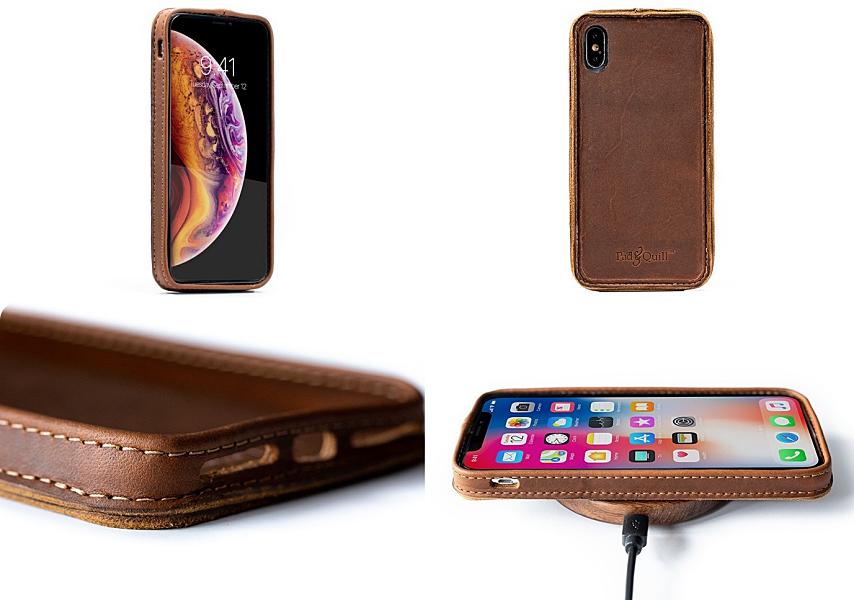 Another leather case that I like is the Traveler Protective case from Pad & Quill. Pad & Quill is well known for making high-quality leather accessories, and this case is no exception. Handmade from rugged American full-grain leather the case actually molds to your grip and your iPhone like magic. The Traveler has a nice slim profile that only adds 2mm of thickness. And it has cut-outs for all the phones ports and is fully wireless charging compatible. The case can be pre-ordered from Pad & Quill's website for $59.95. You'll have a little bit of a wait, the case doesn't ship until late October.
totallee Thin iPhone XS Max Case

The iPhone Xs Max has a great design and the best way to show that off is to use a minimalist case. The totallee Thin case is only .02-inches thick and weighs only 0.1oz. Now that's about as minimalist as it gets. The case maintains the original look of the iPhone XS Max. No branding, no bulk, no nonsense. It comes in 3 finish options. Matte which allows you to show off that Apple logo. Glossy, for that nice shiny look, and leather for a more sophisticated look. The Thin iPhone Xs Max case is available on totallee's website for $25-$29. Pre-orders are expected to ship on September 30th.
So there you have it my top five cases for the new iPhone Xs Max so far. As I mentioned, there are already a dizzying number of choices available. Hopefully, this list helps make buying that new case just a little bit easier.