We use affiliate links. If you buy something through the links on this page, we may earn a commission at no cost to you. Learn more.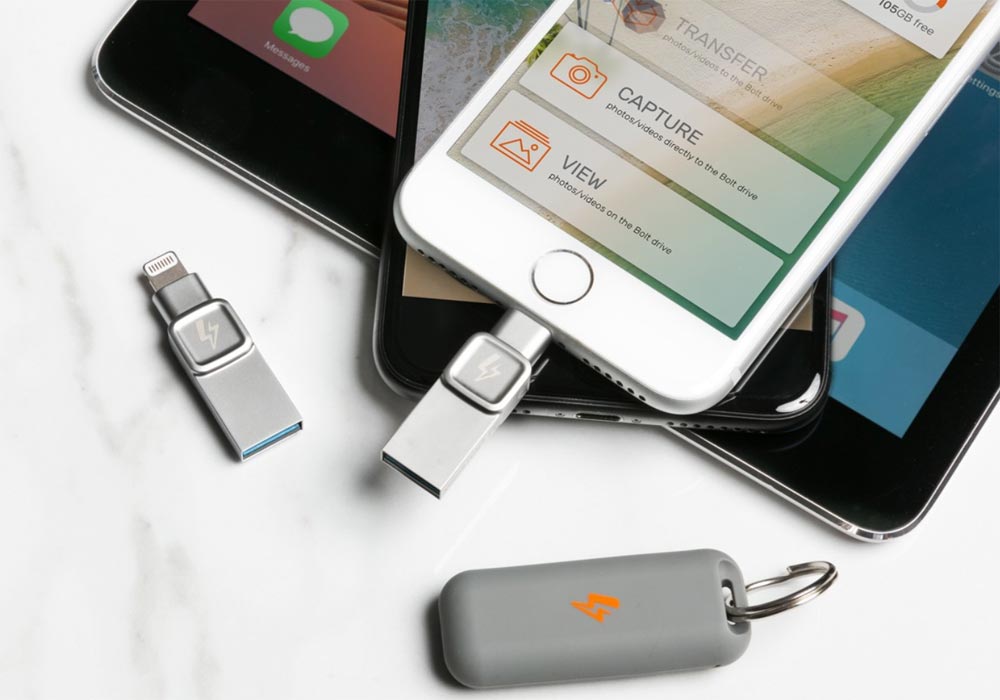 REVIEW – Phones and even tablets often serve as the most-used, or even the only, camera that most people have these days.  The cameras on most of these devices take great pictures, so they are a good, convenient method of documenting your daily life.  The problem with relying on a mobile device as your camera is that there isn't unlimited space to store your pictures plus the apps and other data you need.  There isn't always an easy method of transferring your photos to another device so that you can delete some images to free up space again.  In the past, I have reviewed a flash drive that allowed you to transfer images from your mobile device to a computer, but that device had some problems.  (It worked great, but it turned out to rely on an app that wasn't written for it nor supported for it.)  There are no such problems that I encountered when I was reviewing the Kingston DataTraveler Bolt Duo flash drive for Apple mobile devices.  Let's give it a closer look.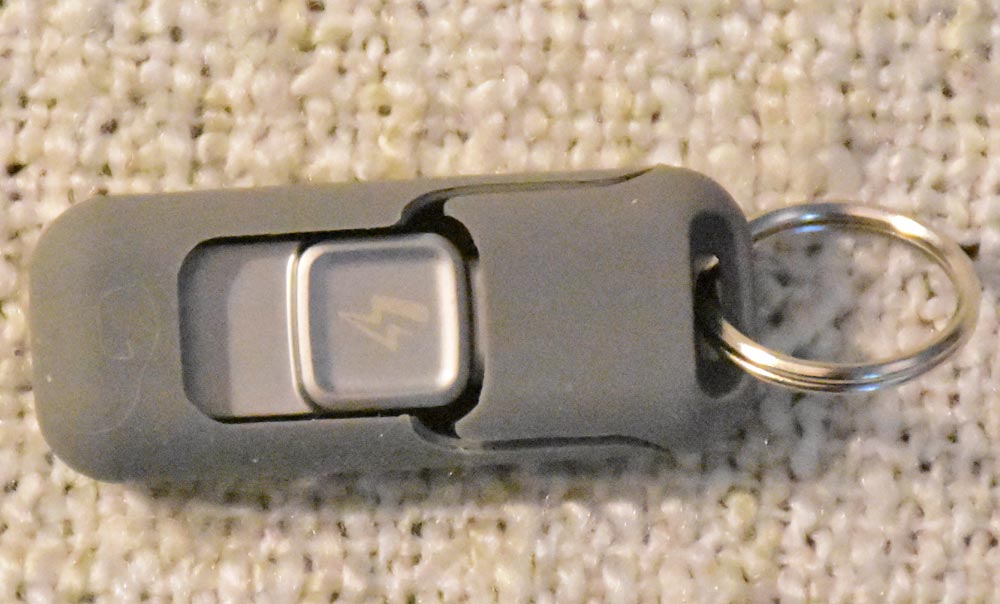 The Kingston DataTraveler Bolt Duo (seen at the top in an image from Kingston, but all others are my own images) is a flash drive with a Lightning connector on one end and a USB 3.1 plug on the other.  It's Apple® certified, so it's designed to work with most models of the iPhone and iPad.
Please forgive the dust and lint on the silicone sleeve.  It is a dust magnet!
Hardware specs
Connections: 1 Lightning, 1 USB 3.1 Gen 1
Dimensions: 1.6″ x 0.48″ x 0.26″ alone; 2.6″ x 0.79″ x 0.43″ in keychain accessory
Weight: 0.25 ounces alone; 0.51 ounces in keychain accessory
Compatible with:  

iPhone 5, iPhone 5s, iPhone 6, iPhone 6+, iPhone, 6s, iPhone SE, iPhone 6s+, iPhone 7, iPhone 7+, iPhone 8, iPhone 8+, iPhone X, 

iPad (4th generation), iPad Air, iPad Air 2, iPad (2017), iPad Mini, iPad Mini 2, iPad Mini 3, iPad Mini 4, iPad Pro (1st generation), iPad Pro (2nd generation)

OS support:  iOS 9.0 and newer
Warranty:  2-year warranty with free technical support
Capacity:  32GB with storage for up to 8000 photos or two hours of video; 64GB with storage for 16,000 photos or 4 hours video; or 128GB with storage for 32,000 photos and 8 hours of video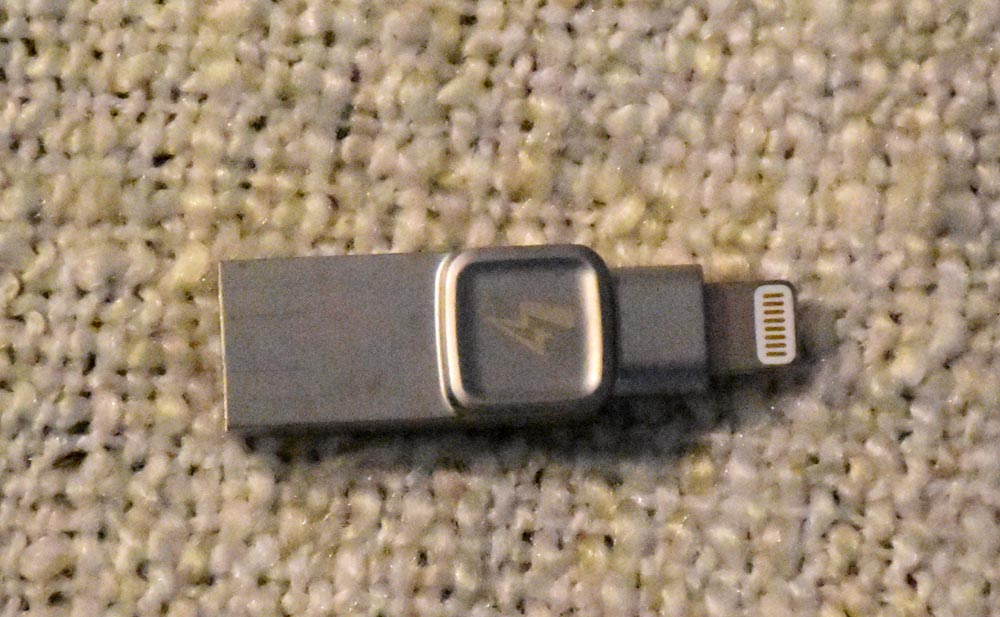 Setup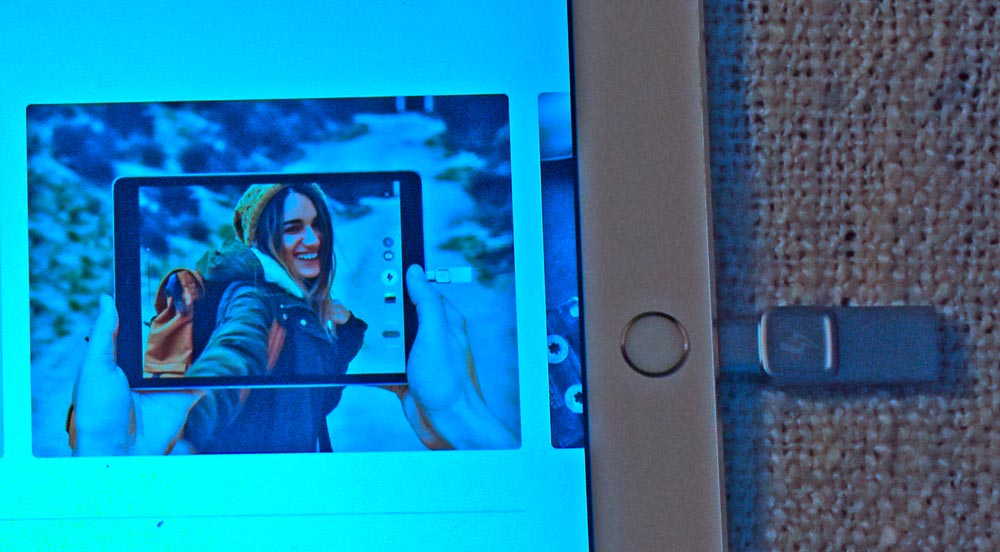 Setup couldn't be simpler.  You plug the Bolt Duo into your iPhone or iPad and follow the prompt to install the app from Apple's App Store.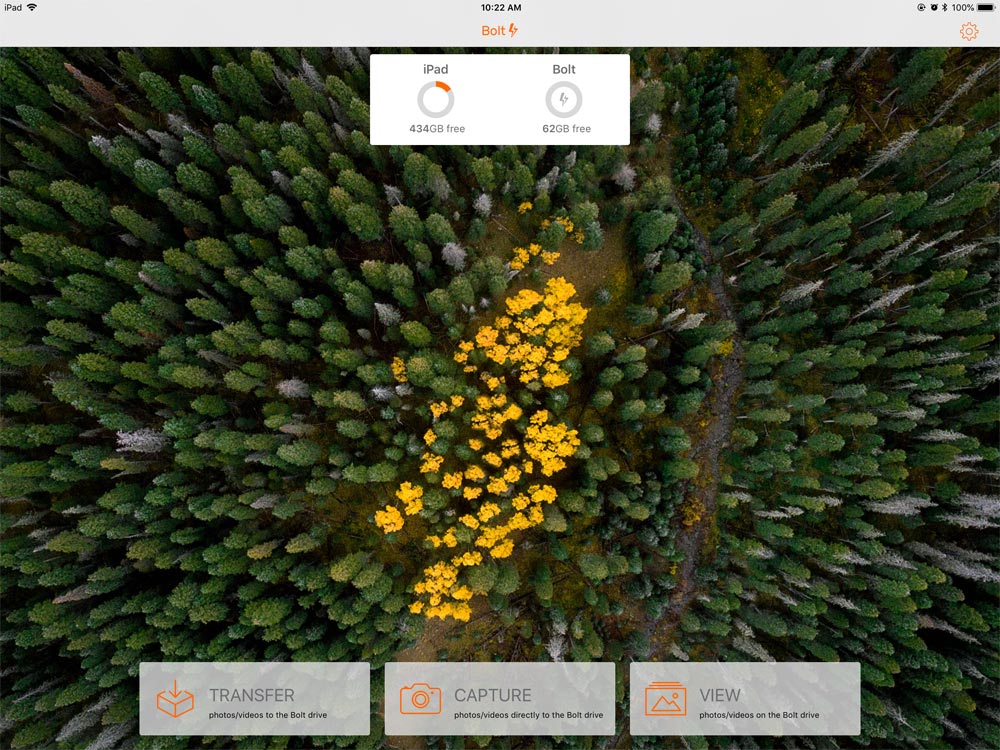 Once it's installed, you'll see options and the capacity of your Bolt Duo.  You'll see that I received the 64GB drive.
The app has three options:
Transfer photos or videos to the Bolt drive
Capture photos or videos using the Apple device's camera and microphone directly to the Bolt drive
View the contents of the Bolt drive on the Apple device
Each time you plug the Bolt into the iPhone or iPad, you'll be prompted to allow the app to access the Bolt device.  You'll also be asked to allow the app to access the device's camera and/or microphone when you want to capture images or videos directly to the Bolt.
Performance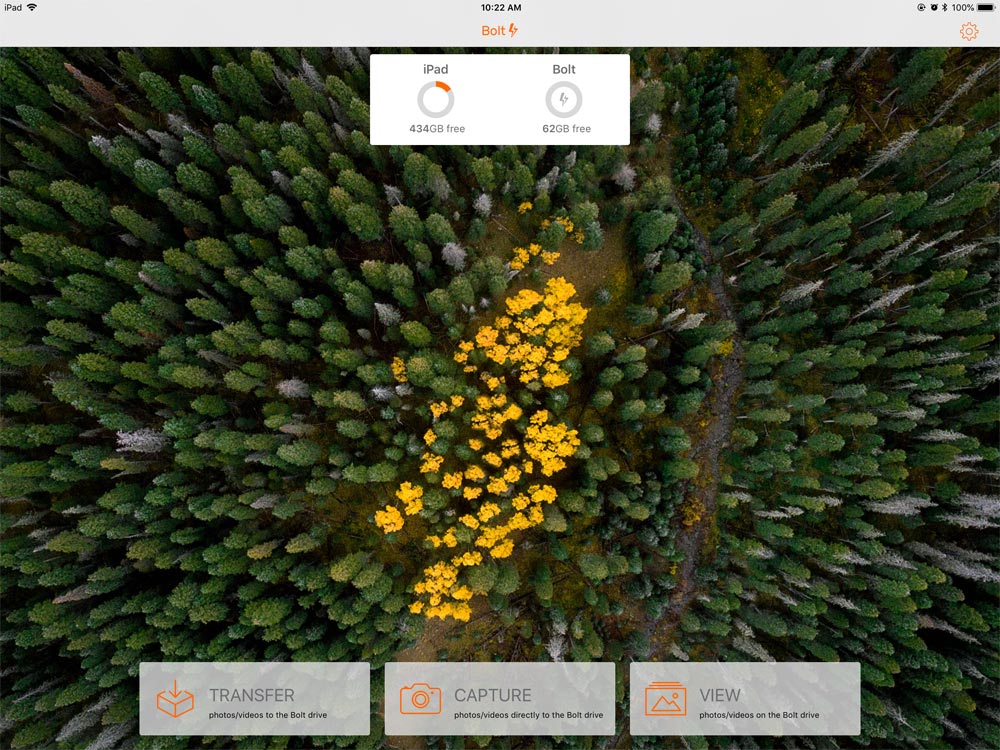 Of course, I started out by transferring images from my iPad to the Bolt Duo.  It took at least five minutes to transfer the 2000 images and videos I have on my iPad to the flash drive.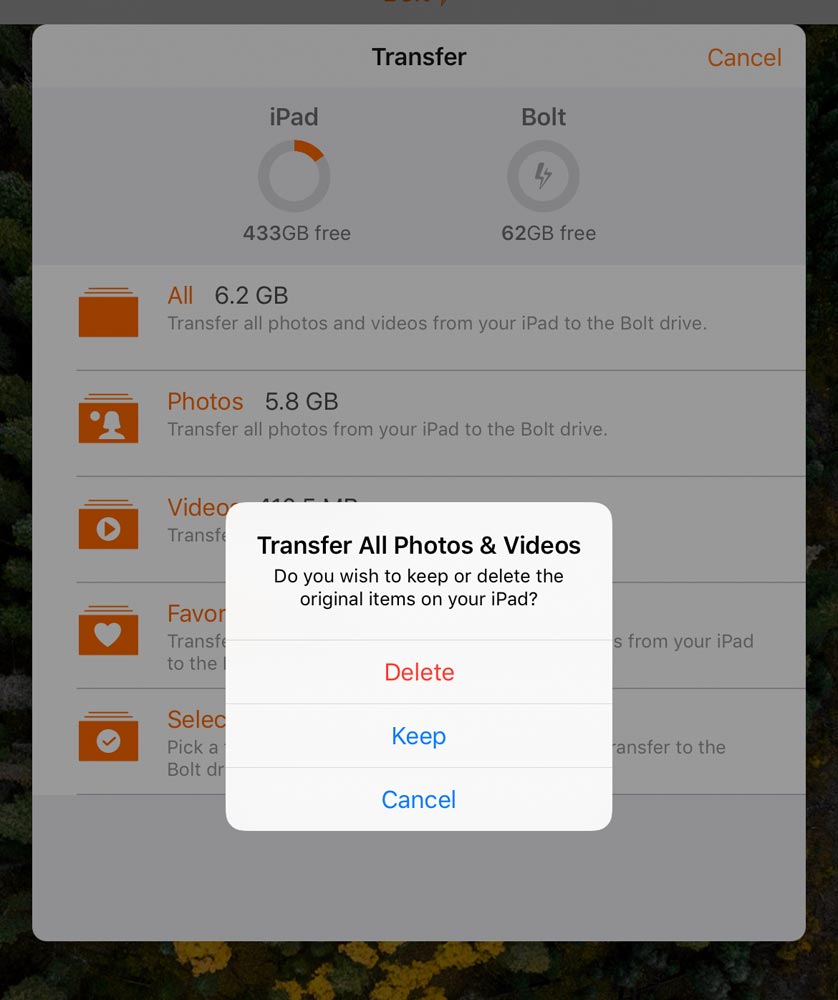 You can choose to copy over all photos and videos, only photos, only videos, only things in a Favorites album, or you can select only certain images/videos to transfer.  You can also keep everything on the iPad/iPhone or you can choose to delete them as they copy.  I retained all mine on the iPad.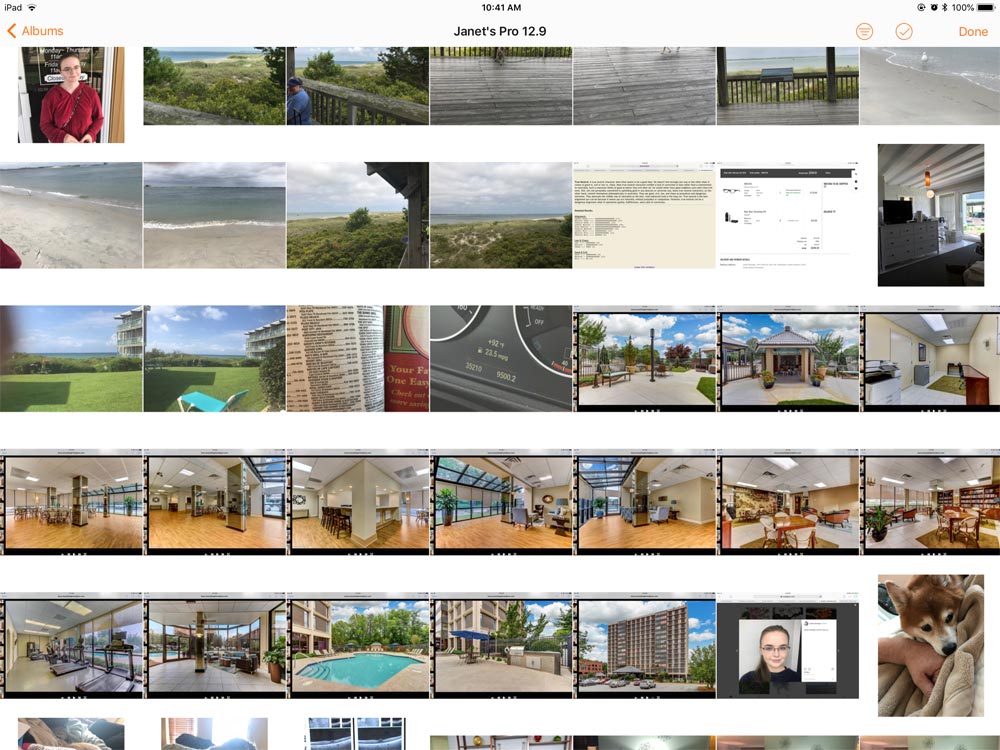 After the transfer was complete, I used the app to View the contents of the flash drive.  Without looking at each and every one of the 2000 items on my iPad, it seemed that everything was copied to the Bolt.
I used the Capture option to store a photo directly on the Bolt.  After allowing the app to access the camera and mic, taking a picture with the app was as easy as taking a picture directly on the iPad.  There are only three camera modes in the app, though.  You can take a regular photo, a square photo, or a video.  Once the photo was snapped, it showed up on the Bolt in a new album, called Bolt Camera.  There was no appreciable delay in saving the image to the flash drive.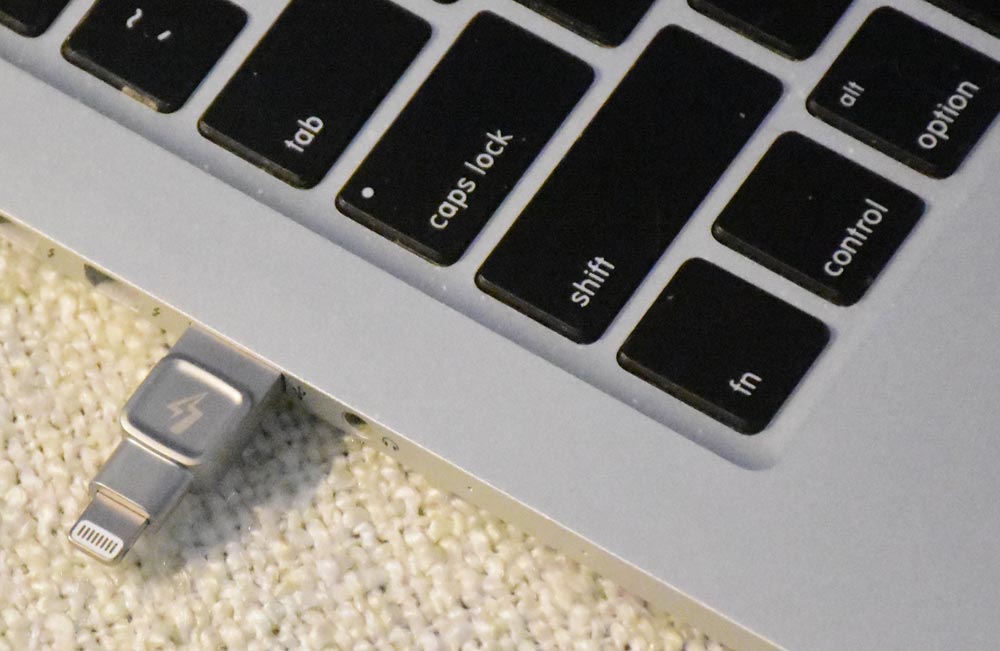 I next plugged the Bolt Duo into my MacBook Pro and checked out the contents of the Bolt using Finder.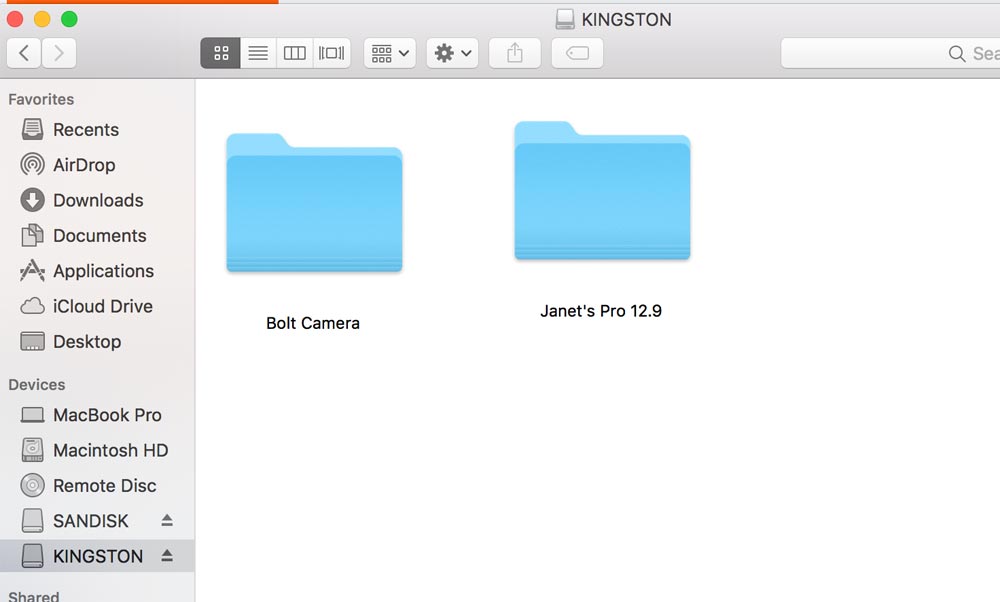 You can can see the drive shows up in Finder as KINGSTON.  You'll also notice there are two folders – one for the images captured directly onto the Bolt and one for my iPad's images.  When I opened the iPad folder, placeholders were quickly populated for the images, but it was slow actually drawing the images.
I tried copying a picture from my computer to the Bolt, then transferring it to my iPad Pro.  It worked flawlessly.  You use the iPad's "share" button to save the image to the tablet.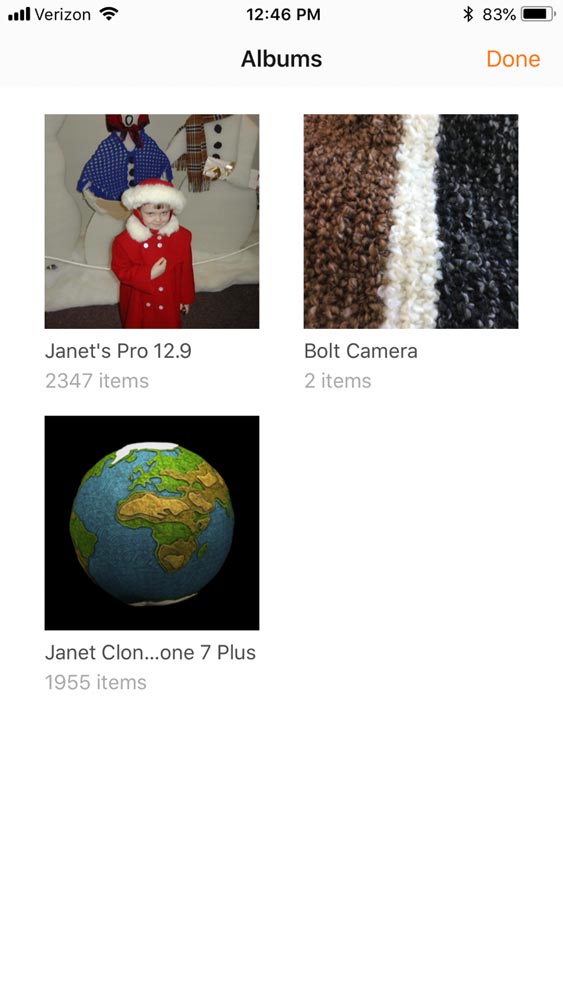 Since there was still a lot of free space on the Bolt drive, I downloaded the app to my iPhone and plugged the drive into my phone.  I was able to copy all my phone images to the Bolt Duo without having to first remove the images from the iPad.  There are now three albums on the Bolt, as you can see from the screen capture from my iPhone.
What I like
Small form-factor that can be easily carried with you
App is simple and easy to use
Quickly backs up images from the Apple device to the Bolt Duo
Can skip using the device's storage and save images or videos directly to the flash drive
Didn't require a driver to use the Bolt on my MacBook Pro
What needs to be improved
Final thoughts
The Kingston DataTraveler Bolt Duo is a great way to transfer images from a mobile device to your computer so you can free up space on the Apple device – or just as a backup, even if you don't need to save space on your mobile device.  You can also use the Bolt to transfer pictures back to the mobile device, if needed.  And you can store images and videos directly to the Bolt without using any space on your iPhone or iPad.  The app is simple and easy to use on both iPad and iPhone.  And you can backup both your iPhone and your iPad, or even your family's devices, to the same Bolt Duo.  It may be perfect for its intended functions.
Price: $44.99 for the 64GB model reviewed here
Where to buy: Kingston or Amazon
Source: The sample of this product was provided by Kingston