We use affiliate links. If you buy something through the links on this page, we may earn a commission at no cost to you. Learn more.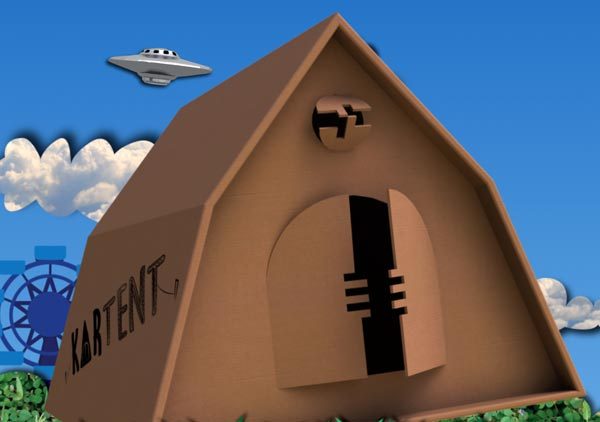 What's cardboard camping?  It's camping in a tent made of cardboard, of course.  KarTent was created in response to the immense amount of waste of camping gear that occurs at festivals all around the world.  The folks at KarTent say 1 out of 4 people leave their tent behind on the various festival camp sites worldwide.  In the Netherlands alone, where KarTent is based, they say this counts up to 25.000 tent every year.  And these abandoned tents usually end up in a dump.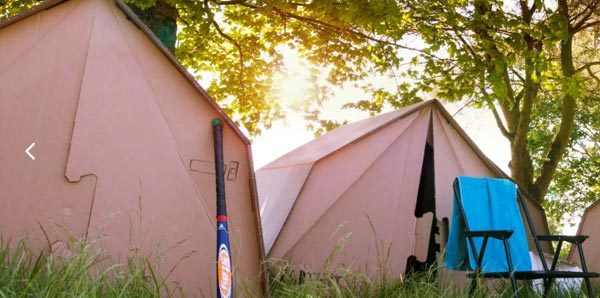 The KarTent is a festival-use tent made entirely of cardboard, which is easily recycled instead of adding to the landfill.  The tents are made of high-quality cardboard with long woodfibers, and they are water-resistant.  The tents are suitable to sleep two people, with room for their gear (7.9 feet x 5.25 feet).  The sides are opaque, so they keep out the morning sunlight – which is nice when you are suffering from too much fun from the night before.
The size and the shape of the tents don't lend itself to mailing to your home, though you can have one shipped to you if you are willing to pay the postage and have a vehicle big enough to transport it to your event.  Usually, you place an order and KarTent will deliver them to the festival, if you happen to be attending one of the festivals KarTent will be at this year.  If your festival isn't on the list, you can contact KarTent and the festival organizers to see if you can get KarTent coverage for next year.
A KarTent (Home) is € 49.95 (about $58 US).  You can order a tent (and apparently be prepared for sticker shock if you choose to have it shipped to you), and you can check out the list of festivals for this year at the KarTent website.