We use affiliate links. If you buy something through the links on this page, we may earn a commission at no cost to you. Learn more.
I do a bit of travel, mostly for work, some for vacations.  I also do a fair bit of working out.  Well, OK, I work out 6 or 7 days a week.  I had been looking for a bag that I could use for either travel or the gym, and one that would be durable and weatherproof.  Lo and behold, North St. Bags' Scout line of Duffle bags seemed to fit the bill.  We've reviewed a few products from North St. Bags here at The Gadgeteer, so I welcomed the opportunity to try out their Scout 21 VX Duffle.  Gadget on!
What is it?
With a 30 Liter capacity, the Scout 21 VX Duffle is North St. Bags' largest duffle.  It is made from ultra-durable and waterproof LS42 Smoke X-Pac™ Shell material, includes an interior zip pocket with lanyard and an adjustable shoulder strap.
Hardware specs
Color options:

MultiCam® camouflage
Smoke (reviewed here)

Size = 21″ long x 10.5″ diameter
Capacity = 30 Liters
Materials:

Exterior = Waterproof LS42 Smoke X-Pac™ Shell
Interior = Nylon Packcloth liner

Country of manufacture = Built by hand in Portland, Oregon, USA
Warranty = Lifetime
What's in the package?
North St. Bags Scout 21 VX Duffle
Design and features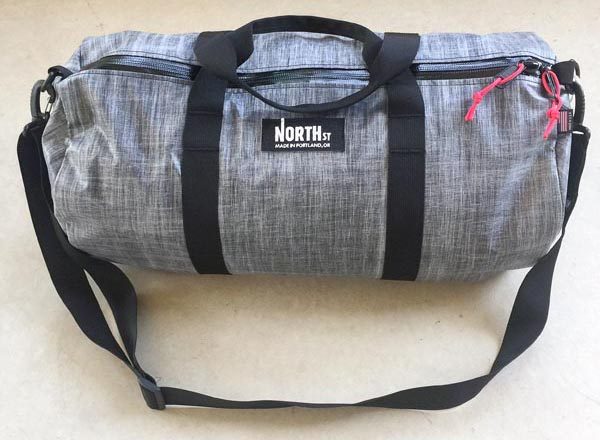 First impression: The Scout 21 VX's material, both look and feel, both piqued my interest immediately, but for different reasons.  The color of this particular bag, North St. Bags' "Smoke" color scheme, looked cool—kind of a subdued gray (which I am really into right now), but with a look that is almost like denim.  However, the feel was a different story.  This particular bag's material, North St. Bags' Waterproof LS42 Smoke X-Pac™ Shell has a sort of smooth plastic finish, a bit like a cross between nylon and canvas (in the words of our own Jacob Haas).  It does feel waterproof (or at least very water resistant) and also very lightweight yet very tough.
One other feature worth mentioning is that the Scout 21 VX includes an adjustable shoulder strap made from the same type of tough nylon webbing from with the duffle's handles are made.  The shoulder strap has spring hooks that attach to plastic D-rings on either end of the bag.  For this the Scout 21 VX's price of $149.99, I'm glad that North St. Bags includes a good, sturdy shoulder strap with the Scout 21 VX and doesn't require you to buy one separately.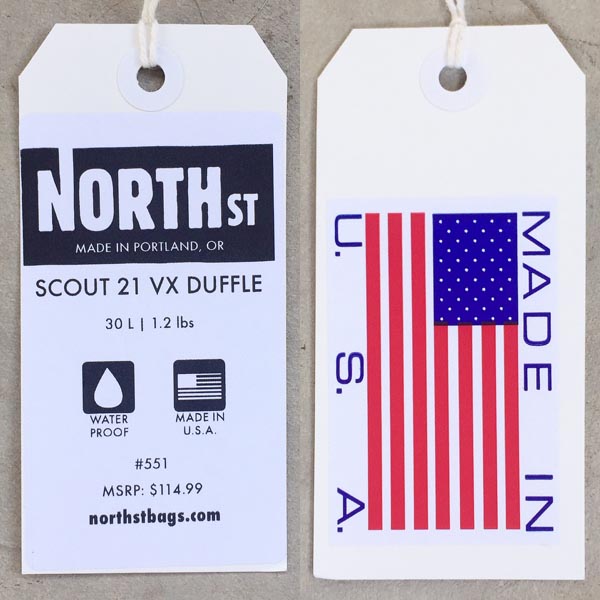 Above, a photo of the front and back of the tag that was attached to the Scout 21 VX duffle.  Made in the USA: good.  Why do I like made in USA products? Because in my experience, more often than not, they are of better design, better materials, and better manufacturing than imported products.  Yes, USA-made goods are often more expensive, but I am a big believer in paying more for quality when appropriate.  Not everyone shares this view and that is fine, I will disagree with you with the utmost respect.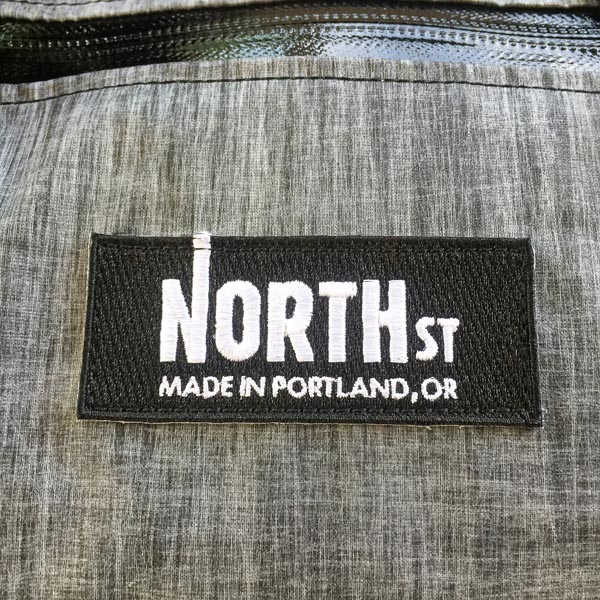 First up, let's look at the logo tag.  If you follow my reviews, you know I'm a fan of logo tags that are low-profile and not obnoxiously eye-catching.  The Scout 21 VX's tag is a bit on the biggish side, but because of the somewhat subdued black and white color scheme, it's not as obtrusive as it could be.  And I like that they decided to include "Made in Portland, OR."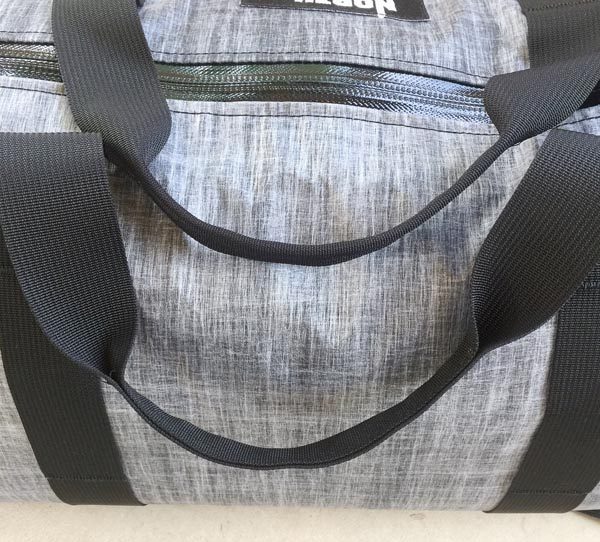 Next, let's look at something a bit more functional, the handles.  Made from high-quality nylon webbing, these straps are super sturdy, but not the most comfortable, especially if you are carrying a heavier load in the duffle.  However, they do get the job done.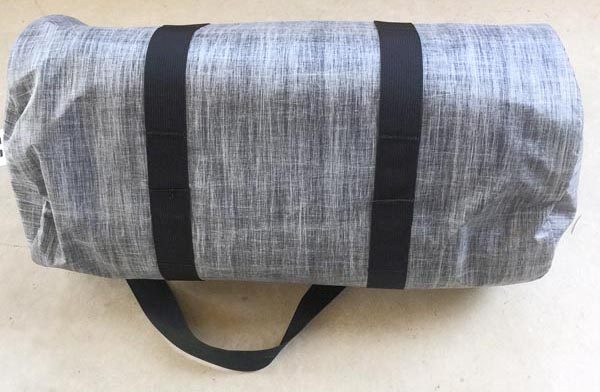 One aspect of the handle straps that I thoroughly appreciated was that they actually wrap all the way around the Duffle, solidly stitched down at regular intervals even across the very bottom, as seen in the image above.  Not all duffle bags are designed and built like this, and I think this contributes to a much sturdier bag that can not only handle heavier loads, but can also contribute to the life of the bag.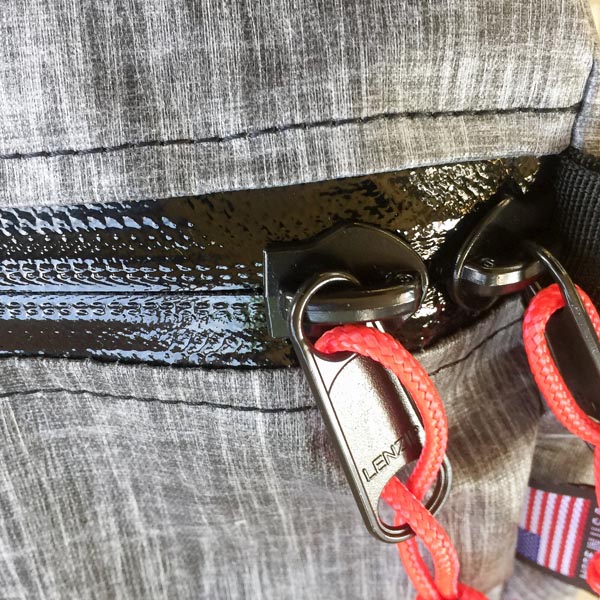 Above, a closeup of the Scout 21 VX's #10 zipper, which appears to have some pretty serious water-resistance.  The two halves of the zipper meet up perfectly and there is a slick polymeric coating over the teeth.  The zipper is made by Lenzip, which is a brand I'm not familiar with, but this zipper appears to be very well-built, with beefy teeth and big, sold pulls.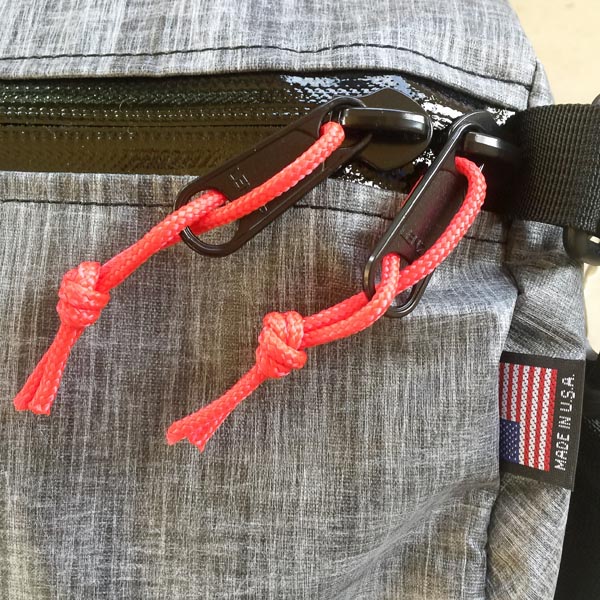 The Scout 21 VX's zipper pulls have had knotted loops of bright orange cord attached to them, which appears to be gutted 550 paracord, but I can't be 100% sure.  These knotted cord lengths enhance the zipper pull's grippability (Is that a word?  It is now.).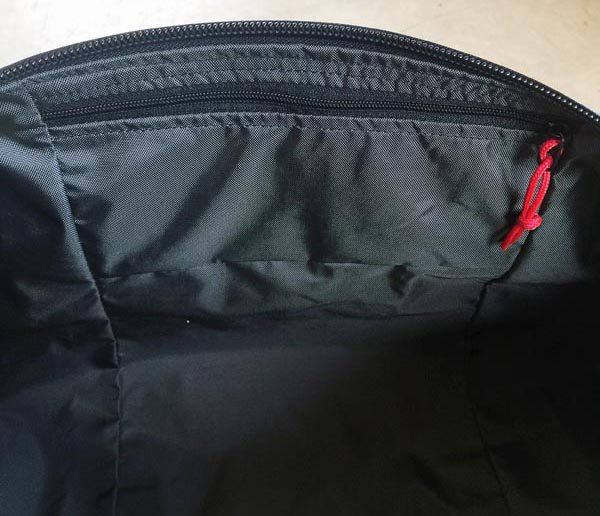 The photos above and below depict the inside of the Scout 21 VX's main compartment.  First up, note in the pic above that the Scout 21 VX is lined with a dark gray fabric.  North St. Bags's site claims this is their "Nylon Packcloth liner" that helps with water resistance.  Also, note the inside zipper pocket.  This is a standard zipper, not like beefy, water-resistant exterior one, but it does have a matching knotted length of cord attached to the zipper pull.  This pocket is actually fairly sizable, large enough to simultaneously hold a wallet, keys, and a phone.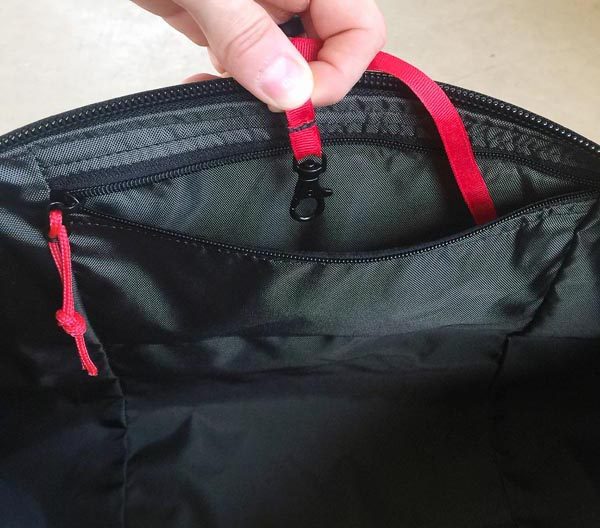 Speaking of keys, stitched inside the inside pocket (did you follow that?) is a lanyard made from a length of webbing with a metal spring hook on the end, perfect for attaching keys or other items.
Next, I wanted to set up a little "farmer Jones" test—which is basically a test that is not particularly scientific, but the results can be useful nonetheless.  Wanted to assess the water-resistance of the Scout 21 vX's materials and zipper, so I took out to my yard and unwound my garden hose…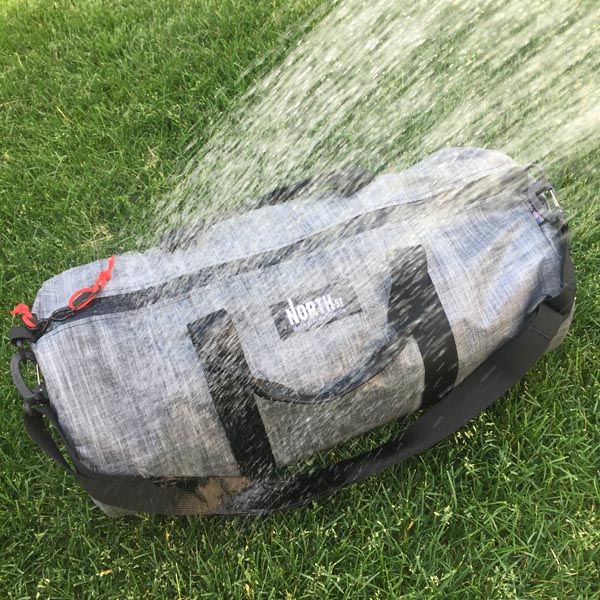 …and proceeded to douse the poor unsuspecting Duffle with about 20 seconds of water on the "shower" setting.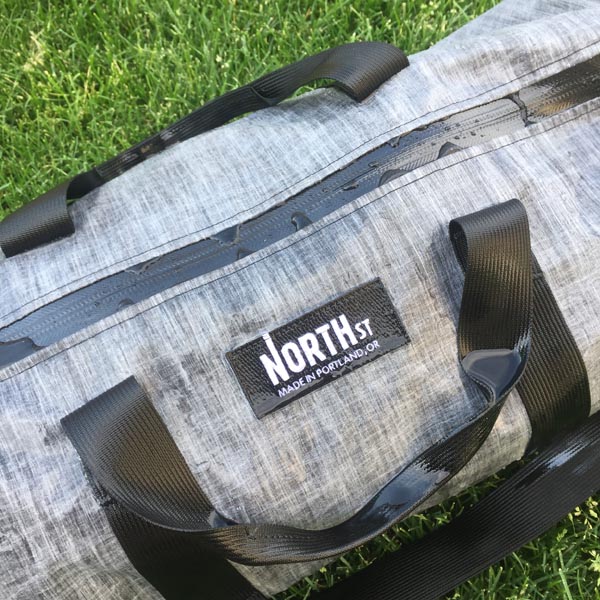 As seen in the image above, the water appeared to bead up quite well on the LS42 X-Pac™ shell material, as well at the 10# zipper. I let the water sit on the Scout 21 VX for several minutes while I snapped a few more photos.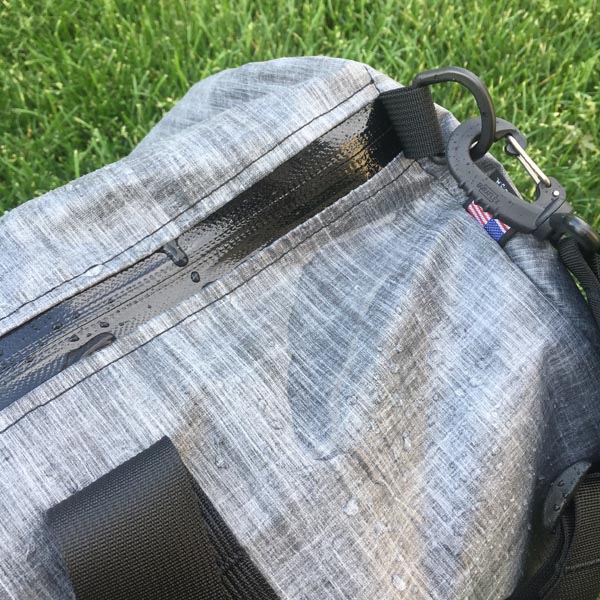 In the image above, you can see a small pool of water that has collected on the surface and didn't appear to be soaking through the material at all, at least from external observation.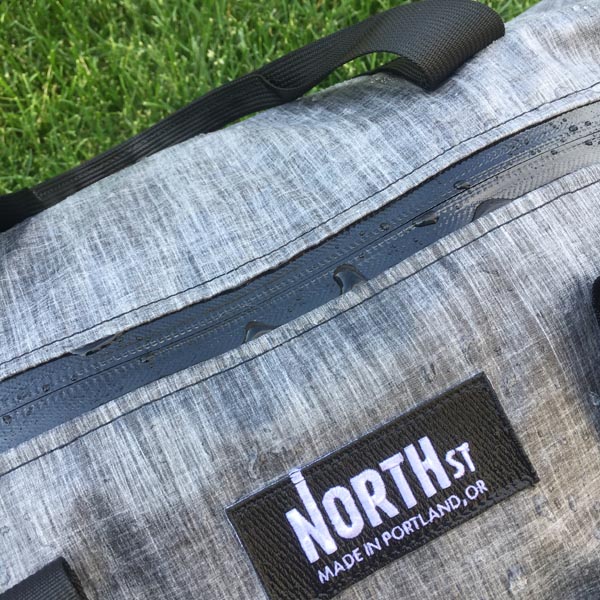 The image above is a bit more of a closeup of the Scout 21 VX's #10 zipper.  The water appeared, again from external observation at least, to be beading up on the zipper and the excess running off.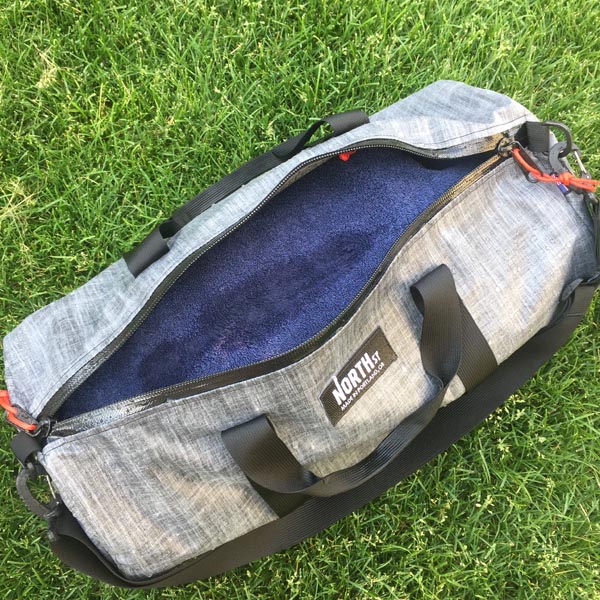 However, when I finally did open the Scout 21 VX, the water had indeed ingressed through the zipper, as you can see in the images above and below.  The water soaked into a bath towel that I had used to pad the inside of the Duffle.
I drew two conclusions from this somewhat primitive evaluation.  First, I don't necessarily consider this result a failure of the Scout 21 VX's zipper.  Because I used the "shower" setting on my garden hose, I think the water pressure applied to the bag was likely greater than it would have been if it had been subjected to anything but a very heavy, wind-driven rainstorm.  I suspect that a light to medium rainfall would probably not have penetrated the zipper.  Second, the LS42 X-Pac™ Shell performed very well indeed. Because this material is almost like a plastic-coated canvas, it appeared to essentially be impervious to the water.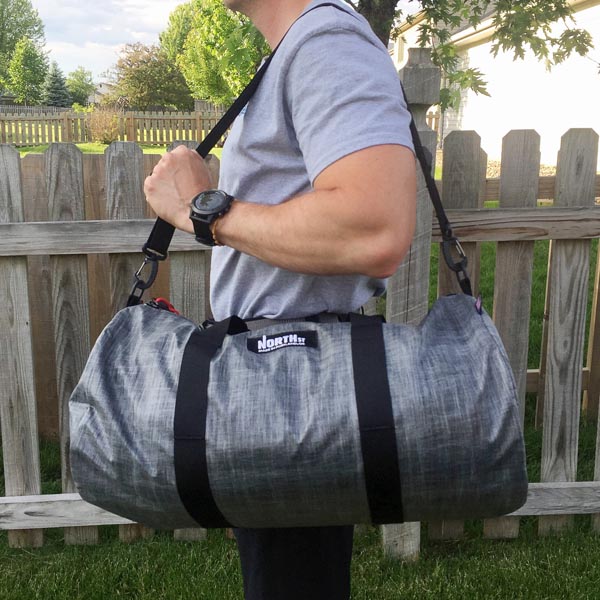 Finally, let's check out the size.  Above and below are photos of me holding the Scout 21 VX Duffle.  As you can see, at 30 Liters, it is a fairly large bag, one that could easily hold enough belongings for a multi-day adventure, or to haul all your workout clothes, gear and even items for your daily commute.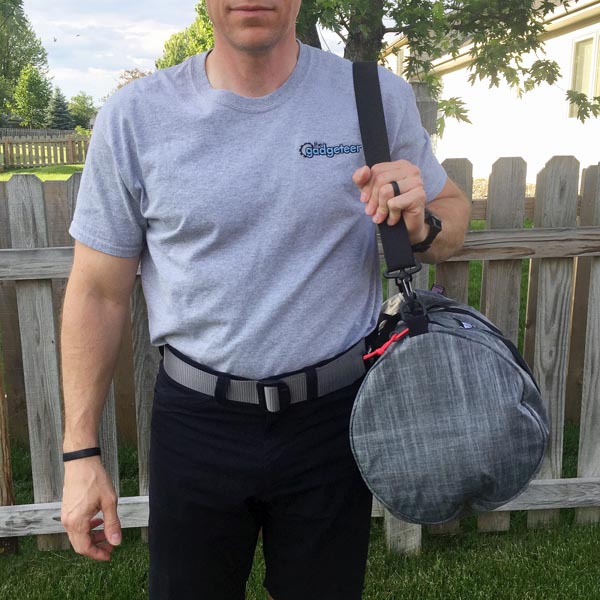 I immediately put the Scout 21 VX to work as my gym bag, swapping it out for a smaller duffle that just didn't have enough capacity.  So far, the Scout 21 VX Duffle has performed well.  It has a large capacity yet light weight is a great combo.  The only criticism I have is that the Scout 21 VX Duffle could stand to have a few more pockets for organization.  While I realize that this would further add to the cost of the bag, for my own personal use, these pockets would definitely be useful.
What I like
Durable material but very lightweight
Very water-resistant
Includes a sturdy shoulder strap
What needs to be improved
Needs a few more organizational pockets
Handles are durable, but could be more comfortable.
Pricey, but not bad for what you are getting: a well-designed and high-quality made in USA bag
Final thoughts
The LS42 Smoke X-Pac™ Shell material from which the North St. Bags Scout 21 VX Duffle is made was the first thing I noticed with this very well-designed and well-built bag.  It is made from quality materials throughout, including significant water resistance.  It is on the pricey side at $114.99, but for a USA made item that will probably outlast a many other, less expensive bags, the Scout 21 VX could be a good investment for travelers, gym goers, commuters or anyone who could use a good duffle bag that will likely last them a long time.
Update 5/24/20
Shortly after the North St. Bags Scout 21 VX Duffel review was posted, my wife needed a new gym bag, and I offer to let her "try out" the duffel. Yep, that was the last time I used it—she has been using it as her daily gym bag ever since.
Price: $114.99
Where to buy: North St. Bags
Source: The product sample for this review was provided by North St. Bags.