We use affiliate links. If you buy something through the links on this page, we may earn a commission at no cost to you. Learn more.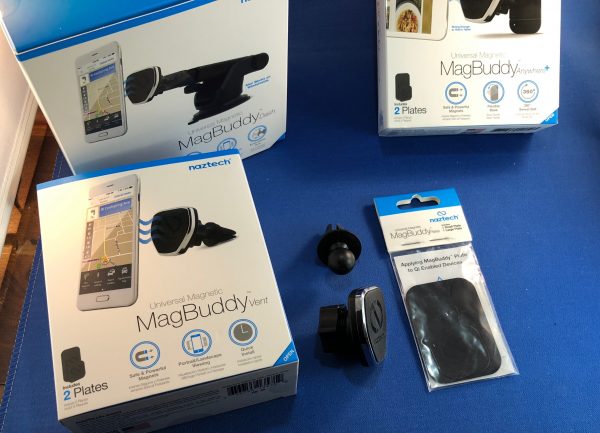 Car mounts for phones have been around as long as mobile phones have been around. With the rise of SmartPhones, their need has only grown, since the phone in your car often takes the place of that glove box full of maps (or the dedicated GPS device), your box of mix-tapes (or mix CDs), and the car club guide for your vacation spot. Naztech recently sent us three models (Vent, Dash, and Anywhere+) of their MagBuddy series to test. I've given them a run through and am ready to share the results with you.
Note: Photos may be tapped or clicked for a larger image.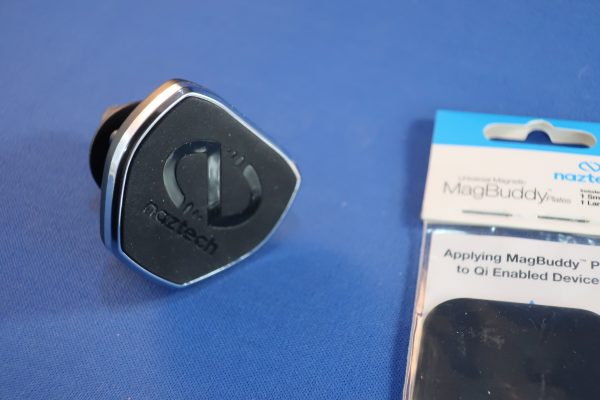 What is it?
The MagBuddy system consists of three parts: a holder of some type, the adjustable magnetic headpiece that attaches to the holder (which I have dubbed the MagHead, for this article), and a flat steel piece that affixes to your device or case. The last two pieces are the same for each system, but the holder varies. There is a suction mount unit with an adjustable arm to control the height and angle of the magnetic head, one that clips onto your AC/Heat vent, and one that will stick to any flat or slightly curved surface permanently. I'll discuss each one below.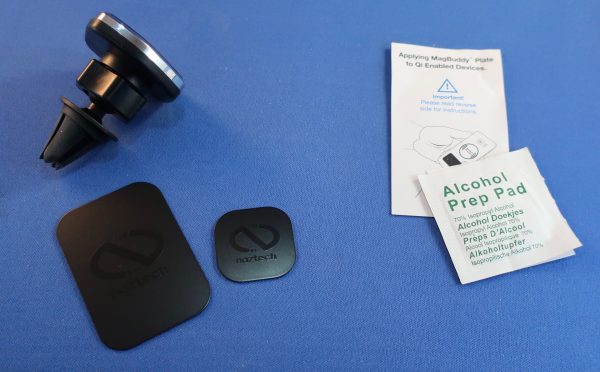 What's in the box?
Each box contains a MagHead, two steel plates (small and large) and a holder, as well as an alcohol prep pad. You can buy plates and Mag heads separately.
Design and features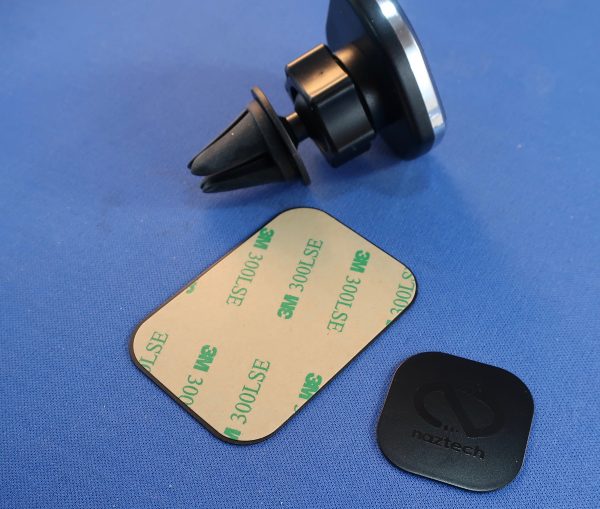 The MagHead is a roughly triangular piece of molded plastic 1.75″ across with a screw clutch socket on the back. The holder's ball snaps into this and can be tightened so that the Mag head is steady. The face of the MagHead is covered with a soft rubbery material – not quite silicone or neoprene, but somewhere in between. The edges around the plastic under this pad are edged in a thin silver metal. Embedded within the head are strong magnets that will grab on to anything steel quite tightly. This is where the steel plates come in. The large plate is 1.75″ x 2.5″, and the smaller plate is 1.25″ square. Stick one to your phone, iPad, back-up camera monitor or whatever else you want to hold onto, and the MagHead will hold it – up to a point. If you put it on an iPad Pro and go off-roading, I don't think it will hold for long. But I used it with an iPhone 8 and have had no problem with bumpy roads, railroad tracks and the like encountered on a normal city street. We are using it with the MacBuddy Dash stuck to the windshield, because the dash on the car it's in is textured, and the suction cup doesn't hold very well there. (Note the texture on the dash in the photo below.)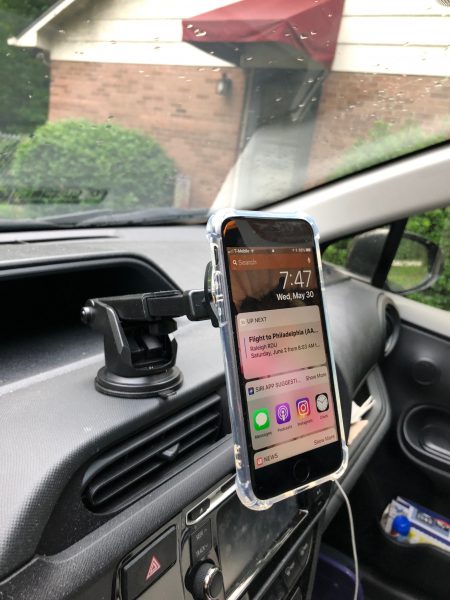 Setup
The first thing you're going to want to consider is where will be the best place for your device. Note that the Anywhere or Anywhere+ model holder can be stuck to any smooth, quasi-flat surface. This doesn't have to be in a vehicle. You could put one up in a back room for staff to use for pricing or break schedules on an iPad. Or mount your phone to your mirror in the bathroom to check the news or listen to a podcast while prepping for your day, without worrying about knocking your phone onto the tile floor – or worse. Also, the Dash model with the adjustable arm would be just as happy affixed to your monitor support or desk, so that your iPad or Phone is just under your monitor. It's a hugely flexible system, and once you have the plate on your device, you can easily swap between holders.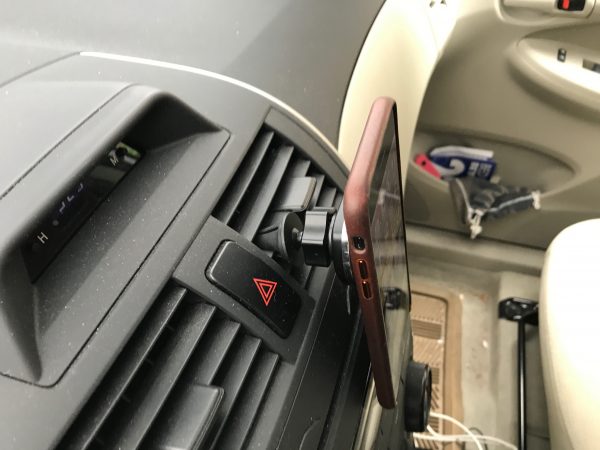 Performance
As mentioned earlier, you'll need to use a steel plate that matches the size of the device you want to be held, and any case you put over the plate may loosen the MagHead's grip. I had the large plate inside my iPhone 8 Plus leather case (above), and the first bump I hit sent the phone into the floorboard. Even that thin layer of leather was enough to loosen the MacHead's grip.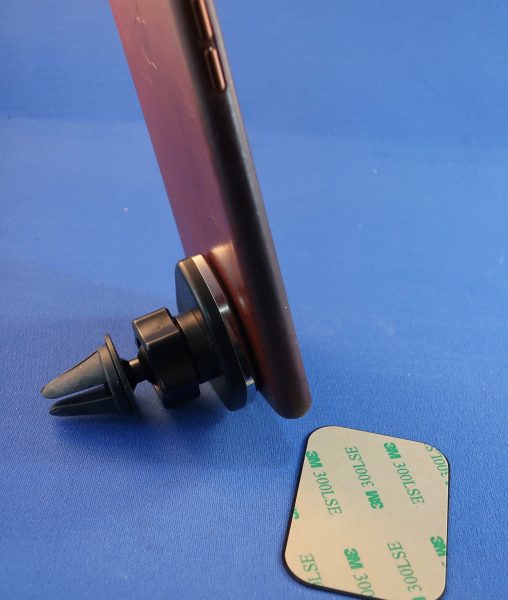 My wife's iPhone 8 has Qi charging, but when it's inside the case with the steel plate on it, the phone doesn't charge in a Qi charger. Pop it out of the case, and it charges as expected.
What I Like
There are two plates included with each mount, and more can be bought.
Can be used by multiple devices, and each device can attach to any holder.
Fully adjustable for different viewing angles.
Sturdy, yet easy to mount device onto.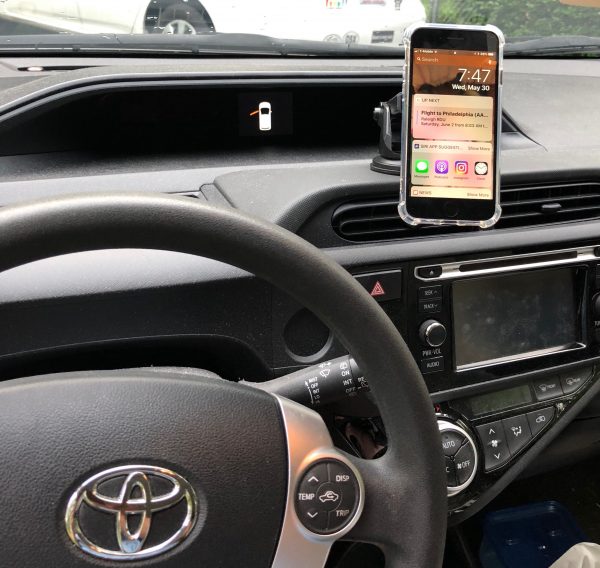 What needs to be improved
Larger items may break loose.
You have to use the metal plates, which may affect wireless charging of device.
The plates can be mounted to the case or your device.
Some cases may weaken the grip if mounted directly to the device and covered by a case.
Metal plates on the back of phones that have Qi charging are going to have problems. Period.
The Silicone band of the bicycle handlebar model would be a nice individual sale, like the steel plates. It would enable the connection through my leather case to be secure on rougher roads.
Final thoughts
Phones do everything nowadays. There are so many different uses that we can't be without them for very long. This is never more true than when we're driving, it seems, especially when you're in an area you don't know well. All the questions about routes, service stations, food, and parking that come up in any normal car trip are easily solved by using your phone. Having it in a single place where it can be referenced without taking your eyes off the road and the instrument panel makes using it for navigation safer. Having it be adjustable so that a rider can adjust audio settings is also a plus. This series of holders offers something for everyone: an adjustable swivel-arm model to attach by suction to the windshield or dash, an air vent clip model, and a model that sticks to almost any surface to offer the swivel head, magnetic snap-on mount.
If you aren't worried about losing the Qi charging feature, it's fantastic. Otherwise, there are compromises. You may find an area of your phone where the plate doesn't block the charging connection, but will it hold your device securely enough over construction and off-road driving?
Pricing is reasonable, and there is a wide variety of holder styles to choose from. $29.99 for cupholder model; $24.99 for Bike mount, CD slot mount, dash mount, windshield mount, or Anywhere+; $19.99 for headrest mount, air vent mount, Anywhere, or desktop. Extra plates, $9.99 for a set of two (one of each size).
Price: Varies depending on the item
Where to buy: The Naztech website or Amazon
Source: The sample of this product was provided by Naztech.