We use affiliate links. If you buy something through the links on this page, we may earn a commission at no cost to you. Learn more.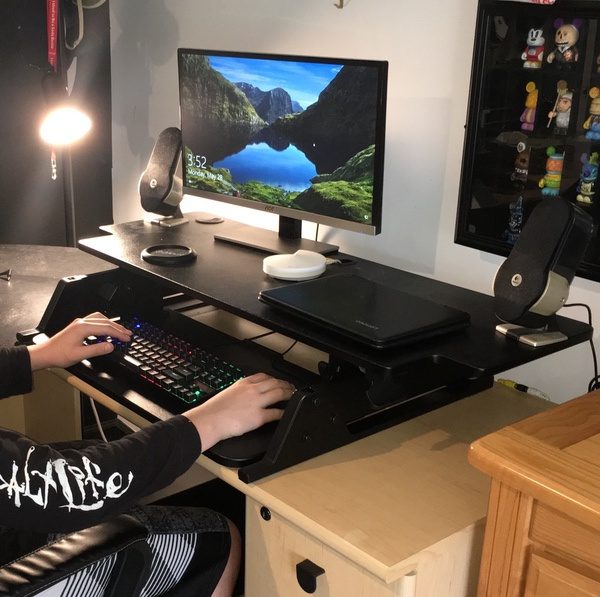 Get up outta your seat! Standing desks are all the rage for ergonomic workspaces, and convertible standing desks allow you to get healthy without buying a whole new office setup. The iMovR ZipLift Standing Desk we're looking at is the 42″ wide model, which can handle 2 monitors and a laptop if you're all tricked out. Let's raise it up!
What is it?
It's a desk converter that turns your work surface into a standing desk. It also includes a portable standing mat.
Hardware specs
Top Work Surface: 42″ W X 15.7″ D X .5″ H; maximum weight capacity 45 lbs plus 15 lbs counterbalance

Keyboard Tray: 26.4″ W X 13″ D X .5″ H; maximum weight capacity 5 lbs.

Base: 29.2″ W X 22.2″ D

Work Surface Maximum Height: 20 5/8″ 

Maximum Monitor Size: 2 x 27″ 

Grommet Hole Diameter: 2 inches

Keyboard Tilt: +10 degrees, -15 degrees

Unit Weight: 45 lbs.

Shipping Box Dimensions: 44″ W X 27.5″ D X 8″ H 

Shipping Weight: 55 lbs.
What's in the box?
A fully assembled ZipLift comes in the box, along with the standing mat.
Design and features
The ZipLift converts your existing desk into an adjustable standing desk. Place it on your desk, add your computing gear, and you can adjust the height for sitting or standing use. As we'll see in a moment, the ZipLift incorporates a number of ergonomic & design details that separate it from the pack.
Size and stability tend to be the biggest problems with standing desks, and the ZipLift does a great job of addressing both of these issues. A wide, deep work surface allows plenty of room for dual 27" monitors and a laptop plus accessories. The beefy z-frame lift mechanism and heavy-duty construction can handle 45 pounds of gear, and is extremely stable at any height. It's a solid piece of gear at a 45 pound net weight; fortunately, it comes pre-assembled and ready to go out of the box. Check out the burly construction under the hood: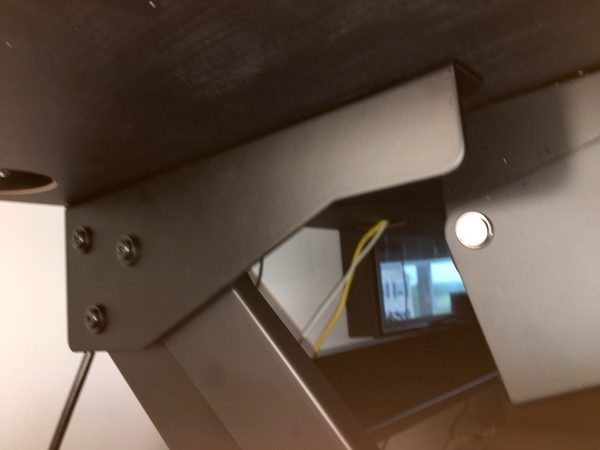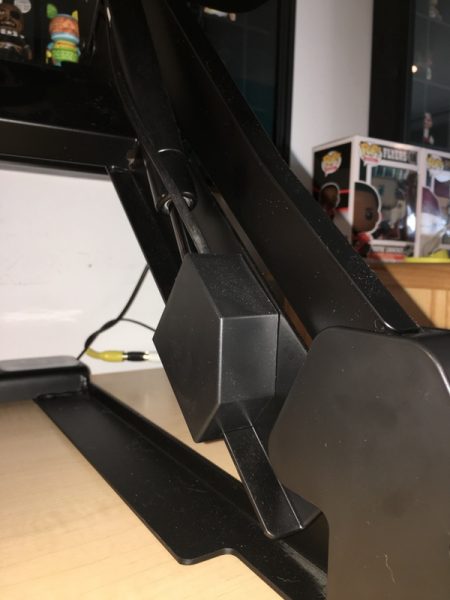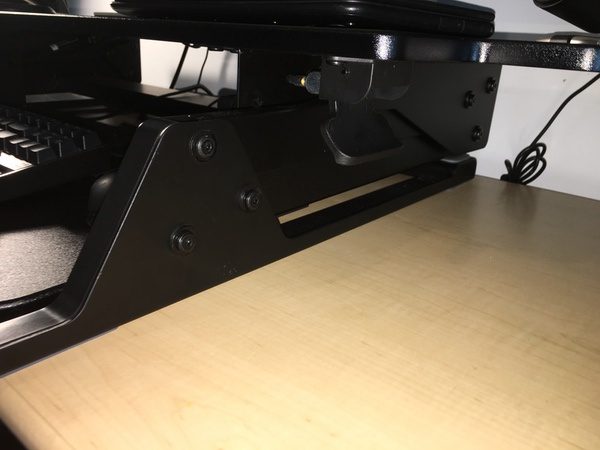 I really like the design of the keyboard tray. The wide, deep tray space will accommodate extra-large keyboards plus a mouse, a feature that I don't see in all the stands in this category.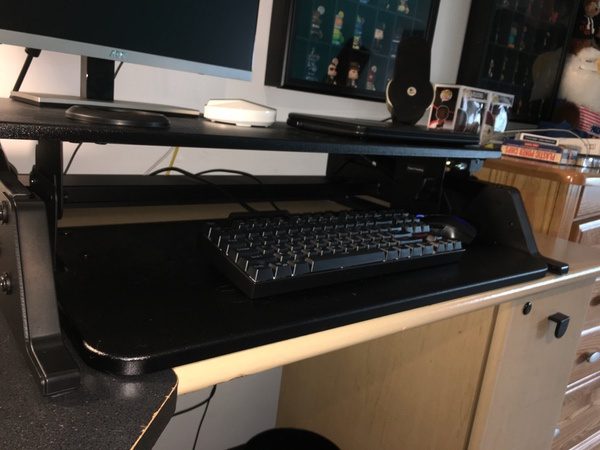 Not only is it big, but the tray can be tilted up to 15 degrees up or down by loosening the adjustment handle. If you spend a lot of time on a standing desk, you quickly learn to appreciate this feature for comfortable ergonomics. Little adjustments make a big difference.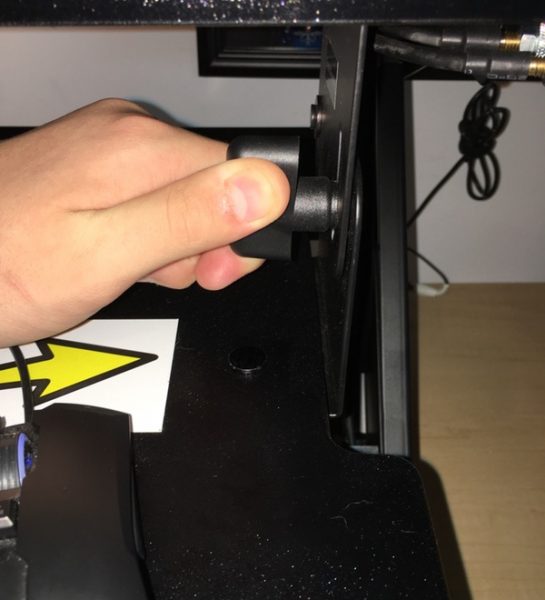 They keyboard tray also includes soft pads on the underside, so it doesn't scratch up your work surface. A nice touch!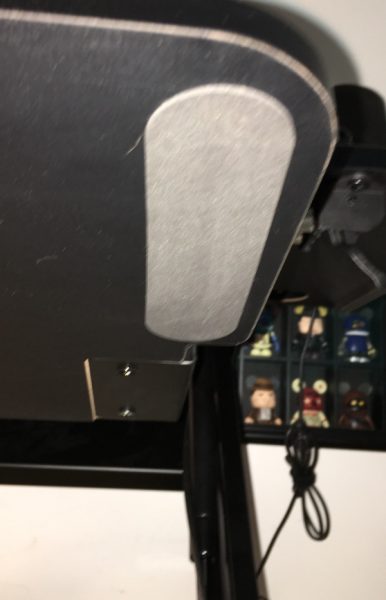 The lift mechanism is operated by squeezing the hand paddle to release the brake on the right-hand side of the desk. With a maximum height of 20 inches the desk will accommodate users up to 6'7" tall, and has an infinite level of height adjustments in between. A 15 pound counterbalance assists with raising the desk, which helps if your desk is fully loaded. The desk lift also brakes during lowering operations so that you don't get any sudden jolts when you drop it to lower heights. Tracking is silky smooth (and quiet!) across the full range of motion, with no detectable wobble even at maximum height.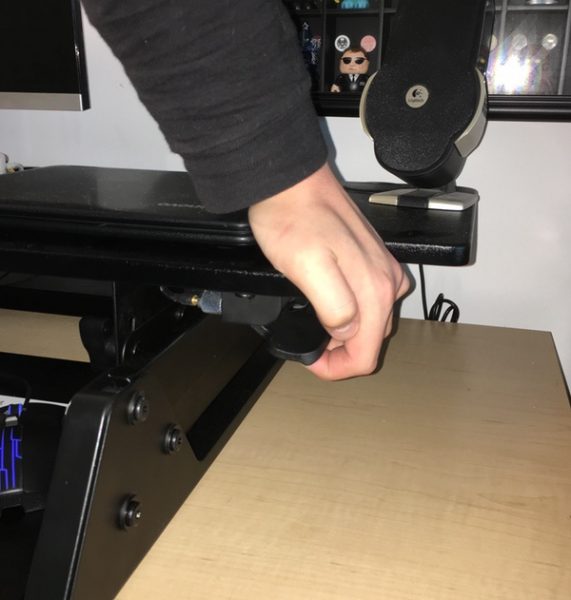 Here's a comparison shot of the desk in the sitting and standing position, modeled by my 15 year old son. He's 6′ tall, and I claim no responsibility for his fashion choices. He is a teenager, after all: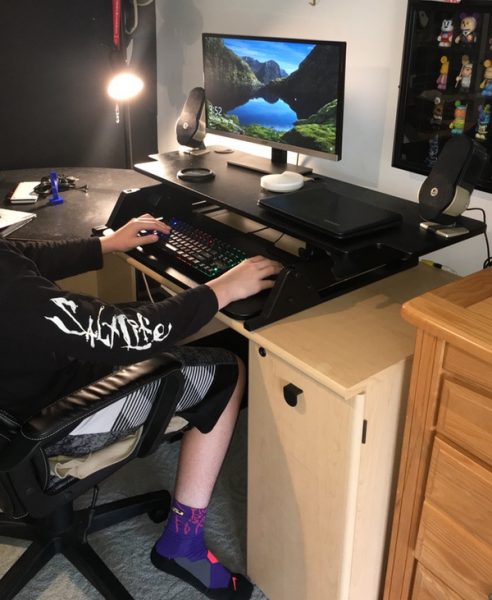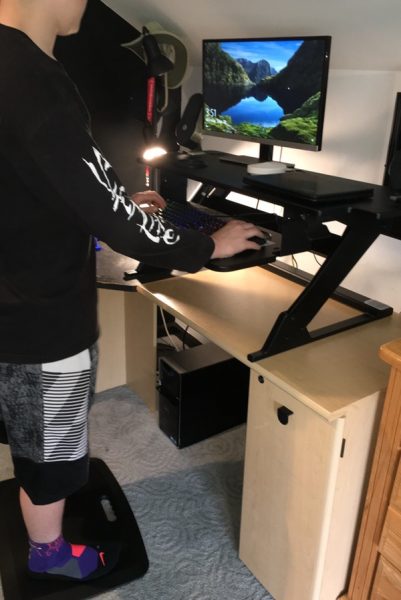 It's important to note that the lift mechanism includes no additional power assist for raising operation. A 42" work space accommodates a lot of gear. While the 15 pound counterbalance helps, it still takes some effort to raise the desk if it's fully loaded. You don't need hulk-level strength to make it go, but you'll want to consider your intended loadout if you have issues with this sort of thing.
You'll also find some nice finishing touches in the ZipLift. The keyboard tray includes a couple of slots to wrangle your keyboard and mouse cables if you're not wireless. There are also three ports in the top surface to organize your power chords and peripheral cables. All the edges are beveled and finished to eliminate sharp edges. The unit is also surprisingly lean and streamlined for such a beefy build. It all adds up to a nice package that, in addition to providing great ergonomics, makes your workspace a clean and organized place to spend your time.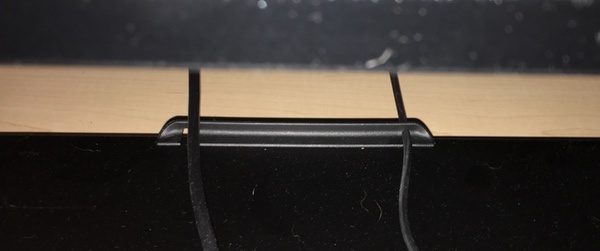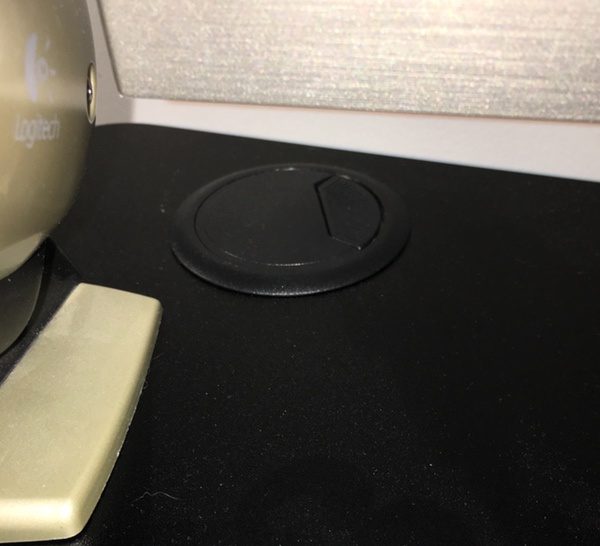 As an additional bonus, ZipLift includes a standing mat with your purchase. The mat measures 18" by 24" and 3/4" thick, and includes a grab handle for portability. It's a nice addition that adds comfort when standing for long periods of time, and saves you a few bucks in the process.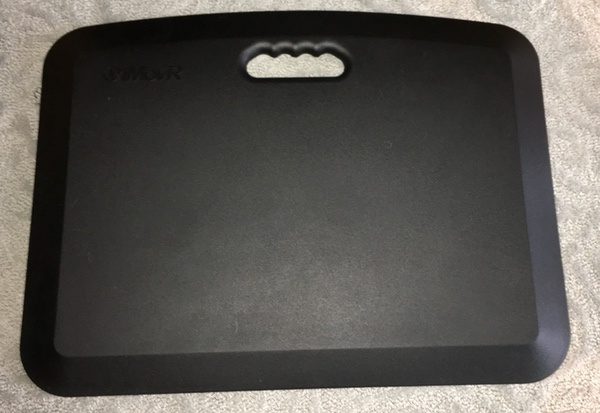 Speaking of pricing… the ZipLift is not cheap. The 35″ wide model starts at $350, while the 42″ wide model I'm testing comes in at $429 before adding any options (like monitor arms). There are a lot of options at this level including both motorized lift desk converters and full-size adjustable height desks. I think that the build quality and design is worth your consideration, but you'll want to do a bit of comparison shopping before making the investment.
What I like
Huge work surface to handle two 27" monitors, a laptop, and accessories

Wide, deep, adjustable keyboard tray

Rock-solid construction with little or no wobble at any height

Multiple ports and slots to organize your cables

Smooth operation with a broad range of height adjustment

The inclusion of the standing mat is a great bonus item
What needs to be improved
Does require a little muscle to raise the desk if loaded to max capacity

Pricey for the category
Final thoughts
The iMovR ZipLift is a great all-around standing desk converter. Build quality is outstanding with excellent ergonomics, while the finishing details in the build (including the addition of the standing mat) make it a worthwhile lifetime investment. It is on the high end of the price scale, however, so you'll want to make sure that you carefully consider your needs before purchasing.
Price: $369.00
Where to buy: You can purchase the ZipLift at iMovr's web site. Also available on Amazon.
Source: The sample of this product was provided by iMovR.