We use affiliate links. If you buy something through the links on this page, we may earn a commission at no cost to you. Learn more.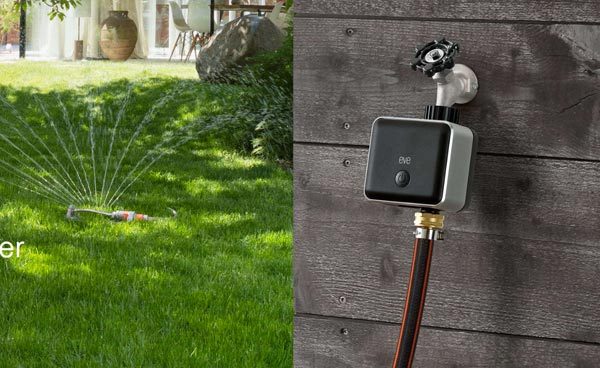 Elgato Eve products can be used inside to automate your home.  The Gadgeteer has even reviewed some of them.  Now Elgato adds the Eve Aqua to turn your outdoor faucet into an "intelligent water outlet" to make watering your yard as easy as set-it-and-forget it scheduling or to allow you to water your lawn while you're out doing errands.
You don't need to buy a hub for Eve products.  They are designed to work with Apple's HomeKit, so they will work out of the box with your iPhone, iPad, iPod touch, and Apple Watch. Your Apple TV or iPad will serve as a home hub, seamlessly automating your accessories and keeping you connected anywhere you have internet connectivity.
Elgato says: "Eve accessories are exclusively HomeKit-enabled. Even when accessing your home remotely via your home hub, data is end-to-end encrypted and stored on your iPhone or iPad. Superior privacy, advanced security, and absolute peace of mind – it's all here.  Equipped with Bluetooth low energy technology, Eve accessories ensure reliable operation independently of bridges. Setup is quick and easy. Energy consumption is minimal. And accessory response time is snappy."
The Eve Aqua connects between your outdoor faucet and a garden hose.  It has IPX4 water resistance plus Australian-certified UV protection to keep the Aqua in prime working shape for years to come.  You can set it up once and let your schedules work independently without wireless connectivity.  Or you can control the Eve Aqua on the fly by using the app on your iPhone, iPad, or Apple Watch or by issuing Siri voice commands.  In addition to controlling watering schedules, the Eve app will track water usage over time, so you'll know.
The Elgato Eve Aqua is available for pre-order for $99.95.  Shipments begin on June 25th.  Place your pre-order now at the Elgato website.