We use affiliate links. If you buy something through the links on this page, we may earn a commission at no cost to you. Learn more.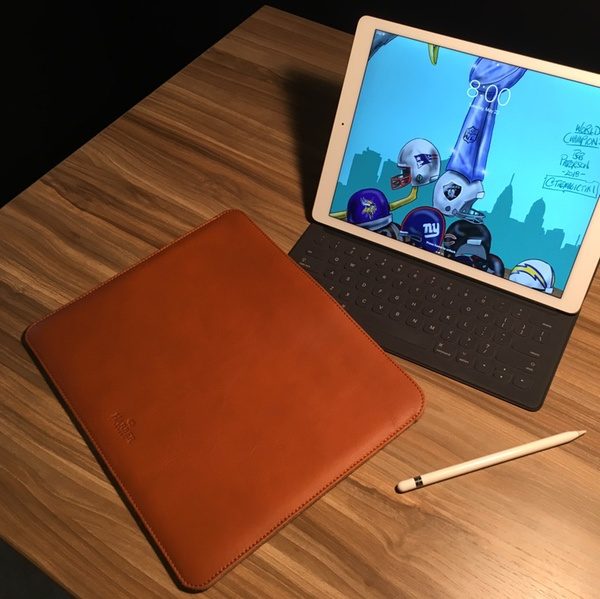 There's nothing makes an impression like a fine piece of leather. If you're looking to level up your style, I'd like to introduce you my new friend: the Slim iPad Pro EVO from Harber London. Think of it like a fine whiskey: simple and elegant, with a subtle complexity that just oozes class. To the review! 
What is it?
It's a leather sleeve for your iPad Pro, Apple Keyboard, and Apple Pencil.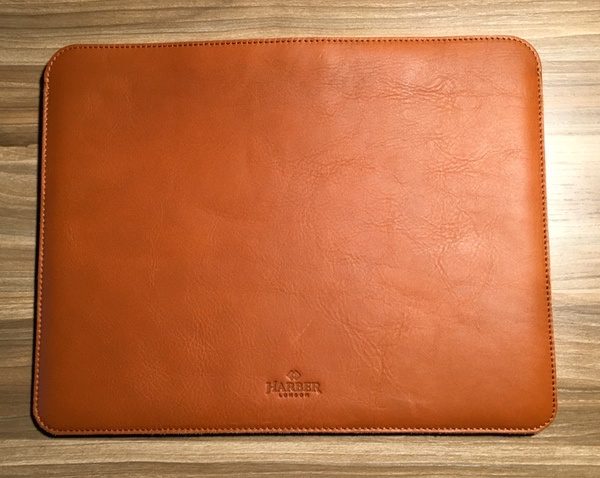 Hardware specs
13″ wide by 10″ tall

Full grain vegetable tanned cowhide leather

100% wool felt lining

Hand made

Fits the 12.9" iPad Pro with or without the Apple Keyboard

Internal security loop for the Apple Pencil
What's in the box?
The sleeve is the only star of the show here, but we have to spend a moment talking about the packaging. Harber London delivers your sleeve in an elegant cotton white bag, sealed in an embossed black folio that sets the tone for a sophisticated brand experience. I love it when brands pay attention to the little details like this.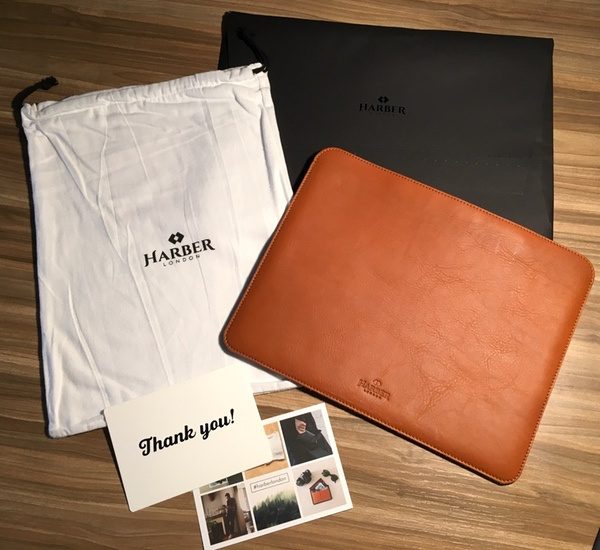 Design and features
Let's start our review with the construction. The Harber London Slim iPad Pro EVO uses full grain vegetable tanned cowhide leather that is rich, supple, and elegant. Little details like the tastefully-placed  embossed product logos just add to the sense of sophisticated style in the build: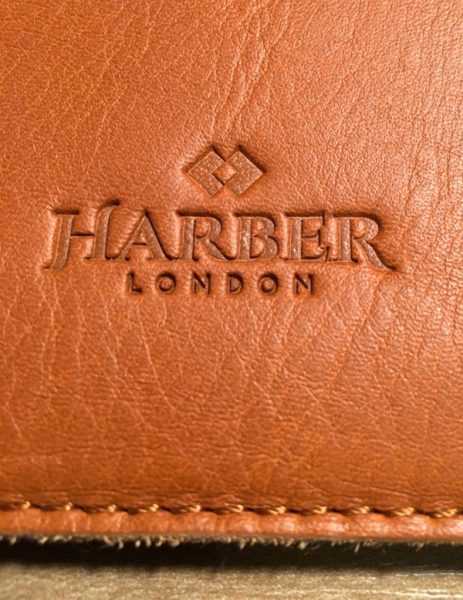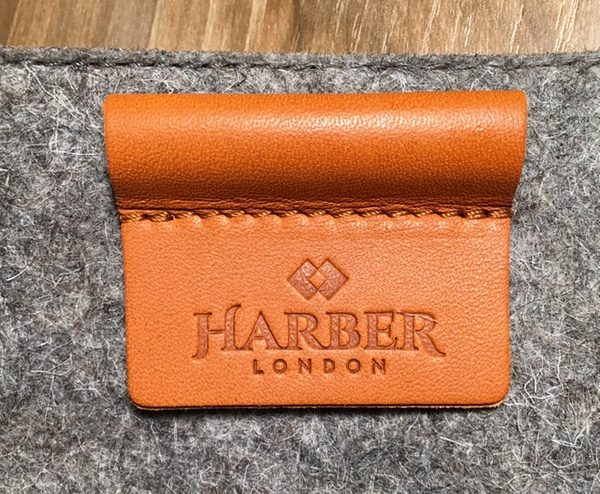 Harber London's products are all hand made in Spain, and the quality craftsmanship is obvious in the little assembly details. The 100% natural wool lining pairs perfectly with the leather. It's got amazing hand feel, durability, and a wonderfully soft wrapper to protect your iPad's delicate surfaces. The edging on both the wool and leather is left raw, letting the natural materials speak for themselves: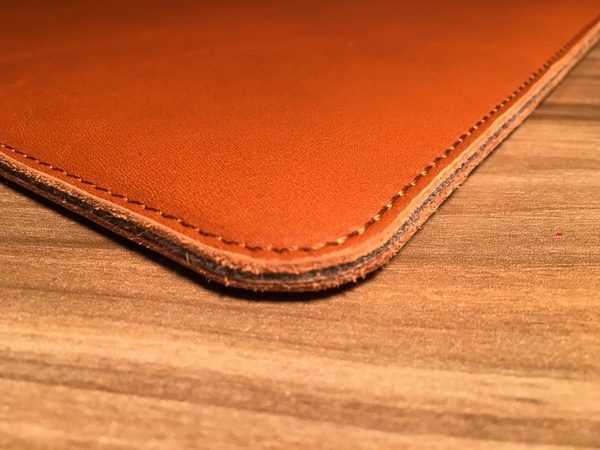 The interior leather loop is sized perfectly for your Apple Pencil. It's tight enough to keep it from running away, but not so tight that you're fighting to get your Pencil in and out when you need it.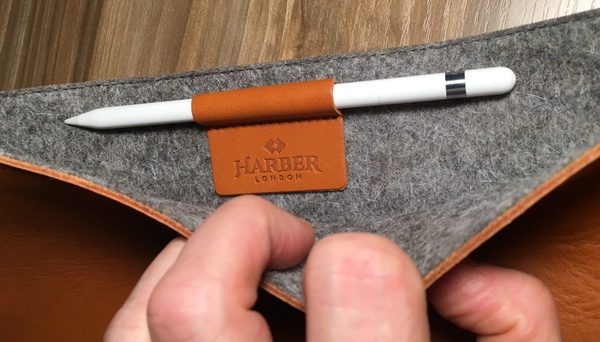 The sleeve is sized to fit your iPad Pro while allowing enough extra depth to accommodate the Pencil, making it easy to slide your iPad in and out. It's snug enough to accommodate your Apple Keyboard attached to your iPad without extra slack to slide about. You could probably add your iPad back cover if you want to stretch the leather a bit, but I wouldn't recommend it. And if you're using the sleeve, why would you need that anyway?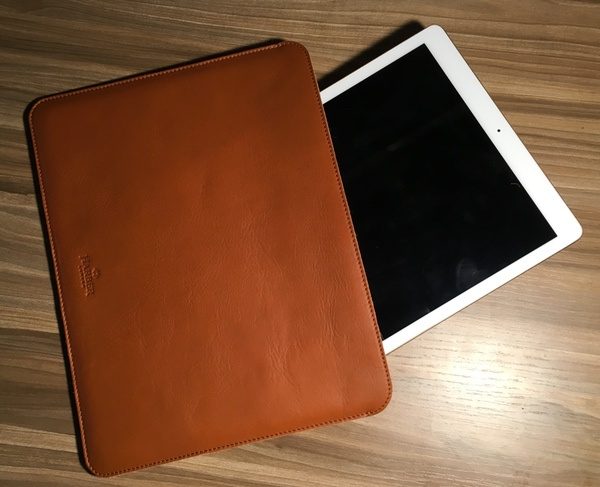 Total measurements on the sleeve are 13″ wide by 10″ tall, and about 3/4″ deep when you load up your iPad Pro, Apple Keyboard, and Apple Pencil. It adds about an inch all around and 1/2″ depth to your carry as opposed to running naked with the iPad Pro. Not a huge increase in volume if you're throwing it in your bag.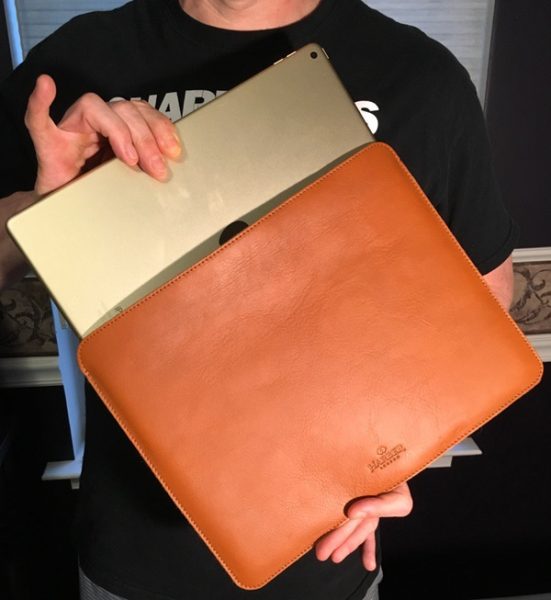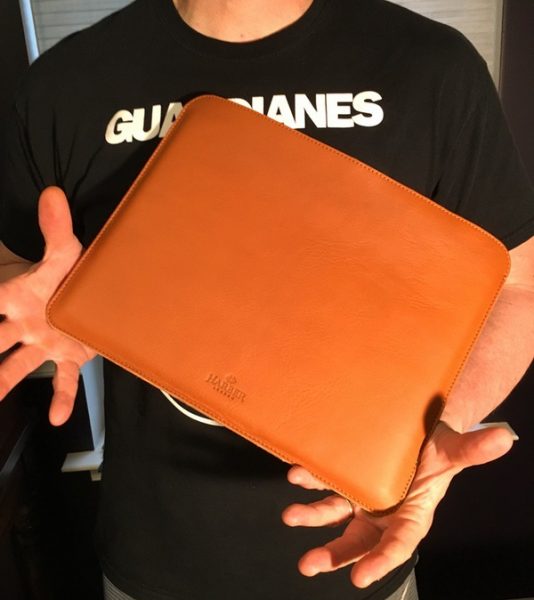 For me, the perfect use case for this sleeve is the business/creative professional who has pared down the meeting essentials to your iPad Pro and Apple Pencil. There's no fumbling with zips or flaps in the design; slip out your tools, and get right to work. It also makes a serious style statement that looks great when you need to dress up for that big presentation or board meeting.
Harber London does offer a variety of hand crafted leather and EDC products, including sleeve designs for an assortment of devices with different features. Take a wander over to Harber London's site for more information.
What I like
Hand-made with beautiful, natural materials
Simple and elegant
Sized perfectly for your iPad Pro and Apple Pencil
What needs to be improved
Final thoughts
There's something magical about hand made leather products that let the quality of craftsmanship shine through. The Harber London Slim iPad Pro EVO ticks all of those boxes for me, with great functionality to boot. It's simple, elegant, and classy. I'm definitely looking forward to seeing more from this brand.  
Updates 03/12/19
I don't carry my iPad Pro to work every day, but the Harbor London sleeve also happens to be a perfect fit for my iPad Pro 13". It's great for protection in and out of the bag, and adds minimal bulk to my daily carry. It also opens up my options; I don't need to have a built-in laptop sleeve in the bag I choose to use that day. Plus the leather-and-wool look is amazing.
Price: About $80 USD. Note that Harber London is based in the UK. This item ships worldwide for under $10 USD, but check shipping rates when purchasing.
Where to buy: You can buy direct from the Harber London web site.
Source: The sample of this product was provided by Harber London.