We use affiliate links. If you buy something through the links on this page, we may earn a commission at no cost to you. Learn more.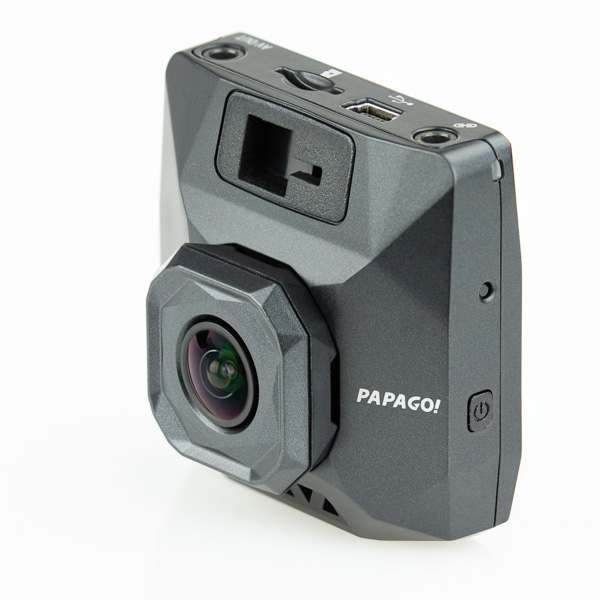 I had the opportunity to review another Papago! dash cam not long ago, so I had a little bit of an idea of what to expect. When the less expensive Papago! GoSafe S37 Dash Camera arrived, I was still surprised by the quality of this camera.
What is it?
The GoSafe S37 Dash Camera is a Sony sensor based dash cam that records high quality 1080p HD videos at both day and night. Even though it doesn't have quite the specifications as its more expensive sibling cam, the S780, this one still has a quite a few nice features.
Hardware specs
| | |
| --- | --- |
| Screen | 2.0″ color LCD display screen |
| Chip | Professional Sony image sensor chip |
| Angle View | Front: 140 ° ultra- wide-angle lens F1.8. |
| GPS | Supports GPS-Antenna (Sold separately) |
| TPMS | Supports PAPAGO! TireSafe D10E TPMS (Sold separately) |
| Video Format | 1920X1080P30, 1280X720P30, 640x480P30 .MOV format |
| Storage Device | MicroSD card (Class 10, 8GB or above. Supports up to 128GB) |
| Battery | Built-in super capacitor |
| Weight | .10 lbs |
| Dimensions | 2.2″ x 2.2″ x 1.2″ |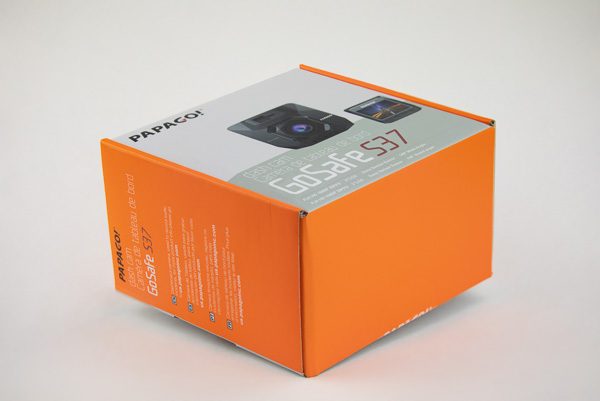 What's in the box?
GoSafe S37
Car Charger
Suction Cup Mount
8GB Micro SD Card
User Manual
Warranty Card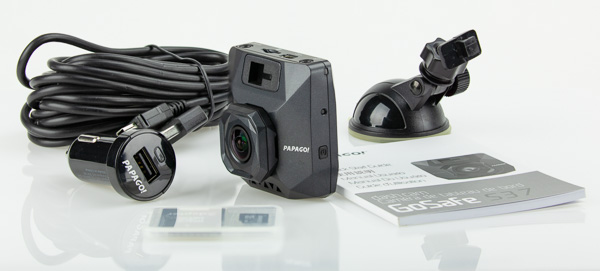 Design and features
The Papago! GoSafe S37 Dash Camera turns on automatically when power is applied and begins recording immediately. It records 5-minute segments of video, replacing the oldest files when the memory card is full. Embedded supercapacitors provide enough power to save the recording when power is lost, either from turning off your vehicle or in the event that a crash disrupts power to the camera. A 16gb memory card holds approximately 90 minutes of video files before the files are overwritten, depending on the file format that is chosen.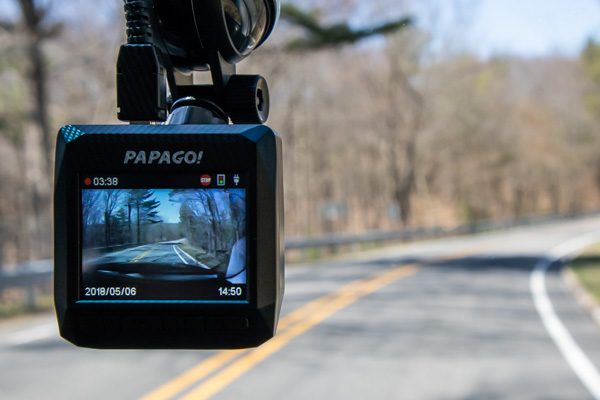 While recording you can press the down arrow button for 3 seconds to capture a picture without interrupting the video recording. These are saved to a separate "photos" folder on the memory card and are not overwritten.
There's also an emergency mode, which is activated by pressing the far left button while the device is recording. This mode will lock the current file so that it is not overwritten when the memory card is full. The locking of the file will also occur when the g-force sensor detects a crash – something I declined to test.
The camera features a SONY Exmore sensor and a 140-degree ultra-wide angle lens. The lens has an anti-reflection coating as well to eliminate flaring when facing bright lights.
The unit supports a GPS antenna (sold separately) to record speed and for GPS logging on your videos, to automatically correct the time, and for other related functions. Also available is an optional accessory called the TireSafe D10E (sold separately), which enabled the unit to display your tire pressure and temperature in real-time. However, you can only use one of these at a time.
Many of the Papago! cameras have the Papago! Driver Assist Features, which include Stop Sign Recognition, Stop and Go, Driver Fatigue Warning, and Headlight Reminder to help you stay safe on the road. For example, when the unit "sees" a stop sign, it will display a stop sign on the screen and give an audible beep. These features are able to be turned on and off in the settings. The stop sign feature worked well, picking up every stop sign, but if you're going over 25mph you won't stop in time. I would be nice if it could pick them up a little farther away. The stop and go feature worked well also, giving a lower toned beep when it detects the car in front of you has started moving, but you haven't.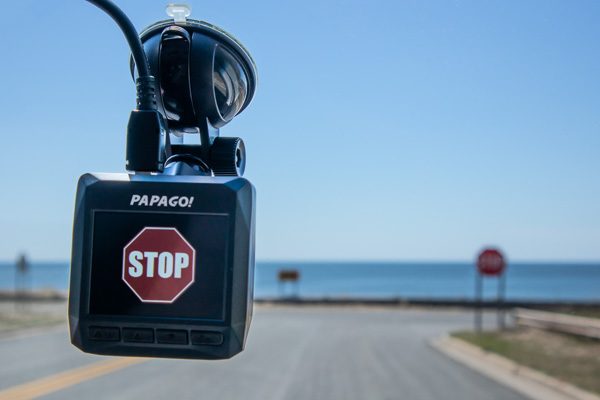 The S37 has three recording modes: Automatic Recording (Loop recording), Monitor Mode (1 picture per second to save storage space), and Motion Detection(motion-activated recording). The monitor mode is useful to make a hyperlapse video with, as it saves the pictures as frames of the video.
What I like
I'm not sure if the Sony Exmore sensor isn't quite as good as the S780's Starvis sensor or if it's the difference between the S37 using a .MOV file format instead of .mpeg, but the video wasn't quite as clear as the S780. However, I think for what it's designed to do it performs extremely well.
I really liked was the extensive menus and settings, if there's one thing I like its options and more options. Disabling features you don't want is really nice.
The S37 comes with its own power plug and separate USB cord, which allows you to use an existing plug if you happen to have one that has a couple of ports on it. The cord is 13 feet long, plenty long enough for you to route it behind panels and out of view.
What needs to be improved
The Monitor Mode starts a new video every five minutes, instead of every five minutes of recorded video time. This results in a ton of 10 second video clips.
I felt the buttons on the camera were a little too hard to push. Being that the camera is normally going to be mounted up and out of the way, I think they could have gotten by with buttons that were a little easier to push so that the unit didn't move when pressing them.
Final thoughts
Overall I thought this was a really nice dash camera. It's really a set it and forget it type of device, with subtle audio cues to let you know it's working.
Price: $139.99
Where to buy: Amazon
Source: The sample of this product was provided by Papago!