We use affiliate links. If you buy something through the links on this page, we may earn a commission at no cost to you. Learn more.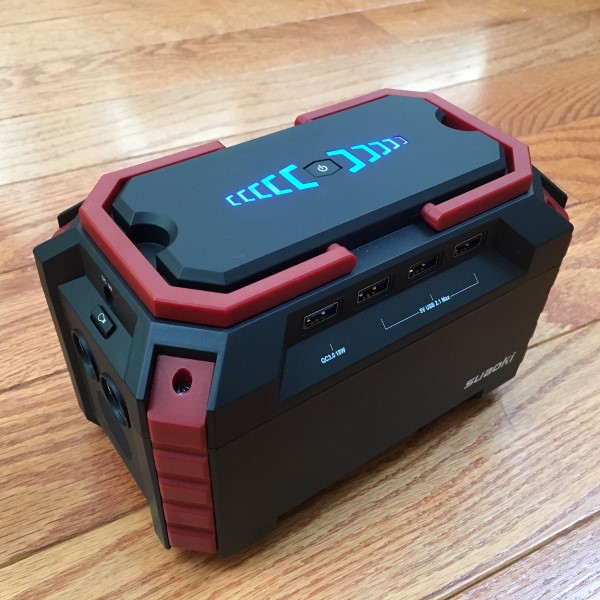 In the summer of 2017, my family traveled to my wife's home in the central Philippines. While waiting for a ferry to her island, an earthquake struck. Moments later, the power went out. In a few days, the rolling blackouts, heat, humidity and need to keep medical equipment functioning drove the need to purchase a small generator. Finding one wasn't easy; it was expensive, we were in competition with dozens of other buyers, there was limited stock, and once we found one, it consumed considerable funds for fuel. What I would have given for one of Suaoki's Portable Solar Generators!
What is it?
The Suaoki Portable Solar Generator is a beefy, 13,500mAh battery pack with an integrated modified sine wave inverter and flashlight. It's equipped with one "grounded" AC socket, one two-prong AC socket, four USB sockets, and four 12-volt coaxial sockets. A gaggle of electrical adapters, power supply options, and cords are supplied to fulfill a vast array of electrical needs.
Hardware Specs
Heavy-duty plastic construction
Approximately 7" long, 4-1/2" wide and 5" tall
Carry handles fold into the top
Approximately 3 pounds, 3 ounces
AC/DC/USB Outputs: (2x) AC outlet (max 100W, peak power 150W); (4 x) DC port (15A / 180W max); (1x) QC3.0 USB port (18W max); (3x) USB ports (10.5W max); charges or powers products such as laptops, phones, tablets, cameras, drones, CPAP machine, small home appliances and more
On-the-Go Power Source: 150Wh (3.7V 40500mAh/11.1V 13500mAh) powerful charging station for camping or emergency backup; probably the most compact power station with a size of 7.3*4.3*4.7 inch, and the weight is only 2.9 lbs.; 2 hideable lift handles make it even more portable
Efficient Solar Generator: connect a solar panel (not included) and S270 Power Station via DC 3.5X2.1 to MC4 connector (included), it can be a silent and gas-free solar generator; with MPPT solar charge controller inside, the unit can be charged much more efficiently
Triple Input Modes: (1) can be recharged by connecting to SUAOKI 60W, 100W solar panel (SOLD SEPARATELY); (2) can be fully charged in 8 hours by being plugged into a wall outlet; (3) can also be charged by plugging into your car 12V socket. (Car charger included)
Perfect Emergency Tool: battery management system (BMS) enables voltage control, temperature control, and more advanced safety operations, ensuring ultra-safety for you and your devices; can also function as a torch for emergency lighting; 18 months warranty and friendly customer service
What's in the box?
The Suaoki Portable Solar Generator
AC power charger
12-volt automobile charger
12-volt automobile power socket adapter
10 coaxial power connectors and connecting cable
Alligator clip cable
User manual
(Surprisingly, despite being named "Solar Charger," no solar panels are included with the battery pack)
Design and features
Upon opening the box and gleefully removing the contents, I was rather shocked that no solar panels were included. In the interest of providing a more comprehensive review, I contacted The Gadgeteer's Owner/Editor and Gadget Guru, Julie, and agreed to purchase an accompanying 60-watt solar panel.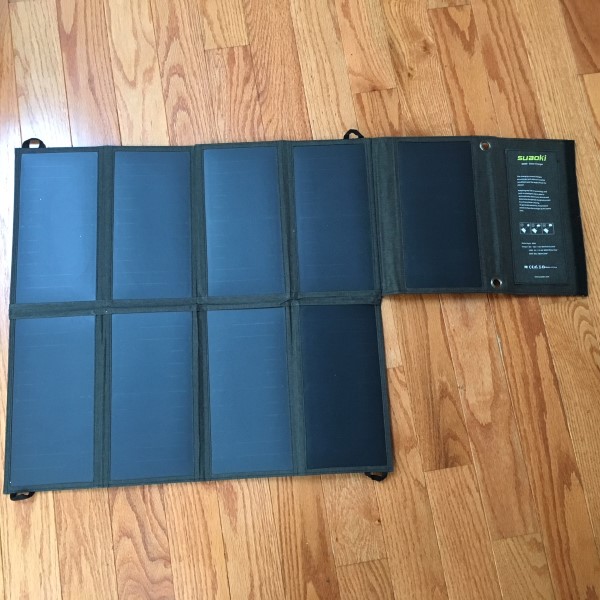 The solar panel arrived a few days later and was immediately deployed to begin soaking in the sun's illuminating rays. It's wrapped in a canvas cover and folds into a compact, portable size. Fully deployed, it's about 3′ X 2′, but folds down to a svelte about 1′ X 6″ X 2″.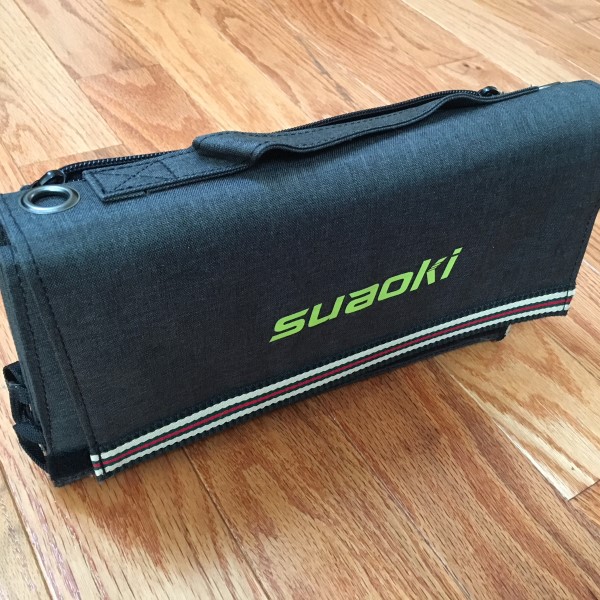 Unfortunately, during mid-winter in Upstate New York, the sun is a rare commodity. It took almost two weeks for us to have a sunny day. That being said, at 60-Watts, the solar panel is capable of generating enough power to trickle-charge the battery pack under low light conditions, but it would take several days to generate a full charge for the battery pack. That being said, with minimal sunlight and an overcast, gray sky, the panel easily produced enough power to charge my iPhone (without the piggyback battery case) in about two hours. If all you are looking for is to keep your phone running, this Suaoki 60-Watt solar panel is just dandy without the need for the battery pack.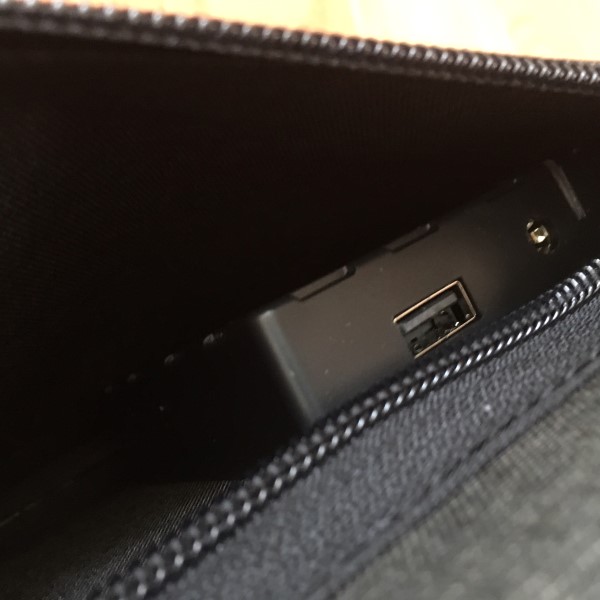 The Solar panel is equipped with a 12-volt and USB sockets tucked inside the storage pocket.
However… If you need to provide power where the sun doesn't shine, the Suaoki Solar Charger battery comes to the rescue.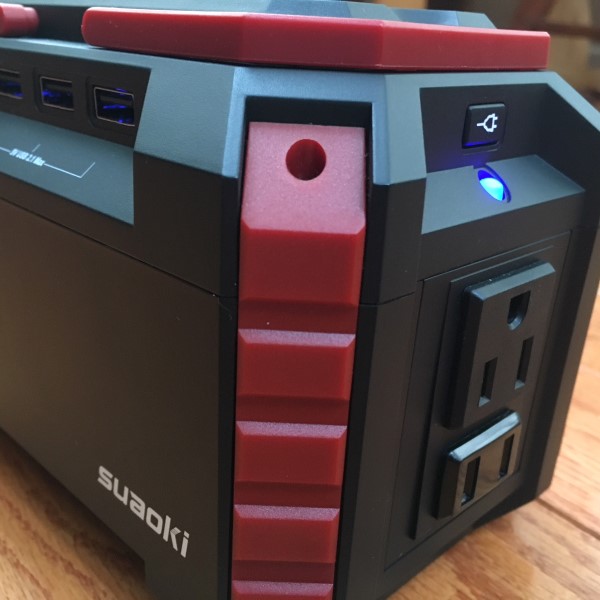 Once the sun was brave enough to show its happy face in snow country, it fully charged the power bank with the solar panels in approximately eight hours. It takes the about same amount of time to charge using the included AC wall charger. While being charged or providing power, two sets of four bright blue LEDs on the top surface happily blink to indicate the battery level.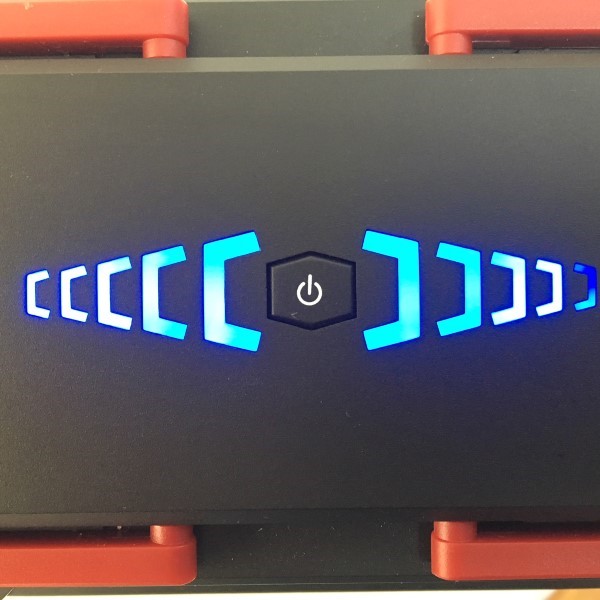 I must admit, this is one of the more challenging reviews I've done, not because of the complexity or quality of the Suaoki products, but in gathering data to provide an idea of how long this power supply will function. Simply put, the 13,500mAh battery inside is a beast! The case is bulky, but Suaoki was wise enough to integrate handles into the top.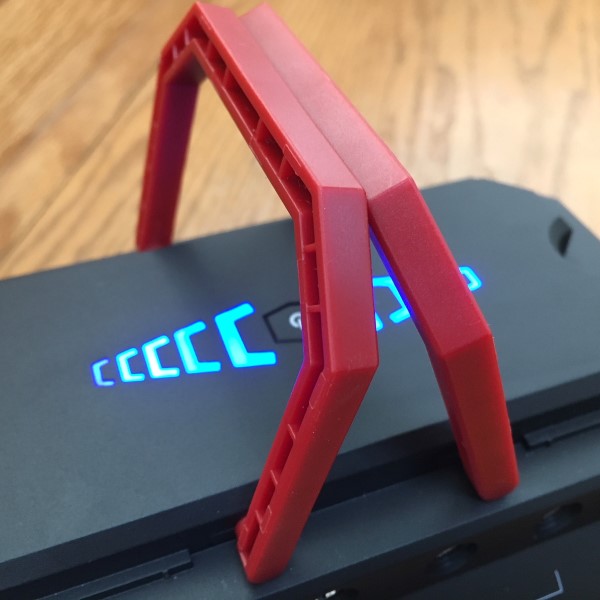 One "grounded" plug and one two-prong socket adorn the side of the power pack. I plugged in a standard table lamp equipped with an 800 lumen, 9-watt (60-watt equivalent) LED bulb and started a stopwatch. A full 12 hours later, the lamp was still shining brightly. Plugging in a 32" LED television, the power supply provided 4 hours of Netflix viewing bliss. It should be noted that using the power inverter to supply AC devices isn't as efficient as using DC power because there are some efficiency losses converting direct current to alternating current making it impossible for me to make calculations to estimate battery capacity with any accuracy.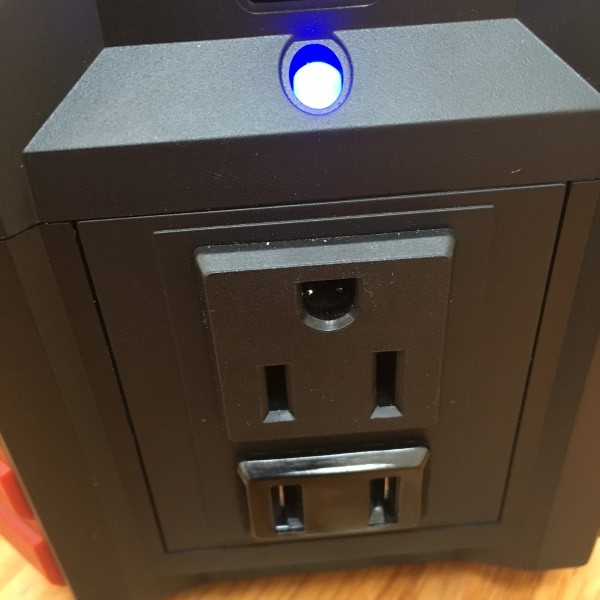 The modified sine-wave inverter housed inside isn't ideal for powering inductive (motors and power supplies with wire-wound transformers), but it will work in a pinch. I plugged in a pedestal fan and it ran for about 7 hours before exhausting the battery. I also used it to power the Dell laptop used to write this report. The modified sine wave inverter made the power supply buzz slightly and become hotter than normal, but as far as I can tell, no damage was done. In the future, I will use one of the coax jacks to feed my computer.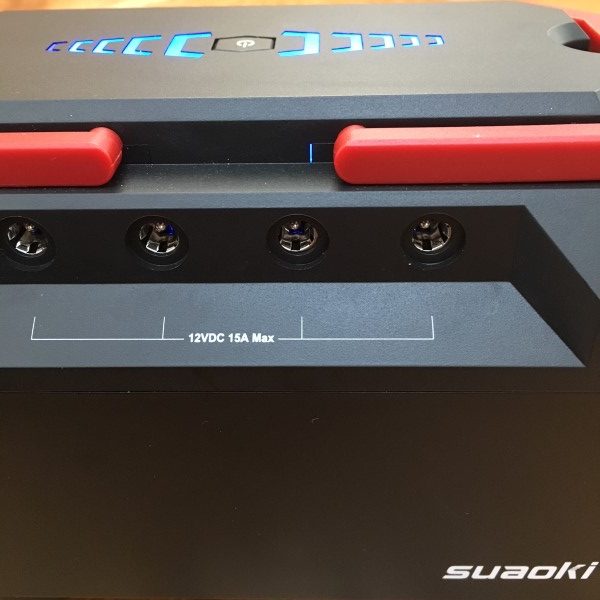 Between the power block and solar panel, there are more power adapters than you can shake a stick at. Alligator clips, male and female automobile connectors, cables, and several kinds of adapters are included.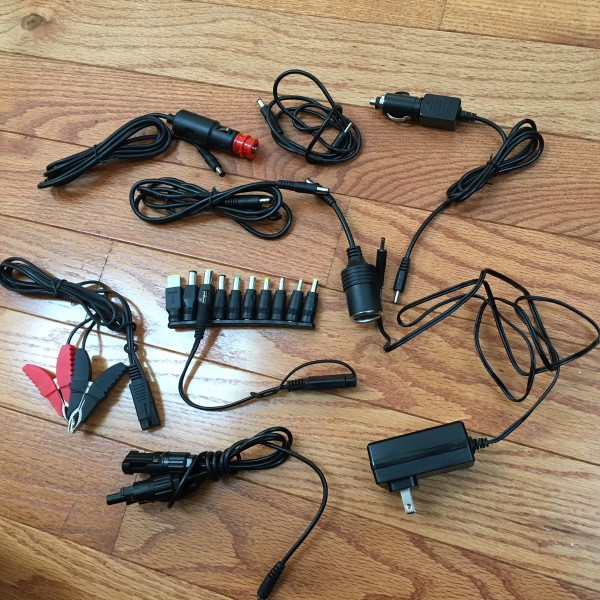 The four coax power sockets share a mammoth 15 Amps. That's enough to simultaneously charge four average laptop computers. I don't know of any other portable battery pack that can do that. I was able to power my Dell laptop using the included power tips for hours. The folks at Suaoki clearly thought the application of this power pack through. I found the utility of this device to be incredibly versatile. I searched around my home plugging the power tips into every gadget I could find and only found one that had a very tiny connector that the adapters would not fit.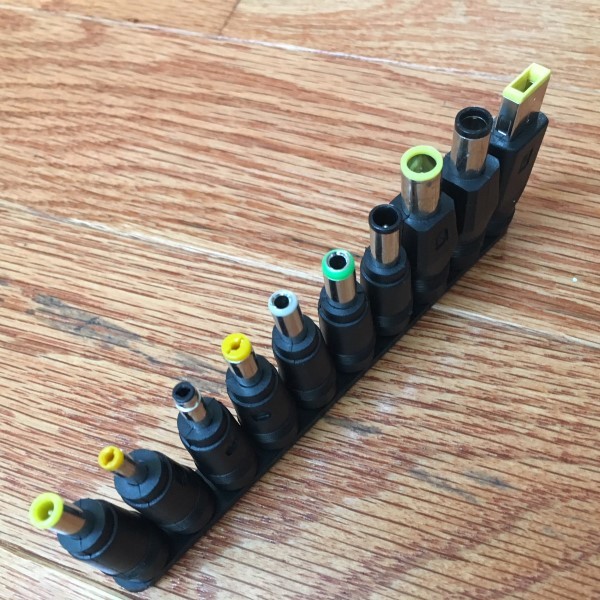 The three USB sockets can provide up to 2.1 Amps shared between them. The fourth USB socket can provide 18 watts, which should be about 3.6 Amps, which is enough to charge most tablets. My iPhone is equipped with a piggyback 5000mAh battery pack to keep my Dexcom constant glucose monitor alive for more than a day untethered. Naturally, my phone and battery take substantial time to completely charge. I'm pleased to report that the Suaoki Solar Charger was able to supply 3 complete charging cycles with a little juice to spare.  I will be keeping the Suaoki charged as an emergency backup.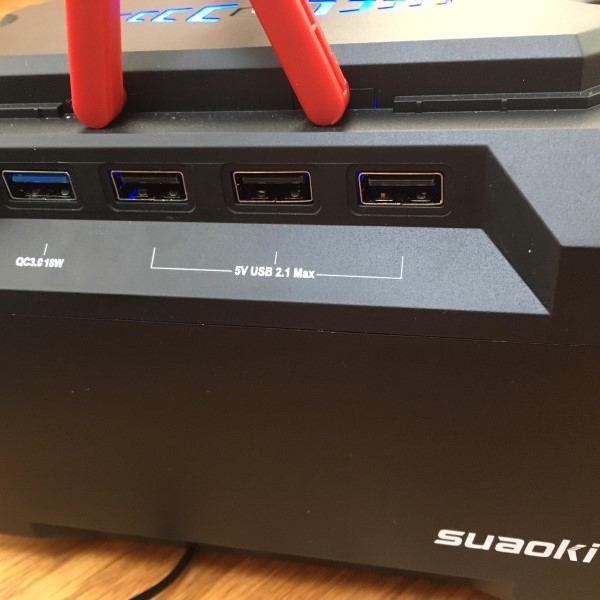 Of course, plugging in multiple devices into the Suaoki Portable Solar Generator will reduce the amount of time it can operate correspondingly, sharing the capacity across the connected devices. To give you an idea, four average laptops plugged into the power ports would exhaust the battery in a little less than an hour. One iPhone X can be fully charged about five times, but using all four USB sockets to charge your power-hungry iPhone X collection would only yield about 1-1/4 full charges. Your mileage may vary.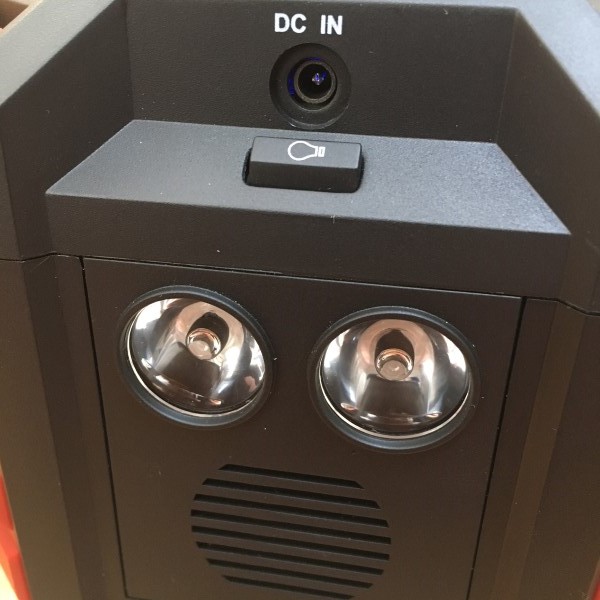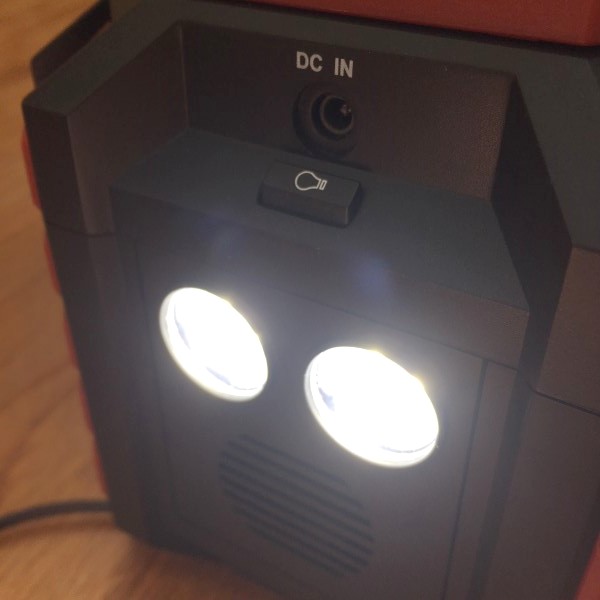 The integrated double-barrel flashlight is very bright and has constant and flashing modes. It fires enough photons to adequately illuminate an entire room bright enough to read is pointed at the ceiling. I mention this because my family used this technique in The Philippines to provide enough light for nieces and nephews to get their homework done.
What I like
Well-constructed
Ample battery power
Solar charging capability
Charging tips included to power many computer types
Lots of cables and connectors are included
Relatively small and light-weight
The solar panel includes a storage pocket for connectors and cables
Integrated flashlight
The solar panel folds into a compact size.
Green, non-polluting energy!
What needs to be improved?
It would be great if a high-current connector were provided that would allow jump-starting an automobile.
The complete setup (battery pack and solar panel) is somewhat expensive.
The name "Solar Charger" implies that the solar panels would be included with the battery pack. As with all purchases, read the fine print, dear friends.
Final thoughts
What I wouldn't have given to have one of these when the power was out in The Philippines! I was very impressed with the power capacity, ease of use, and the number of connectors included. It's not going to replace a small generator for higher-current power production needs (like an air conditioner or microwave), but I found it's more than capable of generating enough juice for most of my power needs.
Do you remember the Northeast power blackout on August 14th, 2003? I do, and I would really like to avoid that helpless feeling again. Suaoki's solar charger and panel should help alleviate some of my anxiety.
Price: Power bank: $139.99, 60-watt solar panel $179.99
Where to buy: Amazon
Source: Suaoki provided a power bank sample and discount on the solar panel for this review.