We use affiliate links. If you buy something through the links on this page, we may earn a commission at no cost to you. Learn more.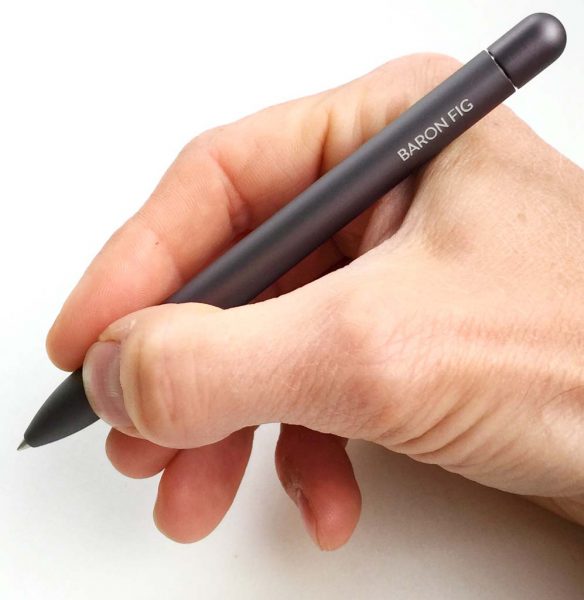 As with many of us Gadgeteers, most especially our fearless Gadgeteer-in-Chief, Julie, I like writing implements of all kinds, but I really like pens. Something about a well designed and built pen elevates the experience of handwriting, which feels increasingly like a lost art, to a higher plane of enjoyment.  That said, I've been a big fan of Baron Fig for several years, now, having reviewed both their Vanguard Softcover Notebooks as well as their classic Confidant Hard Cover Notebooks.  So when Baron Fig launched their first writing implement, the Squire pen, I immediately coveted it.  I'm stoked to share the results with you.  Gadget on!

Specs & Options
Type: Twist to open
Ink cartridge: Replaceable roller ball in the following colors:

Black (reviewed here)
Blue
Red
Green

Material: Body is cut from a solid block of high-grade aluminum
Colors:

Silver
Charcoal (reviewed here)

Weight: 0.85 oz
Dimensions: 5 in x 0.4 in
Packaging

The Squire arrived in packaging that was very much in keeping with Baron Fig's style, as you can see from my reviews of their other products (links above, or use The Gadgeteer's Search feature for "Baron Fig).  Which means that the packaging depicted simplified line illustrations of the product inside, but no way to view the product itself.  A bit of a bummer for me as far as packaging design, because I like to be able to view the product through the packaging if possible, but for products that will not be sold in stores, I think this is fine.  Plus, I just like Baron Fig's packaging style.  Very minimalist.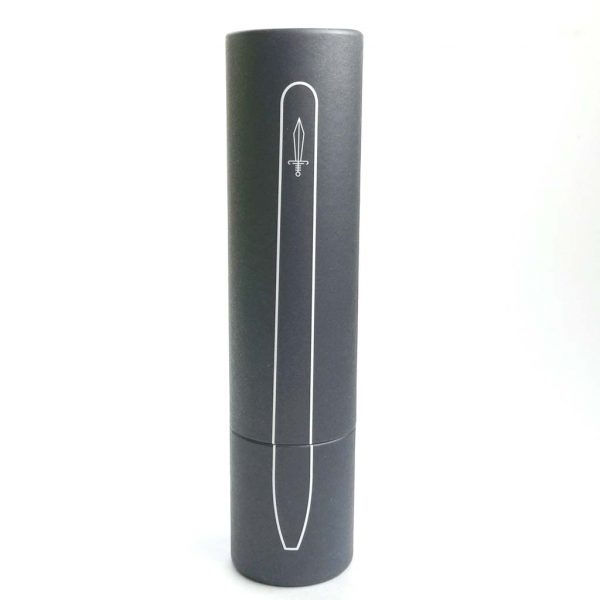 Of note is that the Squire began life as a very successful crowdfunded Kickstarter campaign.  I believe that those pens shipped with a square box, but this cylindrical box seems more suited to the shape of the object inside it.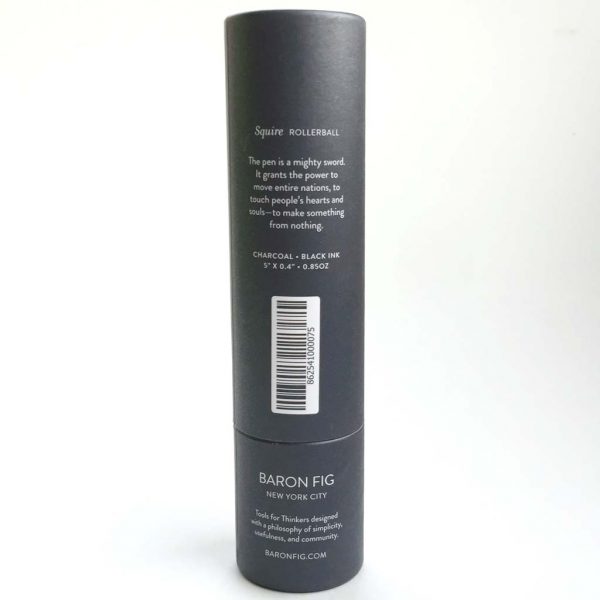 The back of the package included a short, inspirational explanation of the product inside.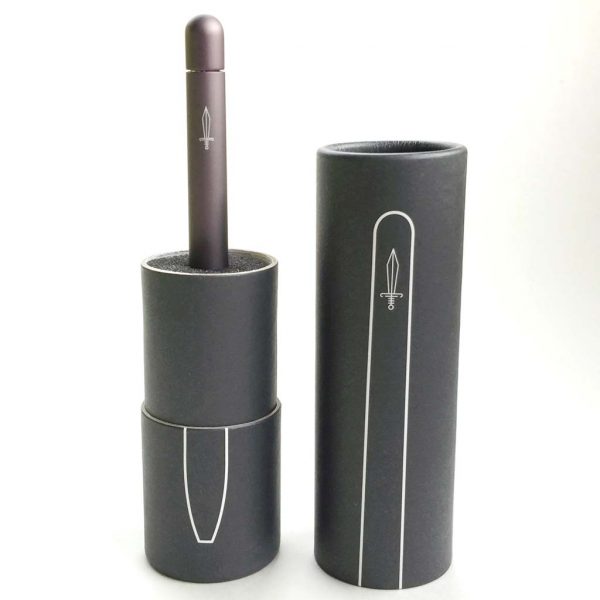 I'd also point out that the Squire's package was quite protective, as seen above.  It was basically encased in a block of foam within a semi-rigid cardboard cylinder.  In fact, the bottom portion of the box can be used as an upright pen stand.
Features, Functions, and Performance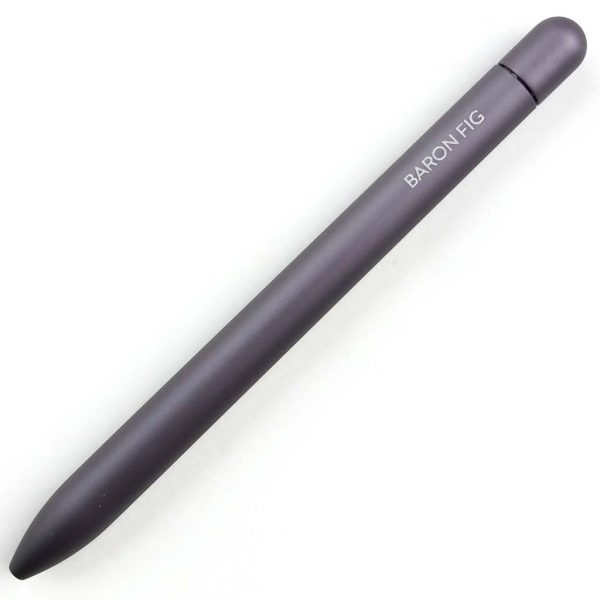 First impression: Wow.  The finish, texture, shape, length, and weight all looked and felt great in my hand, even better than I had expected.  I was impressed already and hadn't even tried to write with it yet.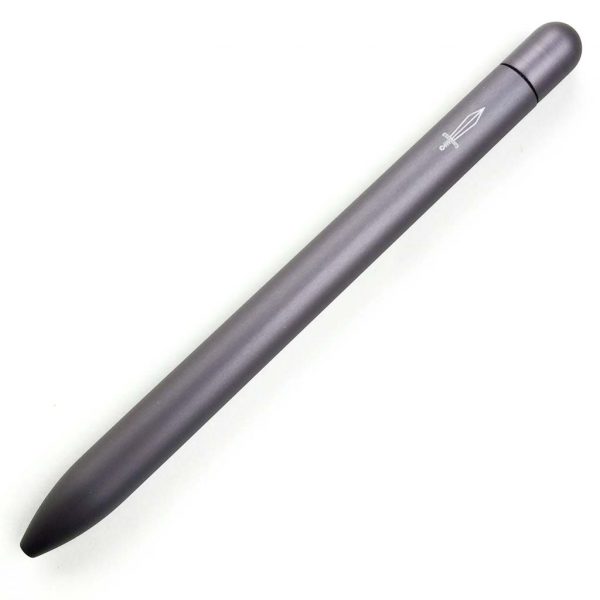 Baron Fig's products are all designed to be minimalist in style, and the Squire fits into that philosophy perfectly.  Only two logos are present on it, "BARON FIG" and a sword emblem.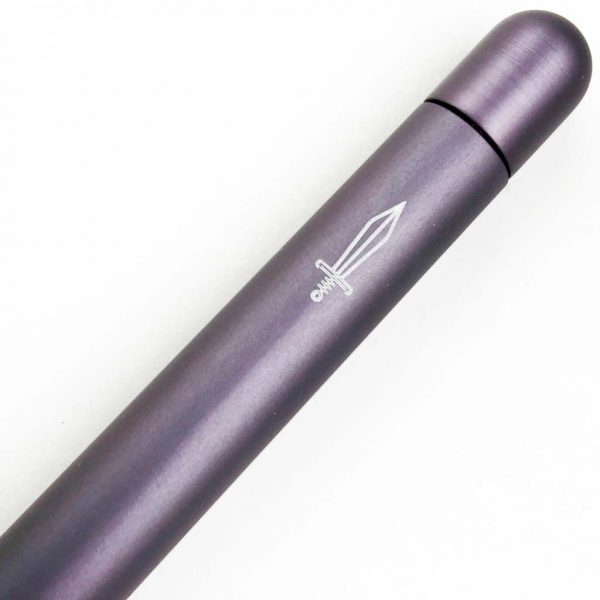 The sword emblem, as seen above, comes from Baron Fig's tagline for the Squire, which is, "The pen is a mighty sword."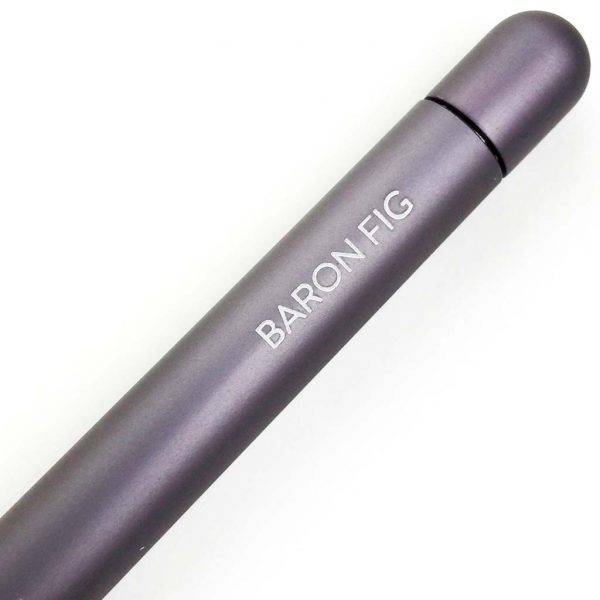 The Baron Fig logo and the sword appear to be laser-etched into the aluminum body and backfilled with paint or some type of pigment.  Bottom line is that they look and feel like they will last a long time without wearing off, if ever.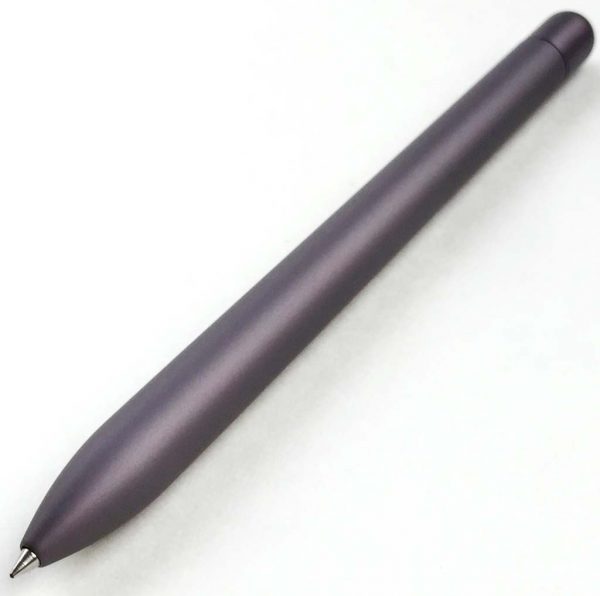 Operating the Squire is simple, just twist the top clockwise relative to the main body and the ink cartridge's tip extends from the end of the pen.  The twist motion is smooth as well.

The shape of the Squire tapers from wider near the writing tip to narrower at the logo end, similar to the sword logo depicted on it.


Above is an exploded view of the components of the Squire.  It consisted of four parts, the main body, the twist top, the ink cartridge and a spring.  Accessing the cartridge is simple: just twist the top far to the left and unscrew it, then remove the cartridge and spring.  Reverse the order to replace the cartridge, which are available in black, blue, red and green ink colors.  The refills are sold by Baron Fig in a 3-pack for $12.  (FYI NOTE: Doing a bit of research, it appears likely that the Squire uses the Schmidt P8126 0.6mm Short Capless Rollerball ink refill.)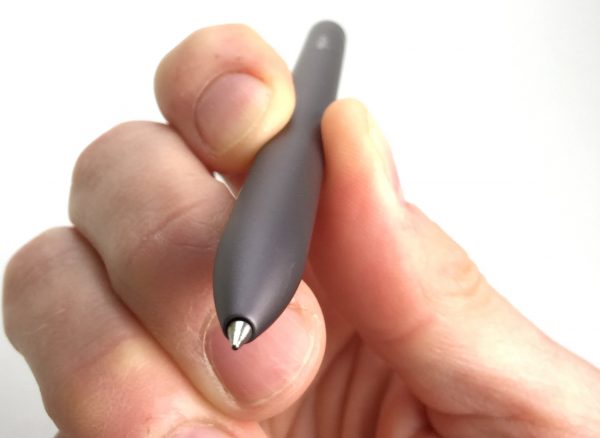 Above, you can see the tapered shape of the Squire, which is very ergonomic.  This subtly tapered shape prevents your fingers from sliding down toward the tip while you are writing.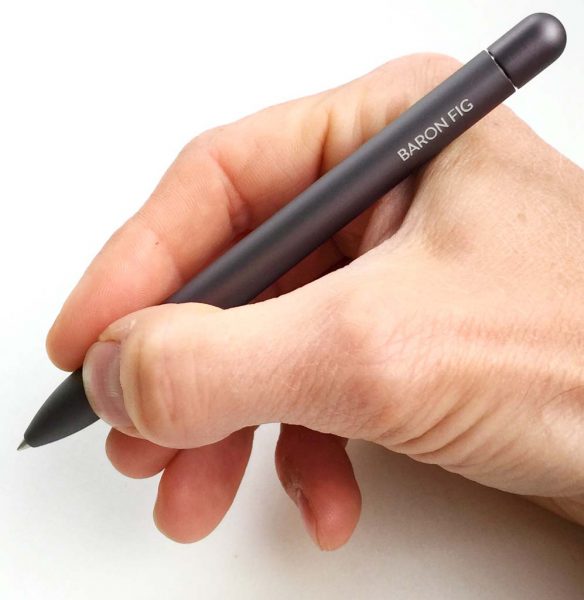 The Squire is made by machining a block of high-grade aluminum and holding tight dimensional tolerances.  Due to this, it only weighs 0.85 ounces, which when combined with its ergonomic shape makes it feel very balanced, and more like an extension of your hand while writing than like a separate object.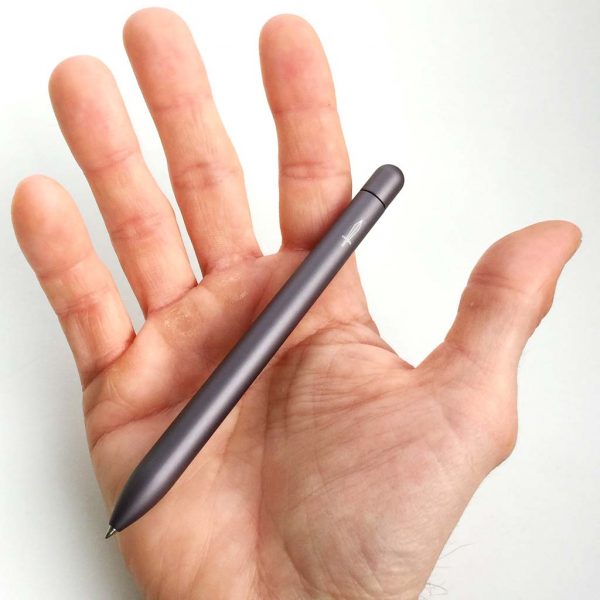 Even the length of the Squire has been carefully considered.  It is shorter than the average pen but longer than the average "pocket" pen, so it fits into a perfect spot for either using it at the office all day or tossing it into your pocket as part of your mobile EDC.  Plus, since it is twist-to-open and not push-button, you don't have to worry about it opening accidentally and inking your britches.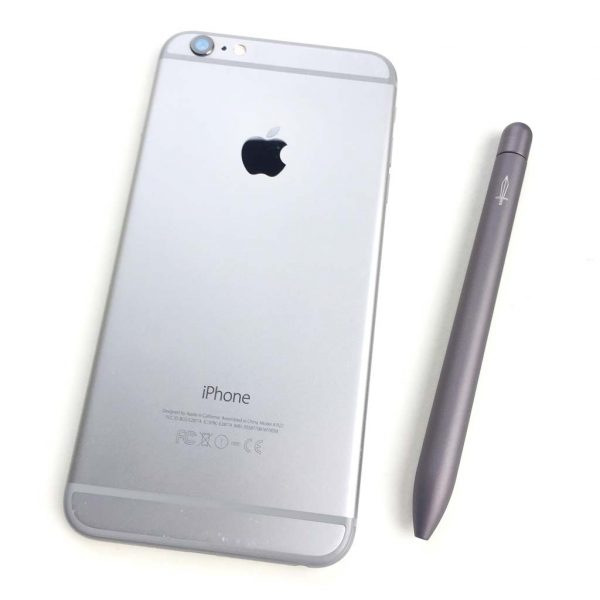 The finished texture of the Squire looks and feels elegant.  It is a soft matte or satin-type finish which looks perfectly suited alongside my iPhone 6 Plus, as seen above.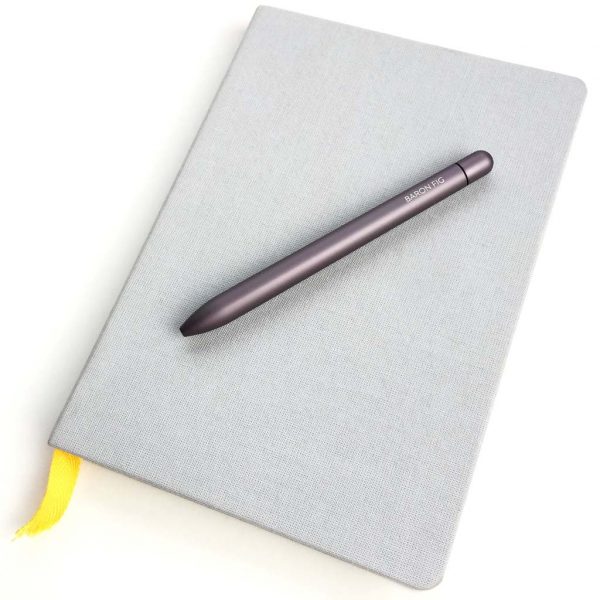 The Squire not only looks and feels natural, it is simply a joy to write with, whether using one of Baron Fig's notebooks, like the Confident shown above, or any other paper.  Its roller ball ink cartridge feels very smooth, and I've yet to have any issues with skipping or ink blobbing up, though it does seem to lay ink quite generously, which might cause bleed-through on lesser-quality paper.
Conclusion
I was very impressed with the Baron Fig Squire rollerball pen, as I have been with Baron Fig's other products.  Right out of the box, I noticed the Squire's finish, texture, shape, length, and weight, all of which have been well-designed and built.  And its replaceable roller-ball ink writes like a dream.  It may be a bit pricey at $55, but for a pen that is so thoughtfully-designed and well-built that you will not only look forward to using it, you may be able to pass it down to your kids or grandkids, I think that's a fair price.  If you are a pen aficionado or even if you just write a lot, have a look at the Baron Fig Squire.
Update 5/13/20
The Baron Fig Squire is one of my favorite pens of all time, and I've continued to include it in my EDC writing instrument rotation. One of its features that I like the most is also one that frustrated me—its ink capsule. While it produces one of smoothest writing of any pen I've ever used, it ran out of ink in what seemed like a short period of time, on the order of a month or two. And the $12 price of the Squire refills seems a bit steep, especially if I'm going to have replace them that often.
The sample for this review was purchased with the reviewer's own funds.  Visit BaronFig.com for more info or to order.

Product Information
Price:
$55.00
Manufacturer:
Baron Fig
Requirements:
Pros:

Weight, length, finish feel very natural in the hand
Easy to actuate with twist-to-open
Easy to replace the ink cartridge
Roller ball ink is very smooth and consistent
Minimalist styling

Cons:

A bit pricey (but it will probably last forever)
No pocket clip (if you think that's something you need)