We use affiliate links. If you buy something through the links on this page, we may earn a commission at no cost to you. Learn more.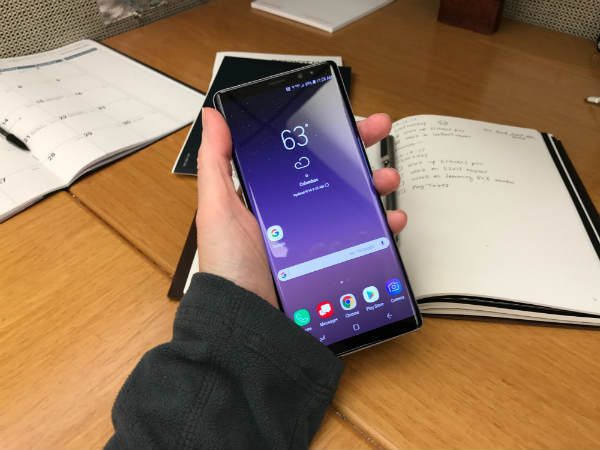 I've been using the Samsung Galaxy Note 8 since last Friday and what started out the type of infatuation that you feel when you meet a new love interest that shares your same interests, has cooled down to the type of friendship that you have with someone you've known for years. You really like that person, but they can be annoying at times. That's the way I'm feeling about the Note8 because today is Bixby testing day. 
Check out my other posts in this series:
Samsung Galaxy Note8 review (day 1)
Samsung Galaxy Note8 review (day 2 & 3)
Samsung Galaxy Note8 review (day 5)
Day4
I've been playing with Bixby off and on since I received the Note8, but today I really wanted to focus on it to see if it could be a viable "voice assistant". Not to let the cat out of the bag right away, but the answer is no, no it isn't viable. Not even close…

All newer Android devices can use Google's Ok Google voice assistant, but Samsung had to create their own version because that's what Samsung likes to do. They even created a dedicated button on the left side of the phone to launch / talk to Bixby. The button kind of reminds me of a walkie-talkie. You hold down the button and speak. When you let go of the button Bixby is supposed to respond to your question or command.
Problem is that the button is easy to press by accident when you pick up the phone. Until just the last day or so, Samsung did not allow you to disable the button, but apparently, there's an update that will now allow that.
You can also launch Bixby by saying "hey Bixby".
Other than the fact that it doesn't work very well, what I find most annoying about Bixby is the way it's been game-ified. Every time you do something you get points that will display on the screen like +15 for opening an app by saying "hey Bixby, open my email". And after you've earned so many points, it will say that you've leveled up. For some reason that really annoys me. I don't want to level up. I don't want to play a game with Bixby, I just want it to do what I ask.
Bixby is "supposed" to be smarter than Siri and Ok Google, and is supposed to allow for more conversational style requests. In most respects that's true, it does allow you to give multiple commands based on what you're doing. For example, you can say "hey Bixby, open my email and read my last message". That usually works. But then you can't say something like "archive message". You have to say "archive conversation". So it's important to know the right commands to say to do what you want to do. I found that I would get tongue-tied trying to say exactly want I wanted.
I think Bixby could be really useful if you have problems using your hands to hold the phone and interact with it. But for a person without that issue, I found it to be really cumbersome and frustrating.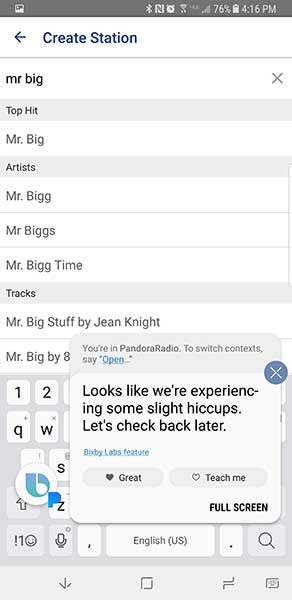 I saw a lot of messages like the one above. It's also important to realize that Bixby does NOT work with all apps. For example, it will open Spotify by saying "Open Spotify", but that's all it seems to be able to do with that app. If I follow up with "play my driving playlist", it will open Google Play Music and tell me there's no such playlist. Or if I just say "play music" while inside Spotify, it will also launch Google Play Music.
Other random bits from day 5 with the Note8:
Face scan unlock is working better / faster today
Had some Bluetooth issues last night with Flic button not responding to turn off my Lifx smart bulb. I've had this issue with other Android phones, while my iPhone 7 Plus works fine.
I'm going to wrap up this diary style review series tomorrow with Day 5, where I'll talk more about battery life, overall performance, and the camera.
If you have any specific questions that you would like me to answer, be sure and leave them in the comments below.
Check out my other posts in this series:
Samsung Galaxy Note8 review (day 1)
Samsung Galaxy Note8 review (day 2 & 3)
Samsung Galaxy Note8 review (day 5)
Source: The sample for this review was provided by Verizon Wireless. Please visit their site for more info and Amazon to order.
Product Information
| | |
| --- | --- |
| Price: | $960.00 |
| Manufacturer: | Samsung |
| Retailer: | Verizon Wireless |
| Pros: | Face unlock working much better/faster today |
| Cons: | Bixby voice assistant isn't ready for prime time |