We use affiliate links. If you buy something through the links on this page, we may earn a commission at no cost to you. Learn more.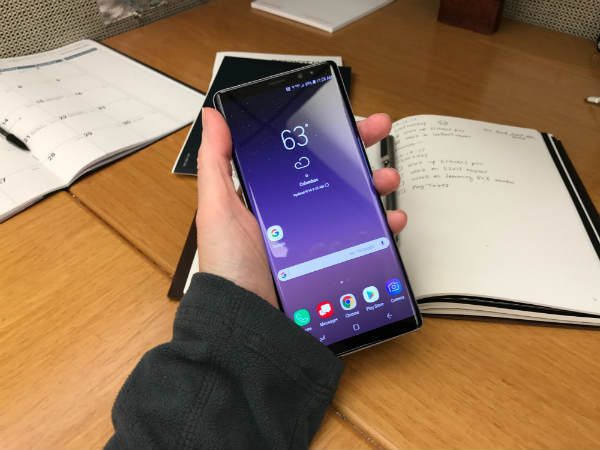 On Friday I posted my first day impressions of the Samsung Galaxy Note8 and I'm back with a few more thoughts after spending the weekend with this phone. So go check out day 1 and then come back for more. 
Check out my other posts in this series:
Samsung Galaxy Note8 review (day 1)
Samsung Galaxy Note8 review (day 4)
Samsung Galaxy Note8 review (day 5)
Day 2
The alarm on the Note8 went off bright (actually, it was still dark) and early at 5:45 am on Saturday morning. Why so early? I had to take Max to the vet for a blood sugar check and we had to feed him well ahead of the vet appointment. When the alarm sounded, I reached over and grabbed the phone off the TYLT wireless charger on my nightstand and tried to unlock the phone with my face. It wouldn't work because the room was too dark. That's one area where Apple's iPhone X Face ID will shine (see what I did there?) over Samsung's face unlock feature because it uses infrared and will work in the dark.
While I was sitting on the couch eating breakfast, I set up Samsung Pay so I could leave my wallet in the car when I took Max to the vet. In theory, Samsung Pay works in more places than Apple Pay so I planned to try it there first.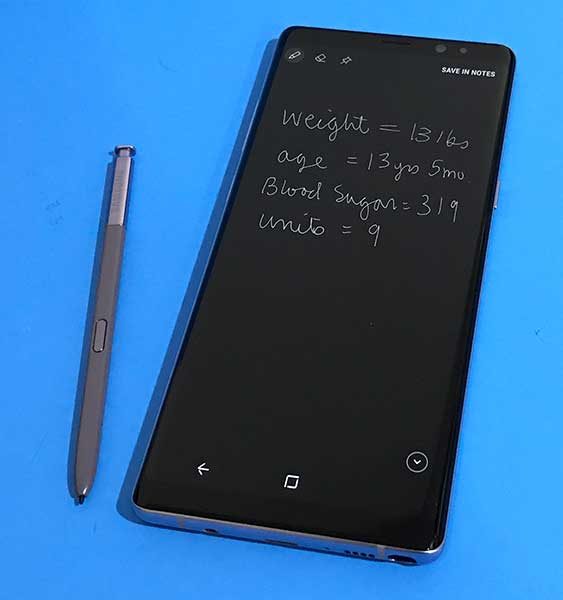 At the vet, Jeanne wanted me to ask a few questions about Max. Instead of taking a piece of paper and a pen with me, I popped the S-Pen out of the Note8 and recorded the info. As soon as inserted the S-Pen back in the phone, it showed a message on the screen that the note had automatically been saved to the Samsung Notes app.
I love this feature because you don't have to navigate to an app to start the note capture or do anything other than reinserting the pen to save the note. I also like that the interface is white on black. So it is nice if you wake up in the middle of the night and have an idea or a dream that you want to write down. The screen shouldn't completely wreck your night vision although it would be even nicer if there was a way to make the text red on black for those middle of the night writing sessions.
As for using Samsung Pay, I'm happy to say that it worked pretty well with the vet's small card swipe machine. It did take several seconds to figure out where the NFC tag was located on the machine. But I finally found it and the transaction finally went through. Was paying with Samsung Pay faster than using a traditional credit card? For this transaction, I would say no. I was lucky that I was the only person at the desk trying to check out. If there would have been a line, I would have felt pretty awkward rubbing the phone all over the card swipe machine.
One the way home from the vet, I made a call and am happy to report that the call audio was crisp, clear, and with good volume.
I didn't do much more with the Note8 the rest of the day other than updating apps and checking email. Speaking of email, for some crazy reason, the stock Gmail app started working all by itself. If you read my Day 1 post, you'll remember that I've always had issues with the stock app, so we'll see how long it behaves.
Day 3
Right away today I started noticing that the face unlock wasn't unlocking as quickly as it was the first two days after setting up the phone. Now there is a slight but noticeable delay. So I thought I'd try the iris scanner and the fingerprint reader. The iris scanner worked better than I remembered it from previous Galaxy devices even with my glasses on.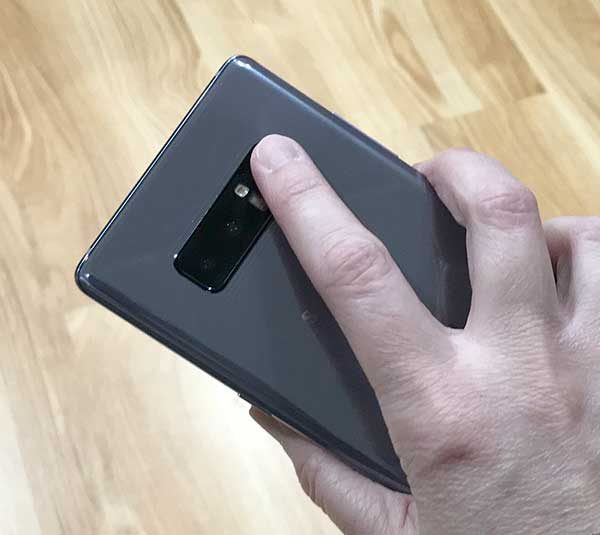 The fingerprint reader, on the other hand, is a lost cause for me. The location of the scanner is horrible and it rarely if ever successfully reads my fingerprint.
Of all three biometric phone unlocking methods, I definitely prefer the face scan most even if it is a little slow sometimes.
We went out for lunch today with friends and afterward, we stopped at Walmart to pick up a few groceries. I went through the self-checkout and tried using Samsung Pay again. The machine gave showed an error on the screen (I wish I would have taken a picture of it…), so I guessed that like Apple Pay, Samsung Pay won't work at Walmart. I pulled out my credit card and paid like I normally do.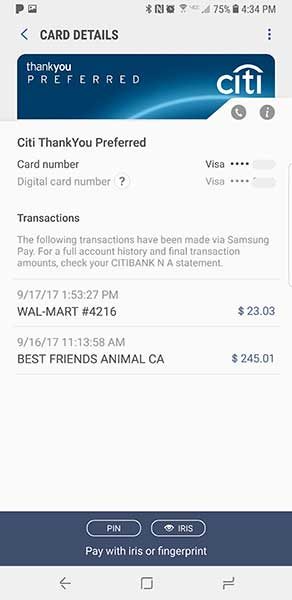 But then when I got home, I noticed that the Samsung Pay app showed that the transaction actually went through. So I logged into my Citibank account and sure enough…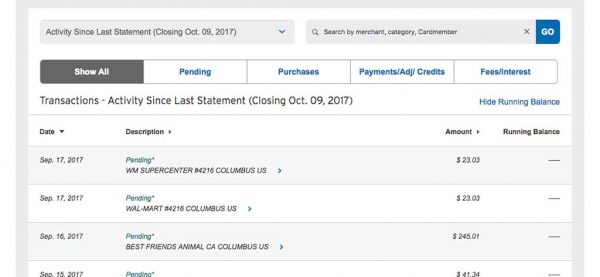 Citibank shows that I have 2 pending identical charges. Grrrrrr… The Citibank website has a real-time chat feature so I was able to talk to a support person.

Although it was automatically fixed (I'll have to make sure to verify that in a few days), it makes me nervous of trying using Samsung Pay at Walmart the next time I shop there.
That's all for today. More tomorrow.
Check out my other posts in this series:
Samsung Galaxy Note8 review (day 1)
Samsung Galaxy Note8 review (day 4)
Samsung Galaxy Note8 review (day 5)
Source: The short-term sample for this review was provided by Verizon Wireless. Please visit their site for more info.
Product Information
Price:
$960.00
Manufacturer:
Samsung
Retailer:
Verizon Wireless
Pros:

S Pen is very handy for taking notes

Cons:

Expensive
Samsung Pay might be problematic at Walmart (need to try it again)
Face scan has gotten slightly slower