We use affiliate links. If you buy something through the links on this page, we may earn a commission at no cost to you. Learn more.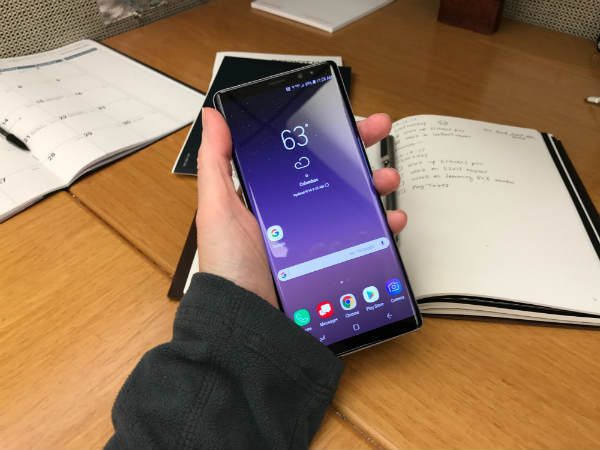 The minute I powered on the Samsung Galaxy Note8 and started using it, I felt the urge to ditch my iPhone 7 Plus and go running back to Android. But am I still feeling that way after using it as my primary device for the past 5 days? 
Check out my earlier posts in this series:
Samsung Galaxy Note8 review (day 1)
Samsung Galaxy Note8 review (day 2 & 3)
Samsung Galaxy Note8 review (day 4)
Day5
Today started out VERY early for me. I woke up at 3 am and was wide awake. As I lay there, I noticed that the notification LED on the phone which was on the nightstand, kept blinking and lighting up the room. You would think that using the Do Not Disturb feature would also include the notification LED. Go figure.
I went ahead and got up and went into work because (I'm crazy) I figured that I could contact people in China. I'm engineering application support for my day job and it's tough to help our Chinese users because of the time difference.
I was sitting at my desk working on a problem and at 4:50 am, the alarm on the Note8 went off causing me to jump like a cat who sees a scary cucumber. Wouldn't it be nice if your phone realized you were already awake and automatically silenced the alarm for you?
The Note8 has a great camera
My day was done at noon, which was perfect because I drove around Columbus, IN to find some interesting photo opportunities to show off the Note8's camera. Here are some samples:
Although Samsung tends to oversaturate images, I was impressed with the photo quality of the Note8 in most lighting situations.
Most people think or assume that the iPhone 7 Plus has the best camera of any smartphone, but the Samsung Galaxy Note8 sure gives it a run for its money.
Round two with Walmart and Samsung Pay
After the photo shoot, I decided to run by Walmart and give Samsung Pay another try at their self-checkout machines. If you read my day 2 & 3 post, you'll remember that the first time I tried paying for my groceries using Samsung Pay, it displayed an error on the kiosk machine so I ended up swiping my physical credit card. Later I received a notice on the phone, that the transaction using Samsung Pay had actually worked. So I had duplicate payments. Thankfully, one of the payments was automatically reversed.
Today, I'm happy to report that paying with Samsung Pay worked just fine. It was quick and easy with no errors and no waiting.
System performance and battery life
It's been a long time since I tested a phone that was laggy and the Samsung Galaxy Note8 hasn't changed that. It's very snappy loading apps, switching between apps, etc. I have absolutely no complaints about system performance.
The same goes for battery life. I've had no problems getting through an entire day with this phone with 30-40 or more battery percentage to spare.
Final thoughts
So, after five days of using the Samsung Galaxy Note8, do I want to put my iPhone 7 Plus in my drawer of lonely gadgets and go running back to Android?
Yes and No.
I'm always going to enjoy using Android devices. Specifically, I like:
The ability to have graphical widgets on the home screens
The ability to arrange icons on the home screens with spaces in between
The ability to pair both a mouse and a keyboard with the device to turn it into a pseudo computer
Access to the file system
The OS is more open for tweakers
What I don't like:
I think that so many different devices with their own skins and bloatware added to stock Android hurts the platform
Takes too long to get OS updates unless you have a Google device
Although I do feel the tug to go back to Android, I am also happy with iOS right now and am excited to see what iOS 11 has to offer. So at least for the time being, I'm sticking with iOS, but I am sure at some point in the not so distant future that I'll be switching back to Android. And then probably back to iOS, and over, and over. What can I say, I'm pretty much OS inclusive and like them both almost equally at this point.
I'll be sorry to send back the Note8. It's a gorgeous device and would be the one I'd buy today if I wanted the best Android device currently available.
Check out my earlier posts in this series:
Samsung Galaxy Note8 review (day 1)
Samsung Galaxy Note8 review (day 2 & 3)
Samsung Galaxy Note8 review (day 4)
Source: The sample for this review was provided by Verizon Wireless. Please visit their site for more info.

Product Information
Price:
$960.00
Manufacturer:
Samsung
Retailer:
Verizon Wireless
Pros:

Very nice camera
Great display and I love the always-on feature
S Pen is handy

Cons: