We use affiliate links. If you buy something through the links on this page, we may earn a commission at no cost to you. Learn more.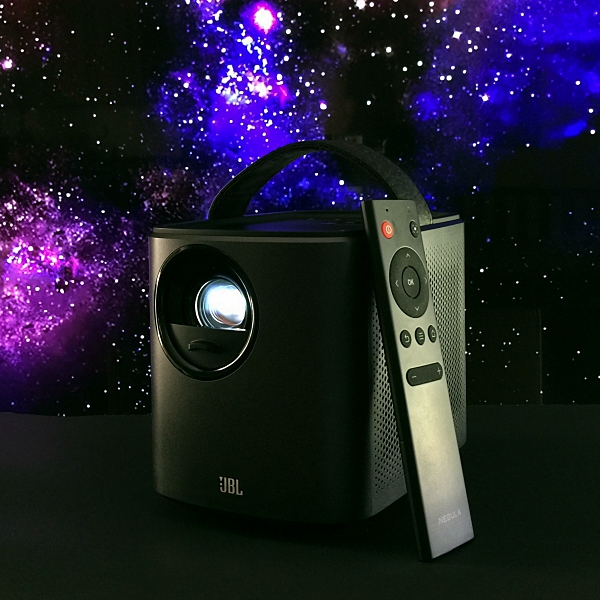 Ever since I purchased my first HDTV I've been fascinated with Home theater products. Over the years I've owned several TVs and every year they got bigger, smarter, and all with better resolution. One thing I never considered purchasing was a home theater projector. But, when I got the chance to review this incredibly compact theater-grade projector made by a company that is best known for producing quality, bargain-priced battery packs and accessories for phones, I was intrigued. Anker is the company I'm referencing and they've branched out to the Home Cinema market with their new sub-brand Nebula. The first product from Nebula is the Mars Theater-Grade Portable Cinema projector.
What is it?
The Nebula Mars is an Ultra-Portable Theater-Grade DLP projector, capable of producing a cinema quality image of up to 300" on virtually any flat surface. It has dual 10watt JBL speakers and a rechargeable battery that delivers up to 3 hours of battery life. It runs on Android and has built-in apps like YouTube and Netflix that can be run using the projector's built-in Wi-Fi.
Specs
Optical
Display chip: 0.45DMD
Resolution: 1280 x 800 4K supported
Brightness: 3000 lumens
Throw ratio: 1.2:1
Contrast: 10000:1
Color gamut: 120% Rec. 709
Uniformity: 90%
Display
Screen size: 40"-300"
Keystone correction: Vertical + 40°
Focus: Automatic focusing
Hardware
CPU: Quad-core ARM chip RAM: 1GB ROM: 8GB OS: Based on Android 4.4 with Youtube/TED app content
Audio
Internal JBL speakers: 2 x 10W
Connectivity
WiFi: 2.4G/5G (802.11b/g/n/ac)
Bluetooth: BLE 4.0
Interface
HDMI 2.0: x 1
USB 3.0: x 1
AUX 3.5mm: x1
Battery
Capacity: 19500 mAh, 3.7V
Battery life: 3-hour video playtime
Dimensions
7 x 4.8 x 5.4 inches
Weight: 6 lbs.In the
In the box 
Mars projector
Remote control w/batteries
Power adaptor
Power cord
Users manual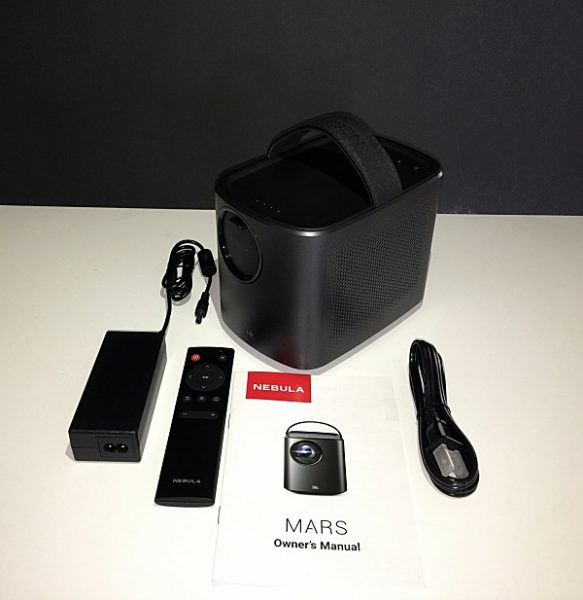 Design and hardware
The Nebula Mars has a sleek modern appearance, with its cube shape and rounded corners. There's even a cool leather wrapped handle that's emblazoned with the Nebula logo for easy portability. Size wise it's incredibly compact. Measuring 4.8 x 7.01 x 5.43 inches and weighing 4-pounds, it's literally the size of a small lunch box.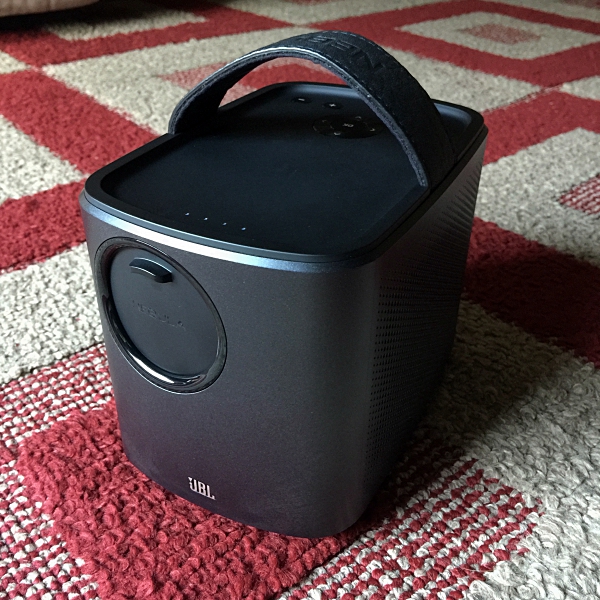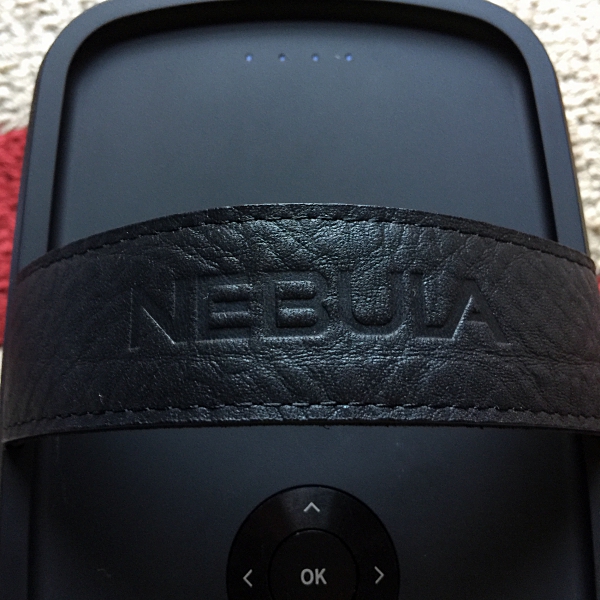 On top of the unit, there are Control buttons which you can use if you ever lose the included remote. They include the Navigation buttons, the OK button, + / – buttons for volume control, the Return to the previous menu button, and Home button. There is also 4 small battery power LED indicator lights.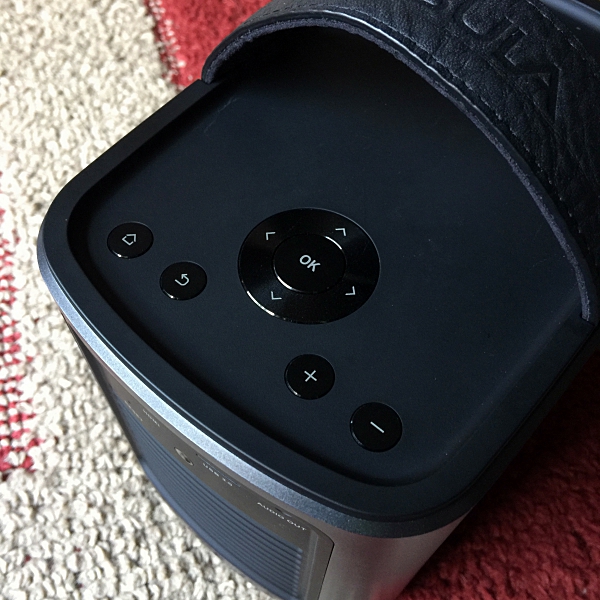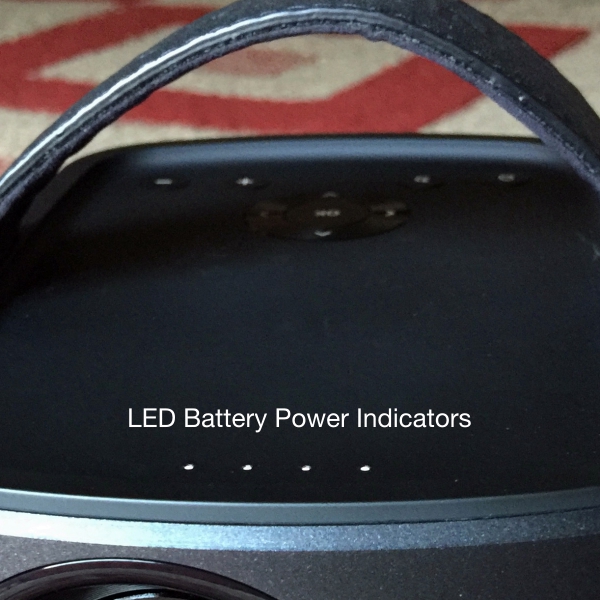 On the back of the unit are the DC IN, HDMI port, USB 3.0 port, Audio out jack, Infrared Receiver, Air Ventilation (outlet), and (inlet), and Reset button. On the bottom of the unit, there's universal 1/4″ tripod mount socket.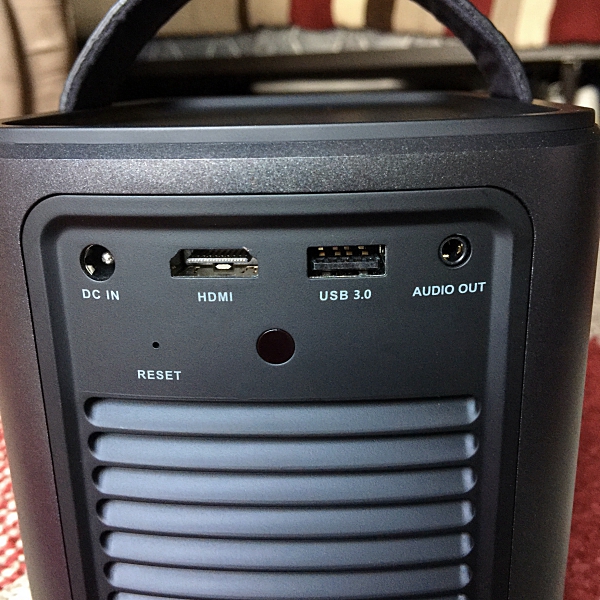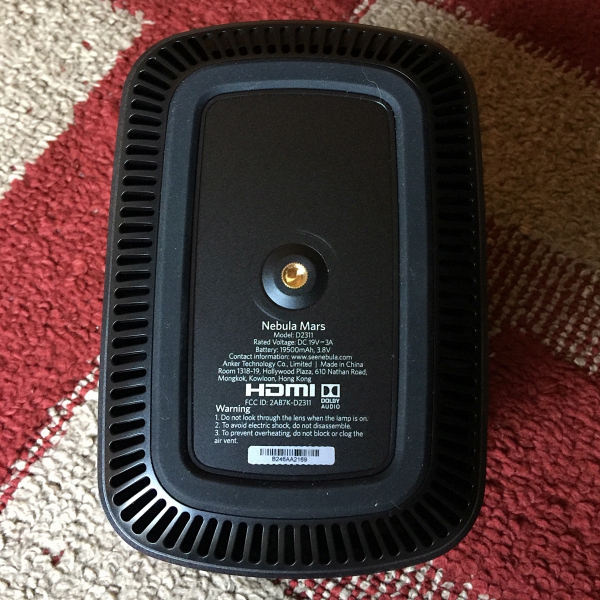 Another nice design feature is Mars' built-in sliding lens cover. Not only does it protect the lens it also acts as an on/off switch. Sliding the lens cover down powers the unit on and sliding it up turns it off.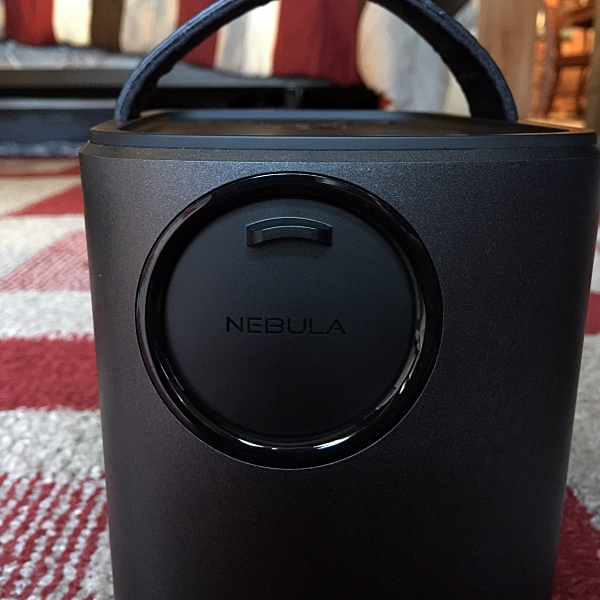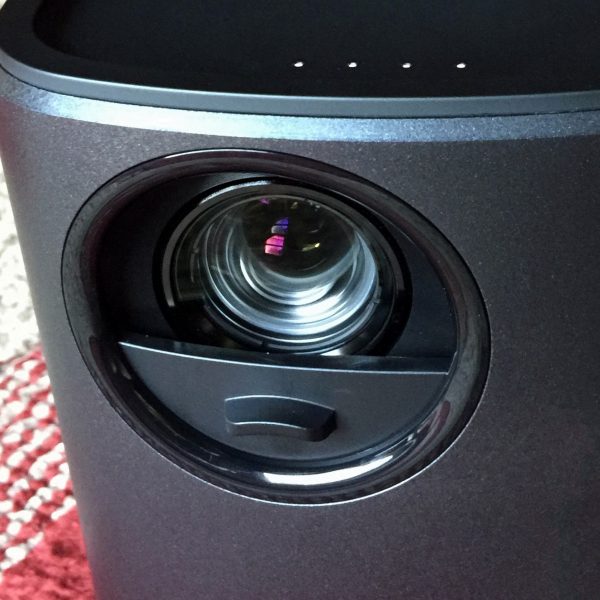 On the front of the unit, you may notice a silver raised JBL logo. That's because the dual 10W speakers, which are located on either side of the unit are indeed made by JBL. The speakers produce a really nice sound even at a high volume. The speakers sound great but are lacking in the bass department. That being said they're still a big upgrade over speakers that you'll find on most portable projectors. If the built in speakers don't do it for you, you can hook up a pair of headphones or an external speaker like a sound bar using the audio out jack. I used a 15′ 3.5mm-2RCA cable I purchased on Amazon for under $12.00 to hook up my sound bar to the projector and it worked great.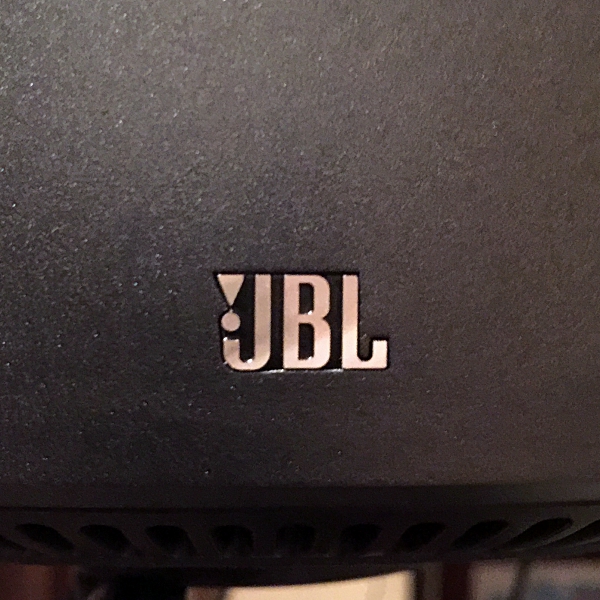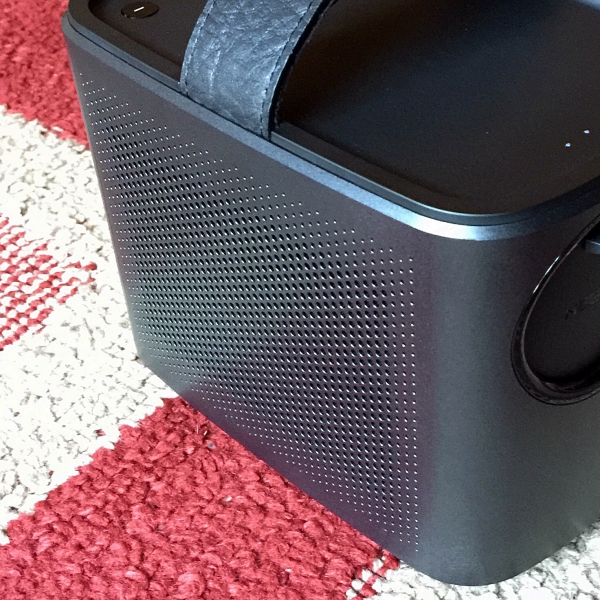 Mars built in Bluetooth 4.0 allows you to pair the unit with wireless headphones or a Bluetooth capable speaker. I was able to pair my wireless headphones without issue. My problem came while watching a video. No matter what I tried I could not get the audio and video to sync up. Pairing the unit with a Bluetooth sound bar produced the same lip sync issues. I found myself just plugging my headphones into the units audio out jack or using the built in speakers. Hopefully, Nebula can fix the lip sync issues with future software updates.
The included remote is pretty nice as far as remotes go. It's a good size (6" long) which is just big enough so that you won't lose it inside the couch cushions. It has all the function buttons that are located on the top of the projector as well as a power button and a button to manually adjust the focus. It's powered by two included CR2032 batteries. I thought that these batteries might be hard to find when they needed replacing, but I was able to find a 6-pack for under $6.00 on Amazon.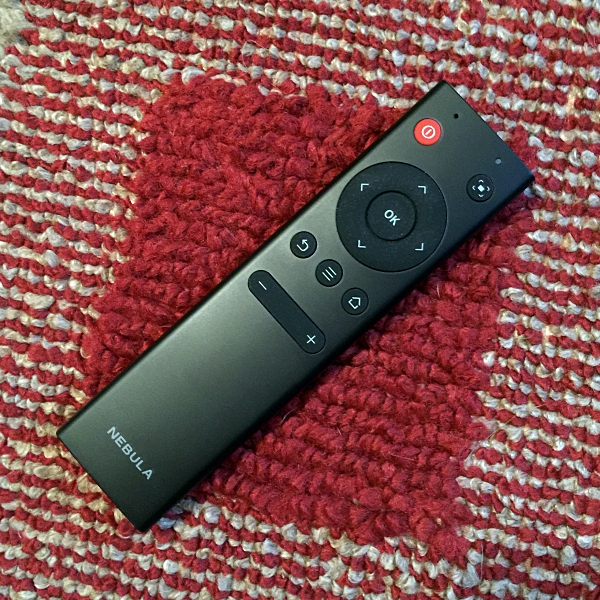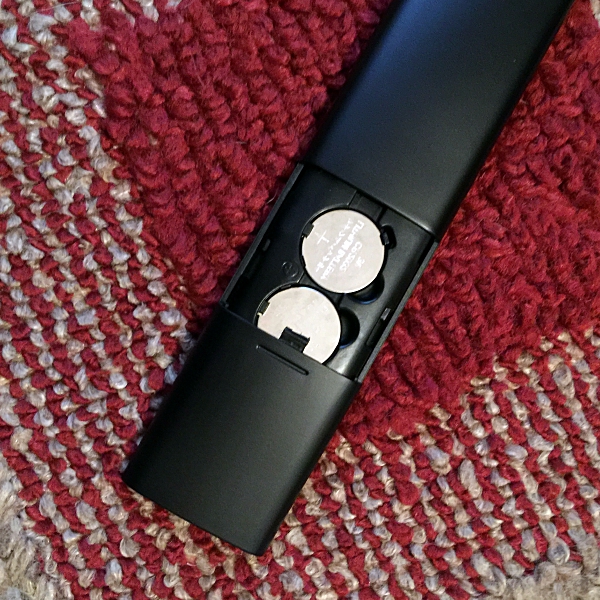 Battery
Inside the Mars is a revolutionary 19500mAh battery, a first for a projector of this size. The battery boasts an unrivaled 3 hours of non-stop cinema on one charge. I found 3 hours to be slightly ambitious. In my testing, it was more like 2.5 hours, which is still fantastic. One thing I noticed was once the battery reaches 60% power left (which happens pretty quickly) the projector automatically goes into 'battery mode' which lowers the overall brightness of the picture. I'm sure this is done to try and reach that 3-hour battery life but it still kinda stinks. For better image quality, I recommend plugging the unit in whenever possible. That large battery is also needed to power the projectors flame throwing 3000-lumen lamp, which is quite bright especially for a portable projector. It's bright enough so that the Mars can be used in a room with more than a little ambient light and still produce a quality image. The native resolution on the Mars is 1280 x 800 pixels or 800p with support for 4K. I'll have more about the image quality later on.
Setup
Setting up operating Mars is easy. First, make sure that you place it on a solid flat surface. I used the tripod socket on the bottom of the unit to attach it to a tripod. For the first use be sure to plug the unit into the power adaptor, this will also charge the battery. Powering the unit on is done by sliding down the lens cover. Once the unit boots up which takes about 20 seconds you'll want to navigate to the Wi-Fi icon, choose your network and enter the password. Voila, you're now ready to start using Mars. Another thing worth mentioning is how quiet this projector is. Once you boot it up and start viewing content you really can't hear it at all. This just adds to the enjoyment to an already great viewing experience.
Interface and Software
The Nebula Mars 64 bit Quad-core processor with 1.5GHz CPU allows system menus and apps all to run smoothly and the interface is easy to navigate. I noticed that the load time on the built-in apps like YouTube are a little slow, but not painfully so. The Nebula Mars runs on Android 4.4 Kit Kat. The software is a little buggy and definitely, needs some more polish, but it's not a deal breaker.
On the home page, you'll find several icons. HDMI displays the signal for whatever is hooked up to the HDMI port. You can use this to connect things like a Roku stick, AppleTV or Blu-Ray player for example or If you're a gamer you can hook up a Play Station or Xbox gaming system.
File Manager allows you to play files from a USB flash drive by plugging it into the USB 3.0 port located on the back of the unit. There are also shortcut Apps for Music, Picture, and Video.
Screen Mirroring allows you to display the screen of a connected Android device, like a phone or tablet. I found this to be a hit or miss experience. At times it would work but at others, I couldn't get my Android tablet to connect to Mars. The unit also has built-in support for AirPlay. I was easily able to connect my iPhone to the unit, but when streaming video from You Tube I found it to be pretty laggy. This along with the Screen Mirroring issue may be something that can be resolved with future software upgrades.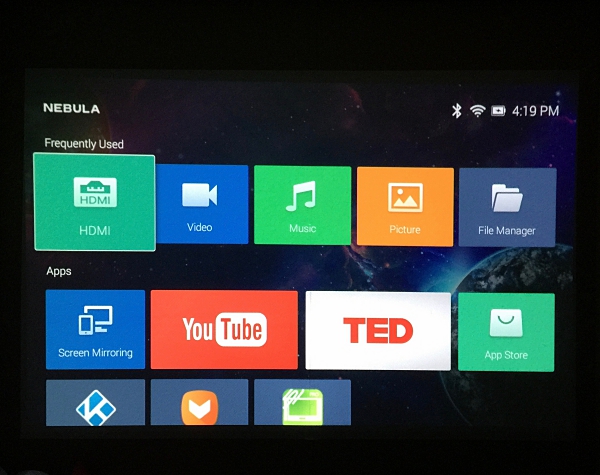 Scrolling down you will find the Settings icons. Settings include Network, Bluetooth, Projector, App Manager and Other.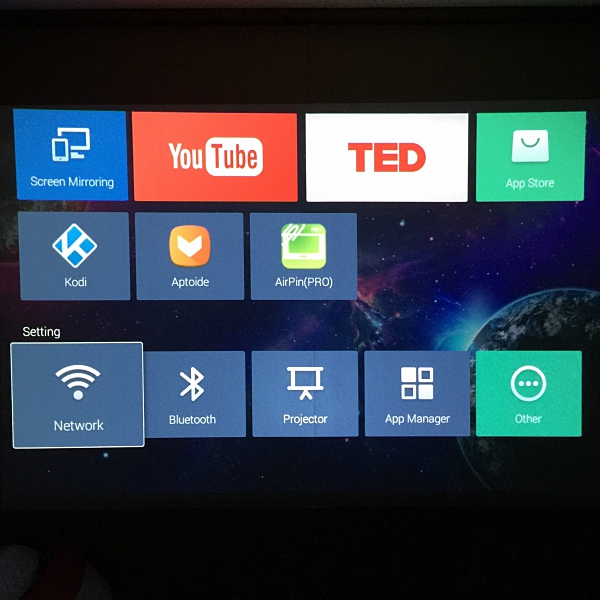 Picture Mode settings can be accessed using the Hamburger button or holding down the Home button on the remote. This is where you'll be able to change such settings as Picture Mode, Color Temperature, Brightness, Contrast and even Wall Color.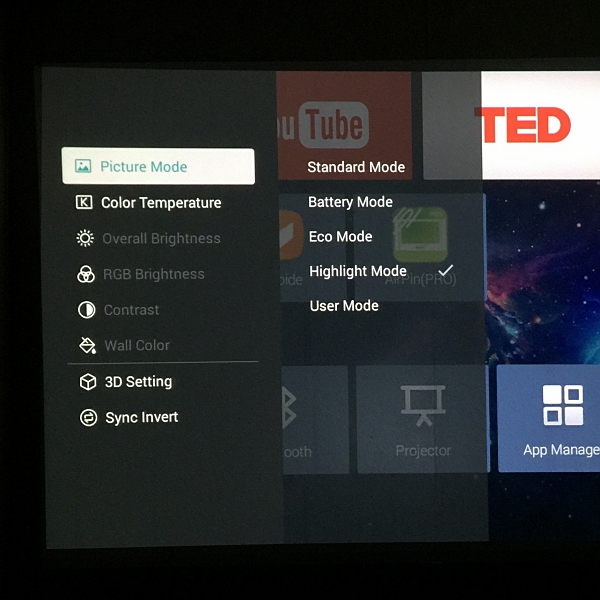 The built-in App Store is probably the most disappointing part of this projector. The Selection of available apps is very limited and the lack of  Google Play Store is puzzling. At the time of writing this, there were only 10 apps available. They include:
– Netflix
– You Tube
– TED
– MX Player
– IMBD
– Weather Live
– IGN
– Radio Paradise
– Pandora
– Kodi
For me, this isn't that big of a deal considering you can easily hook up a Chromecast, Roku stick or other HDMI capable device. However, if you want your apps on board the Mars and you're tech savvy you can side load APK's from a flash drive using the available USB 3.0 port and File Manager.  Another work around I discovered is to download and install Aptoide which is similar to Google Play Store (which for some reason you can't side-load onto Mars.). Fair warning though, Aptoide is difficult to navigate with the remote and it's probably not worth the effort if you don't have a wireless mouse or keyboard with a trackpad to navigate it.
Mars also supports 3D playback. I was unable to test this feature because I didn't have the required DLP 3D glasses. If you already own glasses you can access the 3D settings by holding down the Home button on the remote or top of the projector.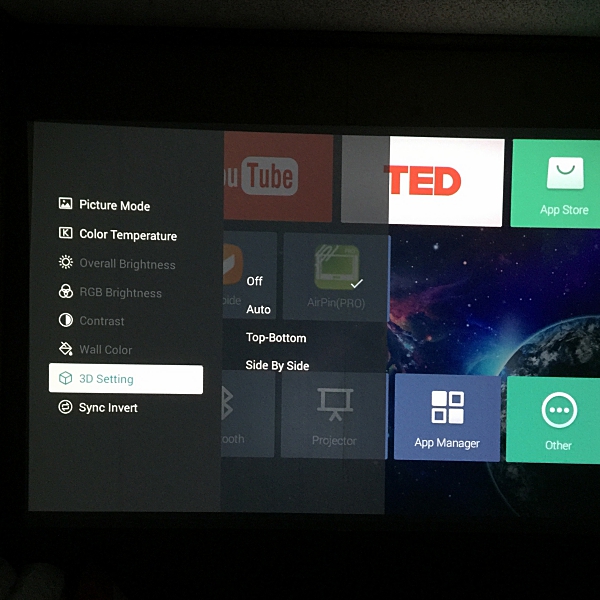 Different ways to view media
One thing I really love about the Mars is the multiple ways you can view media. With the HDMI port, you can connect any number of devices. In my 3 weeks using Mars, I wanted to test as many devices as I could just to see how each performed. I connected a Roku Stick, AppleTV, Blu-Ray player and even my Directv box. All performed great and produced fantastic picture quality. The Roku Stick will probably be my go to device simply because of its portability. However, I'm an old-school guy and really love Blu-Ray discs, so being able to hook up a Blu-Ray player to Mars is great. You can also use the USB 3.0 port to view multiple types of files from a USB flash drive. I tested a couple of MP4's I had on a flash drive and they played without issue.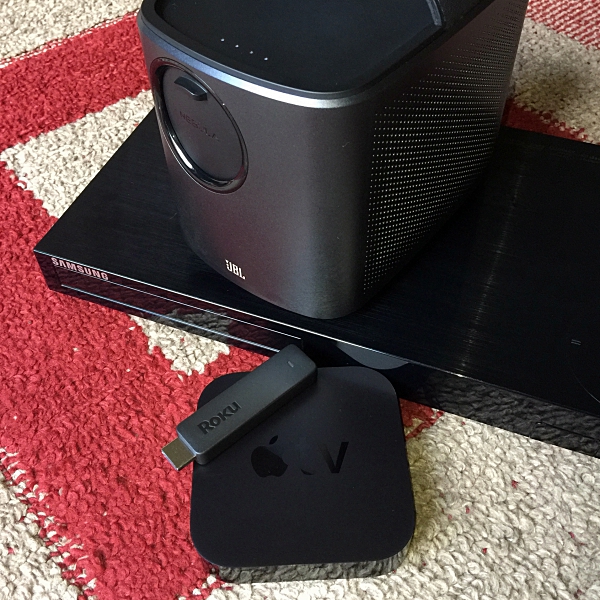 Picture quality (Indoor viewing/Outdoor viewing)
For my indoor testing with the Mars, I set it up in my Man Cave/bedroom as it's the only room in my house with a large empty wall. I wanted to project the Mars onto a white surface to get the best picture quality possible but since my wall was a darker color I improvised by purchasing a 4' x 6' piece of white paper from Michael's and tacking it up on the wall. Having never owned a projector of any kind I was skeptical that this little box could produce a high-quality image. I'm a skeptic no longer. I was so impressed by the picture quality that I ended up buying some flat-white paint and painting that 4' x 6' or 85″ screen right onto the wall. My only regret was not having a bigger wall. I also noticed an uptick in picture quality going from the makeshift paper screen to the flat-white painted screen.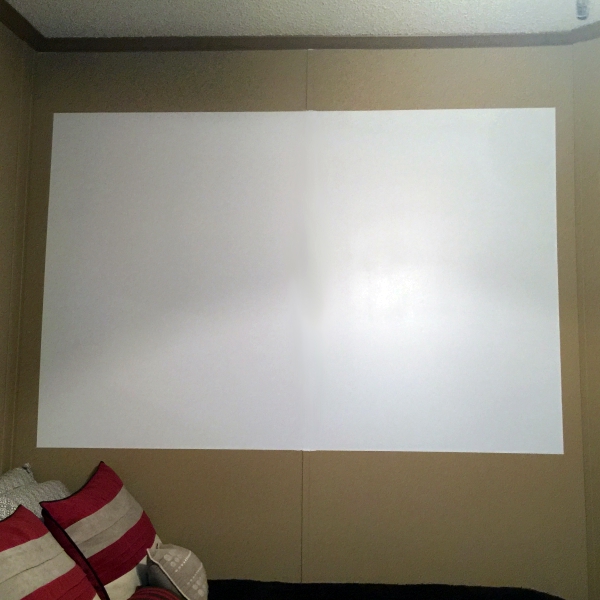 The Mars' image quality even at this large size is impressive. The picture is crisp, colors are true to the source, and the brightness and enhanced contrast are really impressive. The image quality even holds up when the room is full of ambient light. I posted two pictures below. The first was taken during the day with the blinds open. The second taken in a completely dark room. As you can see even with ambient light the picture quality holds up pretty well. This is where the projectors 3000-lumen lamp comes into play. It's really like having a small theater in my house and I absolutely love it.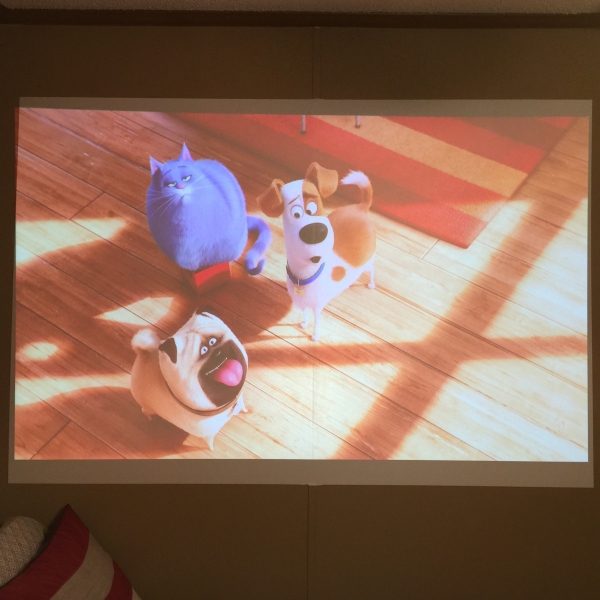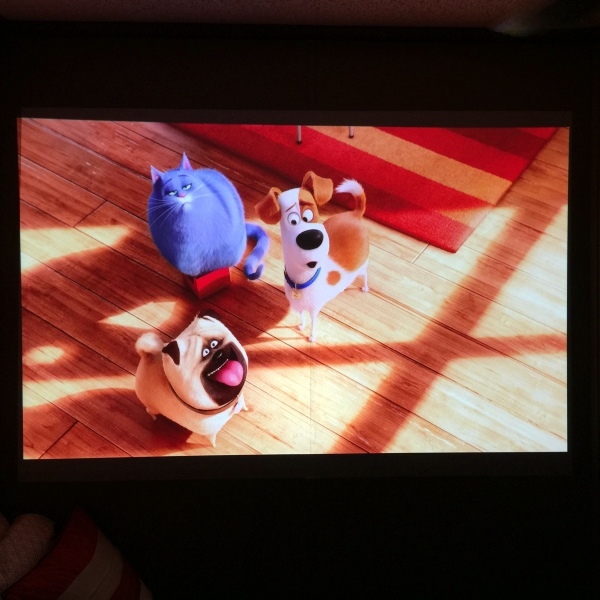 If you're a sports fan like me you'll love watching them on the Nebula Mars. There are plenty of apps available that stream live sports like ESPN, FoxSportsGo, MLBTV, NBC Sports etc. I used the ESPN app on my Roku Stick to stream the Michigan/Florida football game (pics below) and it looked great. I can also hook up my Directv box which gives me access to all of my sports channels. Mars is definitely a sports fans dream. Viewing sports projected on an 85" screen is like having a sports bar in my house.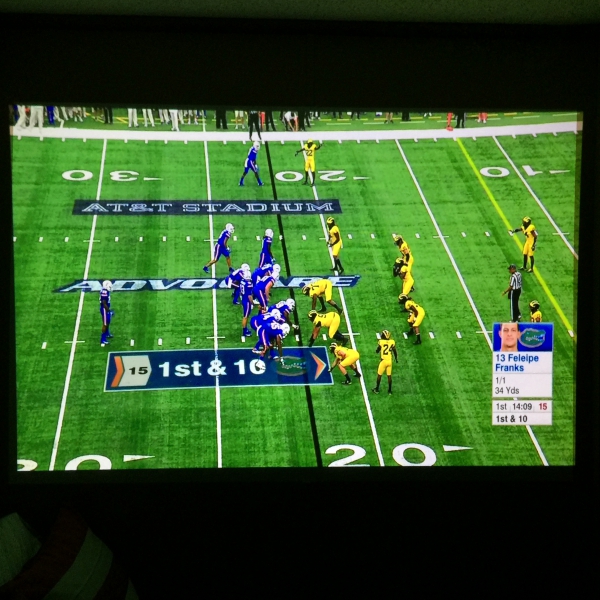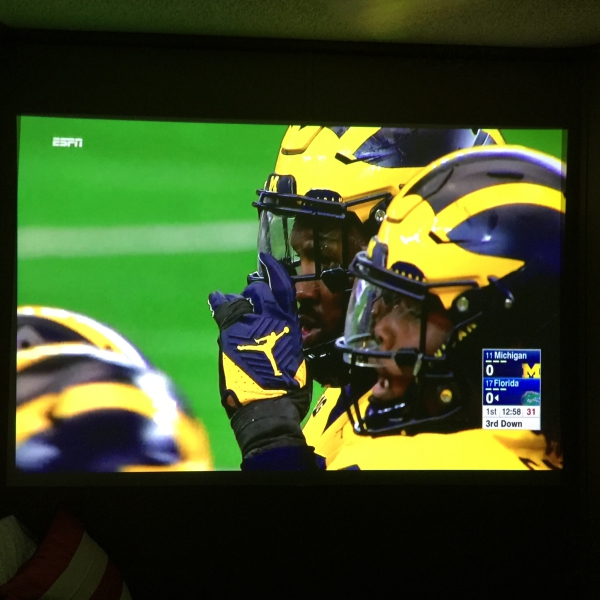 Outdoor viewing
I really wanted to put the Mars to the test to see how good the picture quality would hold up on a really large screen outdoors. I purchased a 120″ portable outdoor movie screen from Amazon. I then enlisted my good friend Dave to help me build a portable frame to hold the screen. Using 1-1/4" PVC piping, grommets, and some small bungee cords we built a really nice portable movie screen (pics below). It took us about 2 hours or so and the total cost including the screen was right around $80.00. Later that night we had an outdoor movie night with his family and a few of their friends. I setup the Mars on a tripod and connected it to my blu-ray player using the HDMI port. I wanted a little boost to the sound so I connected a sound bar with a wireless subwoofer to the unit using that 15' 3.5mm-2RCA cable I mentioned earlier. The movie we screened was "Kong: Skull Island". We started the movie right around dusk (like they used to do at the Drive-In theaters back in the day, for those of us old enough to remember). Once the movie started all I can say is WOW! The picture was amazing, sharp with great color, brightness, and contrast. A truly immersive experience. I posted a few screen shots below, but it really needs to be seen in person. Along with the boost from the sound bar, it really was like being at the movies. Honestly, the picture quality was better than you get at most theaters, aside from IMAX or Dolby Vision Cinemas. When the movie ended everyone clapped and the kids immediately asked when I was going to come over with another movie. Everyone commented on how great the picture looked and how it was like being at the movies. Needless to say, it was a fun night, something we plan on doing again. I want to give special thanks to Dave and his family for hosting the outdoor movie night and helping me out with this part of my review.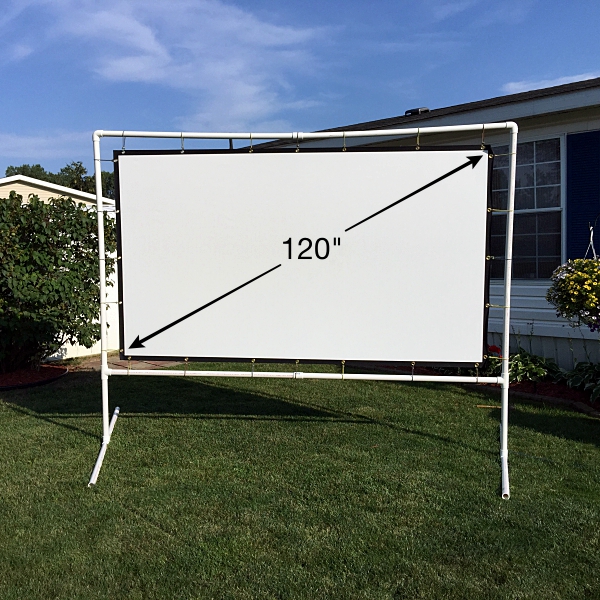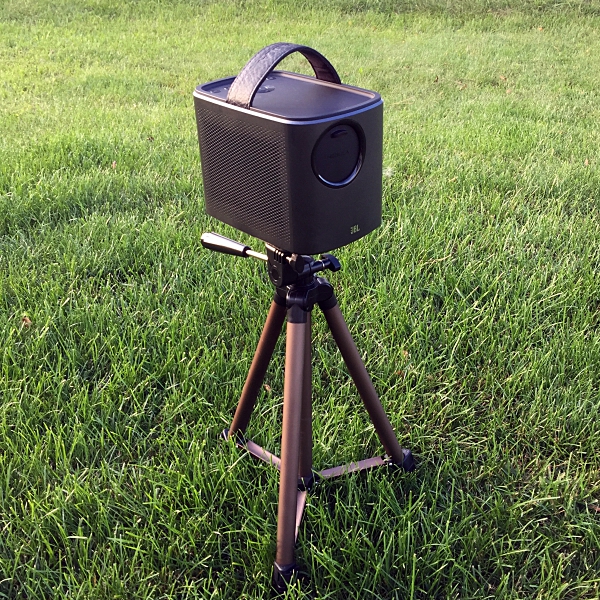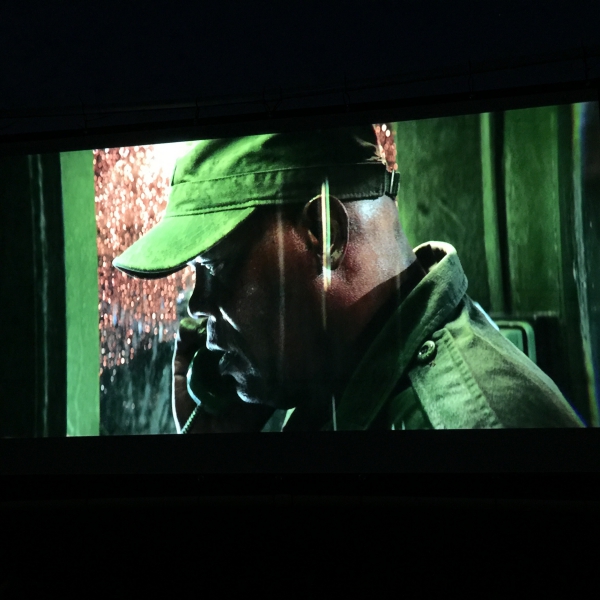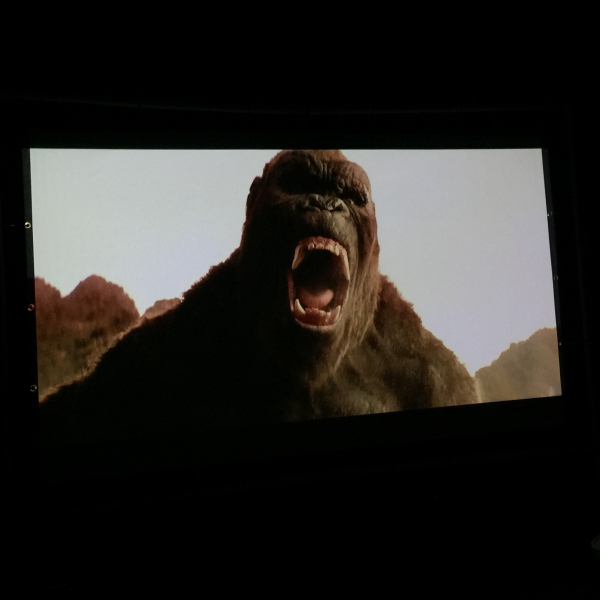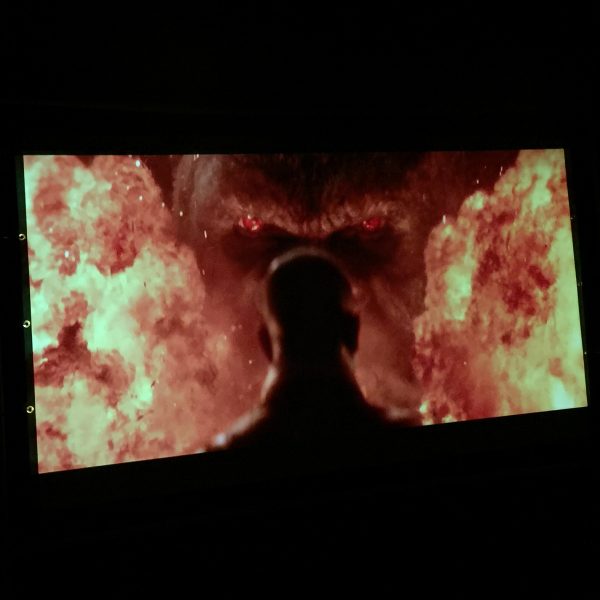 Conclusion
I really like the Nebula Mars portable cinema. It was a lot of fun putting this projector through its paces. Using it with multiple devices and viewing it on different screen sizes. Mars is everything it claims to be. It's portable, has great battery life, quality built-in sound, and most importantly fantastic picture quality even at larger sizes. The Nebula Mars portable cinema will set you back $599.99 which is not bad especially if Anker can iron out the software issues. This is the first product from Anker's sub-brand Nebula and I can't wait to see what they come up with next.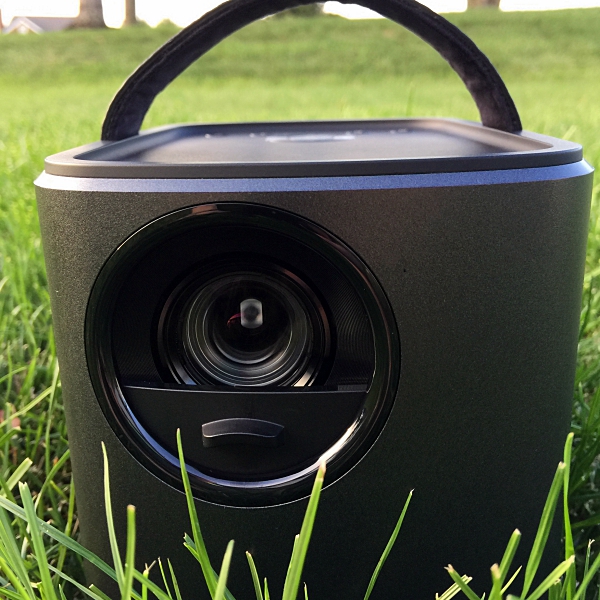 Source: The sample for this review was provided by Nebula. Please visit their site for more info and Amazon to order.