We use affiliate links. If you buy something through the links on this page, we may earn a commission at no cost to you. Learn more.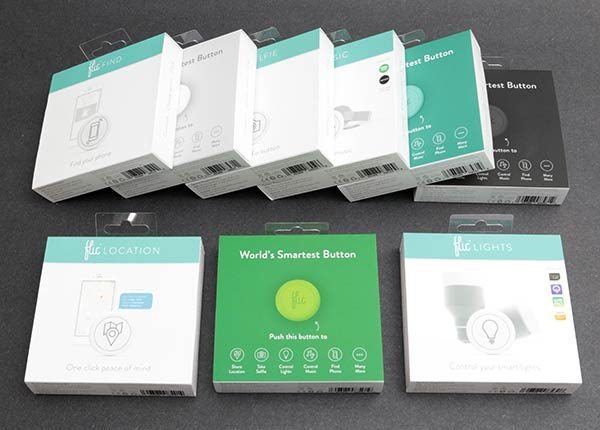 Using your phone or tablet to control IoT (Internet of Things) gadgets is cool, but it can get annoying when you have to pull your phone out of your pocket, turn it on, navigate to a specific app and then tap an onscreen button to perform the desired task. If you want to save a LOT of steps, consider a Flic button. One press and it does all those steps for you.

What are Flic smart buttons?
Flic wireless smart buttons are small quarter-sized clickable buttons that pair with your mobile device using Bluetooth Low Energy (BLE) and can be programmed to perform certain tasks based on one click, a double click, and a click and hold.
There are Flics that are designed just for one task such as controlling WiFi enabled smart light bulbs, Flics for finding your phone, sharing your location and more. And, there are Flics that can be programmed for any combination of those same tasks.
What's in the box?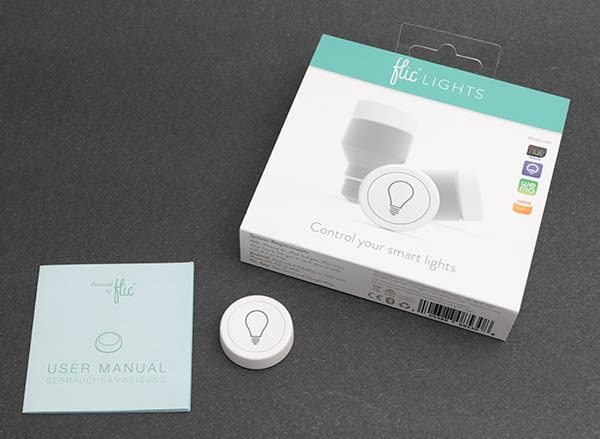 Flic button
Instructions
Design and features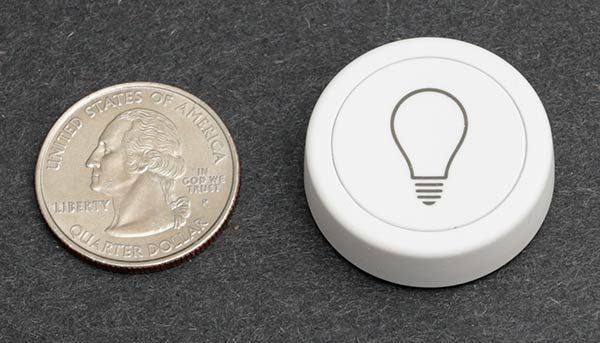 There are two styles of Flic buttons. The style shown above has an image printed on it to show its intended task. These are called FlicSingles and they are available in five versions:
FlicLight – controls smart light bulbs like Hue, Wemo, LIFX0 and others
FlicFind – helps you find your phone by playing a sound or vibration
FlicLocation – records your location, shares your location via SMS and can also make a loud noise
FlicMusic – pause/play music on your favorite apps, skip songs and adjust volume
FlicSelfie – snaps a picture or toggles video recording
FlicSingles can only do one task for each type of button press: single click, double click or click and hold.
FlicSingles are powered by a non-replaceable battery that will last up to 2 years.

The other button style is just called the Flic button and it comes in four colors including green (shown above), black, white, and blue. The Flic button has the same diameter as the FlicSingle buttons, but the top edges are rounded which makes it look a little smaller than the FlicSingle.

The Flic button has a replaceable CR2016 coin cell battery and a clip is included in the package that replaces the back cover if you want to clip the button your clothes, a bag, etc.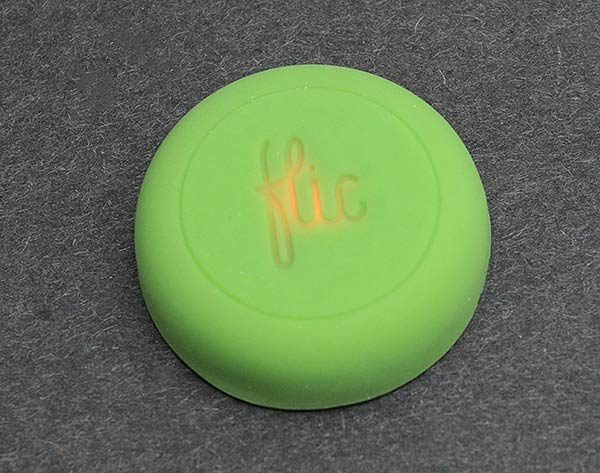 Both styles of Flic buttons light up when you press them and both buttons have a self-adhesive / reuseable sticker on the back for easy mounting.
Setup
To use either version of the Flic button, you will first need to install the Flic iOS or Android app and create an account through the app. Once that is done, you can start adding the Flic buttons to the app.
Adding buttons is very easy because all you have to do is just click the Flic button and the app does the rest. There's no switching between WiFi access points, typing in of Bluetooth pairing codes or any nonsense like that. It's just a fast and easy click and wait for confirmation.
Once you've added a button to the app, then you can program the click, double click, and click and hold actions. The FlicSingle buttons like the FlicLight button only allow you to program one action for each type of button press. With the FlicLight button, you also have to set up the connection to the 3rd party smart light bulb that you already own.
The regular Flic button can be programmed to do a combination of different actions and even multiple actions per button press. There are more than 50 actions available to choose from including phone actions like making a call, hanging up a call, sending a pre-written text message, etc. You can also click a button to send an email, tweet, navigate to a pre-selected address, set an alarm, snooze an alarm and all sorts of other things.
I set the Green Flic to play/pause music with one click, go to the next track in Amazon Music with a double click and read my last text message with a click and hold.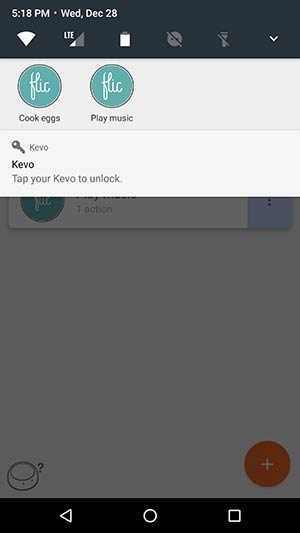 You can even use the Flic app to do different actions if you don't even own a Flic button by setting up Tasks which are virtual buttons that show up in your notification area.
Using Flic buttons
I tested the FlicSingle FlicLight button with a LIFX bulb which I already had setup in my bedroom. Pressing the FlicLight button to turn the lights off when I get in bed at night is much faster than using my phone. There's a one or two-second delay, between button press and the desired action, but that doesn't bother me. The only thing to keep in mind is that your phone or the device with the Flic application has to be nearby in order for the Flic button action to work. If I leave my phone downstairs in my Gadgeteer HQ basement office and tried to use a Flic button upstairs in my bedroom to toggle lights on and off, it rarely worked.
I also tested one of the Flic buttons by programming it with all sorts of tasks and it worked as well as the FlicSingle buttons.
Final thoughts
Flic wireless smart buttons are easy to setup and fun to program. As long as you don't mind the price as they are a little expensive, and you understand that the iOS or Android device with the Flic app has to be within range of the Flic buttons for them to work, I find the Flic buttons to be a great alternative to using my phone to control my IoT devices.
Source: The sample for this review was provided by Flic. Please visit their site for more info and Amazon to order.

Product Information
Price:
$19.99 (FlicSingles), $34.00 (Flic)
Manufacturer:
Flic
Retailer:
Amazon
Requirements:

iOS or Android device that has BLE capability

Pros:

Easy to setup
Easy to program
50+ actions

Cons:

Paired mobile iOS or Android device must be nearby to use buttons
Single Flic buttons are expensive