We use affiliate links. If you buy something through the links on this page, we may earn a commission at no cost to you. Learn more.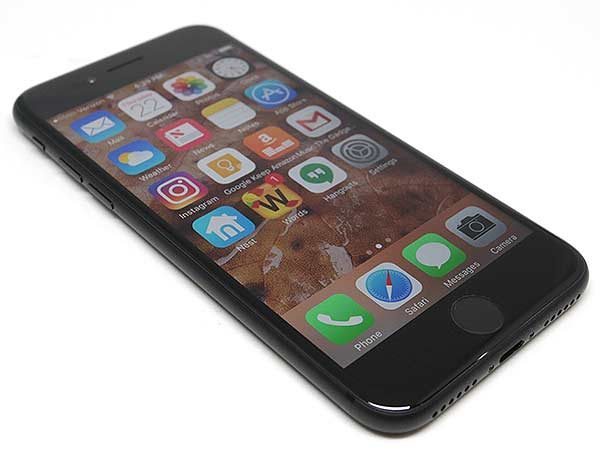 I've been a devout Android user for close to 5 years after switching from an iPhone 4S to the Samsung Galaxy S III back in September 2012. Wow, that seems like forever ago. After I made that jump from iOS to Android, I fell hard for Android and every time after that when I would test a new iPhone, I would grumble about how it felt so limiting compared to Android devices. If you go back through my past gadget diary posts, you'll see how I would get excited about new iOS hardware only to send it back a few days later due to disappointment with iOS.
So what changed this time? ,I'm not really sure. All I know is that when circumstances caused me to return an LG G6 that I had purchased for myself last month, I made a spontaneous decision to buy an iPhone 7 Plus. I remember telling Jeanne that was what I was going to do and she rolled her eyes and gave me a "you're nuts" look. I had previously told her that I would never buy another iPhone again after I bought the iPhone 7 last fall and returned it.
Honestly, I wasn't sure I would keep the iPhone 7 Plus that I bought last month. I just bought it on a whim because I needed a phone and could get one instantly by driving to the Verizon store. So that's what I did and I haven't looked back since.
Through the years I've complained about the iOS restriction on home screen widgets, the inability to place icons exactly where you want with spaces between them, lack of a back button, and the lack of wireless charging. Those four things have been my main "issues" and they sound dumb now. Well except for the wireless charging because I still miss that – at least until I get an iPhone 8!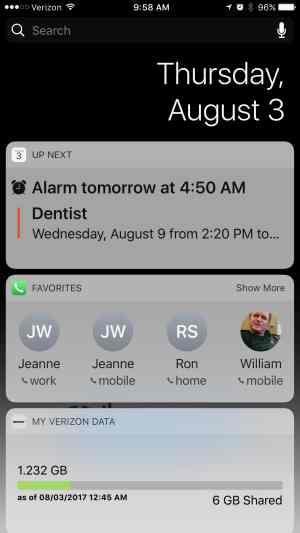 Regarding the home screen widgets complaint, I've gotten used to placing all the widgets on the swipe right from home screen page. Would I rather have the option of putting at least one widget on the home screen? Yes. I would place the Up Next widget there. But I have found that I'm checking the widget screen pretty regularly throughout the day, so it's really not a huge deal.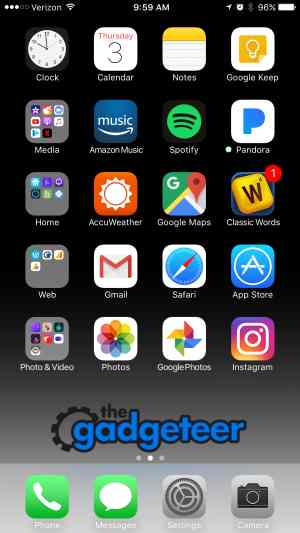 I still wish I could move the icons around exactly where I want them on the various home screens, but I've learned to deal with that too by using folders which I never used when I had an Android phone.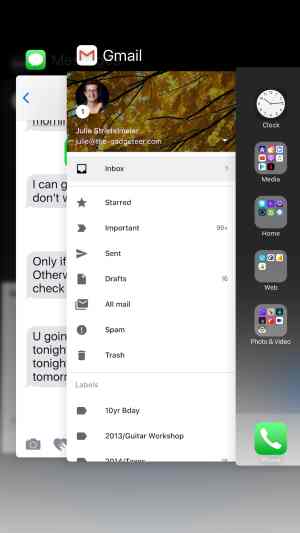 No back button is a non-issue because I can just either press and hold the left side of the screen or double tap the home button to switch between open apps.
So it turns out that those complaints were all pretty lame. Except for wireless charging 😉
I do have a new complaint though. With Android I would use my Flic buttons or an NFC tag to do things like send a TXT message to Jeanne when I would arrive home from work. NFC usage with iOS is currently limited to things like pairing Bluetooth speakers and not with automation. The FLic buttons work with my iPhone but they can't be programmed to send a TXT message because the phone has to be unlocked first. Even if you ask Siri to send a message, she'll make you unlock the phone before she sends the message, which is annoying.
On the good side, the iPhone has been a solid phone so far. The battery life has been excellent, and I'm not having the same little glitchy problems that I had with Android phones and Bluetooth devices. The Gmail app works great too. I've ALWAYS had problems with it on Android phones, where it just sits there and mocks me when I try to refresh the inbox. That's not happening on the iPhone.
All in all, I'm really enjoying using the iPhone 7 Plus and am excited about what the iPhone 8 will bring. At this point, I have no desire to go back to an Android device. but I'm not going to say I never will because I know that saying never means it will definitely happen.
Are there any other recent Android to iOS switchers out there? How's your experience so far?