We use affiliate links. If you buy something through the links on this page, we may earn a commission at no cost to you. Learn more.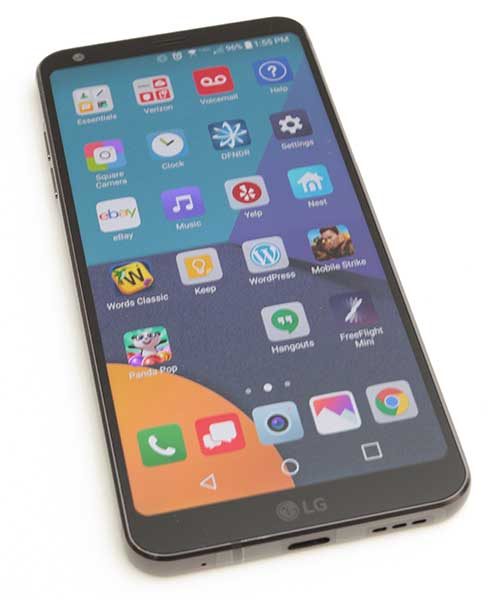 Thanks to Verizon Wireless, this is my first smartphone review of 2017 and this review of the LG G6 Android smartphone has a little surprise for our long time loyal readers of the Gadgeteer. It's a special dual format review with Judie Stanford who was my partner in crime here on The Gadgeteer for several years before leaving to start her own site: Gear Diary. This review has two parts. Part one is what you're currently reading and you can read part two of our dual LG G6 review on Gear Diary. Ok, let's get started!
Julie: What is the first brand that you think of when someone says Android smartphone? How about the second brand? Was LG one of the names you thought of? To be honest, I'd have to answer no. The company name that is the first one that always comes to my mind is Samsung, and the second one is Motorola.
Judie: Yeah, I'd have to admit that Huawei and then Samsung are the first two I would usually think of, but LG has always been on my radar mainly because I like that they are willing to take chances and come up with innovative ideas, even if they don't always catch on. I think that may be about to change, though …
Julie: It's a shame that LG's phones aren't more popular because LG is a top tier Android smartphone maker and their new LG G6 is a great "little" phone in more ways that one.
Judie: This is true! I have to admit that I wasn't overly excited about the LG G6 until I got one in my hands. Pictures, specs, and company copy are always going to make the latest phone seem like the greatest thing since sliced bread, but as reviewers, we tend to be a bit more skeptical and jaded because we see (almost) everything. That's what happened to me with the LG G5; I loved the idea of the phone, but when I started using it I wasn't sold. That has not been the case with the LG G6 — it's a whole new little beast, and I mean that in the best way.
Julie: Same here. Although I liked the concept of the LG G5 as a modular phone, I was disappointed with the look and feel once I got to play with one. It just didn't do anything for me and felt a little clunky and cheap. I am happy to see that the new G6 ditched the weird modular socket in favor of a more slab-like form factor.
Hardware Specifications
Processor: Qualcomm® Snapdragon™ 821 2.35Ghz + 1.6Ghz, Quad-Core processor
Operating System: Android 7.0, Nougat
Memory: ROM 32GB, RAM 4GB, supports microSD up to 2 TB
Network: Network: CDMA, GSM, LTE, LTE CA
Display: 5.7″ QHD Plus (2880 x 1440), 564 ppi, 18:9 aspect ratio, Gorilla Glass 3
Camera (rear): dual 13 MP
Camera (front): 5 MP
Bluetooth: 4.2
Wi-Fi: Wi-Fi 802.11 a/b/g/n/a
NFC
Battery: 3300 mAh (non-removable), wireless charging
Dimensions: 5.86″ (H) x 2.83″ (W) x 0.31″ (D)
Weight: 5.74 oz
What's in the box?
LG G6
USB AC adapter
Type-C USB cable
SIM tray removal tool
Design and features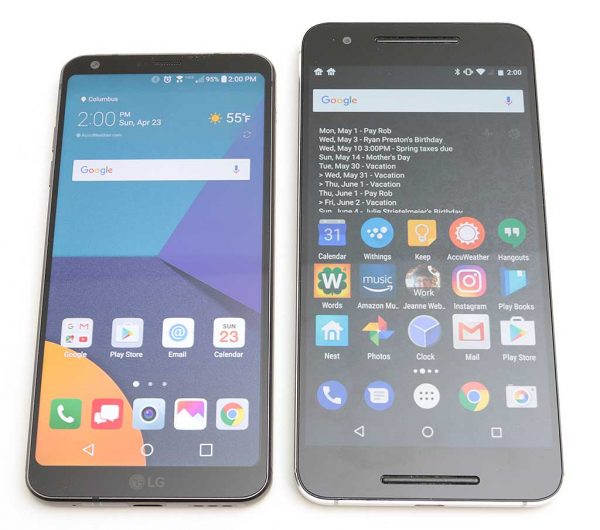 Julie: That's my Nexus 6P next to the LG G6 in the image above. Both phones have a 5.7" display, but as you can see, the G6 has a smaller footprint which is more hand and pocket-friendly than the Nexus phablet. I carry my phone in the back pocket of my jeans when I'm walking around at work. I like that the G6 doesn't stick out my pocket as far as the 6P.
What phone is your current daily driver and how do you think the LG compares when it comes to size?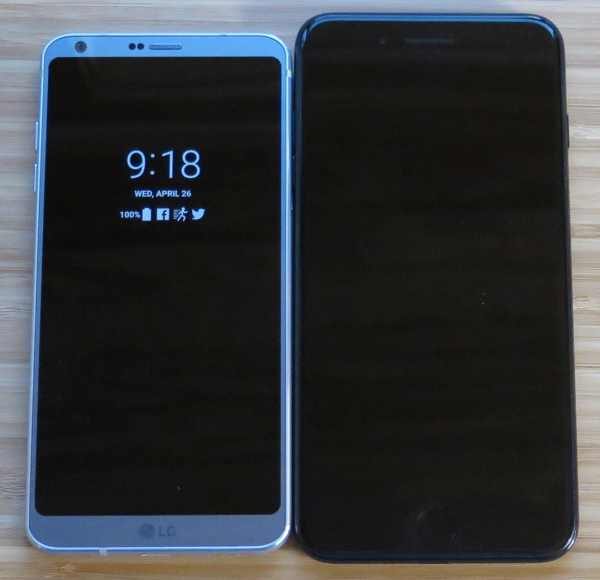 Judie: My daily driver is the iPhone 7 Plus, and before I got the LG G6 to test, the Huawei Mate 9 was my go-to Android device. I usually prefer larger devices, simply because I find that if I am using one I am less likely to carry a tablet for reading. So from that perspective, I like the slightly longer G6 display in its slightly narrower body. I also regularly slip my phone into my back or front pocket, so it's important that whatever I am carrying be pocketable; the LG G6 is that.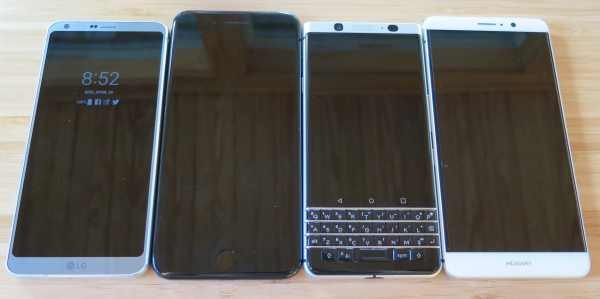 Just for fun here's a picture of the G6 next to my iPhone 7 Plus, the BlackBerry KEYone, and the Huawei Mate 9. As you can see, the G6 has a longer yet thinner screen than the iPhone's 5.5" display. The BB KEYone has a smaller 4.5" display, but the phone is about the same size as the others because of the keyboard. The Huawei Mate 9 has a 5.9" screen (which I love), but the phone is a little bit wider than I'd like.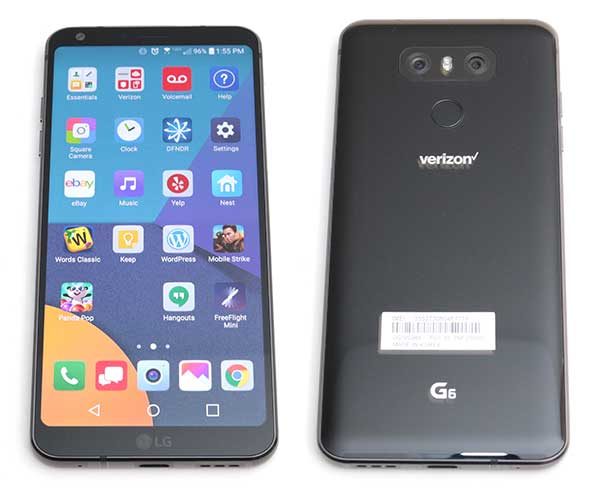 Julie: What do you think of the LG G6's overall style? Are you disappointed that it looks so "normal", or do you like the flat unassuming look? I actually like it. Curved screens might be popular with some companies, but I am digging the flat slab look and feel of the G6.
Judie: I don't mind the slab style at all, but I do prefer the look of the black on black LG G6 that you have to the black on silver G6 that I received. I think that the black on black looks sleeker. The silver bezel around the screen on the G6 I have just doesn't give the illusion that the device is all screen like the black combo does (especially when the display is turned off), and I prefer that look — it's why I have a jet black iPhone.
I do appreciate the G6's slightly curved back, but I feel like its front edges are just a wee bit sharper and more abrupt than I'd like. The phone is also about 1mm thicker than the 7 Plus, so it makes the G6 appear blockier than it is when next to the 7 Plus. Does that make sense? Obviously, most people aren't going to carry both phones next to each other, and this is all personal preference.
Julie: It's funny, but the G6 reminds me of the iPhone 4 and 5 as far as the straight sides and shape.
Judie: Yes, that's what it makes me think of, too! It's not necessarily a bad thing, but even the iPhone has moved on from that style.
Julie: That was one of my fave phones back in the day, so it feels familiar to my hand. I don't notice the edges of the aluminum sides feeling sharp when holding the phone in my hand, but I agree that the black on black version has a nice ninja look to it. But the shiny black glass back doesn't come without its problems. First of all, it's a fingerprint and smudge magnet.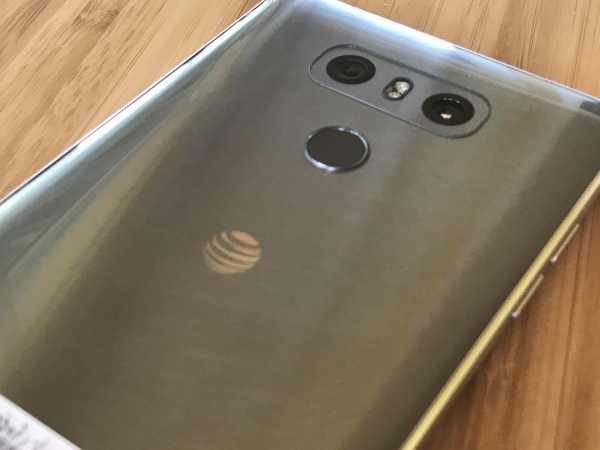 Judie: That's one area where the silver version might be better; it is shiny, but it has a brushed (appearing) finish, so it doesn't seem to make the fingerprints seem as glaring.
Julie: Even worse, though, is that it's crazy easy to scratch this phone. My loaner phone has a BUNCH of tiny scratches on the front display and back that I only noticed when I started taking pictures for this review. I don't throw my phones around, but I don't baby them either. The LG G6 is the first phone in a long time that I've scratched without even knowing it. People will definitely want/need to install a screen protector on the front glass, and if I were going to buy this phone, I'd probably buy a clear back skin to protect the back as well. Luckily the scratches are so fine and tiny that you don't notice them unless you really look for them. I can't even get a good image of them to show in the review. But I definitely wanted to mention it.
Judie: It's interesting that you've had that experience with the black version. I've thrown the silver G6 in my backpack and carted it all over without a case or a screen protector, and so far so good. So I guess it's a "your mileage may vary" type situation?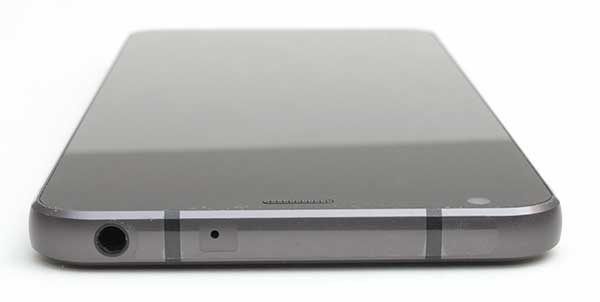 Julie: Possibly! Let's take a tour around the phone. On the top edge, you'll find a 3.5mm headphone jack and a microphone.
Judie: The 3.5mm jack is perfect for all of us who still have headphones that we love which aren't wireless.
Julie: Very true. So what are your favorite headphones? Wired or wireless? Mine are wired (for now) and are the DUNU Titan 1 headphones that I've had for ages. They are really comfortable and sound great.
Judie; Nice sidebar! I review and use a lot of headphones, and I've tried so many great ones that picking a favorite isn't easy. I keep the wireless Bowers & Wilkins P7s on my desk, though; I suppose that they are my go-to pair. For in-ear, I love the Pioneer Rayz (I keep a pair in my backpack at all times, as they are fab for travel), but they only work with iPhones that have a Lightning connector. They have a charging port on them so you can listen and charge your iPhone at the same time. Anyway, back to the review! 😉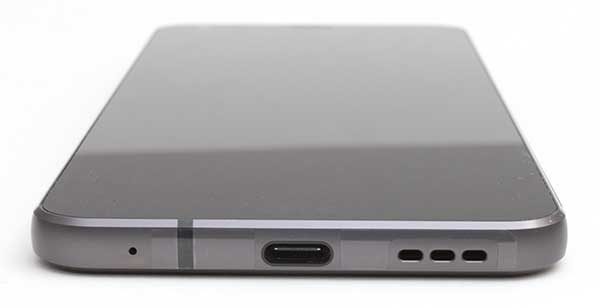 Julie: On the opposite end of the G6 there's a second microphone, a downward firing speaker, and a Type-C charging port. I'm happy to report that the LG G6 has Qi wireless charging capabilities. I forgot how much I missed this feature while I've been using the Nexus 6P for the last year and a half. The only downside is that the G6 does not have fast wireless charging like the Samsung Galaxy S8 devices. This doesn't really bother me though because I mainly only put the G6 on my Qi dock when I go to bed at night, so I don't care if it charges slowly.
Judie: I wish every phone available had wireless charging; it's so convenient and easy! And since several automakers are starting to include wireless charging pads in their vehicles, and there are even coffee shops with wireless chargers on some of their tables, it's all the more reason why wireless charging should be standard. However, if I'm not mistaken the wireless charging feature is only available in the US! Sorry, rest of the world! 😉
Julie: I totally agree. It felt like we were taking a step back with some phones in the past couple of years that removed that feature, but I hope that we see it become the norm going forward.

The right side of the phone has a dual SIM/micro SD card slot.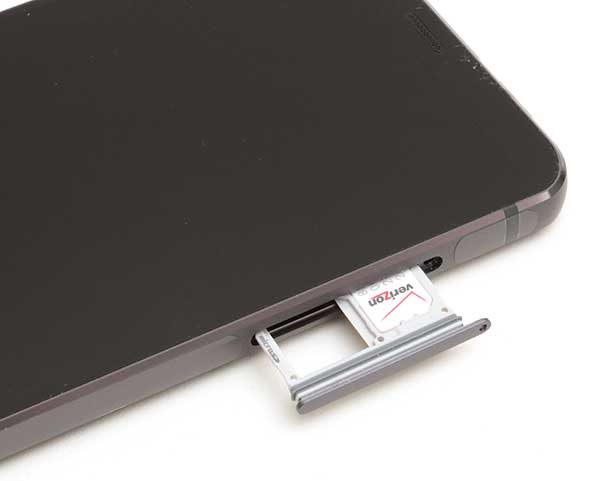 Judie: Obviously, if you need to use two SIM cards you'll have to give up the memory slot, but if you travel out of the country a lot or if you need a separate number for work and personal use, it is so convenient to have the ability to consolidate two devices into one.
Julie: It didn't even occur to me that you could put two SIMs in this phone. I guess since I'm not really a world traveler like you are, that capability hasn't been on my radar. When you went to Lisbon last week, did you use two SIMs?
Judie; Not this time, but I have in the past. When I travel these days, I either use the KnowRoaming SIM sticker on my unlocked phone, or I'll pay the $10 per day International Day Pass that AT&T just introduced — it allows you to use your existing data and texting plan overseas. Either is a good solution.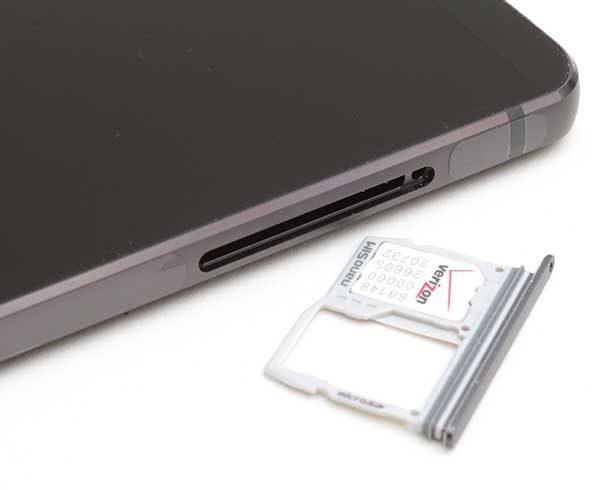 Julie: Although I've been able to get by without a microSD card in my phone for awhile now, I really like having that option.
Judie: The only reason I am able to get by without a memory card on my iPhone 7 Plus is because I bought the 256GB version. But being able to put a 200GB microSD card into the G6 is great — all the memory I need for downloaded movies, Dropbox documents, Kindle books, and Zinio magazines. Granted, with so much streaming content available now, having so much memory may seem like overkill, but I can't be the only person who panics when they see a low memory warning. That's why I always try to have a little more than I think I'll ever need — I will inevitably find a way to fill it.
Julie: I keep seeing that low memory warning on my Nexus 6P these days which like the LG G6, only has 32GB of storage. But unlike the G6, the 6P does not have a microSD card slot. Ugh. It is freaking time for me to update to something with more space – or a microSD card!
Judie; What's stopping you? Inquiring minds want to know!
Julie: I haven't found the right one yet. It sounds like I'm trying to find a mate instead of a phone. Wow, first world problems huh? ;o)
Judie: Totally. 🙂

Julie: On the left side of the LG G6, you'll find individual volume up and down buttons that stick out from the body of the phone far enough that your thumb has no problem locating them. They also have great tactile feedback.
Judie: I like that the volume buttons are on the same side as they are on the iPhone since it makes for zero fumbling when I go from one phone to the other. I don't have the same luck when I switch to the Huawei Mate 9 or the BlackBerry KEYone. 😛
Julie: Since I'm a lefty, I always prefer that the volume buttons be located on the left side of the phone.
Judie: That makes sense! One of the things I wasn't fully aware of when I first started using the LG G6 was that it has IP68 dust and water resistance and that it is also shock resistant with MIL-STD-810G testing; these are such great features! I think we've all got a personal horror story about soaking our phone(s) or we know someone who did that; with too many phones, the result is … not good.
Julie: Luckily, I've don't have a personal horror story of drowning my phone, but knowing It can survive in up to a meter of water for up to 30 minutes gives me some peace of mind for any whoops scenarios that could happen.
Judie; I agree. It makes it less scary to take your phone to the pool or to use it in the bathroom (just saying).
Julie: This the end of Part 1 of Judie's and my dual LG G6 review. Now you need to read part 2 at Gear Diary which includes our thoughts on the LG G6's bezel-less display, camera, fingerprint scanner, software and our final thoughts.
Update 06/26/17
Well, I did it. I finally (after 1.5 years), updated from my Nexus 6P and decided on the LG G6 because it's a very good deal for the price. Love the smaller sized phone and that I can charge wirelessly again!
Update 07/21/17
I ended up returning the LG G6 to B&H Photo due to some strange and annoying little glitches with Bluetooth. The phone would regularly take over the always-on display by showing a connected Bluetooth device's ID/name. The only way to get rid of it was to restart the phone. I also noticed static listening to streaming must via Bluetooth in my car. These aren't huge problems but they were just annoying enough that I decided to return the phone. I ended up buying an iPhone 7 Plus in a fit of spontaneity and have been surprisingly loving it.
Source: My sample for this review was a limited time loaner unit provided by Verizon Wireless, Judie's was provided by LG. Please visit their site for more info.

Product Information
Price:
$672.00
Manufacturer:
LG
Retailer:
Verizon Wireless
Pros:

Great size
Love the display
Really good fingerprint scanner experience (so far)
Wireless charging capabilities

Cons: