We use affiliate links. If you buy something through the links on this page, we may earn a commission at no cost to you. Learn more.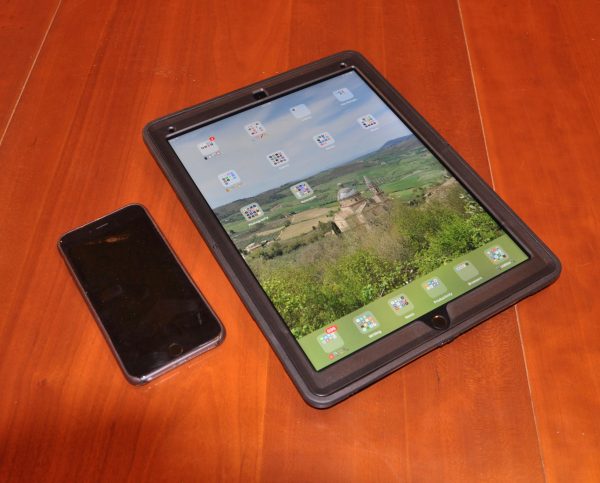 I love my 12.9″ iPad Pro, but, like most folks have mentioned in reviews, I find it a bit difficult to balance when trying to carry it around during use. I've found a case that I like for use around the house or on the road, but it's more a stand, even though it has a hand strap. When Julie offered the team the Armor-X cover for iPad Pro, I pondered if it would be right for my needs. They sent it for testing, and I've had it a week or two, so it's time to report on the results.
Note: Photos may be tapped or clicked for a larger image.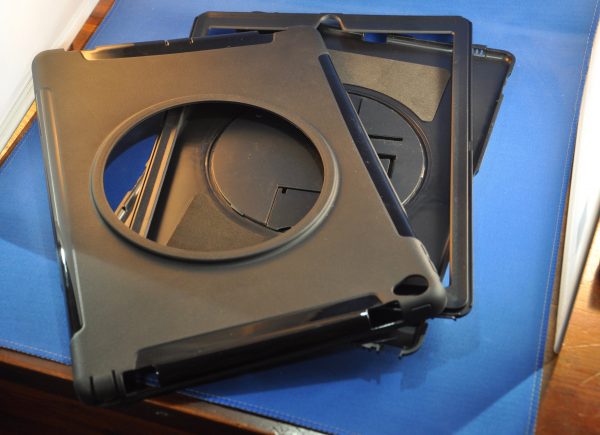 The Armor-X case is made up of three pieces: a two-piece inner hard plastic frame, and a tough rubberized outer case that seals the two together, as well as adds a hand-hold and stand on the back.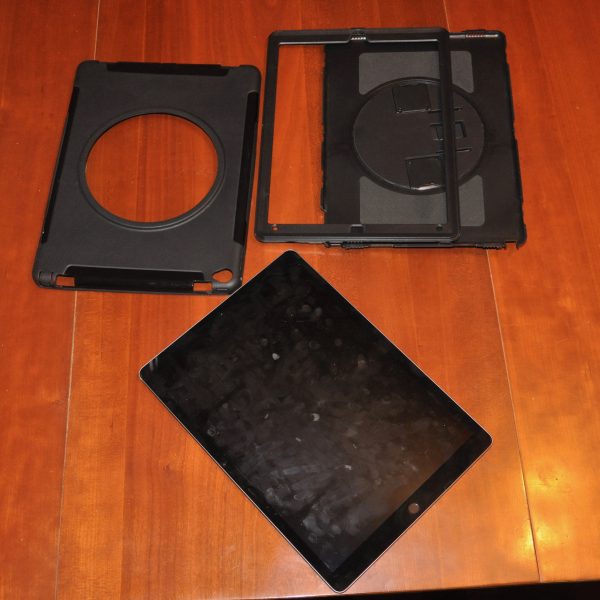 The stand is folded under where the hand strap spans, and there is a circular insert in the back of the case to allow it to rotate.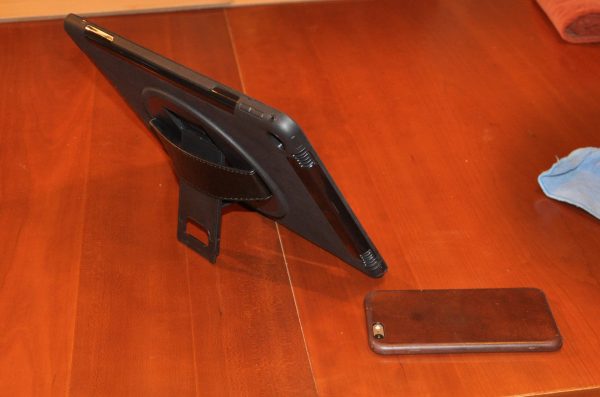 You can hold it in any position, and there is no need to worry that the iPad will slide out of the case. It is firmly attached to the handgrip, and the leather strap is easy to adjust to your hand. I am not able to comfortably get my thumb around the edge while holding the grip, but those with larger hands may. If using in a portrait mode, similar to a clipboard, you'll find it a natural for sketching, taking notes, or annotating a checklist, as you would with paper.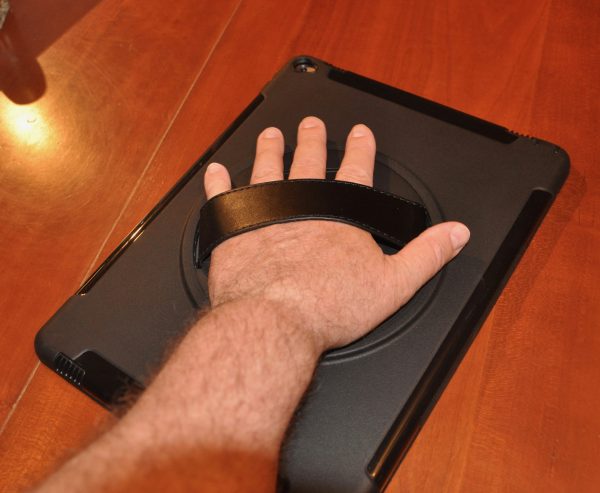 The ports and buttons are nicely protected. There is a snap-over cover for both the headphone jack and charging port. I was able to use most of my cables without incident.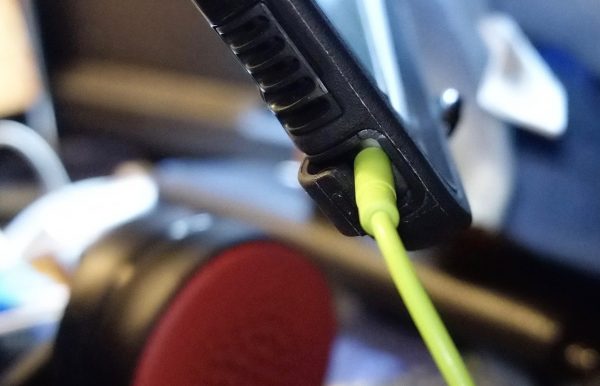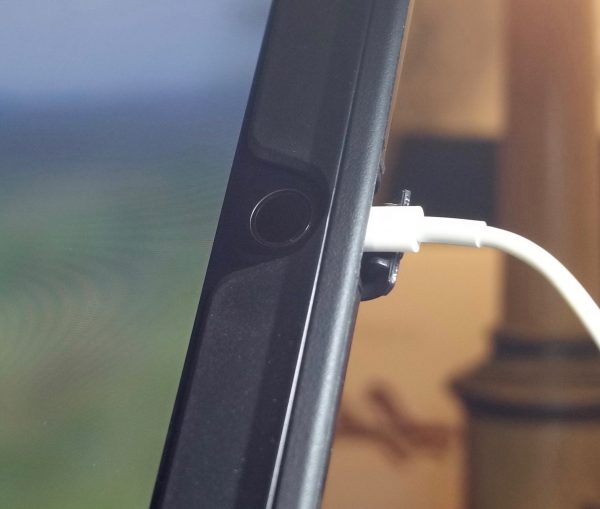 The buttons are clearly marked, and work well in the case. The sound, funneled through louvered openings (see picture above with green headphone cable), does not appear muffled in any way. There are openings for the cameras, touch sensor, and microphones. The touch sensor is perhaps the only thing you may find a bit compromised. Given its position at the edge, and the thickness of the case (shown in the picture above with white charging cable), you may have an issue getting it to read your fingerprint from some angles. I have both of my thumbs scanned twice in my preferences, which gives me a better chance of having either one read by the sensor, but your mileage may vary. For Apple Pencil users, charging can be an issue, and there is no clip, silo, or other holder for the Pencil or any other stylus. The Pencil, because it is heftier in diameter than most cables, doesn't fit perfectly into the port. You can wiggle it around and make it charge, in a pinch, but it'd be better to connect a cable and the Pencil adapter, to prevent any incidents with the port or your Pencil.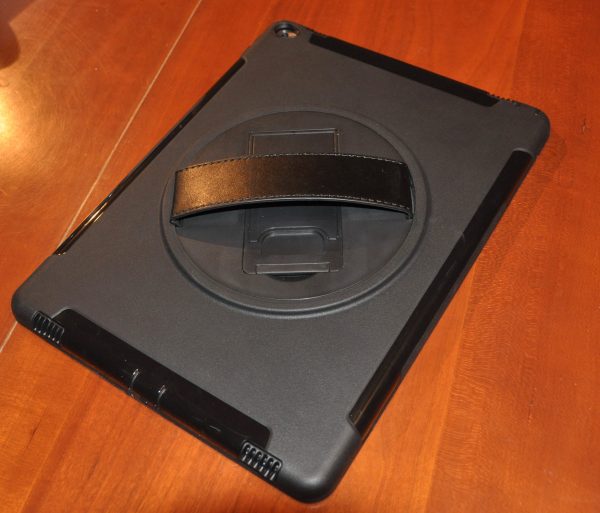 The stand is a nice touch, but will probably not be used as much as the handle. It slides down from under the hand strap and only will support the iPad in landscape orientation. It will almost stand up in portrait, but not steadily enough to be comfortable in use. If you need to quickly write up a report and have a keyboard in your bag, it's going to be very comfortable. I wrote this entire article with the stand on my kitchen table using my Logitech K811 keyboard. I love using this iPad with a Bluetooth keyboard.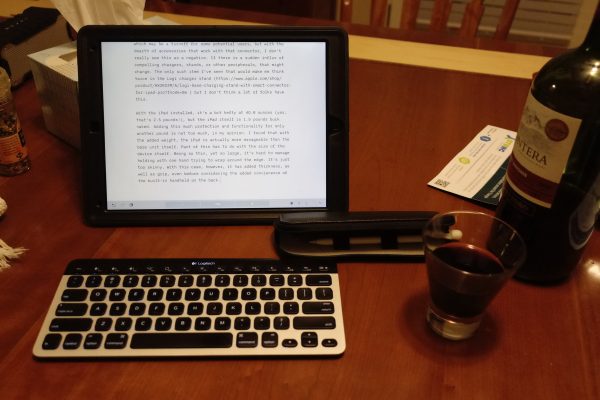 There is no pass-through for the Smart Connector in this case, which may be a turnoff for some potential users, but with the dearth of accessories that work with that connector, I don't really see this as a negative. If there is a sudden influx of compelling Smart Connector chargers, stands, or other peripherals, that might change. The only such item I've seen that would make me think twice is the Logi charger stand, but I don't think a lot of folks have this stand.
With the iPad installed, it's a bit hefty at 40.8 ounces (yes, that's 2.5 pounds!), but the iPad itself is 1.5 pounds buck naked. Adding this much protection and functionality for only another pound is not too much, in my opinion. I found that even with the added weight, the iPad is actually more manageable than the bare unit itself. Part of this has to do with the size of the device itself. Being so thin, yet so large, it's hard to manage holding it with one hand trying to wrap around the edge. It's just too skinny. With this case, however, it has added thickness, as well as grip, even before considering the added convenience of the built-in handhold on the back.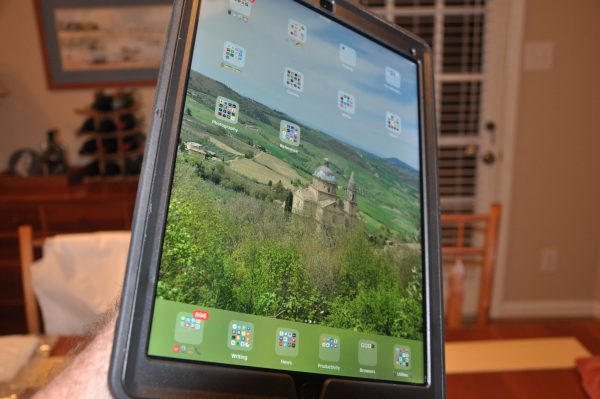 While it's great for those who use their iPads Pro while holding it for moderate periods of time, I don't have that kind of need in my life. (In the picture above, I'm holding the iPad with my left hand while wielding a DSLR in my right. And I'm more worried about dropping the camera than the iPad!) A building, fire, or home inspector, teacher, lecturer or other professionals who want to have a good list or notes while walking around or standing before a group sans podium would benefit from this case. Next time I demo iOS to a large group, I'll be using this, so that I can get the most image on the display, and can see what I'm presenting. I've done similar workshops with iPhones and regular iPads, and it's great to have a case that lets you gesture with one hand while securely holding the device in the other.
Source: The sample for this review was provided by Armor-X. Please visit for more info.
Product Information
Price:
$35
Manufacturer:
Armor-X
Requirements:
Pros:

Rugged and durable
sturdy hand-strap grip
stand for sitting in Landscape

Cons:

Stand is a bit fiddly, doesn't work in Portrait
No holder for Apple Pencil