We use affiliate links. If you buy something through the links on this page, we may earn a commission at no cost to you. Learn more.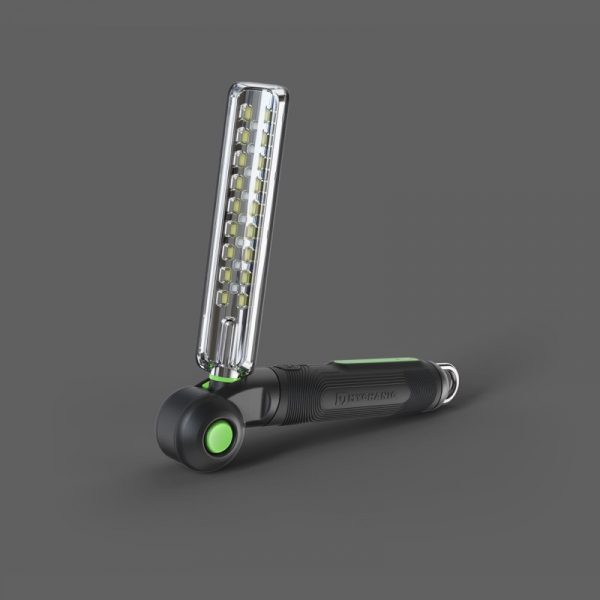 I may have a flashlight problem.  No, I definitely have a flashlight problem!  Why can't someone make the perfect light? I believe there is no such thing because every situation calls for something different. This time, I get to try out the Mychanic Blade Multi Light, a rechargeable light that flexes to your needs.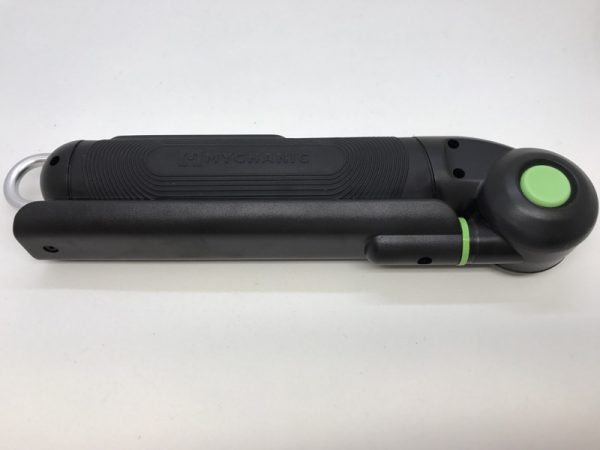 Weight: 1.4 lbs
Blade: x 7″ tall 1 1/2″ across x 5/8″ deep
Extended: 17.5″ tall x 2″ across x 2″ deep
Folded:  10″ tall x 2″ across x 2 1/4 deep
LI-Ion rechargeable battery with micro USB AC charging adapter
Durable ABS housing
Low heat output
Patent pending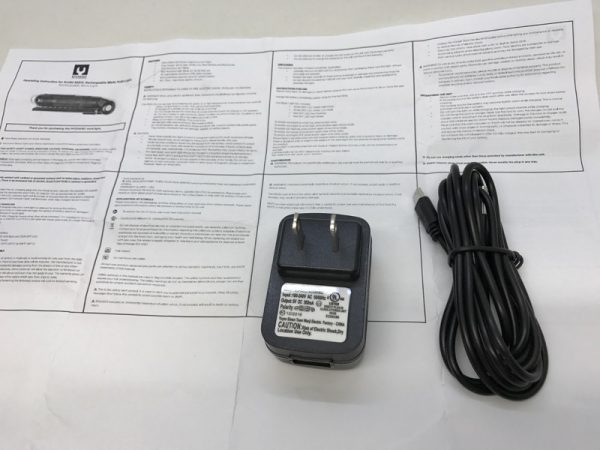 My sample didn't come in retail packaging.  I received a sheet of instructions, wall charger, and microUSB cable for charging.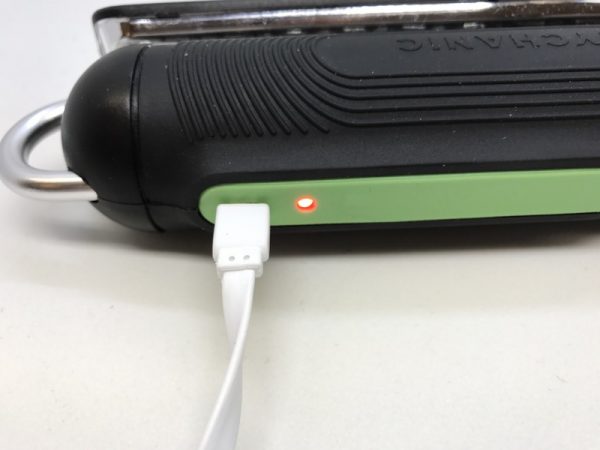 You can use any microUSB cable (as I did here).  Note the red LED that indicates charging.  It turns green when full. Why can't all manufacturers do it this way?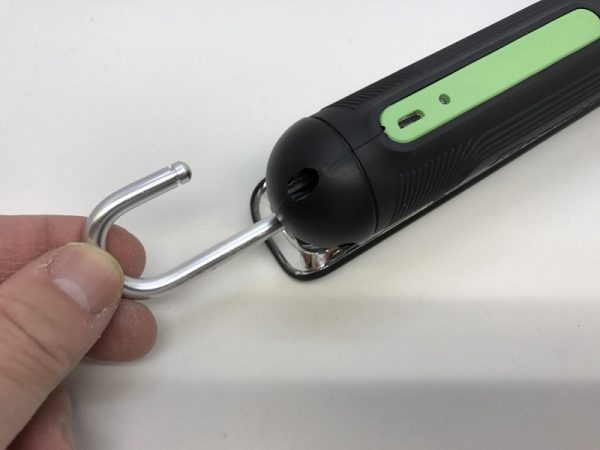 There's a hook that at first, I could not figure out.  To extend the hook, you push IN to the light. I naturally tried to gorilla-pull the hook out, to no avail.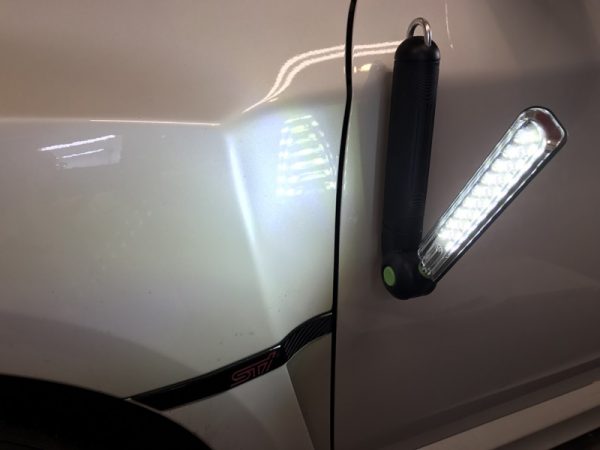 There's also a magnet along the green rubbery strip where the microUSB is.  The problem?  Once you've stuck it on a surface, you've just covered up the power button.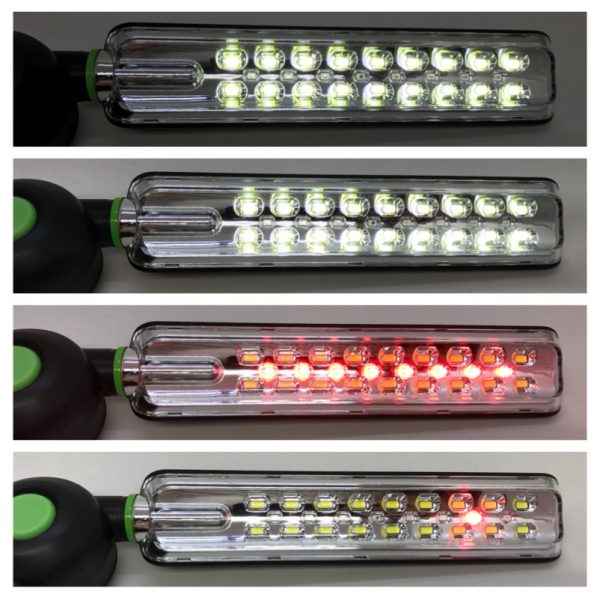 There are four different lighting modes:  Full bright (250 lumens), Low (difficult to photograph!), red flashing, and directional.  The direction pattern consists of one red LED flashing in one direction, sequentially.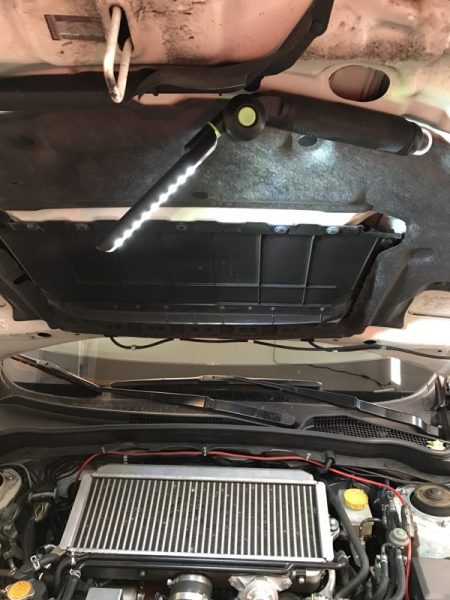 Here's the light attached to the underside of a hood using the magnets.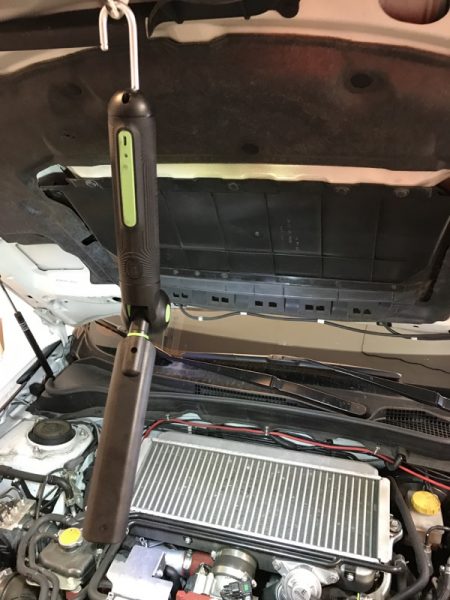 And, here's the light again, this time hung by the hook.
How long does the battery last?  On the brightest setting, I got 4 hours.  It's likely longer on the low setting.
My only complaint about the Mychanic Blade Multi Light is that there's no obvious way to have it sit upright on a desk or flat surface.  It may take you a moment of twisting and flexing to figure it out.  The magnet isn't the strongest, so a bump could dislodge the lamp.  I'm still slightly embarrassed about the hook thing, too.
What I do like is the light weight (1.4 lbs), and the USB charging. The red/green LED indicator is simple genius that I wish was more commonplace.
Source: The sample for this review was provided by Mychanic. Please visit their site for more info.
Product Information
| | |
| --- | --- |
| Price: | $34.99 |
| Manufacturer: | Mychanic |
| Requirements: | |
| Pros: | Light weight, four light modes, magnet and hook mounts. MicroUSB rechargeable. |
| Cons: | Not totally obvious how to get the light to stand on a flat surface without some trial and error. |