We use affiliate links. If you buy something through the links on this page, we may earn a commission at no cost to you. Learn more.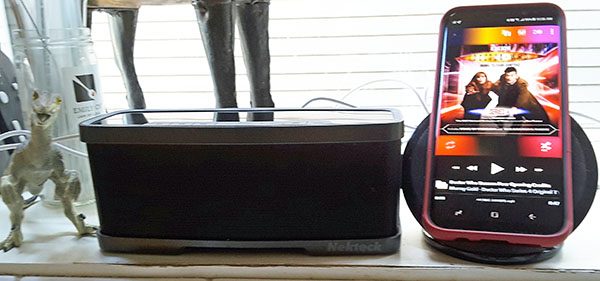 Everybody, their brother, and their brother's next-door neighbor makes a Bluetooth speaker these days, or so it seems. Some are merely OK and some are just downright awful. Very few are actually worth your hard-earned money. Where does the Nekteck NK-S1 fit on this scale? Read on to find out…

I have been looking for a good and affordable Bluetooth speaker to replace an aging Logitech model. We love to stream music (think Sunday night kitchen dance parties while cooking for the next week) or news or comedy as an antidote for the news. Our qualifications for a speaker are pretty basic: it has to sound good, it has to be portable and battery powered (so we can use it while grilling in the backyard), and it has to be so simple to operate that we can start it up and promptly forget about managing it. Oh, and it has to be reasonably priced.
Let's get the least subjective qualifications out of the way: at about 7.5 inches long, 3 inches high and 3 inches deep, it is a small speaker on par size-wise with speakers like the Jabra Solemate Mini or the Cambridge SoundWorks Angle. And at 1.5 pounds, it is a little on the heavy side compared to most but certainly, will not break your back carrying it around. It has a bigger battery than most portables which probably accounts for the weight difference, and the practical upshot of that is that you get longer play time before you have to charge. In my book, that is a win for the Nekteck speaker.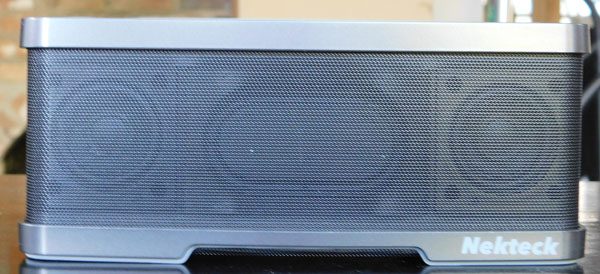 Next, it has to be reasonably simple to operate. I want to plant the speaker near where I am doing something and then use my streaming device to control audio, etc. I am an Android guy, so the main drivers for the speaker are my Galaxy S8 Plus and my Galaxy Tab S2 tablet. Both support Bluetooth 4.x as does the Nekteck, so the speaker responds almost instantly to changes I make on the phone (like sound profile via PowerAmp's built-in equalizer, track or volume changes, and even input switching when I want to head over to the news on the Sirius app). The connection range is on the high side – my previous Logitech speaker had to have a pretty clear line of sight to the streamer, but the Nekteck has maintained a clear connection with the speaker in the kitchen and my phone in the living room – and this in a 100-year-old house with lots of interesting electrical wiring (think interference) and lathe and plaster walls. I think that qualifies as easy to operate and goes a step further by giving me more freedom to move around.

In the end, though, you buy the speaker because it sounds good with your devices. And this is where the Nekteck excels above and beyond the rest of the pack. It just sounds great, period. Our Sunday night kitchen dance parties stream Reggaeton and Latino music courtesy of Daddy Yanqui, Enrique Iglesias, and Gente de Zona. Think bass with complex vocal lines. Most speakers will either muddy the bass or muffle the high notes, but on the Nekteck they come through clear and strong. Even at louder volumes that inevitably happen towards the end, there is no distortion or degradation of the music.
Personally, I prefer songs from the 60's and 70's, which no doubt showcases my age. Less about the drum, more about the guitar and bass together. Again, the Nekteck delivers great, clear sound worthy of a much more expensive speaker.
And given the events of the last few weeks, staying on top of what is happening in the world is a must. I have partial hearing loss, and while music comes through clearly for me, I often have trouble with normal conversation. Many speakers and Bluetooth headsets have a tendency to muffle or distort vocals. I don't know if that is some sort of noise dampening algorithm in effect or just bad frequency response in the speaker. But honestly, listening to (and comprehending) the news through the Nekteck is much easier for me than through my much more expensive Bose Bluetooth headphones.
The speaker also comes with a cable to allow you to connect via old technology (aka the headphone jack), and that greatly increases the battery life. For me, the wireless connection gave me about 6.5 hours of playtime on a single charge, and the wired connection took me to almost 10 hours. As a result, I bought a phone dock for the kitchen with a wired audio out connection to keep the dance party going.
If you connect to a phone, the Nekteck can also connect via the handset profile and become a speaker phone. The microphone is OK, though – the few times I used this feature I felt like I had to yell when I was a few feet from the speaker in order to be heard. But, this is more above and beyond the mission I would buy the speaker for, so I am completely fine with the feature as-is.
There are some quirks, though. You knew there had to be, right? The first seems to be a trend in consumer electronics these days. The speaker comes with an 18 inch USB mini cable to charge but no wall plug. I generally don't charge my speaker on my laptop since I use it more with mobile devices. This means I have to go looking for a wall plug whenever I want to charge it. Yes, I know there are other solutions out there (like the AluPlug I recently reviewed) – but, to me, the point is that I shouldn't HAVE to go looking for one. Minor fail, and one I can't lay entirely at the feet of Nekteck – but they could buck the trend.
Also, when you move out of connection range, the speaker gently tells you in a female voice with an English accent that "connection lost". She will continue to do this even when you move back into range. In fact, the only thing that will get her to stop telling you this is to either power cycle the speaker or go into the Bluetooth settings on your device and reconnect from there. It just doesn't want to reconnect consistently.
Finally, there is an equalizer button on the top of the speaker. I believe the settings are Off, Classical and Party. To me and everyone I show this to, Off sounds like the volume lowers a little while the other two settings raise the volume a touch. The actual sound profile doesn't change.
If you are on the market for a great all-around Bluetooth speaker that will play a variety of entertainment well, the Nekteck NK-S1 needs to be on your short list. It is a great all-around streaming speaker and the price to feature ratio can't be beat.
The speaker reviewed was provided by Nekteck.  For more info visit their site or visit Amazon to purchase.