We use affiliate links. If you buy something through the links on this page, we may earn a commission at no cost to you. Learn more.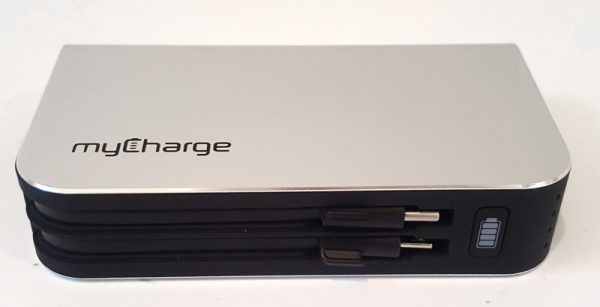 You can never have too many portable chargers in my opinion.  I have them everywhere, at my house, my office, and my car.  I also give them as gifts to my friends and family, and I have reviewed many of them here at the Gadgeteer.  So I am always on the lookout for new features in chargers that I haven't seen before, and the myCharge HubPlus C portable charger brings new features to the table.  Let's find out what they are!
So let's start with the specs and product features from the manufacturer:
Battery: 6700mAh Lithium Ion
Product Dimensions: 4 in x 2.5 in x 0.9 in
Product Weight: 0.43 lbs.
Output: 18W
Smart-sense: ensures complete device compatibility
Hyper-charge: ultra-fast charging of your devices; up to 65% faster than competitors with Qualcomm Quick charge 3.0
Devices compatible with quick charge: Google Pixel, Samsung S8, Type C Smartphones
Power-stay: maintains battery power for up to 1 year
Max-power: maximum power transfer from power bank to device
High-density battery: the smallest and lightest power bank
Safe-cell: provides the highest level of battery safety
Rapid-recharge: power bank recharges up to 50% faster than competitors
Pass Through Charging: will charge the power bank and connected device simultaneously
What I liked
The myCharge HubPlus C is easy to hold with one side nicely curved. It has 2 built-in cables (micro-USB and USB-C) that fold-out when in use and tuck neatly into the side of the HubPlus C when you don't need them, so you never have to carry your cable with you.  And it has a built-in fold-out power plug so all you have to do to charge it is fold-out the plug and insert it into the nearest wall socket.  And it also has a standard USB-A port to charge any USB device you want.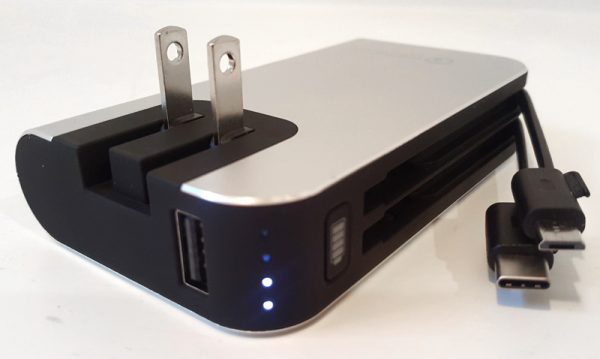 The HubPlus C also has pass-through charging, which means it can be plugged up to the wall to charge and then you can plug up your device to the HubPlus C to charge your device at the same time.  That isn't the case with most portable chargers, so that is a definite advantage.  It also automatically turns on when you plug up your device to the HubPlus C so you don't have to press the power button on the side.  In fact, the only use I can find for that button is to see the 4 status lights on the side that display how much charge is left inside.
The capacity of 6,700mAh means that I can fully charge my Samsung Galaxy S6 Edge+ twice with just a little bit left over.  I have other chargers that are about the same size as the HubPlus C that have much higher capacities, so it would be nice if the HubPlus gave me a few more charges with all the other great features it comes with.

The downside
Although the HubPlus C has Quick charge 3.0 from Qualcomm, there are only certain devices that can utilize it. So my Galaxy S6 Edge+ doesn't use the Quick charge feature.  It does charge pretty fast, no doubt, but I don't get true Quick charge with my phone.  Also, when you charge multiple devices at the same time, the 18 amps output is divided up pretty quickly and you pretty much get standard charging rates.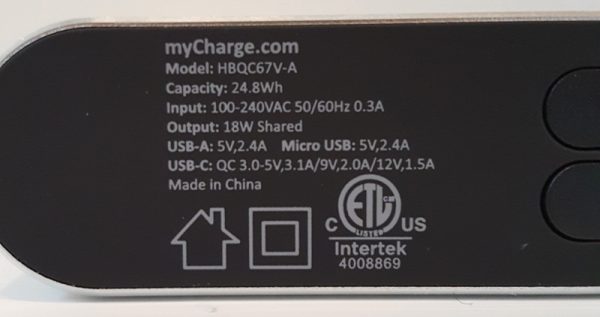 I also don't like that the cables are so short.  I mean, one of the great features of the HubPlus is that the cables are built-in.  But that is also a detriment because if you want to take a call while your phone is charging, you have to awkwardly hold both of them up to your head.  And if you want to plug up the HubPlus C to the wall outlet and charge your phone at the same time, you could find your phone dangling from the wall and the cables awkwardly twisted.
Bottom line
The HubPlus C is portable, the built-in cables and power plug are convenient, and the Quick charge is great for those who can take advantage of it.  The HubPlus C is worth the price of $79.95 in my opinion, despite the downsides that I listed.  I can live with those because the HubPlus C is a quality product that has enough features to make just about anybody happy.
Source: The sample for this review was provided by myCharge. Please visit their site for more info and check their offerings on Amazon.