We use affiliate links. If you buy something through the links on this page, we may earn a commission at no cost to you. Learn more.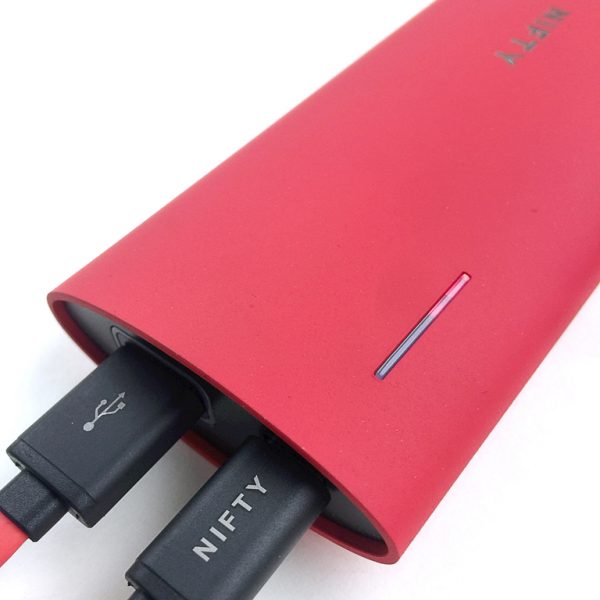 REVIEW – You have them. I have them. What do we all have? Personal portable devices of course.  Millions of them are out there, and the more feature-rich they become, the more power they require. But because these devices are intended to be portable, we can't always use them near a power outlet. Hence the boom in portable batteries and chargers to power our devices while on-the-go. The NIFTY Mobile Charger is one such portable battery, and its looks and features piqued my interest. Let's check it out! Gadget on!
Options
The NIFTY Mobile Charger is available in three colors/finishes:
Signature Stone Red – Sandstone finish (reviewed here)
Stone Gray – Sandstone finish
Suede Black – Soft Tough finish
Specs
Per the NIFTY site, the NIFTY Mobile Charger's specs are the following:
Dimensions – 106x59x25mm / 4.1×2.3x.9in
Weight – 156g  / 5.5oz
Material – Flame Retardant ABS Thermoplastic
Battery – 6800 mAh lithium-ion
Input Power – 15 Watts
USB-A Output –

TriCircuitry:

Qualcomm® Quick Charge™ 3.0
Fast-Charging 2.1A iPhones
Fast-Charging 2.4A Android Devices
Max 18 Watts

Type-C Output –
Features –

Priority Pass-Through Charging
Powerloop Technolgy™
TouchSense™
TriCircutry™
Lumi I/O™
Intelligent Variable Output Delivery™
Dual-C™
Packaging & Contents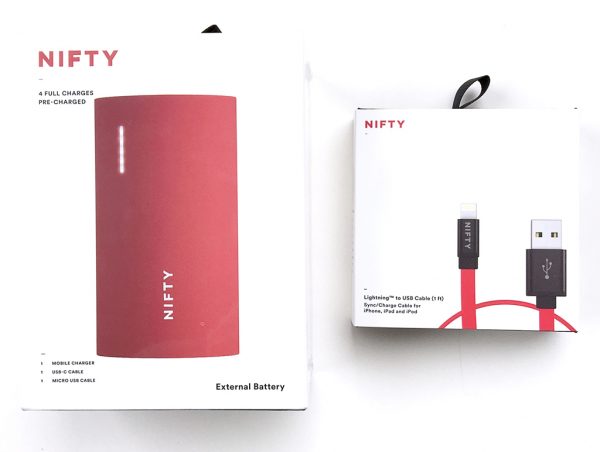 The NIFTY folks sent me both a NIFTY Mobile Charger (with cables included) to review as well as a 1-ft Lightning to USB Cable to connect to my iPhone 6 Plus. The packaging for both products is similar: a thin, stiff cardboard sleeve in a primarily white color scheme on the exterior which covers the interior black box that contains the actual product and accessories.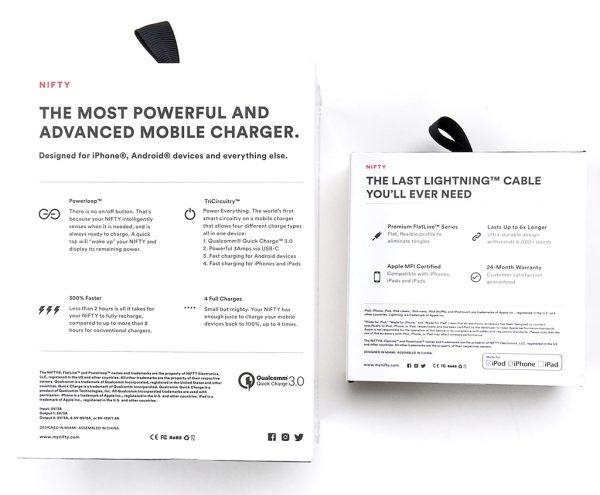 Above are shown the package backs which list features of the enclosed devices.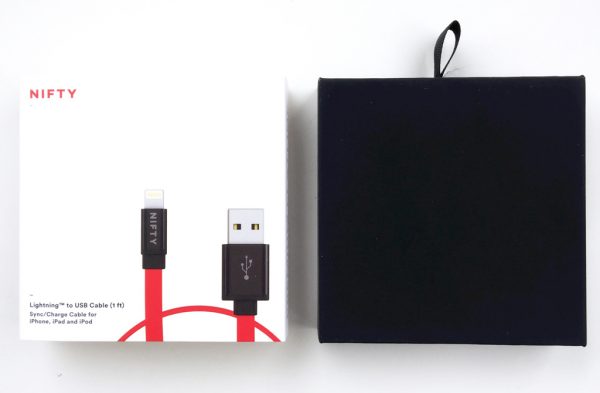 Above, the 1-ft Lightning to USB Cable's exterior package is shown on the left, and the interior box is shown on the right.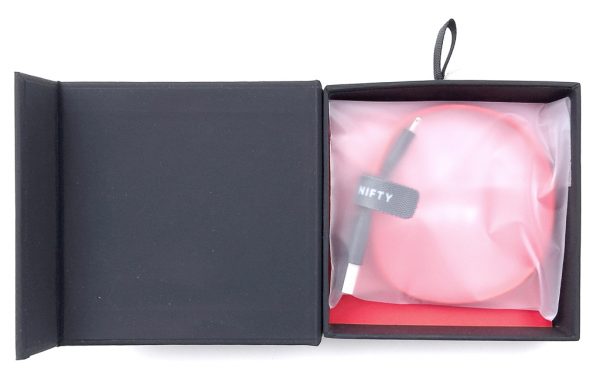 The interior box is a clamshell-style with a magnetic closure. The 1-foot Lightning to USB Cable is enclosed in a plastic bag inside the box, as shown above.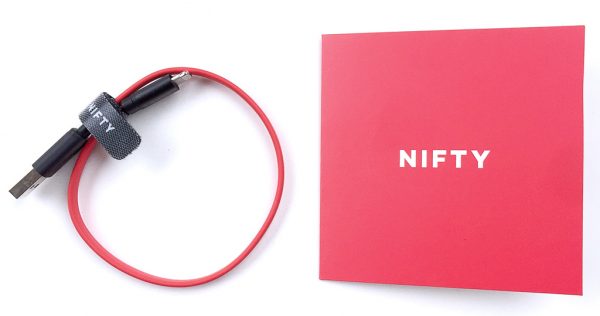 Shown above are the contents of the separately-packaged 1-foot Lightning to USB Cable: the cable itself (with a Velcro strap) as well as a small instruction booklet.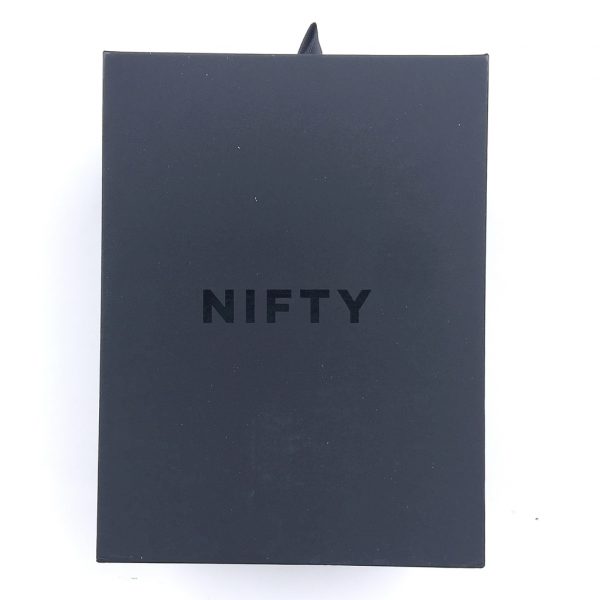 Above is a photo of the NIFTY Mobile Charger's interior box, which looks very similar to the 1-ft Lightning to USB Cable's box, but with a "NIFTY" logo embossed on the front.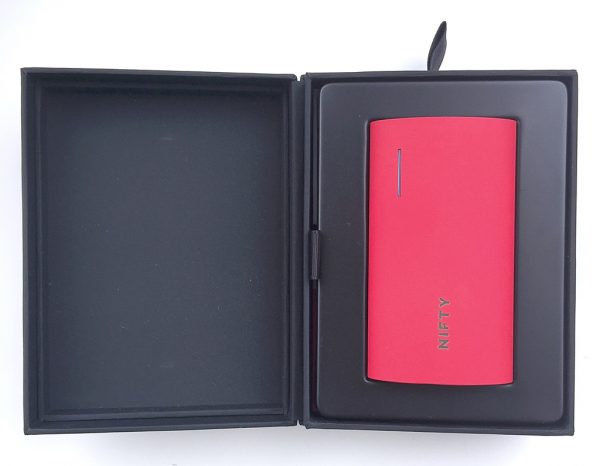 The NIFTY Charger's interior box, which elegantly presents the device nestled into a cavity in a tray, which has a pull-tab to the left for easy lifting of the tray out of the box.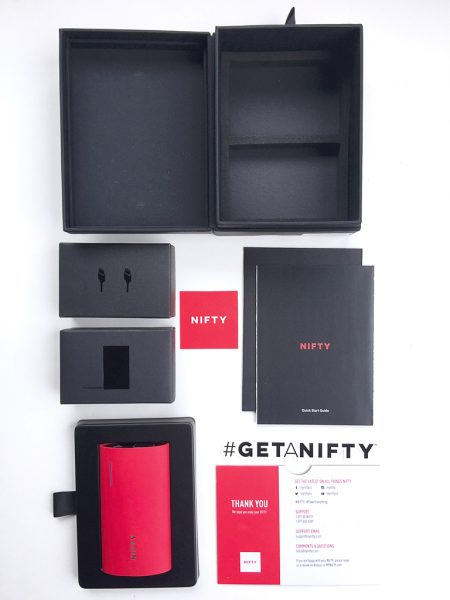 Beneath the tray are found the items shown in the photo above and which are listed below:
NIFTY Mobile Charger (show in its own plastic tray)
3-foot Type-C (to USB) cable
1-foot Lightning (to USB) cable
Microsuede drawstring cable pouch
Quick Start Guide booklet
Info card
(2) NIFTY decals
Features & Functions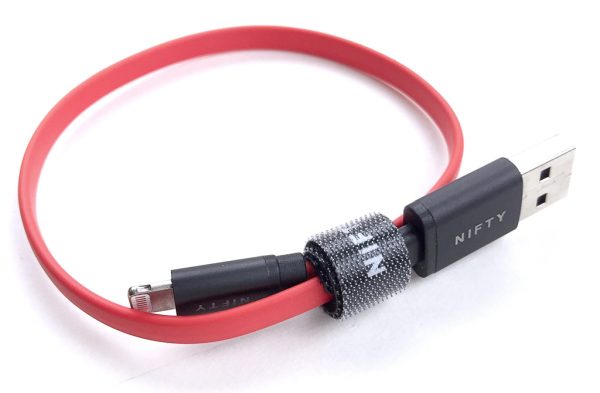 Let's start with the separately-provided 1-foot Lightning to USB Cable.  This cable, as well as the two cables provided with the NIFTY Mobile Charge itself, are a flat, ribbon-type which helps to greatly reduce or even eliminate tangling. More details on the cables to follow below.  Also included with each cable is an attached Velcro cable wrap, a very handy feature.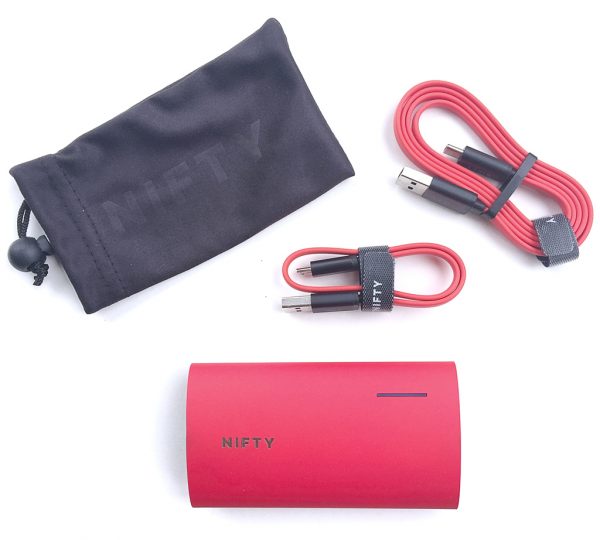 Above is the NIFTY Mobile Charger with its accessories, the micro suede accessory pouch (top left), 3-foot Type-C to USB cable (top right) and 1-foot Micro USB to USB cable (center).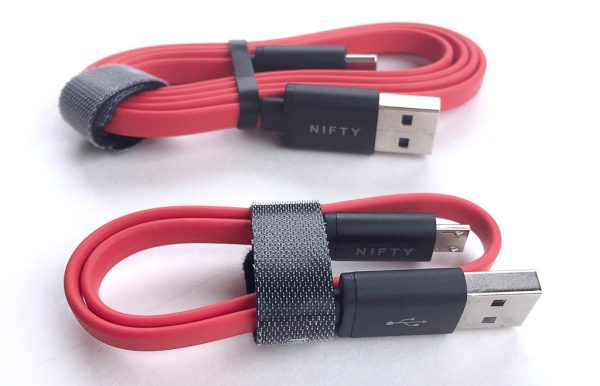 The image above depicts both the 3-foot Type-C to USB cable (top)  and the 1-foot Micro USB to USB cable (bottom).  NIFTY calls their flat, ribbon-style cables Flatline cables and claims that they are made with aluminum, are seamless and have oval-shaped connectors with precision-welded internals that make them 240 times more durability than the industry standard and able to withstand 6,000+ bends.  In addition, both are equipped with Velcro straps to keep them secure when they are wound.  These cables both look and feel of very high quality, and I did not experience cable triangulation even once.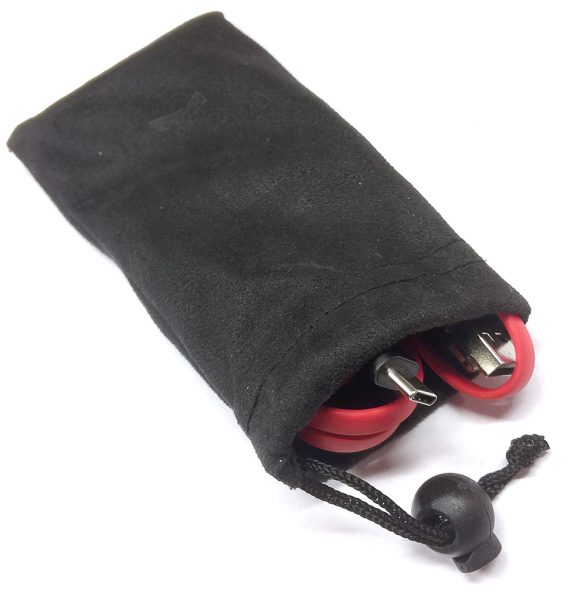 The micro suede pouch is a really nice added bonus.  It has a rich, luxurious feel and has the NIFTY logo embossed into one side in a very subdued style.  Both the 3-foot Type-C to USB cable and the 1-foot Micro USB to USB cable both easily fit into the pouch, with room to spare for another cable or two, or a few other small items.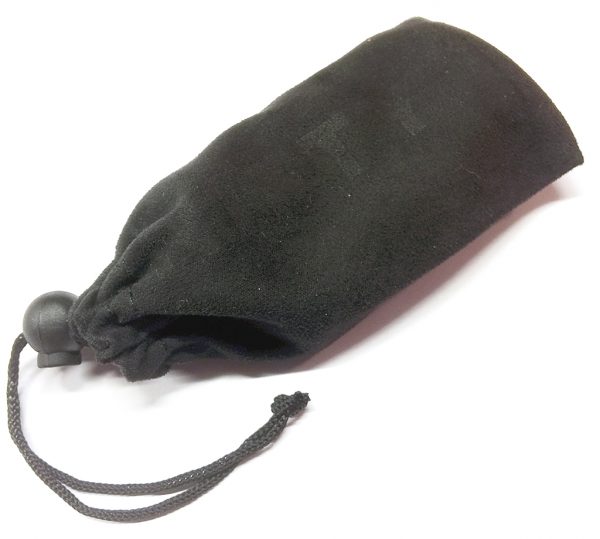 The pouch's locking toggle keeps its drawstring secure and keeps items from falling out.  Sidenote: In a pinch, I was able to use the micro suede pouch to clean some smudges off my glasses.  Bonus!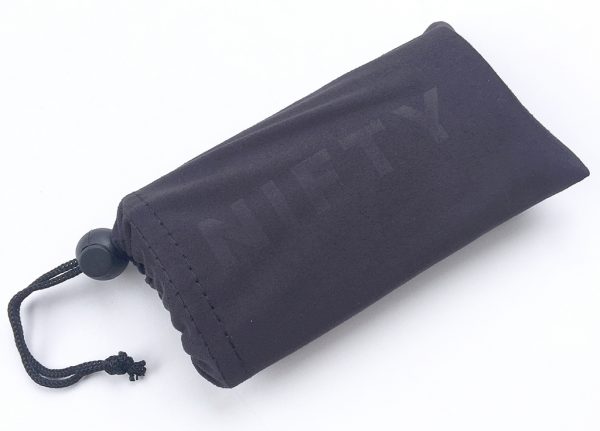 In fact, the micro suede pouch is just the right size that the NIFTY itself will actually fit into it, as shown above, though I don't think that is the pouch's intended purpose.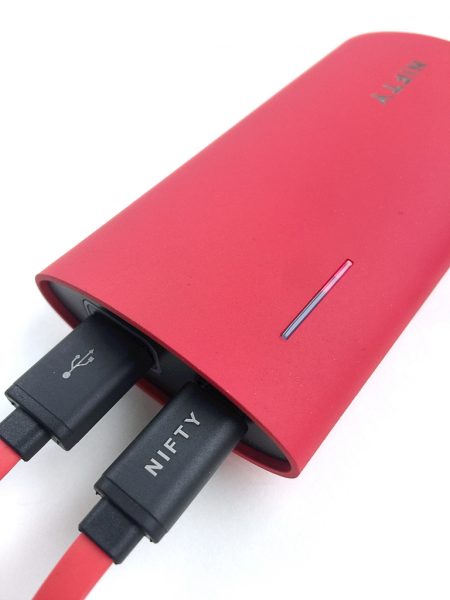 One of the first things I noticed about the NIFTY Mobile Charger was that it has no buttons or switches.  Instead, the NIFTY is equipped with Powerloop Smart Sensing Technology, which means it is essentially on standby mode until a device is plugged into it, and then it delivers the fastest, safest charge to that device.  I like that because I don't have to remember to turn it on or off.  What it does have are two ports, a full-sized USB port, and a Type-C port.
The USB port is ringed with a white LED which NIFTY calls Lumi I/O. A simple tap or any slight movement of the NIFTY illuminates the LED for a few seconds to improve its visibility and make it a bit easier to connect to the USB port. In addition, NIFTY has a linear, dynamic, multi-function LED indicator on the top with five LED bars. This LED glows red while being charged and white while charging other devices.  Its five bars indicate the status of the battery life while power is either incoming our outgoing.  It looks very sharp but is also very functional.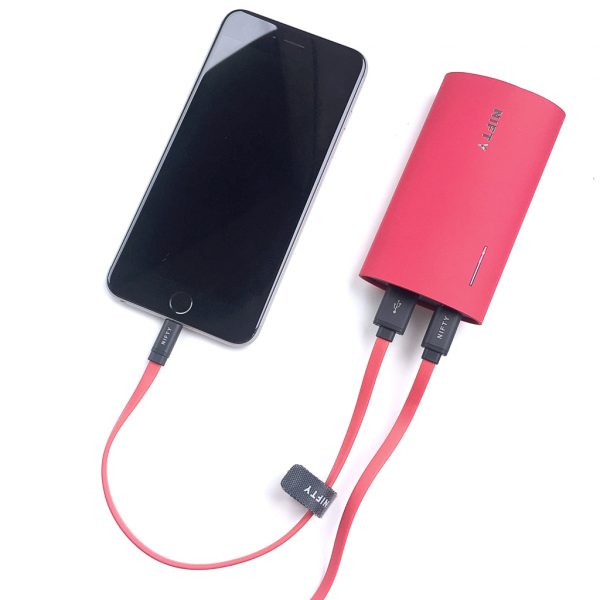 Above is an action shot of the NIFTY Mobile Charger doing its thing.  The cable on the right is the Type-C to USB cable.  I have the Type-C end plugged into the NIFTY and the USB end into a wall adapter, which is charging the NIFTY.  The cable on the left is the USB to Apple Lightning cable.  I have its USB end plugged into the USB port on the NIFTY with its Lightning end plugged into my iPhone 6 Plus's Lightning port.  With NIFTY's Priority Pass-Through Charging, it always charges devices that are plugged into it first, then charges itself afterward.  The NIFTY's TriCircuitry enables Qualcomm Quickcharge 3.0. But as far as I'm concerned, the bottom line is that the NIFTY Mobile Charger charges fast.  It was able to completely charge my iPhone 6 Plus from about 20% up to full charge in under 20 minutes.  Crazy fast.  In fact, with its Intelligent Variable Output Delivery, NIFTY will automatically assign priority to each device plugged into it, depending on its charging needs.  Sidenote: I don't have a MacBook with Type-C charging capability, so I was unfortunately not able to evaluate the NIFTY's Type-C charging capability.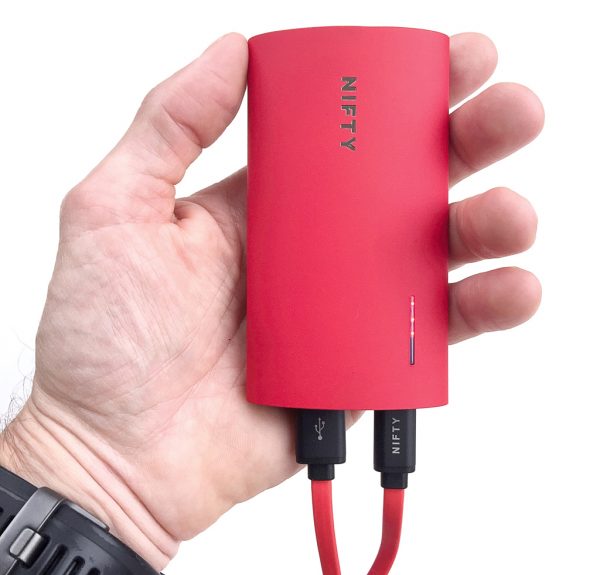 The first time I picked up the NIFTY Mobile Charger, I would have sworn the exterior was made from anodized aluminum with some type of textured finish.  However, the exterior is not aluminum, but rather a flame retardant ABS thermoplastic that is lightweight yet rigid and with a "sandstone" texture finish (which helps give it some grip).  It allows the NIFTY to be slim, small and lightweight—it is only 5.5oz (156g).  I can tuck it into lots of places with ease.  It also feels very durable.  And it looks cool.
Conclusion
I am a huge fan of the NIFTY Mobile Charger.  It is slim, small and lightweight, so I can stow it and take it just about anywhere.  Plus it looks cool.  It is also packed with tons of features, all of which I found to be useful, like the Lumi I/O LED indicator, its TouchSense port automatic illumination, Priority Pass-Through Charging and Powerloop Technology.  But because this is a mobile charger, probably the most important feature is its power, and it has power in spades.  Its USB-A output TriCircuitry includes Qualcomm Quick Charge 3.0 and it has an 18W output, while its Type-C Output has 15W.  And 2.1A means it will charge a phone and a tablet simultaneously, and prioritize with Intelligent Variable Output Delivery.  So it charged my devices very fast, faster than any other mobile charger I've ever used.  If you are in the market for a mobile charging solution, I would strongly encourage you to take a look at the NIFTY Mobile Charger.  While it's a good price at $79.99, as of this writing it is on sale on the NIFTY site for $49.99, which is an absolute steal.
Update 5/13/20
The NIFTY Mobile Charger has gotten a lot of life at our house. I carried it in my EDC bag for a while, and brought it on several work trips with me, until my son got ahold of it and started using it, and surprisingly it has survived him, despite him being a notorious trasher of technological products at our house.
Source: The sample for this review was provided by NIFTY Electronics. Please visit their website or Amazon for more information or to order.
Product Information
Price:
$79.99
Manufacturer:
NIFTY
Retailer:
Amazon
Requirements:

USB port or adapter to charge the NIFTY Charger

Pros:

+ Charges multiple devices FAST
+ Compact, lightweight and durable. And looks cool.
+ Cables are included
+ Clever use of LED indicators
+ Smart detection and prioritization of devices being charged

Cons: