We use affiliate links. If you buy something through the links on this page, we may earn a commission at no cost to you. Learn more.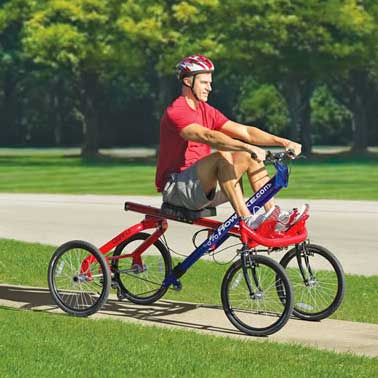 The 4-wheeled RowBike gets you where you want to go and gives you a whole body workout at the same time which burns 50% more calories than a traditional bike.

Invented by Scott Olson, the creator of Rollerblade inline skates, the RowBike is a rowing machine built onto a 4-wheeled bike frame. RowBikes are available in 2 and 4-wheeled versions, but we're highlighting the 4-wheeled version here.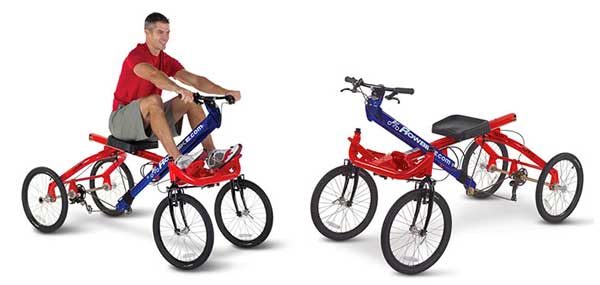 Instead of pedaling, the rowing cycle moves forward by rowing with the patented handlebar. As you row, the bike provides a full-body workout of cardio and strength training for your core, legs, and arms while offering the freedom of riding a bike.
The RowBike has an aluminum frame, a padded seat, a thumb-operated gearshift, a seven-speed derailleur, 20″ diameter tires, and front and rear caliper hand brakes. The 4-wheeled version of the RowBike is designed to accommodate riders 4′ 3″ and taller (up to 300 lbs).
This interesting exercise vehicle does have one problem. The price. At $3000, it's definitely not going to be an impulse purchase like the As Seen On TV fitness products that people buy and then never use.
If the RowBike looks like a fun way to burn some calories and you have a LOT of disposable cash, head over to rowbike.com to read more about them and Hammacher Schlemmer to order one.