We use affiliate links. If you buy something through the links on this page, we may earn a commission at no cost to you. Learn more.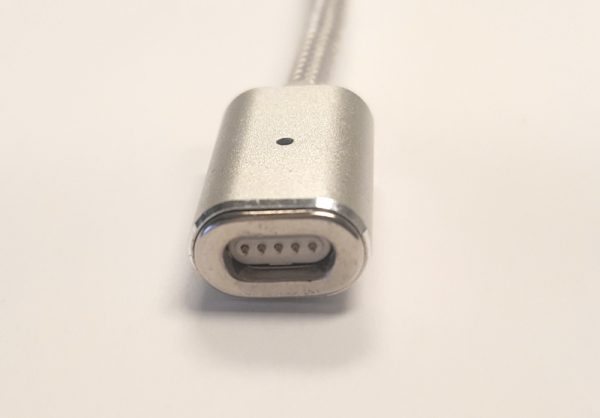 Once in awhile, a product comes along that changes your life.  I have run across a handful of those types of products, and rather than build up the suspense, I'll just go ahead and say it.  The $11.99 Dodocool magnetic micro USB cable is the best cable I have ever owned.  Bar none. Is it perfect?  Well, no, but it is close.  Let me count the ways. 
First, the specs from the manufacturer:
Specifications
Material: OFC + TPE + Nylon braided cable
Color: Silver
LED indicator light color: Blue
Connection interface: 1 * USB 2.0 connector, 1 * Micro-USB connector
Data transmission speed: 480Mbps (Max.)
Input voltage: DC 5V
Output voltage: DC 5V
Input current: 2400mAh (Max.)
Conversion rate: Approx. 90%-96%
Compatibility: For Micro-USB equipped Huawei, Samsung, HTC, Motorola, Nexus, Nokia, LG, Sony, Blackberry, smartphones, tablets, MP3 players, power banks and more.
Item length: Approx. 3.9ft
Item weight: Approx. 0.71 oz
How it works
Since phones don't come with magnetic power connectors built-in, the Dodocool cable solves this by providing you a small adapter that plugs into your micro USB port, and on the other end of the adapter is the magnetic Dodocool cable connector.  So you insert the adapter into the power connection on your device, then when the Dodocool cable gets close to it, it snaps into place with no effort.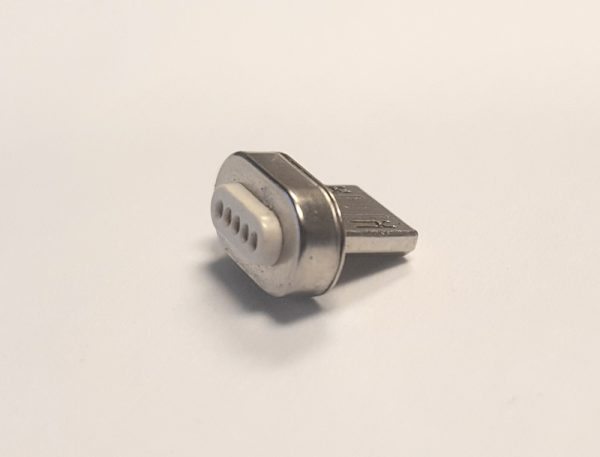 What I loved
I lost track a long time ago of the times that I have struggled in the dark to get my charging cable plugged up to my phone.  And with micro USB the cable only goes in one way.  It makes me want to scream.  I would think that after plugging the cable up to my phone thousands of times it would get easier, but no.  Finally, an easier way.  Now I know how Mac users feel who use one of those MagSafe cables.
With the Dodocool cable, you just have to get the cable close to your device, and it snaps into place.  And it doesn't matter which direction, up or down, that you attach the cable because it is reversible.  There is also a built-in LED indicator on both sides of the connector so that you know it is connected and charging.
What I would like to change
The things I have to complain about are relatively minor in my opinion.  There have been times when I needed to plug the cable up behind a desk or a bed, and it wasn't long enough for me to sit on the bed and use my phone plugged up.  So I wish the cable was longer.
I wish that the LED light wasn't so bright.  I mean, it lights up the room when I use it beside the bed at night.  If lights keep you up at night, that is a consideration.  I would simply cover it up with something if that is a concern.
One concern that some people may have is that the adapter you plug into the power connection on your device sticks out rather noticeably.  You can see the pictures below.  When I have the case on the phone, it isn't noticeable at all.  But when I remove my phone case, it looks a little funny on the bottom there.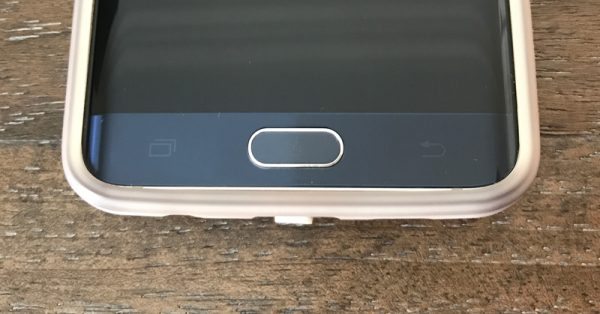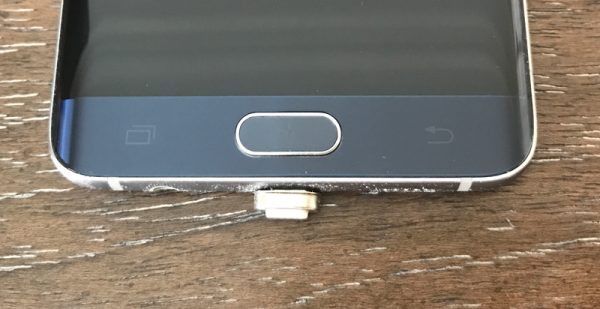 And finally, the biggest complaint I have is that I don't have multiple Dodocool cables.  I need one in my house, and my car, and at work.  When you insert the adapter on the bottom of the phone, you don't want to be constantly pulling it out so that you can plug up a standard cable, so I really need a Dodocool cable everywhere I need to plug up.  So I suppose I'll just have to buy some more!
Final thoughts
It may seem that my list of dislikes is longer than my list of likes, but that isn't the case. I love the Dodocool cable and now carry it with me everywhere I go in case I need a quick charge.  It works with the quick-charge feature on my phone, and the nylon braided design is much more durable than the typical black rubber type cable.  I highly recommend this product.
Source: The sample for this review was provided by Dodocool. Please visit their site for more info and Amazon to order.