We use affiliate links. If you buy something through the links on this page, we may earn a commission at no cost to you. Learn more.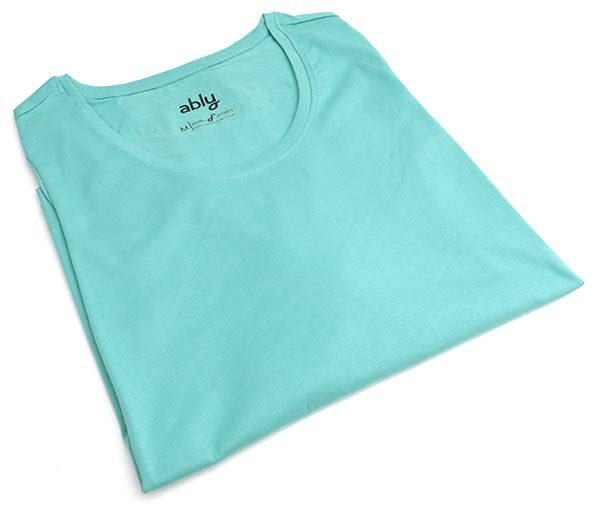 Do you enjoy doing laundry? If you answered yes, then click the back button on your browser because this isn't a review that you need to read. But if you answered no, then stick with me because Ably Apparel with Filium might have the perfect shirts, hoodies, and sweatpants for your laundry hating heart.

What is it?
Ably Apparel makes clothing that repels odor and stains – for weeks. Their clothing line is made of 100% cotton that is Filium activated. Filium is an eco-friendly technology that makes natural fabrics like cotton repel dirt, stains, liquids and resist odors.
They carry men and women's garments that include short sleeved t-shirts, long sleeved shirts, zippered jackets, hoodies, and sweatpants.
They sent me a sample of one of their long sleeved women's t-shirt.
Testing their claims
I knew that I would have a hard time testing their odor claim because it's very rare for me to have body odor. In fact, I already wear my clothes several times before washing them just because they never smell bad. I know it's hard to believe, but my workout t-shirts don't get smelly even when I sweat.
Stains, on the other hand, that's where I have can have some issues. Especially when it comes to food or condiments that are red like ketchup and tomato sauce. Sometimes I think my shirts have a magnet for stains.
So let's get to testing the Ably Apparel with Filium.
Instruments of torture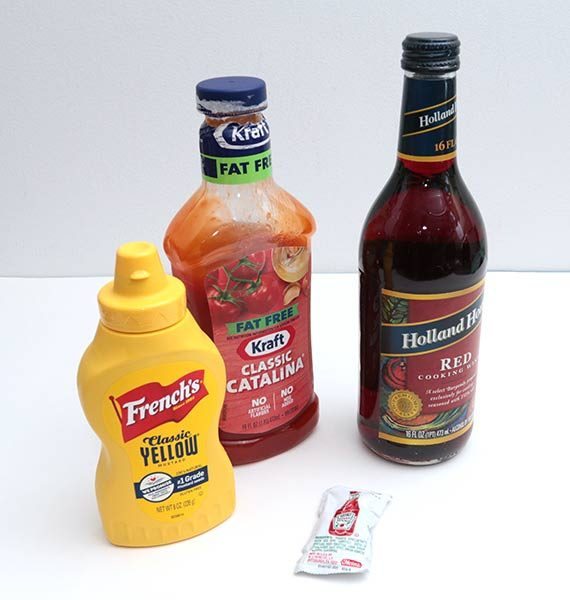 Red cooking wine
Kraft Classic Catalina salad dressing
French's Classic Yellow Mustard
Heinz Ketchup
Red cooking wine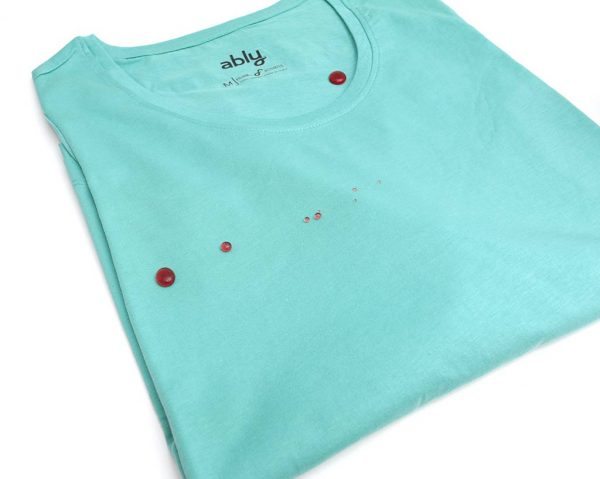 For test number one, I picked the red cooking wine, which I dripped on the shirt. As you can see, it beaded up perfectly and I was able to touch a tissue to the droplets and it sucked them right off the shirt without staining the shirt.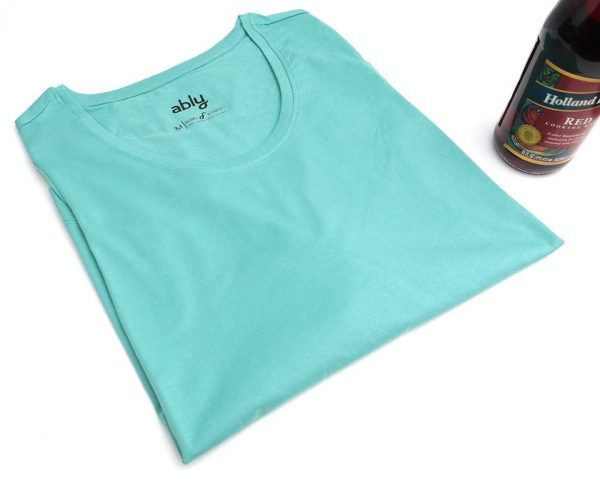 Result: The red cooking wine was no match for the Ably shirt.
Kraft Classic Catalina salad dressing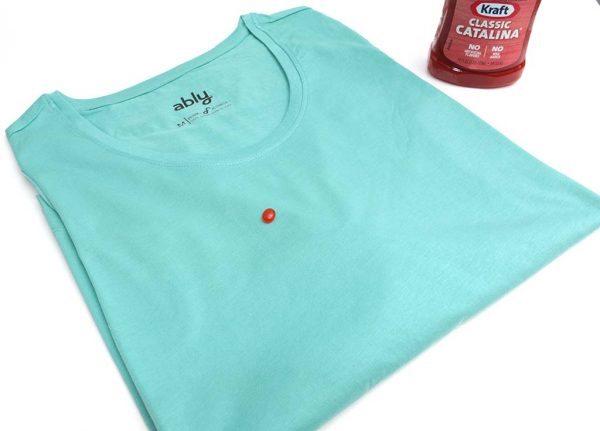 Next up is some red colored salad dressing. The drip did not bead up because salad dressing has a much higher viscosity (thickness) to it.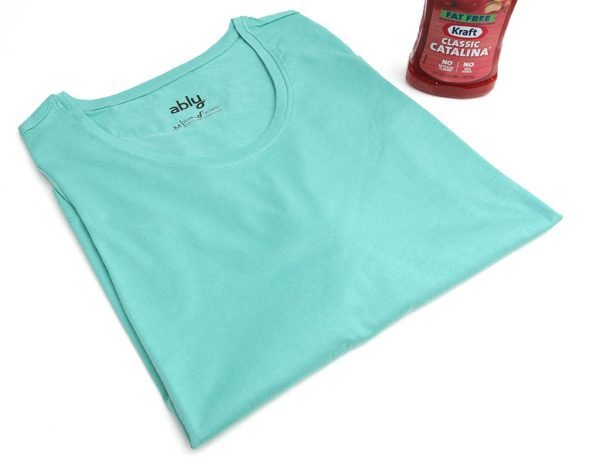 But I used a damp paper towel to wipe off the salad dressing blob with no residue remaining whatsoever.
Result: The Kraft Classic Catalina salad dressing was no match for the Ably shirt.
French's Classic Yellow Mustard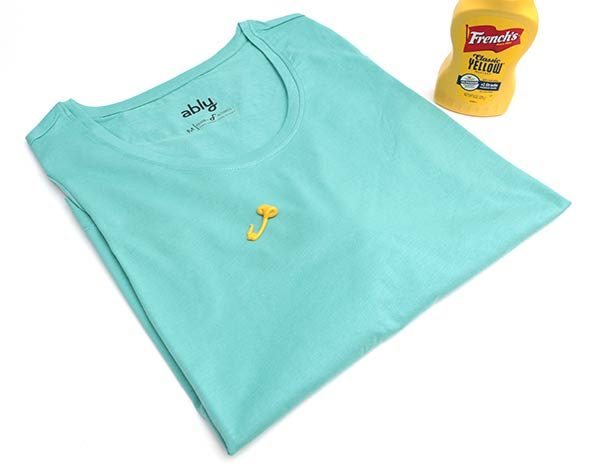 Test three called for something of a different color… so I chose mustard, which I think is completely disgusting. I apologize to all mustard lovers, but yuck!
I deposited a quick squirt of the nasty substance on the Ably shirt and then followed up with a wet paper towel which smeared the mustard instead of cleaning it off the shirt. I got another wet paper towel and tried wiping at the mess a bit harder, but unfortunately….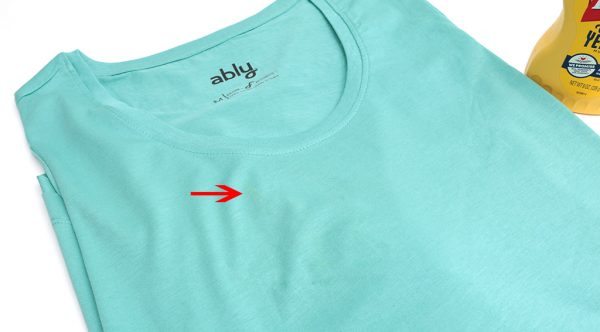 The stain remained. If you click the image above, you can just barely make out a yellow streak to the right of the red arrow.
Result: The Ably shirt was no match for the French's Classic Yellow Mustard.
Heinz Ketchup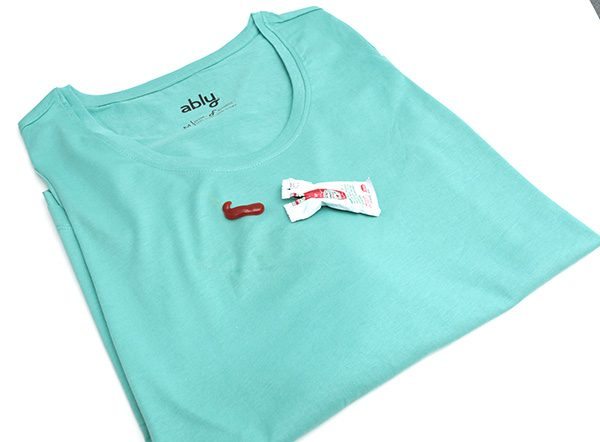 Let's go back to something red. This time I went with my all time clothes staining nemesis, ketchup.
Squirt, swipe with a paper towel, and…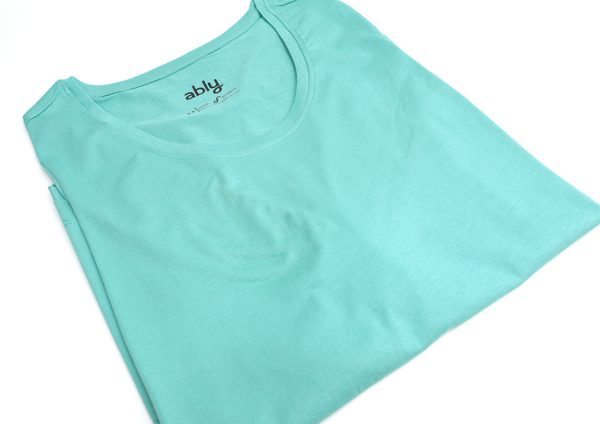 Result: The Heinz ketchup was no match for the Ably shirt.
It wiped off easily with no residue. Wow. Filium, where have you been all my life?
After these tests, I lost a bit of interest and left the shirt in the laundry bin for a couple of days like I also do with my everyday clothes because no one who is "normal" immediately does a load of laundry when they get a stain on a shirt.
A couple days later I washed the Ably shirt with a load of other clothes and unfortunately, I could still barely make out the yellow mustard stain upon very close inspection.
I repeated the entire test with the freshly washed and dried Ably shirt and had the exact same results. Everything red could be cleaned off easily with no residue or resulting stain, but the mustard won again with another streak that I wasn't able to clean off.
I also wore the shirt for several days during my workouts and checked for odors, but found none as expected.
Then I decided that I should try the same test with a regular 100% cotton shirt without the magic Filium. So I did…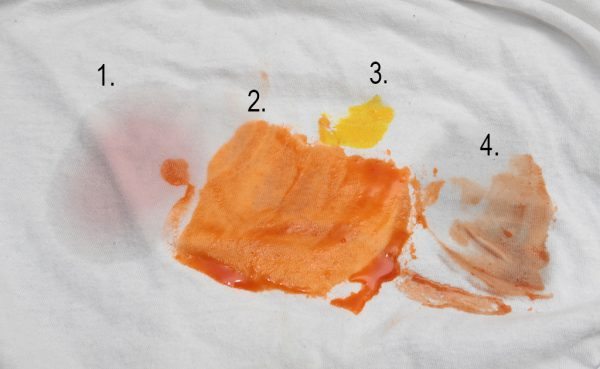 As you can see, the results were not pretty.
Red cooking wine
Kraft Classic Catalina salad dressing
French's Classic Yellow mustard
Heinz Ketchup
The reason for the large streaks is because that's what happened when I tried to clean them off using the same method that I used with the Ably shirt. The difference between the Ably garment and another 100% cotton garment without Filium was like night and day.
Final thoughts
If your clothes tend to look like you used your shirt as a napkin, then Ably Apparel with Filium might be just the type of garments you've been looking for… that is as long as you stay away from mustard.
Source: The sample for this review was provided by Ably Apparel. Please visit their site for more info.
Product Information
Price:
$48 and up
Manufacturer:
Ably
Pros:

Stain resistant
Odor resistant
Dries quickly

Cons: