We use affiliate links. If you buy something through the links on this page, we may earn a commission at no cost to you. Learn more.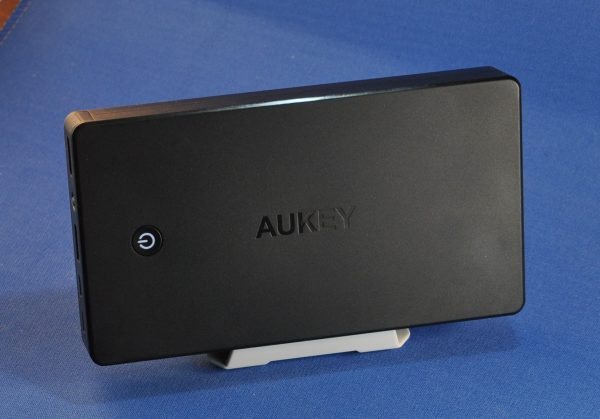 Power for USB-charged devices has been the subject of many discussions surrounding the growing "mobile-first" mindset. Since we can (and do) use these devices pretty much anywhere, it's a safe bet that a power outlet is not going to be near where we need one. Solution? Enter the large capacity portable power source – a battery that can recharge a device one or more times and can be accessed quickly and frequently. Aukey recently offered their 20000mAh PowerAll to us for a run-through. Let's see how it fared.
Note: Photos may be tapped or clicked for a larger image.
Overall, the Aukey 20000mAh PowerAll is similar to others that have been reviewed here on The Gadgeteer: roughly rectangular and hard-drive shaped (5.85″ x 3.25″ x .75″), covered in a smooth matte-finished plastic, and weighing 13.7 oz. The last model I reviewed in this capacity was a bit larger, and 4 ounces heavier for the same charge. The one before that was larger still, and a tad heavier. Nice to see improvements in bulk. (Photo below shows a few other chargers. The Aukey is the svelte unit on top.)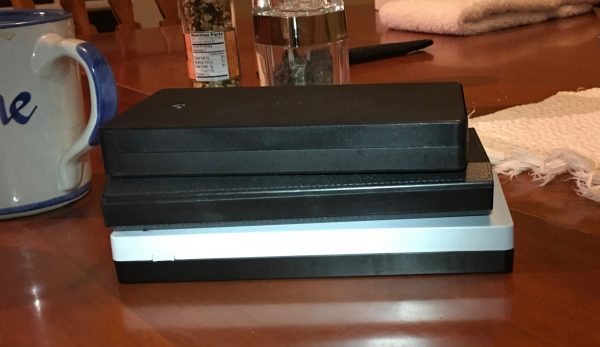 A single button activates the unit and also tells the battery level, via a multi-colored LED under translucent plastic. Red means 30% or less, Green means 30% – 70%, and white means 70% – 100%. Holding down the power button for 2 seconds will activate the built-in flashlight. (I really can't call it a flashlight with a straight face. It's a LED bulb that gives you enough light to search inside your bag, under your chair or restaurant table or the disgusting depths of the seat back pocket where your Apple Pencil slid out of your case. (Is it really worth retrieving from those peanut-buttery depths?) There is no reflector, no real distance that it will carry, but it is a light that is easier to use than your phone's flash or screen, and a bit brighter than the latter.)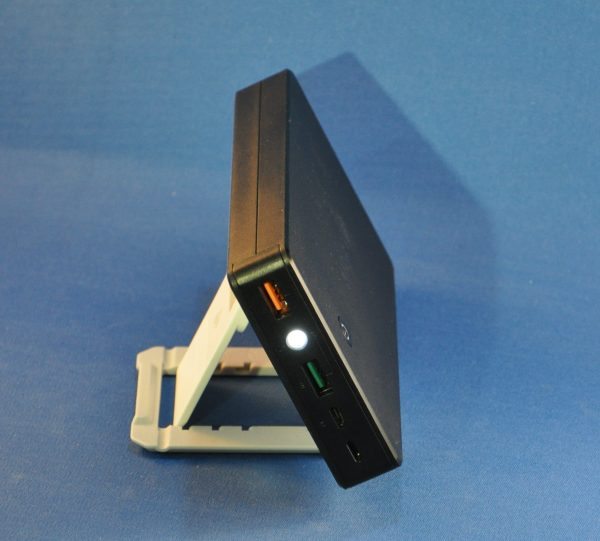 The other change from past units is the type ports contained. Not only can you charge with microUSB, but you can also charge via Apple's Lightning cables. This means iOS device users don't have to remember to pack two different cables (one for charging the device, another for charging the charger!) I applaud this move by third-party device makers. It served them well for many years with 30-pin connectors, but they hesitated on bringing devices to market that use the newer port. Now that they've decided to bite the bullet and make devices with the "new" (5-year-old) port, it will also create profit for them, until Apple decides to ditch Lightning for USB-C/Thunderbolt 3 next year. (Did I say that out loud? That'll never happen – just a rumor.) But, meanwhile, it's great for the over-cabled.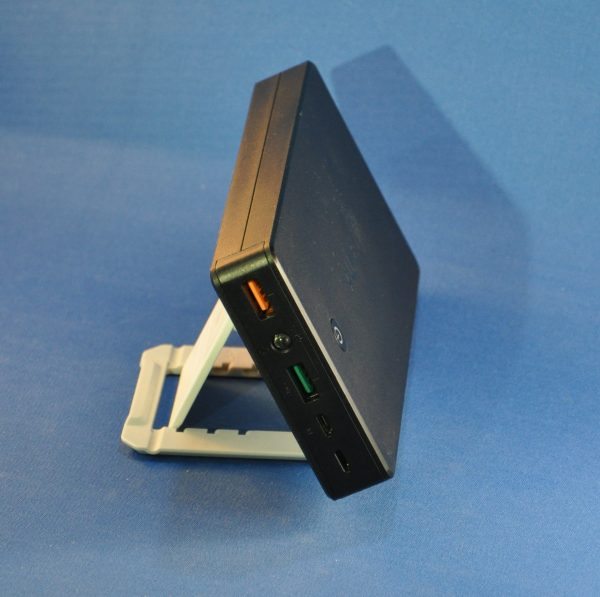 Output is another place the Aukey 20000mAh PowerAll scores points with those using current devices. If your device supports Qualcomm's Quick Charge (QC) 3.0 technology, the battery will fill your device's battery as much as four times faster than regular chargers. It's backward compatible with QC 2.0 and QC 1.0 as well. Since both ports support these, you can actually get this performance with two devices simultaneously. (I'm not able to test this since Apple and Qualcomm are currently engaged in a three comma court case around what chips Qualcomm lets them use and what licensing fees should and have been paid. So iPhones don't yet support this technology. When elephants dance, it's the grass that suffers.) I can, however, charge my iPad Pro 12.9 and iPhone 6s Plus without it melting into a heap or slowing down. In my tests, I could barely get it below the "full tank" indicator.
The manufacturer's website lists these specs: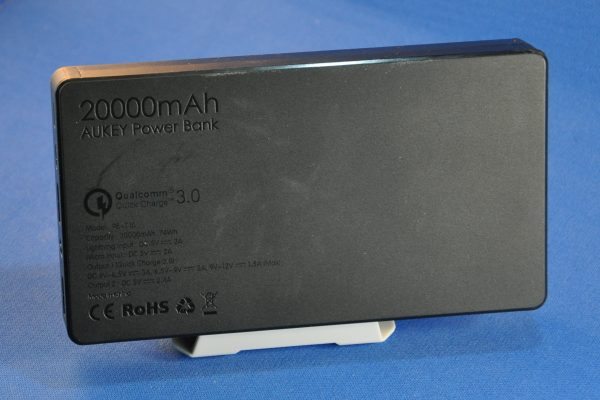 While smartphones and tablets do get better battery life than laptops, they don't go all day if you're spending a lot of time using them, especially if you're accessing cloud-based storage, viewing or editing video, or switching between complex apps (read: games). Thankfully, battery tech is improving almost as quickly as our appetite for power. In order to get that power into your existing devices, however, you'll need to invest in an external source.
There's a lot of chatter on Twitter and in some circles I keep up with about replacing your laptop with a tablet. Lack of distraction from other apps onscreen, speed of changing between apps and switching it off and on, the purity of a large sheet of glass with nothing between you and your data, better battery life – there are a lot of positives that are put up as reasons to make the change. One thing that these writers all agree on: when you're running your iPad at full tilt, it will use more battery faster. They universally recommend having a power bank of some sort handy. I do, too. And with the Lightning charging port and lighter weight, the Aukey is my current favorite.
Source: The sample for this review was provided by Aukey. Please visit their site for more info and Amazon to order one.


Product Information
Price:
$49.99 MSRP
Manufacturer:
Aukey, Inc.
Retailer:
Amazon
Requirements:

Charger to power battery, devices that need to be powered by USB.

Pros:

Can charge many different types of devices via two USB ports.
Can be charged via Lightning or microUSB
Fast-charging capabilities make this device more "future-proof"
Holds charge while unused for several weeks.

Cons:

None unique to this device. (All batteries are heavy and take some time to charge.)