We use affiliate links. If you buy something through the links on this page, we may earn a commission at no cost to you. Learn more.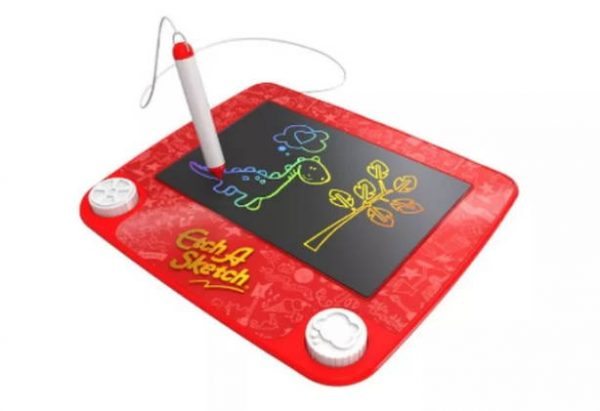 The iconic red framed Etch A Sketch from Ohio Art was one of my all time favorite toys when I was a kid. I can remember expertly turning the white plastic knobs with both hands to move the little etching point through the gray canvas of metal powder to create drawings. Draw, shake to erase and repeat. Fond memories indeed. But now Spin Master has ruined everything by turning the Etch A Sketch into what seems to be to be a rip off of the Boogie Board LCD drawing slate. This won't be a huge surprise if you already knew that Spin Master bought both Etch A Sketch and Boogie Board last year. 
Instead of using two knobs to "etch" your drawings, the new Etch A Sketch Freestyle comes with a tethered stylus that draws rainbow lines on an LCD. Bleh! The white knobs aren't even knobs. They are stamps that can be used to decorate your doodles.
The Etch A Sketch Freestyle will be available for $20 this fall from Spin Master.  FYI, you can still buy the classic Etch A Sketch for $24.98 from Amazon.