We use affiliate links. If you buy something through the links on this page, we may earn a commission at no cost to you. Learn more.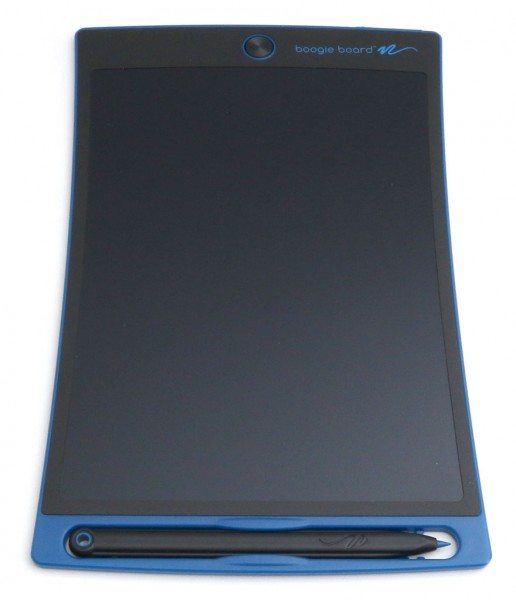 The Boogie Board eWriter was first introduced back in 2010 (see my original Boogie Board review for more info). If you're not familiar with it, it's a plastic slate that you can draw and write on using a stylus. Whatever you write on it will remain on the screen until you press the erase button. It's kind of like having a never-ending supply of virtual Post-it notes. I thought the original LCD eWriter drawing board was a fun product, but it was not without issues, namely a sealed battery which gave the product a limited lifespan. It's now five years later and the Boogie Board product line has expanded to include the new Jot 8.5 eWriter that I'm going to show you today.
Note: Images can be clicked to view a larger size.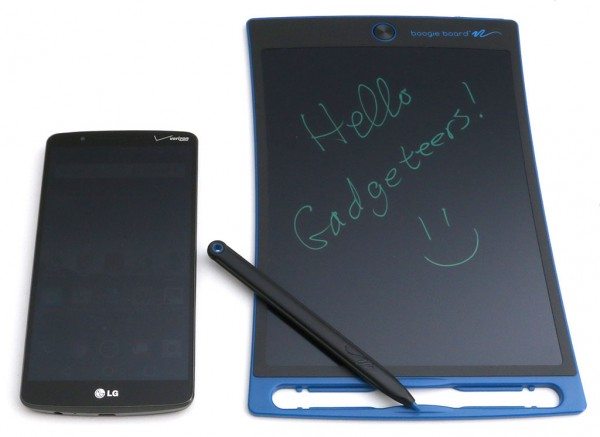 The Boogie Board Jot 8.5 is available in blue, pink and grey. I was sent the blue version. It's a thin slate made of plastic with a 8.5 inch writing surface. At the top is an erase button and on the opposite end is a snap in stylus holder.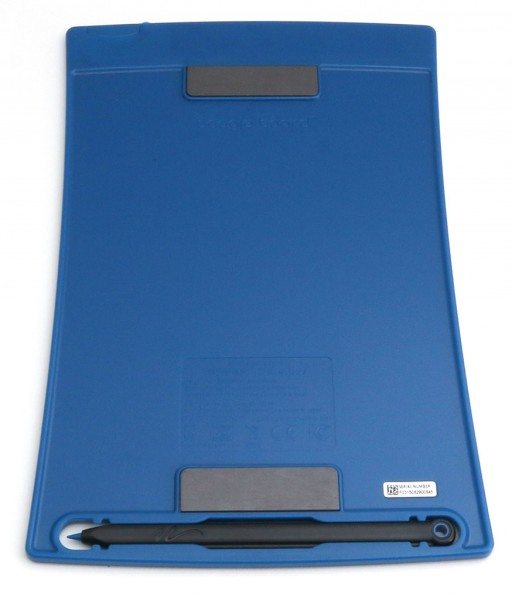 There are magnets on the back of the slate that allow you to stick the Jot 8.5 on a refrigerator, file cabinet or another steel surface.
The Jot 8.5 is powered by a replaceable CR2016 3V coin cell battery which lasts up to 7 years before needing a replacement.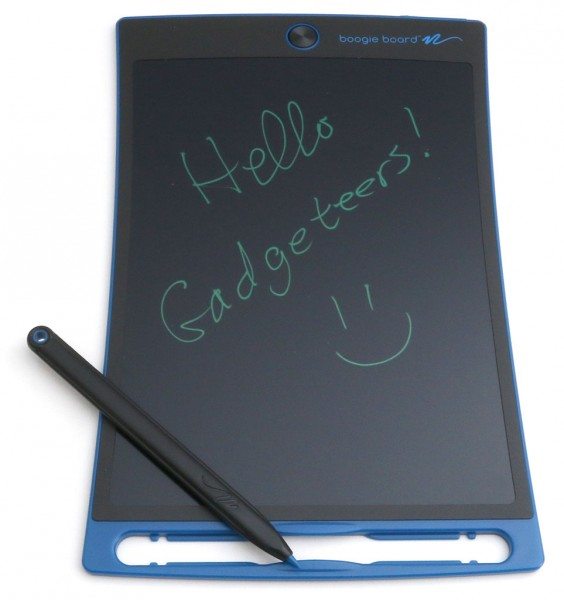 There isn't a power button on the eWriter, it is always ready to be written on with the stylus. Lines are an iridescent bright green that looks backlit, but isn't. The screen is 50% brighter than previous versions of the Boogie Board.
The feel of the stylus on the screen is smooth and slick. It's a bonus that the screen doesn't show fingerprints or smudges. But it will show marks if you rub something against it like your fingernail.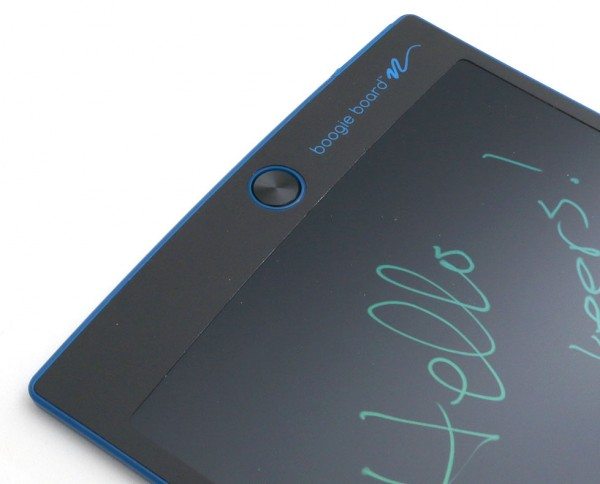 To erase the screen, you just press the button at the top of the slate. The slate will blink and whatever was written on it will disappear without a trace. There's no way to erase parts of the screen though. It's all or nothing.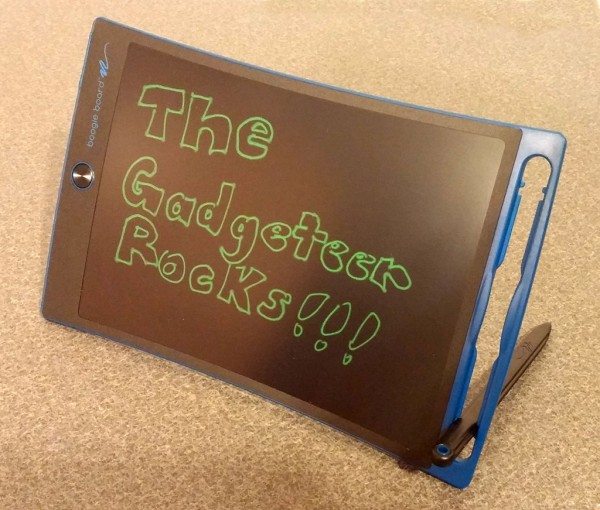 The stylus dock and stylus pull double duty as a kickstand so that you can display your works of art or notes.
A free iOS app allows you to save your work/drawings by snapping a picture. If you create a shopping list on the Jot 8.5, you can use the iOS app to save it and then you can cross off the items you pick up as you shop using your iOS device. The Boogie Board team is working on an Android app that should be available in the coming months.
Boogie Board Jot 8.5 eWriter eco-friendly fun alternative to traditional pen and paper. It's a nicely improved version of the original Boogie Board because it has a larger screen, brighter lines and a battery that lasts up to 7 years. At almost $25, it's pretty spendy compared to using pen and paper. However, as a toy to entertain kids on long driving trips or as a family note board on the fridge, the Boogie Board might be priceless.
Source: The sample for this review was provided by Boogie Board. Please visit their site for more info and Amazon to buy one.
Product Information
Price:
$24.99
Manufacturer:
Boogie Board
Retailer:
Amazon
Pros:

Fun to use
Bright lines
7 year battery life

Cons:

Expensive
No way to erase sections of the screen
App requires you to manually snap a picture