We use affiliate links. If you buy something through the links on this page, we may earn a commission at no cost to you. Learn more.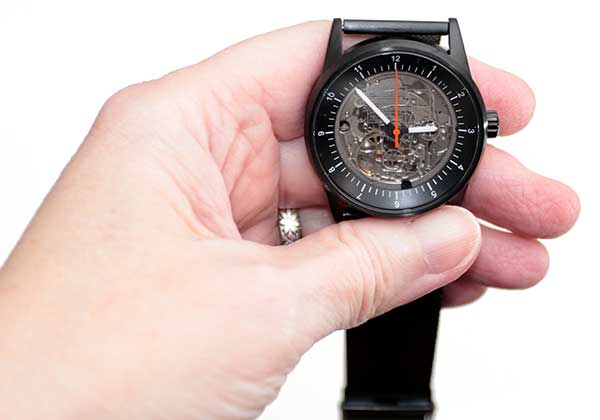 The best thing about a wrist watch is that they can tell you the time whenever you look at your wrist. But the worst thing about most watches is that they run on batteries and batteries need replacing or recharging. I say "most" watches run on batteries because not all of them do. Today I want to show you a mechanical watch that is powered by you. Let's take a look at the Caliper VIEW A1O watch.

What is it?
The Caliper VIEW watch is a self-winding mechanical watch that has been inspired by the mechanical instruments and tools from the last century. Tools like slide rules, compasses and measuring devices.
Design and features
The VIEW watch is available with a black or a steel case and with a black or a white dial. The A1O which was sent to me features an ion plated black 38mm diameter case that has been milled from 316L surgical grade steel and is water resistant to 10 ATM (100m). The watch can be worn while swimming, surfing or sailing, but it should not be worn while diving.
The front and back of the Caliper VIEW case have Sapphire scratch resistant glass and reveal the inner workings of the watch movement.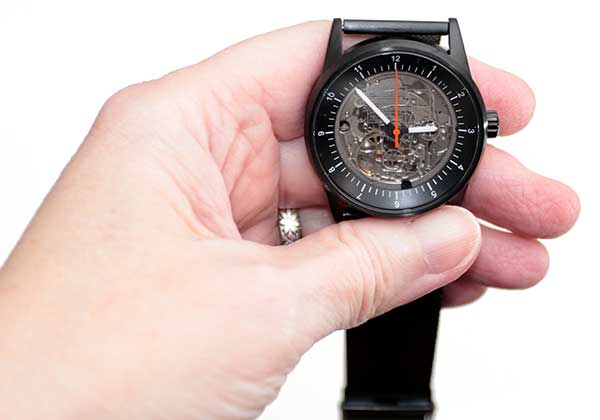 The watch features a Japanese made Miyota 82S0 mechanical movement with 21 jewels that beat at 21,600 vibrations per hour. I'm not a watch expert, but from what I've been reading, the higher the beats, the more accurate the watch will be over time.
Although the Caliper VIEW looks impressive with all the exposed gears, it's really a pretty basic watch. It tells you what time it is and that's it. This watch does not have a date function and it doesn't have a stop watch, alarm features or anything else other than showing the time.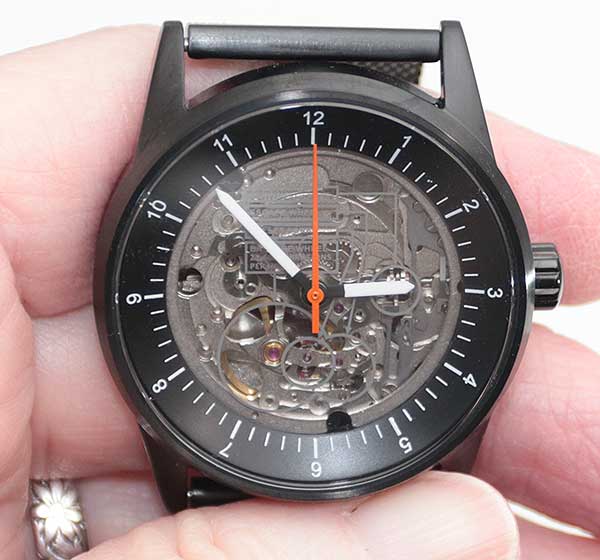 The Caliper VIEW A1O has a retro style that I really like. The watch has a black dial around the edge with marks for each minute and hour in white. The hour and minute hands are also white and the sweep second hand is orange (or red, you decide). The hour and minute hands have luminescence, so they will glow in the dark when exposed to light.
Through the glass face you can see the inner workings of the watch. The dial also has labels pointing out the various parts, but it's almost impossible (at least for my eyes) to read the labels because the gray lettering is so tiny and it blends in against the watch movement behind it. The VIEW is also available with a dot patterned dial, but I can't see why anyone would choose that option since it takes the fun out of seeing the movement.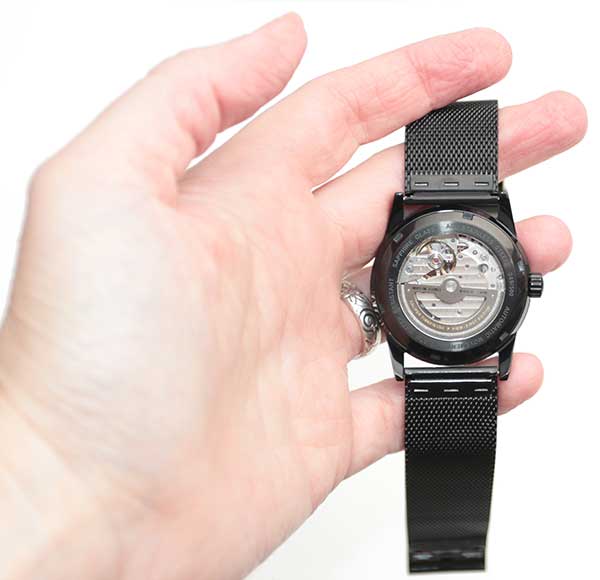 This watch does not require a battery. It will wind automatically from arm movements when worn, but it can also be wound conventionally if desired. You'll also need to provide an initial "charge" by manually winding the watch crown 10 times when you first get it. After that, your movements while wearing the watch will automatically wind the mainspring.
According to comments by Caliper, you can't overwind this watch manually or by using a dedicated watch winding device. The VIEW will keep time for 40+ hours if you set it down and don't wear it for close to 2 days.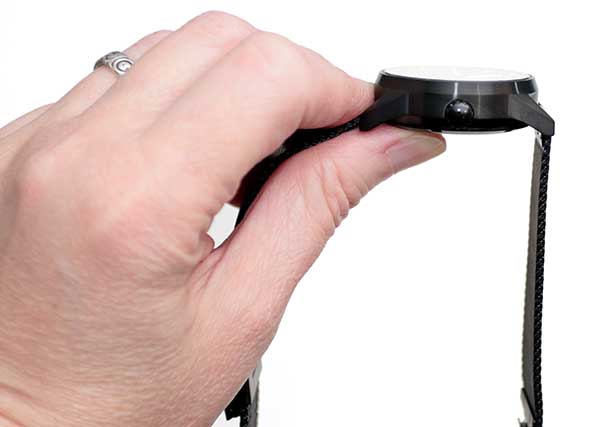 The case is 12.5mm thick, which means that it's pretty chunky in both looks and heft.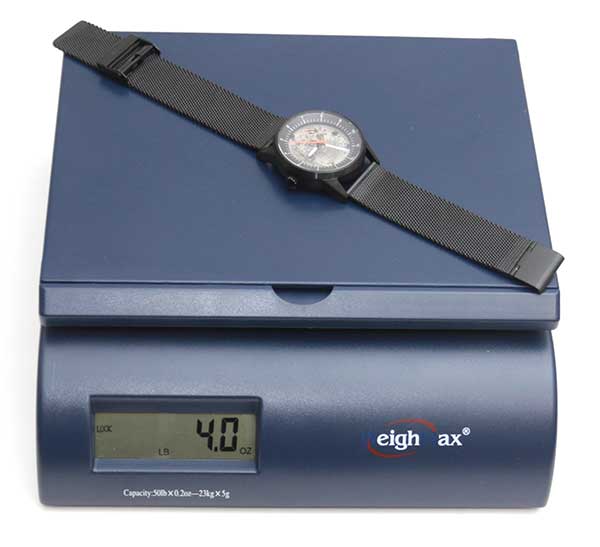 I measured the weight on a digital scale, which you can see above.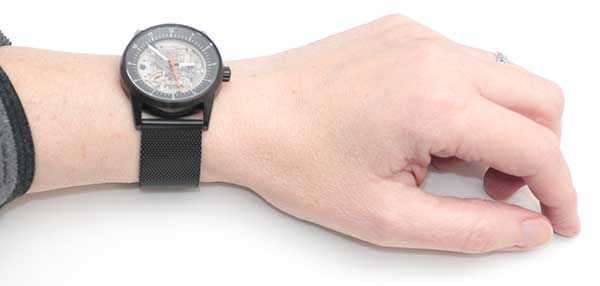 This watch is being marketed for men, but I was surprised that it doesn't look too large on my wrist. It does feel heavy to me, but not horribly so.
The VIEW A1O comes with an adjustable black metal mesh band, but the case has 22mm lugs, so you can easily replace the band with something else if you don't care for metal bands.
Final thoughts
The Caliper VIEW A1O is a cool looking watch that combines sophistication and retro tech into a style that will have people asking about it when they see you wearing this watch.
Not needing a battery can be good and bad. Good that you don't have to ever worry about the battery needing to be replaced, but bad that you'll need to either wear this watch almost every day to keep it automatically wound, or you'll need to invest in a winding device.
There's also the price to consider. The Caliper VIEW is obviously not a watch for someone who doesn't have a budget for nicer watches. But if you do have enough expendable cash for the Caliper, and you enjoy minimalism and mechanical watches, I think you'll really enjoy strapping a Caliper VIEW to your wrist.
Source: The sample for this review was provided by Caliper Timepieces. Please visit their site for more info.

Product Information
Price:
$365.98
Manufacturer:
Caliper Timepieces
Pros:

Does not require batteries
Automatically winds from arm movement
3yr warranty

Cons:

No special functions other than telling time