We use affiliate links. If you buy something through the links on this page, we may earn a commission at no cost to you. Learn more.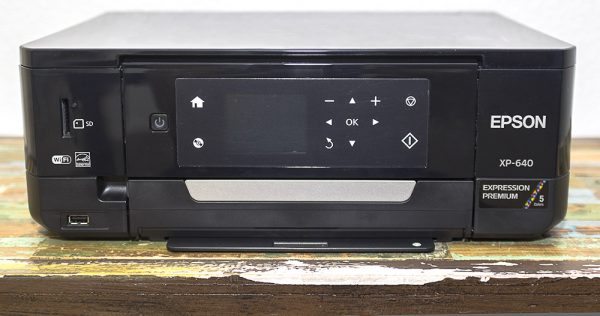 The Epson Expression Premium XP-640 Small-In-One Printer appears to be a color inkjet printer that can handle any printing job you throw at it. And as its name states, it's small and does it all. From the standard printing on plain paper, printing on envelopes, copying and scanning documents, and printing on DVD's, the Epson XP-640 still has a few more tricks up its proverbial sleeve.
The Epson XP-640 is a wireless printer that is small in size but can do the job of any larger printer plus more thanks to the extra features that the XP-640 has. The XP-640 is 15.4" x 19.8" x 5.6″ inches and weighs 21.5lbs. This printer has a flip up 2.7" in. LCD screen panel which allows you to view the printer's functions and settings on the Menu screen by using the touch Navigation Pad. I found this LCD screen panel helpful because it can be positioned at any angle that best suits the user.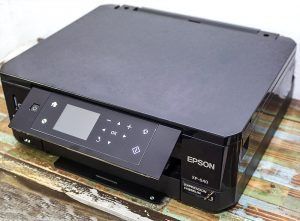 There is a flip-up lid on top for the flatbed scanner section of the printer. This is where you lay your photo or document to scan or copy it. The XP-640 also comes with an adapter tray for inkjet printable CD/DVD's. This feature is perfect for those home or small businesses that need to provide clients with a more professional and creative looking disc than one that is just handwritten with a Sharpie pen, or you can use it for yourself to label your DVD home movies.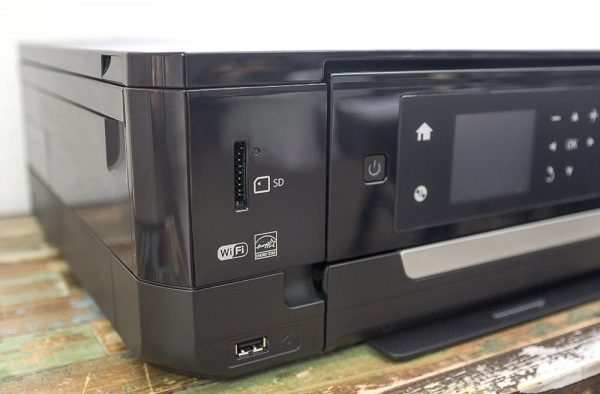 On the front left of the printer is a slot for an SD card and on the bottom left is a port for a USB flash drive. Since there is no computer needed to use this printer you have the choice of either SD card or USB flash drive to print your pictures from. And since this is a Wi-Fi wireless printer you aren't limited to just your computer, SD card or USB flash drive either. You have the option to print directly from your phone, iPad, or tablet without the need for a wireless router or access point thanks to Epson's WiFi Direct. The XP-640 uses the WLAN standard 802.11 b/g/n WI-Fi so you should have no problems with connectivity around the house or office.
And speaking of printing from your phone, Epson has an app called the Epson Creative Print for your phone or tablet which allows you to print collages, coloring books, greeting cards, and personalized stationary. Plus, the Creative Print app easily lets you print your photos from your Facebook and Instagram accounts. Since I have so many images on both my Facebook and Instagram accounts, this has become one of my personal features for the XP-640. It is so easy for me to select an image that I like and print out a picture on one of the Epson photo papers of my choice.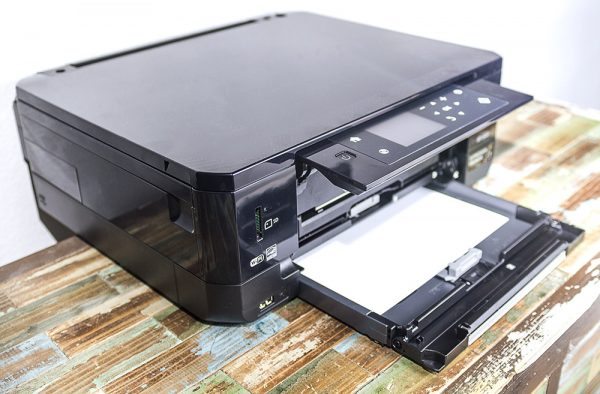 The choices of paper range from plain paper to ultra premium photo paper to matte paper to iron-on transfers. You get many choices of paper to choose from with the XP-640. There are two separate paper trays which hold specific print papers for specific jobs. The manual goes over the details for this but basically the paper trays accommodate various sizes and types of paper for certain print jobs. The main paper tray can hold 100 plain paper sheets and the secondary photo paper tray can hold 20 Premium photo papers. The Output tray can hold 30 plain sheets of paper. A nice feature I like about the XP-640 is its ability for double-sided prints. That's a great time saver as well.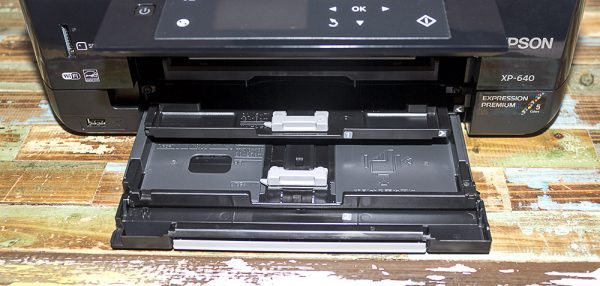 I own the Epson Stylus CX4800 printer and one of my favorite features of it is that it used the DURABrite inks. The inks are essentially smudge, fade, and water-resistant which was very important to me since I would have to print photos, and also print labels on CD's and DVD's, that I would give to clients. I would print my own business cards so the ink I needed to use had to last. I had to make sure that the text and artwork wouldn't smear after someone has handled it for awhile and thanks to the DURABite ink it never did. I even splashed a few drops of water on my business card as a test and it didn't have any damage nor did leave any water stains.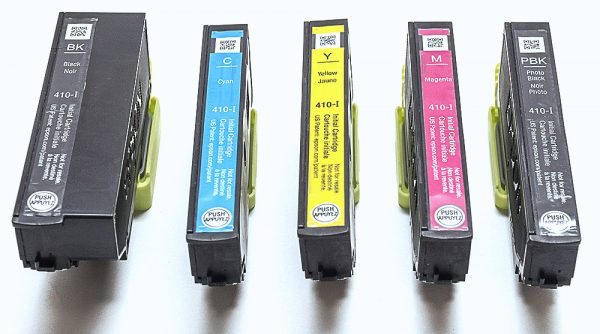 The Epson XP-640 uses their newer brand of inks called Claria. The Claria inks are smudge-resistant, water-resist, and scratch-resistant. The Claria inks are engineered for better resistance to light, heat, and humidity which can fade pictures over time. The Claria inks produce brighter, vivid colors and a wider color gamut which many users will like who are leaning towards the more professionals end and even the hobbyist photographers who want the photo lab quality print. Epson claims the ink's color will last up to 200 years in a photo album and 98 years out of an album. Sounds pretty good to me. I know I have personal photos that I want to last as long as possible.
The XP-640 utilizes 5 ink dye-based cartridge palette: Black, Cyan, Magenta, Yellow, and Photo Black. Having the individual cartridges are nice since you only have to replace the ink that runs out. The ink also comes in Standard Capacity, and High Capacity, which is great for high volume printing since it basically doubles the print output.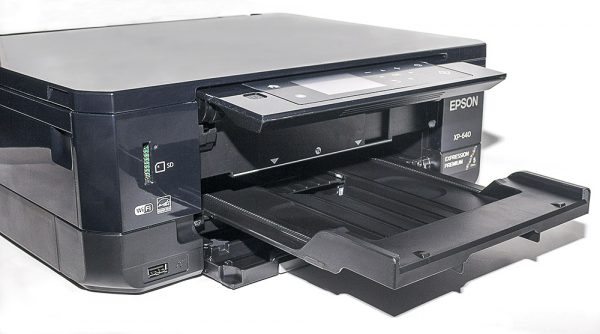 Although print speed isn't a huge factor for me because usually when I have to print something, like a picture or print a label on a DVD,  I usually let the printer do its job while I move on to doing something else. By the time I'm finished with what I'm doing , the printer is already done. However, in an office setting when print speed is a factor, the print speed of the Epson XP-640 is 10 pages per minute for color ink and 13 pages per minute with black ink. For colored two-sided pages it is 5 pages per minute and for black ink two-sided pages it is 4.5 pages per minute.
For 4 x 6″ Photo in Draft Mode the print speed is 20 seconds. I printed a few 8"x10" photos on Epson Premium Photo Paper and I can tell you that I was surprised at how fast the photo was done and with good print quality. A great feature for the XP-640 is the ability for 2-sided printing which helps save you time since you don't have to manually flip the paper to print on the back of the paper.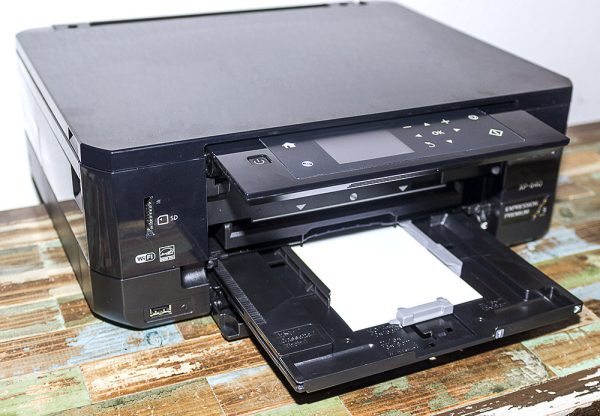 The other Epson printers I have used to print photos, although the print quality was still great, was slow compared to the print speed that the XP-640 has. It was like the other Epson printer had to take its time to produce a good quality print. But with the XP-640, how fast it printed seemed like the printer was confident to crank out a great photo without sacrificing print quality. The prints I got definitely looked like lab quality prints. The maximum resolution for the Epson XP-640 is 5760 x 1440 dpi (dots per inch).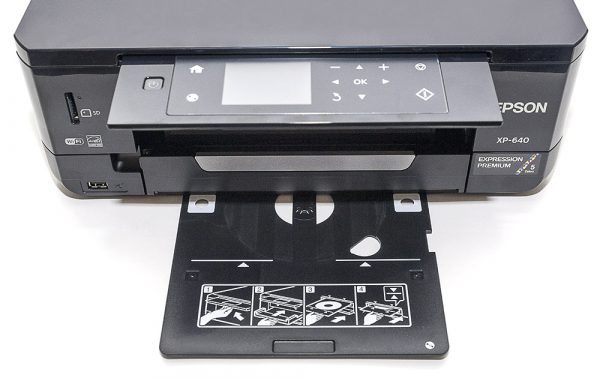 Keep in mind that the photos I printed were images I shot and edited so everything from the exposure, to the contrast, to gamma, to shadows play a factor in the print quality. And I also selected settings for the printer to achieve the quality I wanted. If the photo you try to print isn't bright, clear, or sharp, then you won't necessary print a great picture. Make sure your image is the best looking it can be to help get that lab quality print.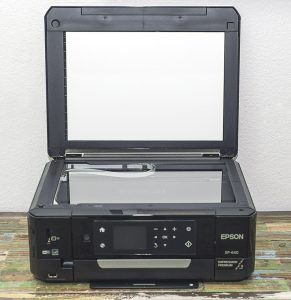 Along with printing, the Epson XP-640 copies and scans documents and pictures by way of the flatbed on top of the printer. The image sensor is a CIS line sensor that has a hardware resolution of 2400dpi and an interpolated resolution of 9600 x 9600. Unlike some printers which use a CCD (Charged Coupled Device, which is similar to the imaging sensor in a digital camera) image sensor, the Epson XP-640 uses a CIS, or Contact Imaging Sensor. The CIS is more compact, has a higher optical resolution, and no optical distortion.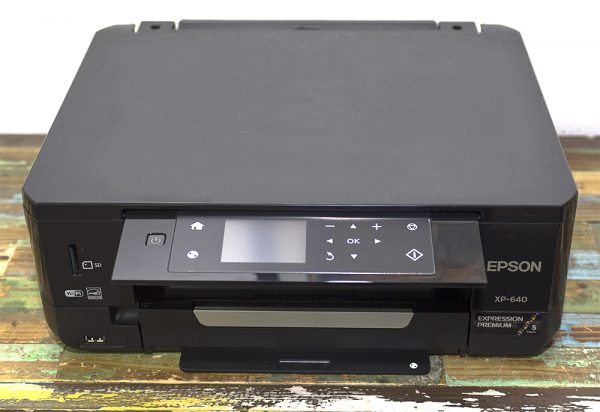 The Epson XP-640 has a maximum scan size of 8.5" x 11.7" inches (21.6cm x 29.7cm). It has a color depth of 48bit input and 24bit input and 16bit input and 8bit output for black color depth.The Epson XP-640 has a rate speed of 10cpm (copies per minute) for black and 7.2cpm for colored copies. It has the standard copy modes such as color, black, photo, text, and text and image and has a copy size up to 8.5" x 14" inches.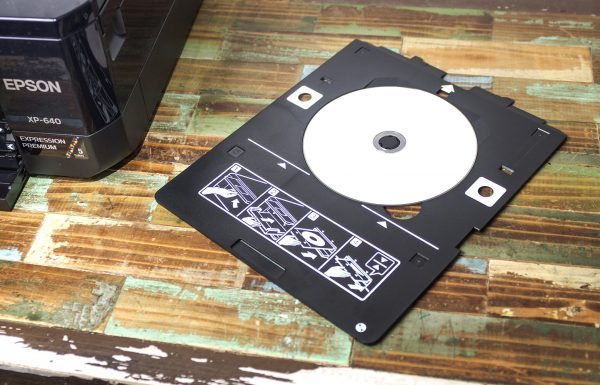 The Epson XP-640 has a dedicated CD tray that allows for printing on a printable CD or DVD. This feature eliminates the need to print out CD/DVD sticker labels and instead prints right on the CD or DVD. I wasn't a big fan of the sticker labels since you had to use a stomper to help apply the sticker onto the CD/DVD correctly. If you didn't apply the sticker just right you were out of luck since the sticker was fairy tacky and pulling it off the CD or DVD was next to impossible. Having to print directly onto the CD or DVD was not only easier but it was more polished and professional looking. I really like having this feature on a printer because it comes in very handy for labeling not only client's DVDs but I can use this feature for my own personal use to label the DVDs I use to archive my files or to label my family vacation and home movie DVD's.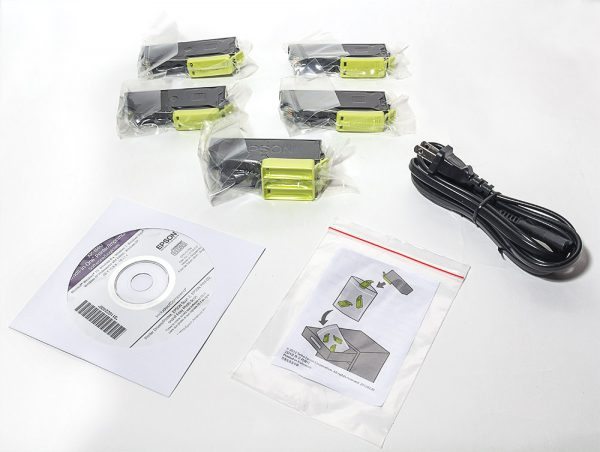 Included with the printer  is a CD disc with the drivers, Claria ink , a power plug, and a plastic bag to store the ink caps in case you need to need them again.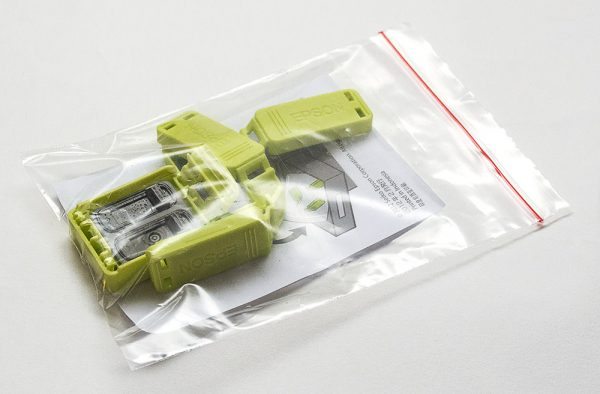 There is nothing but positive things that I can say about the Epson Expression XP0-640 Small-In-One printer. This is a perfect addition to a small office, home office, or even a large business setting. It produces fast document print jobs as well as photo lab quality prints. The small size helps make it accommodate any small space or tight quarters and the wireless function is an excellent feature that I really enjoy especially in conjunction with the Epson Creative App. I know I will have to keep extra ink cartridges handy because it seems like I will be using this printer a lot  for all my printing needs, especially to print those lab quality photos that are going on the walls and bookshelves in my home.
Source: The sample for this review was provided by Epson. Please visit their site for more info and Amazon to order.

Product Information
Price:
$149.99 MSRP
Manufacturer:
Epson
Retailer:
Amazon
Pros:

Wireless printing.
Copier and scanner functions.
Print on printable CD/DVD.
Smudge-resistant, water-resistant, fingerprint-resistant Claria Ink.
Lab quality photo print.
Epson Creative Print App.
5 separate ink cartridges.

Cons: