We use affiliate links. If you buy something through the links on this page, we may earn a commission at no cost to you. Learn more.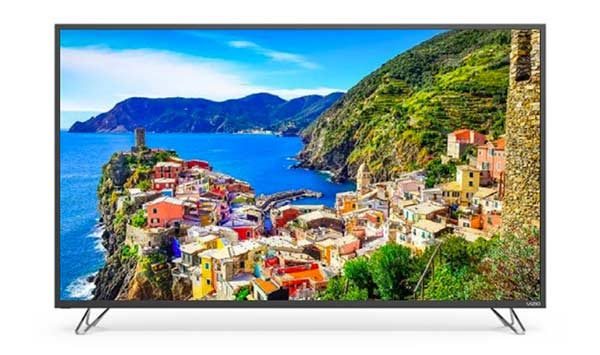 Six years ago we remodeled our basement and bought our first flat screen TV, A 55″ Samsung that we mounted on the wall. It's served us well, but when I bought it, it was before smartTVs were a thing, so I've felt like my home theater setup has been lacking Gadgeteer worthy features. That is until now! I was recently offered a VIZIO 50″ M50-D1 SmartCast Ultra HD Home Theater Display with a 6 inch Android remote control phablet in exchange for a review. Let's see if it has replaced the Samsung TV on my wall.
What is it?
The VIZIO M50-D1 is a 50″ inch display that has Google Cast built-in which is the same technology behind the Chromecast adapter, but without having the actual adapter connected to the display. This feature allows you to easily stream content from apps like YouTube, Hulu, Netflix and many more from your computer, smartphone, tablet and the included 6″ VIZIO Android tablet remote control directly to the M50-D1 display just by tapping the Cast button in the app.
Hardware specs
Class Size: 50″
Screen Size: (Diag.) 49.50"
Panel: TypeVA
Smart Platform: VIZIO SmartCast™ w/ Google Cast™ Built-in
High Dynamic Range: Yes w/ Dolby Vision
Resolution: Ultra HD – 3840×2160
UHD Upscale Engine: Spatial Scaling Engine™
Display Processor: V8 Octa-Core Processor
Effective Refresh Rate: 120Hz
Dynamic Contrast Ratio: 20M:1
Aspect Ratio: 16:9
Viewable Angle: (H/V)176°/176°
Number of Colors: 1.07B
Backlight Type: Full-Array LED
Local Dimming: Yes with Active LED Zones® x32
Clear Action™: 360
UHD Codec Support: HEVC (H.265), VP9
Product without Stand Dimensions: 44.40"W x 25.61"H x 2.68"D
Product without Stand Weight: 29.32 lbs.
Design and features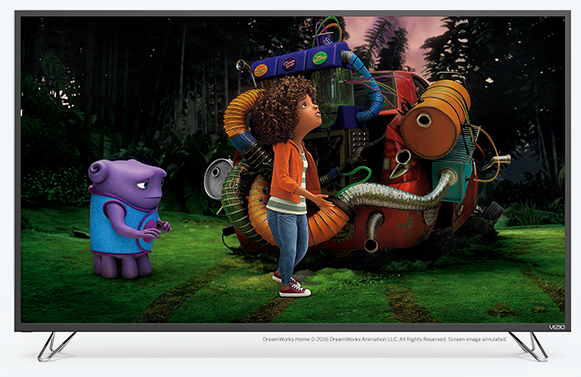 The VIZIO M-Series of displays are available in sizes starting at 50″ up to 80″. I was sent the 50″ version of the display which is a step down from the 55″ display that I've been using for the last 6 years. I was a little concerned about the size decrease, but I'm happy to say that the VIZIO's increased resolution and SmartCast features more than make up for its slightly smaller screen size.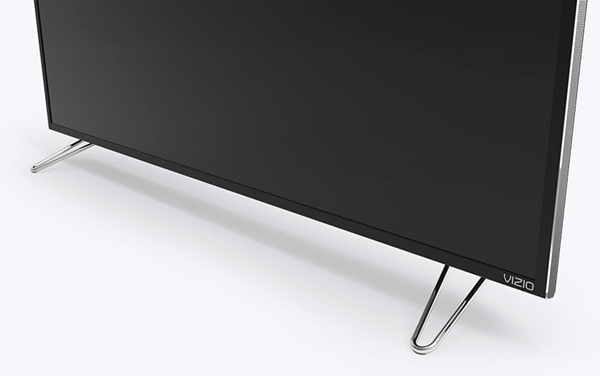 The VIZIO display has a matte black plastic frame with thin bezels, which puts all the emphasis on what you're watching and not on the display itself. This is a good thing because nothing about this display is distracting to look at. The only branding is the small VIZIO logo in the lower right corner.
The M50-D1 display comes with a set of chromed cast aluminum legs that you can attach to the bottom of the display if you want to place the display on a table or stand.
Never miss one of our posts again. Sent MON, WED, and FRI with the latest gadget reviews and news!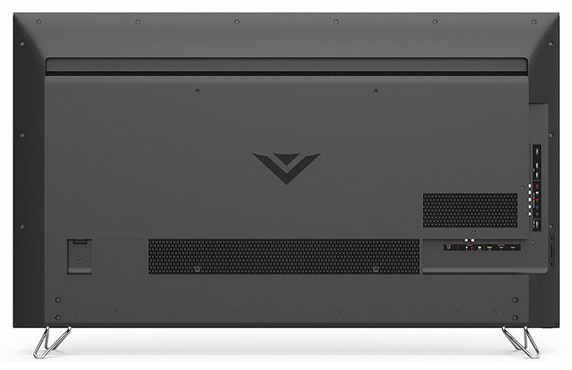 Since I had to mount the VIZIO display on the wall where my other TV had been installed, I purchased a VESA wall mount (200mm x 200mm) from Amazon and mounted it that way. Installation was really easy especially since I only had to connect two cables – the power cable and the included HDMI cable.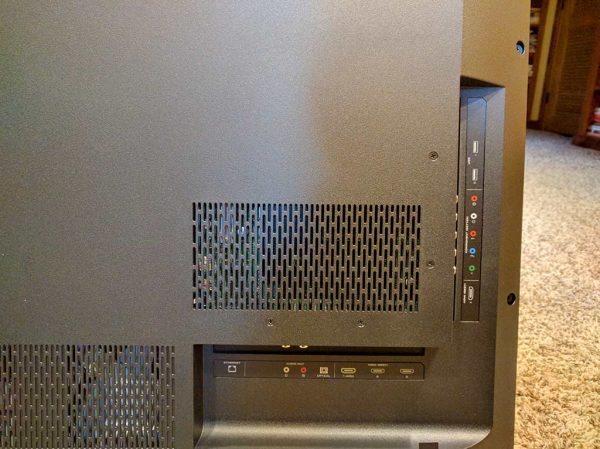 The VIZIO M50-D1 SmartCast Ultra HD Home Theater Display has a nice selection of inputs that include 4 HDMI ports. One of the HDMI ports supports HDMI version 2.0a and has HDR10 support. There are also Component A/V connections, Ethernet and 2 USB ports. The output connections include ARC, Analog Audio Out and Digital Audio Out (SPDIF) connections.
One thing that you should know before purchasing an M-Series VIZIO display is that it does NOT have a built-in tuner. What does that mean? It means that if you watch OTA (over the air) channels, that you'll need to purchase a tuner adapter. Since I took down my 30 foot TV tower many years ago and now watch movies and shows using my DirecTV satellite dish or streamed through Netflix, Amazon Prime and Hulu, the lack of a tuner has not been an issue.
Setting up the VIZIO
After the VIZIO display was mounted on the wall, I proceeded with the setup.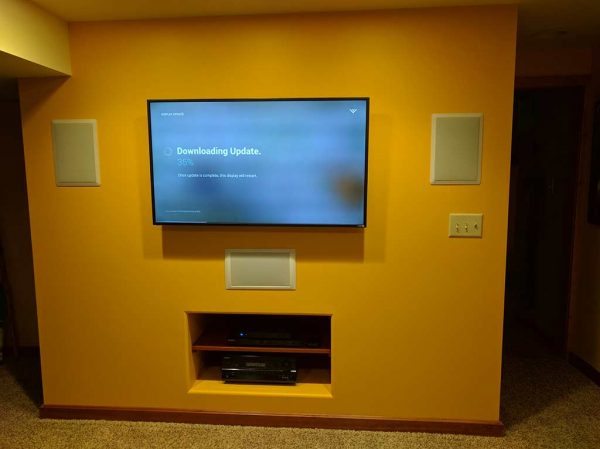 When you turn on the display, you're prompted to turn on the 6″ Android tablet and to hold it near the bottom right corner of the display. The display automatically pairs using Bluetooth LE with the tablet and initiates a software update process. This process took about 2 hours, but I won't say that will be typical for everyone. My internet connection is only 1.5Mbps, so things like this can take awhile for me. Just one of the joys of living in the woods where the options for broadband are almost non-existent.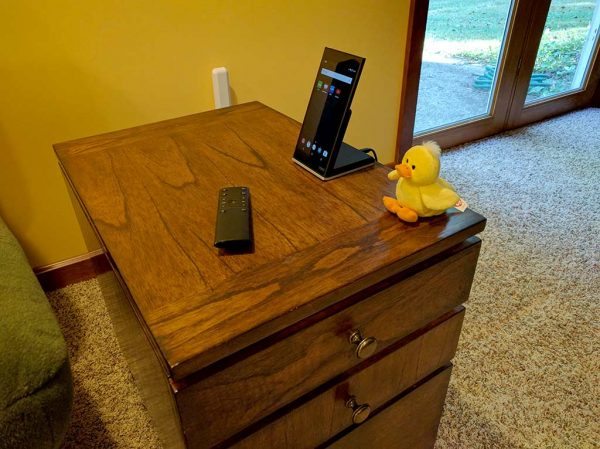 While the updates were being downloaded, I set up the remote's charging dock. I'll admit that I was almost giddy when I realized that the tablet charges wirelessly. That means that it only takes one hand to dock and undock it. Convenience is everything. Thanks VIZIO!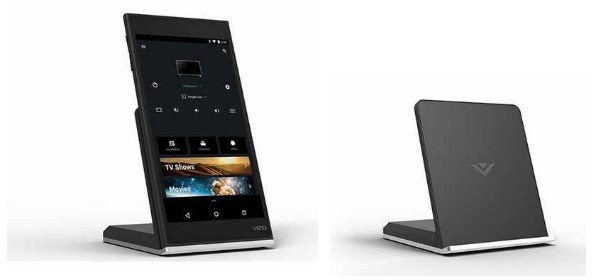 The 6″ VIZIO tablet is really nice. Not only because it charges wirelessly, but because all the display's settings can be tweaked through the tablet instead of using a physical remote to scroll through menus on the display.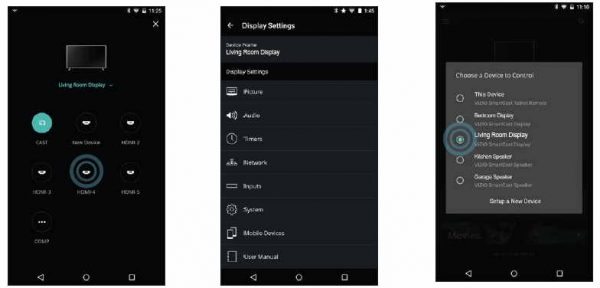 That might not sound like there would be any advantages to that, but I found it a lot easier to navigate the tablet with my fingers than using a physical remote and menus on the VIZIO display.
Another convenience to adjusting settings with the tablet is that it makes typing in your user name and account passwords much easier for any Internet-based streaming accounts.
A small handheld remote is also included with the VIZIO M50-D1 display. It has basic functionality that can be used to adjust volume, change inputs and toggle power.
Video quality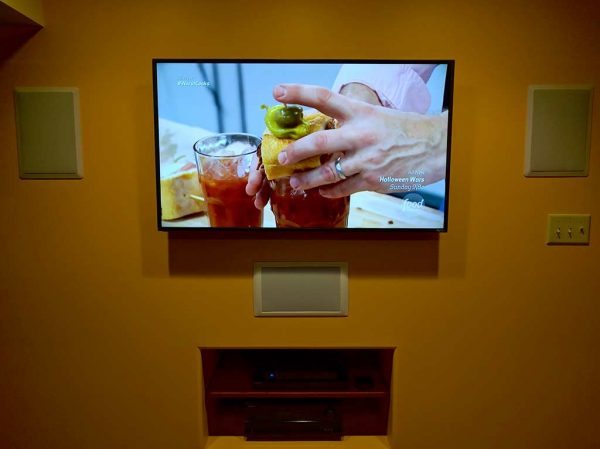 As I had mentioned at the beginning of this review, I was a little concerned that going down to a 50″ sized display from 55″ sized display would be really noticeable. Bigger is always better right? I'm happy to report that downsizing has not been an issue because the VIZIO's display has a very noticeably nicer picture than my old Samsung.

I was really surprised by how much better everything looks. I didn't think this would be the case because DirecTV doesn't advertise UDH/4K content. Heck, some of their content isn't even HD yet! But the VIZIO display uses SSE upscaling (Spatial Scaling Engine), which makes even regular HD content  look better.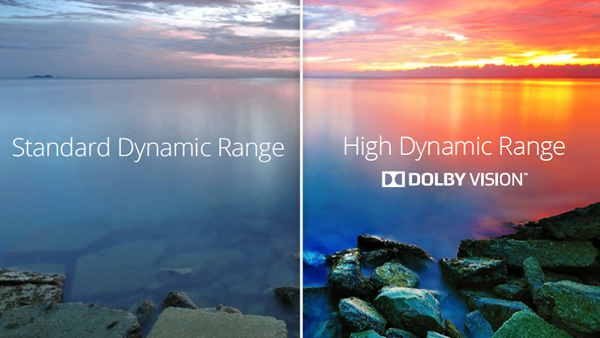 This display uses HDR and Dolby Vision to provide vivid images and it also has 32 Active LED Zones that dynamically adjusts the screen's backlight to adapt to the content on-screen so that it adjusts the contrast levels to make the on-screen details sharper and so that the black parts of the screen appear the deepest and purest possible.
To really see what this display can do, you need to watch 4K/UHD content which is available on Vudu and Netflix, and on UHD Bluray DVDs if you happen to own a UHD BD Player.
I watched content through DirecTV, Netflix cast through the included 6″ Android tablet remote and I also tried a few sample video files that the VIZIO folks provided that I downloaded onto a USB stick plugged into the VIZIO.
Audio quality
The VIZIO display has two 10W speakers that provide decent sound if you don't have an AV receiver or a soundbar that you can connect through the digital or optical audio output connection. I tested the VIZIO's sound on its own and also connected to my Onkyo AV receiver and 6 speaker surround sound system.  Jeanne actually preferred the sound through the VIZIO, but then she has weird ears. I think it sounded excellent through the Onkyo.
SmartCasting

The SmartCast system is based on Google Cast, which basically just like having the new Chromecast Ultra built in, as the display supports UHD/HDR from Cast-enabled apps that the regular Chromecast adapter doesn't. Why is this better than a typical "SmartTV"? Because you use the apps on your phone or tablet to cast content and you don't rely on sometimes outdated apps that are baked into the SmartTV. With the VIZIO M-series displays, you don't need other streaming gadgets like a Roku or Amazon Fire TV stick because you can use the apps that these devices use, but through your mobile device.
VIZIO's SmartCast app is preloaded on the 6″ tablet, and is available for download to your other iOS and Android devices. In addition to its role in setting up and changing settings on the display, the SmartCast App also aggregates content from multiple apps. So instead of going to Vudu, then Hulu, then Crackle separately to see what's available, or which one is showing a particular movie or TV show, you can just search in SmartCast, and it will show you which App you can Cast the content from (or which App for you to buy it from).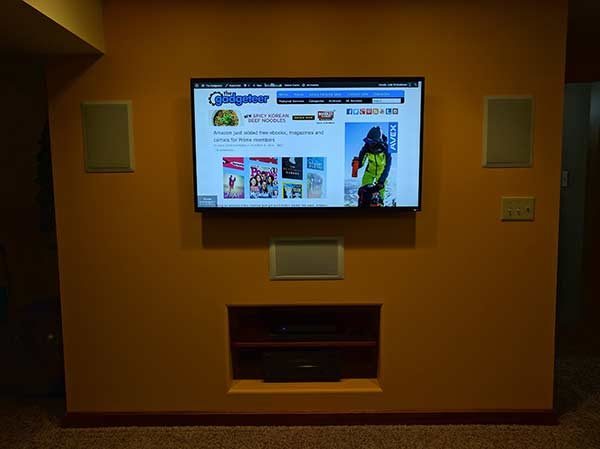 You can also stream/cast from a Chrome Browser on a PC or Mac by installing the free Cast plug in for Chrome. This is really cool because you can cast anything in the browser to the VIZIO display.  Even just a web page.

Another thing to note is that when you "Cast" from a phone, tablet or computer, the app is just sending the content's URL to the display. The display does not rely on the phone or tablet to receive the content, which means you can use the tablet for something else while you're watching the casted video. You can leave the house with the phone or tablet and people at home can continue to watch it.
I've been a Roku user for years now and now that I've been testing the VIZIO display, I've not turned on the Roku once because I can just cast from the Netflix or Hulu app on the tablet. This means I have one less device that is sucking vampire power and connected to my network.
Final thoughts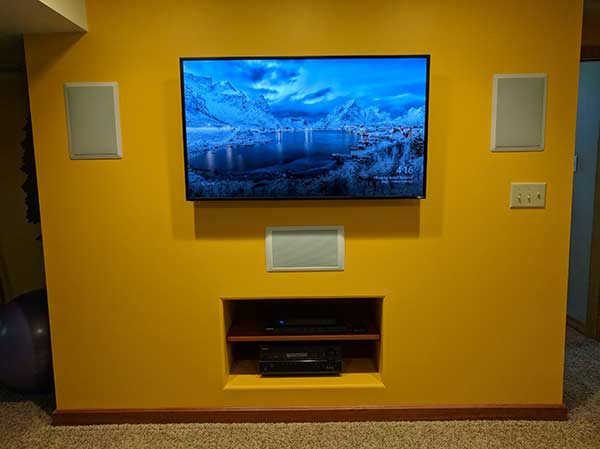 I'm very happy with the VIZIO M50-D1 SmartCast Ultra HD Home Theater Display. From the ease of setup to the ultra-convenient 6″ Android tablet remote control and SmartCast feature that allows me to find and watch my favorite shows, to the gorgeous UHD 4K image that makes all my favorite shows and movies a joy to watch. If your'e shopping for a new display for your home theater, definitely take a look at VIZIO's M-series displays. I know you'll be as impressed as I am.
Update 11/27/16
I've been using this display for over a month and have had no issues so far. I don't miss my 55″ Samsung display at all. However, I have found that I very rarely use the tablet remote that came with the Vizio. I'm not a big fan of touch screen remotes. I prefer using my DirecTV remote which I've programmed to also control the Vizio. I do use the Vizio tablet remove if I want to dive into the settings, but that doesn't happen very often. Even if I need to switch inputs, I prefer to grab the physical Vizio remote instead of using the tablet. There's nothing wrong with the tablet, I just don't use it.
Source: The sample for this review was provided by VIZIO. Please visit their site for more info.
Product Information
Price:
$849.99 MSRP
Manufacturer:
VIZIO
Pros:

Gorgeous display
Lots of inputs
6" Android tablet remote control

Cons:

Requires a tuner adapter if you want to watch OTA broadcasts