We use affiliate links. If you buy something through the links on this page, we may earn a commission at no cost to you. Learn more.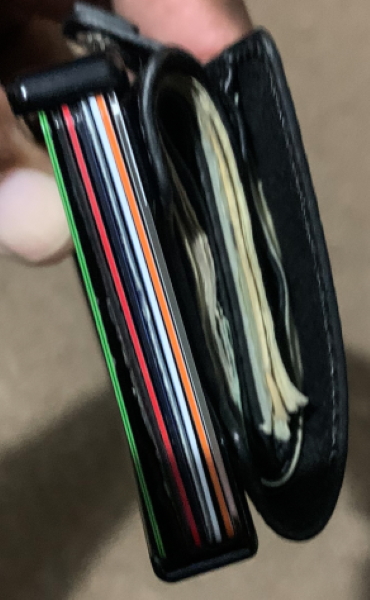 REVIEW – Several years ago, I decided that I was done with conventional style pocket wallets and would only use slim wallets with RFID protection. Over the past few years, I have tried several slim wallets including some well-known brands. I quickly decided that none of them worked to carry both my paper money and credit cards in a way that is comfortable. So, I now carry my money separately and my cards in my wallet. Let's see if this Znap Wallet offers a better solution.
What is it?
The Znap Wallet is available in the following 2 versions:
12 cards version: With a coin compartment, the case offers space for 8 cards, without up to 12 cards.
8 card version: With a coin compartment, the case offers space for 4 cards without up to 8 cards.
The holding mechanism of the credit card case allows for a quick selection of the cards. The credit card case is made of aluminum and thus already protects against data theft from several sides. The RFID Shield card, which is also supplied, provides complete all-around RFID protection.
What's in the box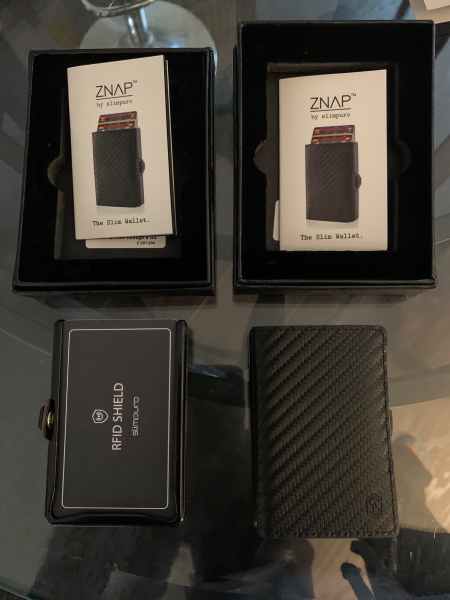 1 x Znap Wallet
Design and features
Features
Available in 2 sizes: 8 card version (with coin compartment for 4 cards) & 12 card version (with coin compartment for 8 cards)
Card case with fast card selection through our innovative holding mechanism
Easy access to banknotes through a fully functional banknote compartment – up to 200€ notes
Guaranteed unbreakable due to high-quality metal frame milled from one piece of aircraft aluminum
Wallet with removable coin compartment
360° RFID protection through the aluminum frame and additional RFID shield card (included in delivery)
The Znap wallet is trifold. It has a snap button lock and a compartment for credit cards and paper money, and a removable coin holder. It comes in an 8-card and 12-card version. It provides RFID shielding.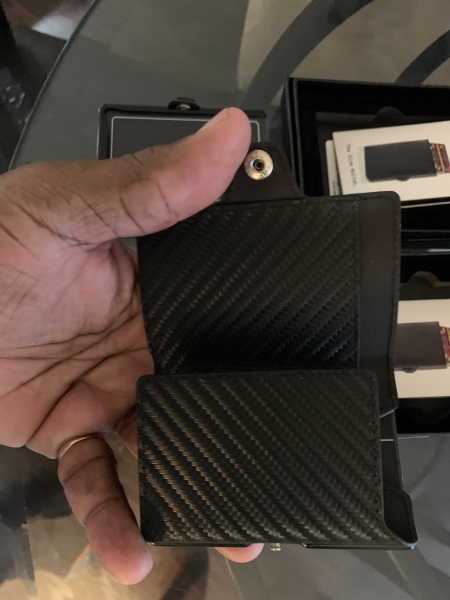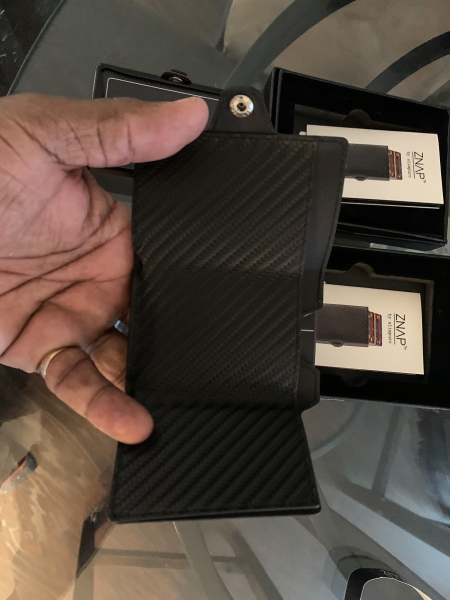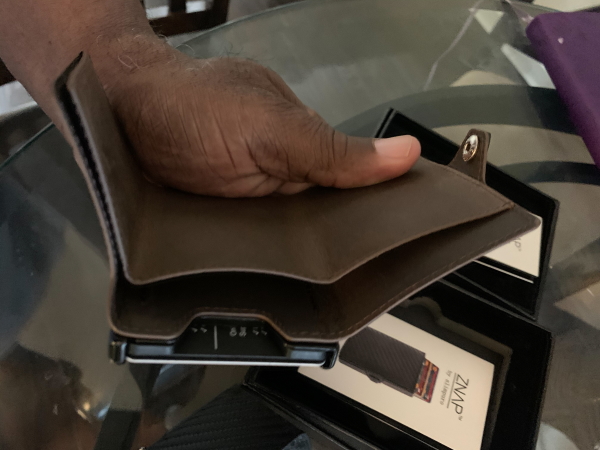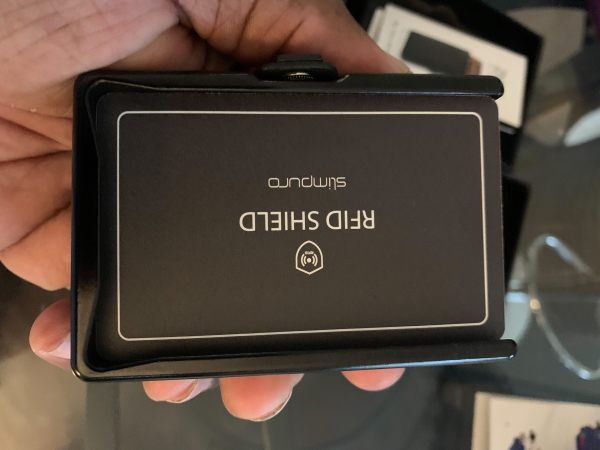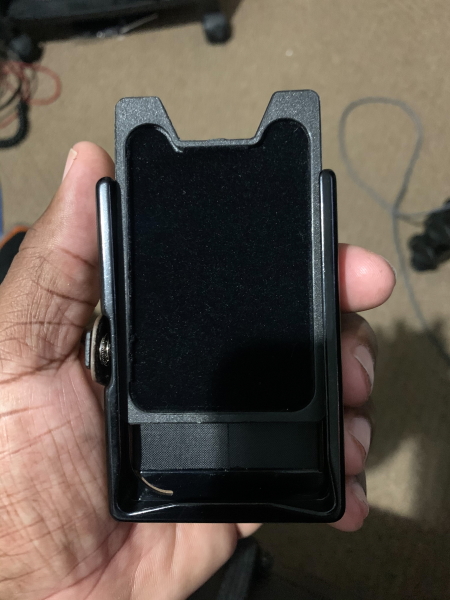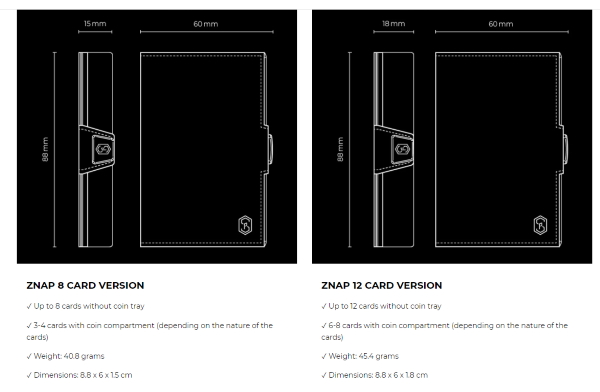 Performance
This wallet works for approximately 10 paper bills and depending on if you use the coin holder or not, up to 12 credit cards in the 12-card version.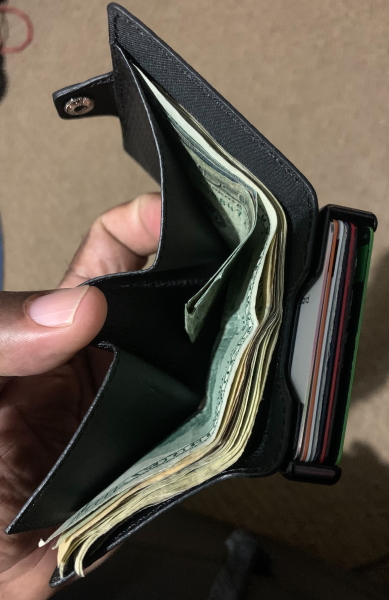 The coin holder holds 4 quarters or more change if storing smaller coins. It does reduce the card-carrying capacity of the wallet.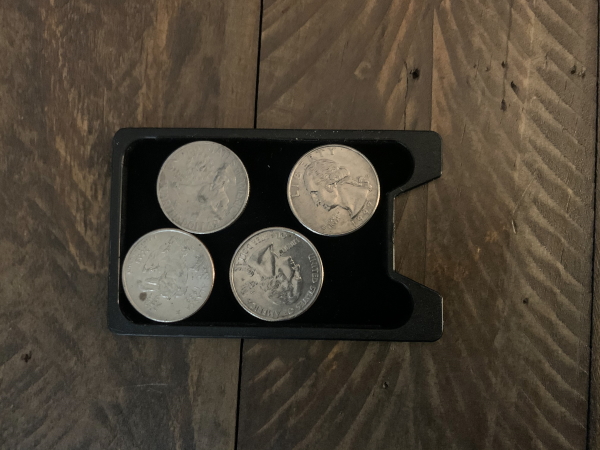 The photo below shows how the wallet looks and fits with about 9 credit cards and 10 paper bills. When filled to capacity it feels sturdy and is quite compact and the button snap closes securely.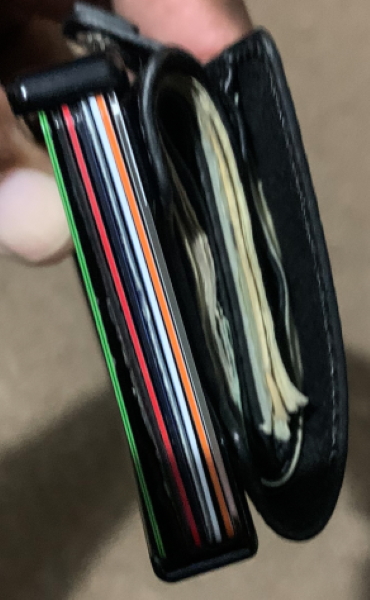 "Note: The coin compartment can only be used if all cards are inserted in addition to the coin compartment."
What I like
The build quality
The secure way it holds my credit cards
What I'd change
Find a way for it to hold more paper money and in a better way
Final thoughts
The Slimpuro Znap wallet is well built and holds my credit cards very well. I usually have several coins in my pocket so the coin holder is not functional for me but might be for someone who needs to carry a limited amount of specific change like four quarters. However, when using that coin holder, the card-carrying capacity is reduced. Also, I usually have paper money in several denominations in my pocket and it is always many individual bills that surpass the approximately 10-bill limit of this wallet. Since I think that it does an amazing job safely holding my cards and it does so better than some other well-known brands, I will give it a positive nod. I would not likely purchase it for my personal use as a carry-all wallet, but this is solely based on my personal preference, and I do think it can work very well for others.
Price: $59.48US
Where to buy: Slimpuro website
Source: The sample for this review was provided by Slimpuro.