We use affiliate links. If you buy something through the links on this page, we may earn a commission at no cost to you. Learn more.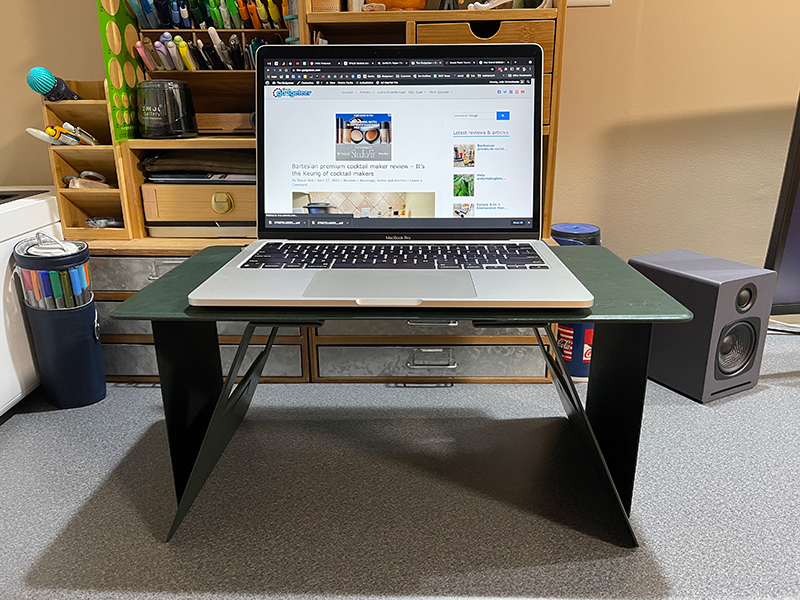 CROWDFUNDING NEWS – Laptops are great when you use them on a desk, but for extended use on your lap, they can become hot and not so comfortable. That's where a laptop desk is handy and the iSwift Pi laptop desk which is currently seeking funding on Kickstarter is one of the nicest laptop desks I've ever tried. Let's take a quick look at it.
What is it?
The iSwift Pi is a laptop desk that comes in two sizes (17.3 or 21 inches wide) and is constructed of premium PU material that looks and feels like leather.
Why do I like it?
I like the iSwift Pi laptop desk because it is useful in a variety of places like a recliner, couch, bed, and even on a desk. You probably didn't think I'd say a desk right? Well, the great thing about this laptop desk is that it unfolds to become an ultra-simple standing desk. It even has two different heights depending on the way you fold it.
The iSwift Pi features magnets that let you easily configure it for different heights and angles. Check out the video below which shows a variety of ways to use it.
They sent me a pre-production sample and I am impressed with the build quality and usefulness. I like that it's thin enough to easily fit in a suitcase for travel and you can get an optional felt carrying sleeve for it if you want to be all fancy.
The only issue I have is that it's a bit on the spendy side at $64. But it does work great as a minimal standing desk, so it does have that extra function going for it.
Where can I find more info?
The iSwift Pi campaign ends on 5/09/21 and they have more than met their funding goal of $5,000. You can pre-order an iSwift Pi starting at $64. After the iSwift Pi campaign ends, rewards are estimated to start shipping in June 2021. Visit their Kickstarter page for all the details.