The Gadgeteer is supported by readers like you! If you buy something through links on our site, we may earn an affiliate commission. Thank you! Learn more.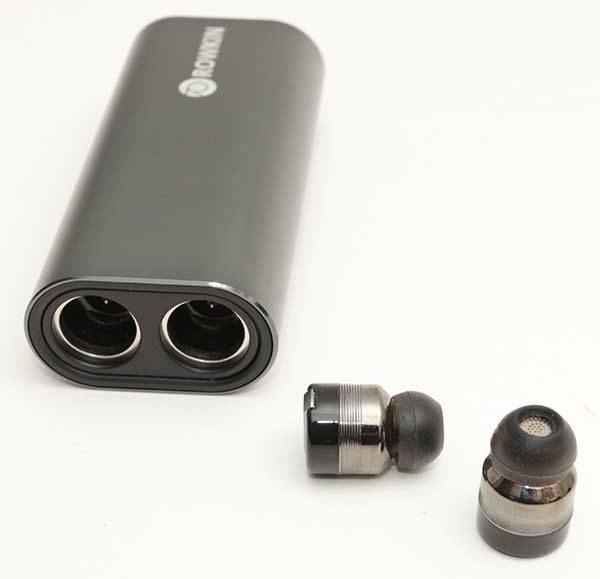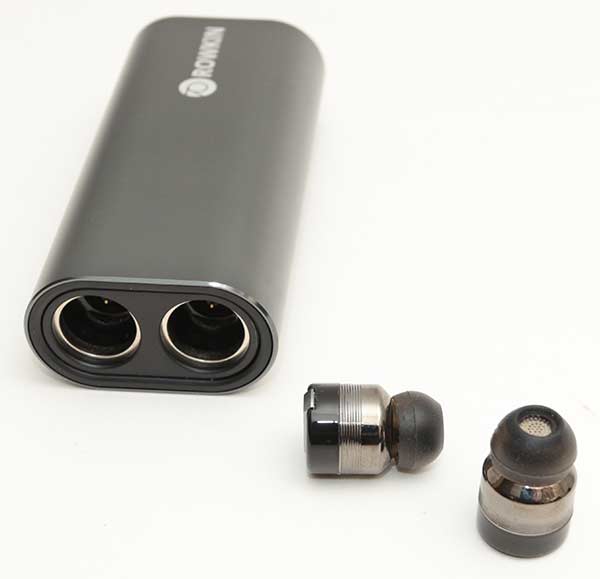 I've seen the writing on the wall and know that the days of wired earbuds, earphones and headphones are numbered. I'm not sad about this because dangling earphone wires are one thing in my life that I definitely won't miss when they are gone. However, finding the perfect pair of wireless earbuds is not easy. The latest ones that I've been testing are the Bit Charge wireless earbuds from Rowkin. Let's see if they earn a spot on my favorite gear page.
What is it?
The Rowkin Bit Charge wireless earbuds are tiny Bluetooth earbuds that store in a rechargeable case that doubles as a backup battery for your other gadgets that charge via a USB cable.
What's in the package?

Rowkin Bit Charge wireless earbuds
Extra ear tips
micro USB charging cable
Manual
Design and features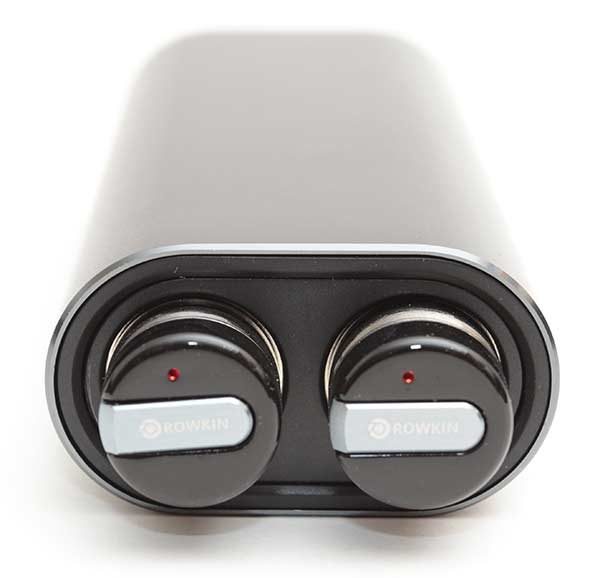 Judging the Rowkin earbuds on just the way they look and feel, they are my all time favorite pair of wireless earbuds. They come in a sleek case that has a gun metal grey aluminum shell that houses a rechargeable battery that charges the earbuds when they aren't in your ears.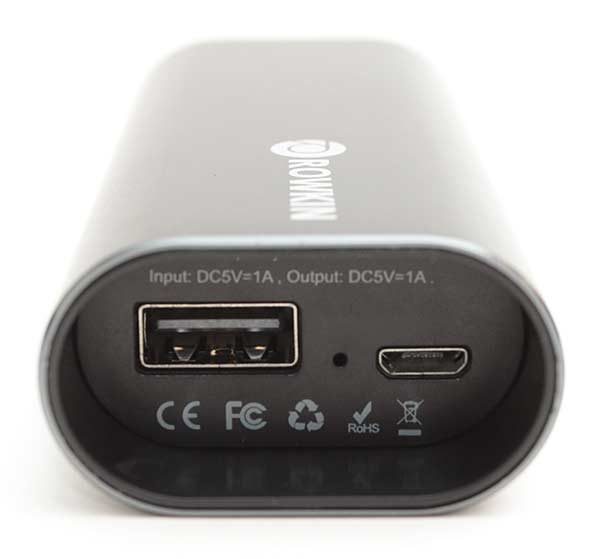 The built-in batteries in the case charge using the included micro USB cable. You'll also notice that there's a regular USB port in the case too. The case doubles as a backup battery for other gadgets that charge through a USB cable. And LED between the two ports blinks in blue to indicate the battery capacity level.
According to what I've read, the case can recharge the earbuds up to 15 times before the case needs to be recharged and the earbuds themselves will run for up to 3 hours per charge. I know that doesn't sound like a long time, but considering how tiny they are, it seems pretty good to me.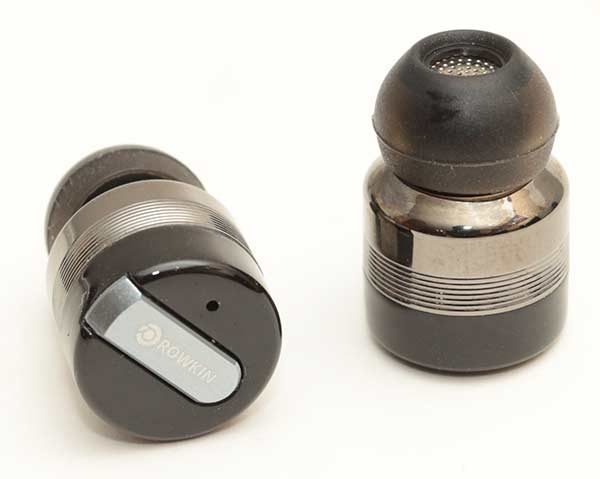 The Rowkin Bit Charge Earbuds are the smallest I've ever reviewed. And, they are also the most comfortable earbuds that I've ever tried – and I've tried a LOT of earbuds over the years.
Each earbud has a status LED and a small multi-function button on the face. The LED provides a visual indicator of the power status, pairing status and the master / slave relationship between the two earbuds.
The button toggles power, initiates pairing, controls media play/pause, call answer/end/reject and activates voice control.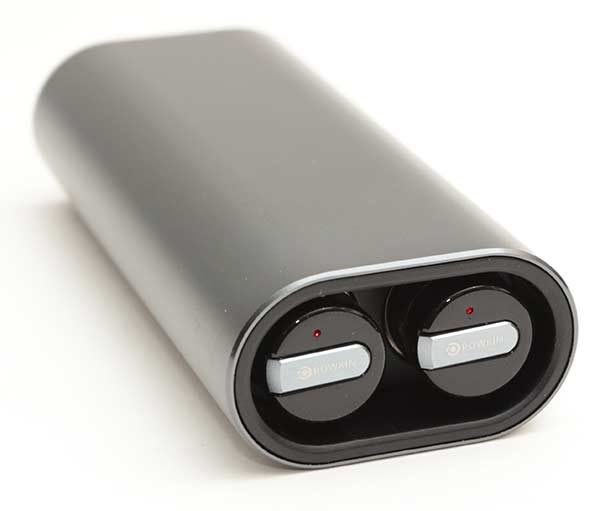 The earbuds snap into the charging case and are held there with magnets. As soon as they are inserted into their slots, they start charging, which is indicated by the LEDs glowing in red. When they are finished charging, the LEDs go out.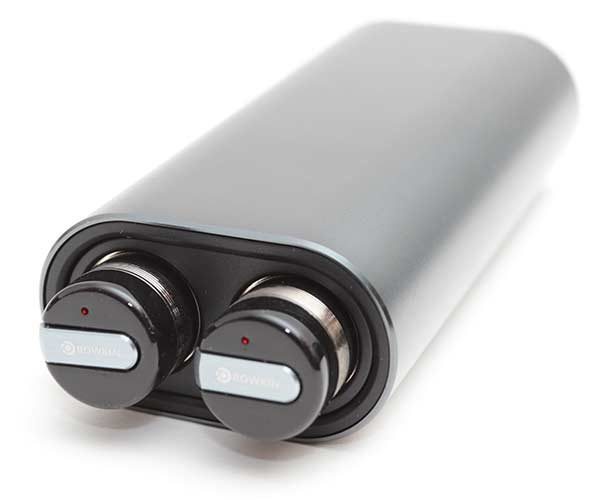 The earbuds are removed by pressing up from the bottom of the charging case so that the earbuds extend out from the top so they can be removed. It's a slick design that I really like.
Comfort. fit and feel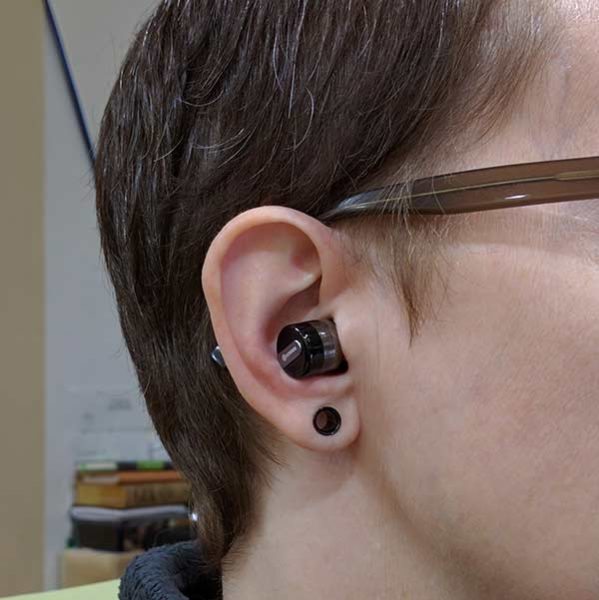 The Rowkin Bit Charge earbuds are in-ear style earbuds. I don't usually like this type of earbud, but the Rowkins are comfortable enough for me to wear without discomfort using the default sized ear tips.
They even stayed in place while working out. Granted, I don't do high-intensity workouts and don't run, but they stayed in fine while walking briskly on a treadmill and doing various exercises on a Total Gym.
These earbuds are IPX5 rated, which means that they are supposed to be sweat proof and water resistant.
Pairing with devices
To pair the Rowkin earbuds, you remove them from the charging case and press both buttons on the earbuds at the same time. The LED will start blinking red and then red / white to let you know they are in pairing mode. Then you just check your device to find Rowkin listed as an available Bluetooth device. Once they are connected to the device, the LEDs on the earbuds will blink in white. The master earbud will blink twice every couple of seconds and the other earbud will just blink once. This is important to know incase you're like me and sometimes use one earbud so that your other ear is open to hear people if they walk up to talk to you. If that's what you like to do too, you'll need to insert the master earbud because that's the only earbud that will receive audio if a call comes in.
The Rowkin Bit Charge wireless earbuds also support multipoint connectivity. That means that in single earbud mode, each wireless earbud can connect with two Bluetooth source devices like your iPhone or Android phone, iPad, tablet, or laptop simultaneously. If you are streaming music from your iPad, and receive an incoming call on your iPhone, the wireless earphones will recognize this and allow you to take the call seamlessly without the hassle of repairing.
Sound quality
Sound quality is always a bit of a crap shoot when it comes to Bluetooth audio devices. I was pleasantly surprised with the Rowkin wireless earbuds. They are pretty well balanced and have good bass. Depending on the song, the audio can sound slightly flat and other times they sound great. I really enjoyed listening to Lost Boy by Ruth B, 7 Years by Lukas Graham, and Moves Like Jagger by Maroon 5  through my Nexus 6P, but sounds like  Humble and Kind by Tim McGraw, and I Gotta Feeling from Black Eyed Peas was a little flat.
Even though the sound quality isn't good as high quality wired earbuds or earphones, I enjoyed listening to my favorite playlists while sitting at my desk working on reviews or sweating to a workout.
Unfortunately, it's not all rainbows and unicorns because the Rowkin Bit Charge wireless earbuds suffer from some of the same connectivity issues that I've noticed with other wireless earbuds – intermittent audio drop outs. The Rowkins aren't as bad as the Motorola Verve Ones+ that I reviewed a couple months ago, but they do the same thing where one bud will go silent or the sound on both will dim out and then come back. I contacted Rowkin about this and they said the problem was probably due to interference from WiFi. I do have a lot of WiFi devices at home and at my day job too. So I don't think they are blowing smoke with that reason.
What about video and phone calls?
I watched about a dozen YouTube videos lasting longer than 5 minutes each on my Nexus 6P paired with the Rowkin earbuds and didn't notice any audio / voice syncing issues.
As for using the earbuds for phone calls, I was told that I sounded ok when I called Jeanne. She could tell I was calling with a headset but said it didn't sound bad. My side of the conversation wasn't bad either. But since these are in-ear earbuds, they give you that head voice experience that I don't really like.
Final thoughts
I like the design, fit and feel of these earbuds so much that I have been putting up with the occasional connectivity issues. Luckily it only happens only about one or two times in an hour if I'm sitting at a desk. It seems to happen more often if I'm moving around even if the phone is within a few feet of me. It's definitely annoying, but these little bitty earbuds are so easy to charge and stick in my ears that I just keep using them. That said, I don't think I'd buy them at their $129 price tag knowing that this was an issue (check other reviews, I'm not the only one with connectivity issues). That's a lot of money to pay for earbuds that don't work 100% of the time. So in good conscience, I can't whole heartedly recommend purchasing the Rowkin Bit Charge wireless earbuds, but I am hopeful that Rowkin can find a way to fix these issues and will be very interested in checking out other wireless earbuds from them in the future because these little earbuds are cool as heck.
Do you have a favorite pair of wireless earbuds? If so, what are they? Please share in the comments.
Source: The sample for this review was provided by Rowkin. Please visit their site for more info and Amazon to order.
Support The Gadgeteer
:
The Gadgeteer is supported by readers like you! If you buy something through the links on our site, we may earn a small affiliate commission. Thank you! Learn more.