We use affiliate links. If you buy something through the links on this page, we may earn a commission at no cost to you. Learn more.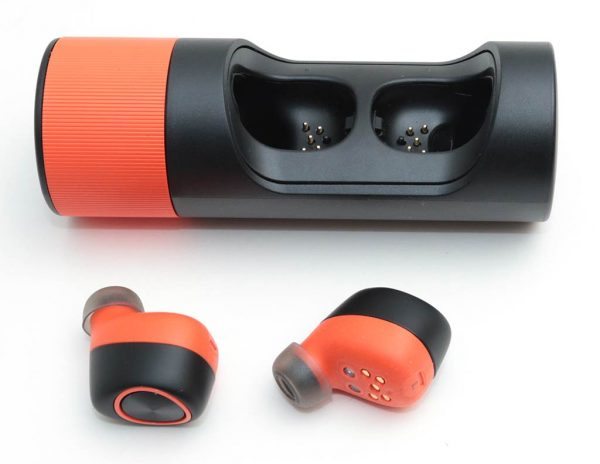 In the beginning, there were speakers. Then came headphones with wires, then smaller earphones with wires. Next came wireless earphones that didn't require a wired connection to the music device, but required a wire between each earphone. Now we have Motorola's VerveOnes+ wireless earbuds which are truly wireless. I've been excited to try this style of wireless earphone for awhile now. Do these tiny in-ear speakers work as well as they look and are they worth the price? It's time to find out.

What is it?
Motorola's VerveOnes+ wireless earbuds are individual earphones that connect wirelessly to each other and to your mobile device. They feature IP57 waterproof protection and can withstand sweat, rain, and even an accidental dip in water.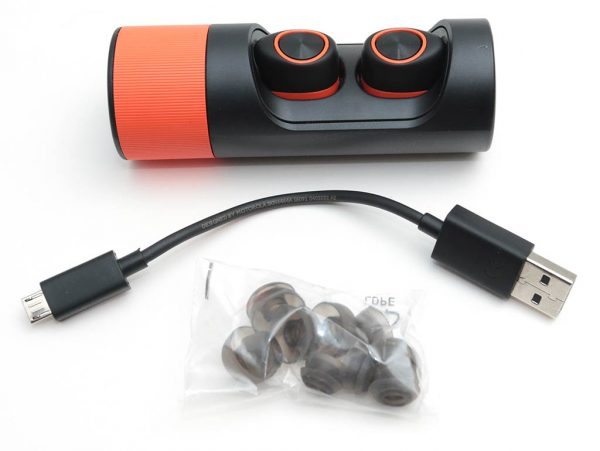 What's in the box?
Motorola's VerveOnes+ wireless earbuds
Battery charging storage case
Short micro USB charging cable
Various ear tips
Design and features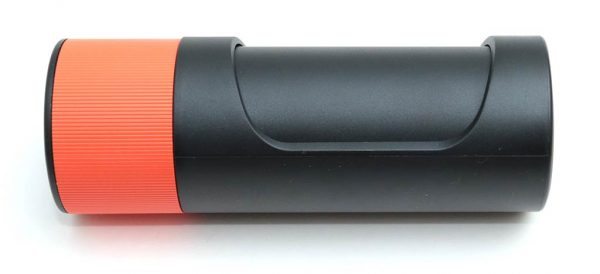 The VerveOnes+ wireless earbuds come in an orange and black tube-shaped plastic storage container that not only protects the earbuds while they are not being used, but it charges them too.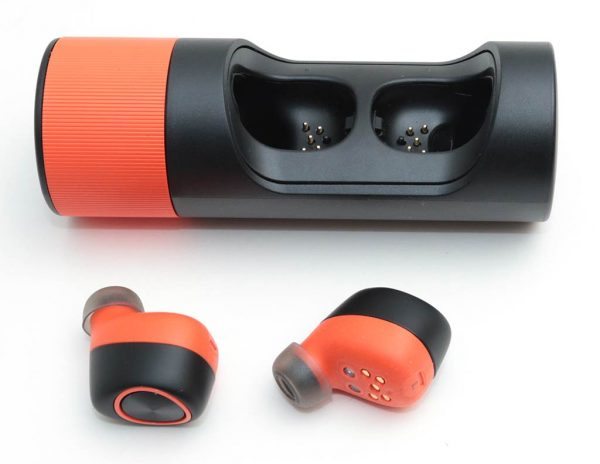 When you rotate the orange knob on the side of the storage case, it opens the cover revealing the VerveOnes+ earbuds. Each earbud has its own slot that it snaps in for charging.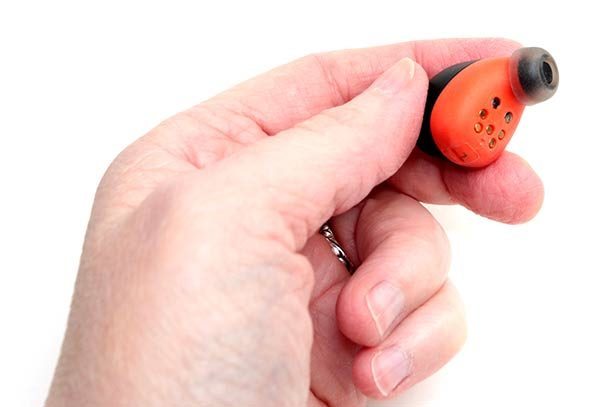 There are electrical contacts on the bottom of each bud which match up to the electrical contacts in the storage case for easy on-the-go charging. The storage case is my favorite feature of the VerveOnes+ wireless earbuds. Even if it didn't charge the buds, I'd still like it because it's compact and easy to use. But the fact that it keeps them charged when they are being stored is a huge bonus.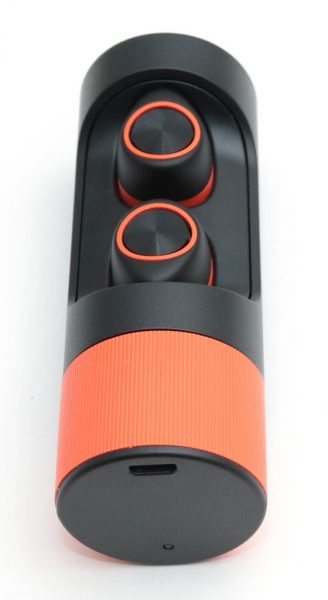 The built-in battery in the case is charged using the included micro USB cable. A small LED pulses in white while charging, glows steady when the battery is fully charged and will blink red if the battery in the case needs to be recharged. The VerveOnes+ can be charged about four times before the case needs to be recharged. The earbuds will play about 3.5 hours per charge.
The earbuds will play about 3.5 hours per charge.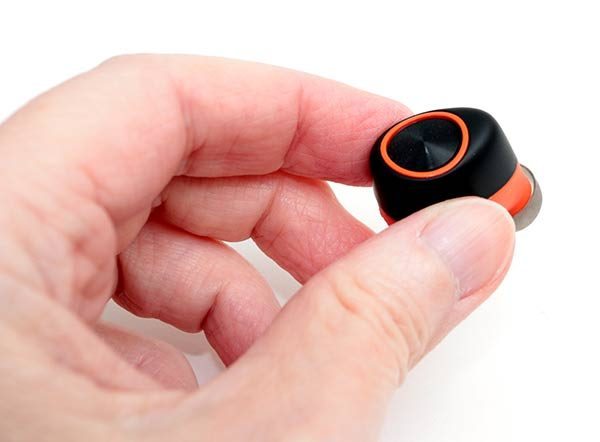 Each earbud has a button on the outside that is used to control music and answer/end phone calls.
Music: Pressing either button once will pause a track. Pressing again resumes. A double press will go to the next track (depending on your music player). Triple pressing the button will go back one track (or start the song over – again, this depends on the music player that you're using). If you press and hold the button until you to hear the equalizer options (between 3-6 seconds), you can then press again to select the  desired setting.
Calls: Pressing either button once to answer an incoming call, or double-press to reject the call. When not in a call and not playing music, pressing and holding the button will start voice commands. You'll hear a tone. Release the button. You'll hear a second tone from your phone. Say your command. Press and hold again to cancel a voice command.
Setup and usage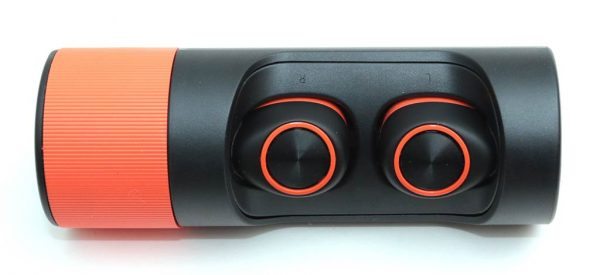 The left earbud is the master and is the one that actually pairs with your device. The right earbud syncs to the left earbud. Pairing the VerveOnes+ earbuds with your smartphone or another device is no different than pairing other Bluetooth earphones or speakers. I tested the VerveOnes+ wireless earbuds with my Nexus 6P smartphone, Apple MacBook Pro and a Dell Ultrabook laptop.
After you pair with your phone, tablet, computer or another device, you can begin using the wireless earbuds to listen to music, video and take calls. If you have an iOS or Android device, you can install the Hubble Connect forVerveLife app which lets you customize EQ settings and toggle other features like ear detection, pass through, video mode, voice prompt language and location tracking that will see the location of your earbuds on a map if you happen to misplace them.
What is ear detection and pass through? When the ear detect feature is turned on, it will cause the earbuds to pause music when you pull both earbuds out of your ears. Note that you can just wear the left bud if you like, but if you pull it out of your ear while listening to music, the music will pause. It won't automatically restart playing again when you put it back in your ear though…
The pass through feature is pretty cool for those of you (like myself) who don't like feeling isolated when wearing earbuds. When this feature is turned on, you'll still hear sounds around while listening to music or when music is paused. This means that you won't have to pull out one of the buds if someone comes up to talk to you.
The video mode feature helps keep the audio and video in sync.
Note that you'll need to remove the earbuds and put them back in the battery case before you can use the app to change settings. This means that if you want to switch from listening to music to watching videos that you'll have to remove the buds, put them in the case and then toggle the setting through the app. This can get a little annoying after awhile if you switch between music and video quite often. I also had issues with the app not being able to connect to the earbuds. I would get a message telling me to that there was a problem and to toggle Bluetooth off and on again to fix it. Again, annoying…
Comfort and sound quality
These earbuds come with various sized ear tips that go into your ear canal, while the body of the earphone fits in the outside part of your ear.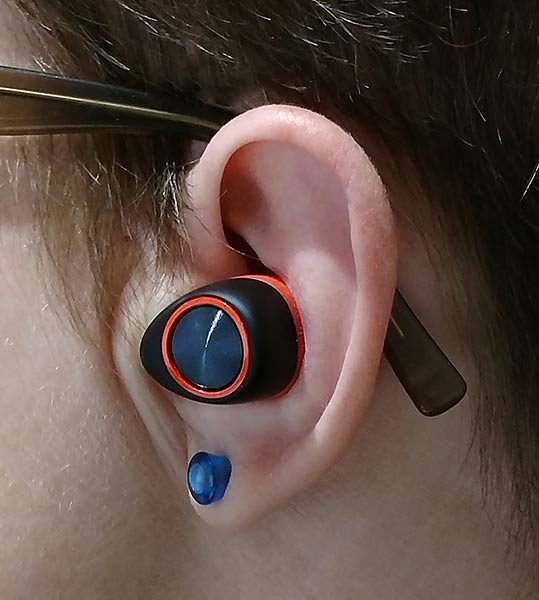 As you can see from the image above, the earbuds aren't really huge, but if you have small ears, they might feel too big or uncomfortable to wear for an extended time because they fit between the tragus and the antihelix (search Google for ear parts to see what I'm talking about). Although I could feel them in my ears, but they didn't feel too uncomfortable to wear for an hour or longer. They definitely have a secure fit, so they shouldn't fall out even when running. I would give them a comfort level score of 7 on a 1-10 scale with 10 being the most comfortable and 1 being painful.
One thing that is painful about the VerveOnes+ is the built-in voice alerts. When you put the buds in your ears, a loud female voice will announce "VerveOne connected, more than 3 hours of play time" and then the voice will say "earbuds linked" in each ear. The volume level of the voice is too loud for my ears and as far as I can figure out, it can't be lowered.
Audio quality while listening to music is very good with good clarity and great bass. When I first listened to Outside by The Weekend, I almost jumped with some beginning drum beats because I thought someone was pounding on something behind me.
It's not all rainbows and unicorns though. There are a few problems. First of all, there is a slight background hiss that can be heard when the music is low. The hiss is less noticeable if you have pass-through turned off but I like to keep pass-through on when I'm at work so I don't have to pull out the earbuds when someone comes up to my desk to talk.
The VerveOnes+ also have intermittent bud to bud syncing issues that will cause one bud to cut out for a second and then come back. It gives you the sensation of one ear going momentarily deaf. I noticed this happening more frequently on my Nexus 6P than on a Motorola Droid Z that I've been reviewing. My MacBook Pro had this problem really bad… so bad that I couldn't listen to any music or video when paired with it.
Speaking of syncing issues, I also noticed some video voice sync issues where I felt like I was watching a Kung Fu movie from the 70's that hadn't been dubbed well. The audio would play before the video. This was really annoying when watching someone talk or sing. The video mode feature that can be toggled in the Hubble app is supposed to keep this from happening, but I still noticed it off and on.
I was worried that I might have a dud pair of VerveOnes+ buds, so I read some reviews on Amazon and found that others are talking about the same syncing and connection problems.
Battery life
With only 3.5hrs of play time per charge, that might be too short for a lot of people who like to keep earphones on all day. I usually put them in for an hour or so at a time, so it hasn't been a problem for me but I can understand how the short battery life could be an issue for some people.
Phone calls with the Motorola VerveOnes+ earbuds
I didn't have any real problems using the VerveOnes+ earbuds to take calls. I could hear the person on the other side of the conversation and they could hear me. The only problem I had was that the sound of my own voice sounded so loud in my head when using these earbuds for calls and I felt I was talking too loud even with pass-through turned on.
Final thoughts
There are several things that I really like about the Motorola VerveOnes+ wireless earbuds. I love that they are completely wireless and that they are stored in a cool plastic case that keeps them charged. I like that there's a pass-through audio feature so I can still hear what's going on around me while I'm enjoying music. I like everything about these wireless earbuds except when the connection between them cut out or there are video/sync issues. These syncing problems prevent me from loving the VerveOnes+ earbuds. Hopefully, Motorola will update the firmware to fix these syncing issues so I can fully recommend them. Until that happens, I'll have to advise that you not invest in a pair of Motorola VerveOnes+ wireless earbuds.
Source: The sample for this review was provided by Motorola. Please visit their site for more info and Amazon to order.