We use affiliate links. If you buy something through the links on this page, we may earn a commission at no cost to you. Learn more.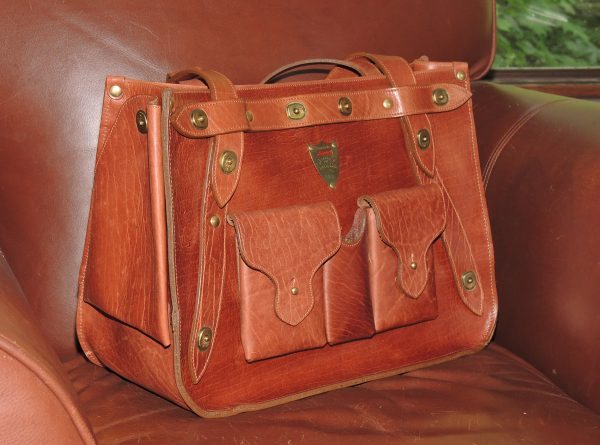 There are not many days that go by that I am not using some piece of Colonel Littleton gear to carry my tech/stuff with me. Day to day I use my Colonel Littleton No. 1943 Navigator Bag, when I travel I take my No. 2 Shave Kit, when I go away on an overnighter I use my No.1 Grip, when I go from meeting to meeting I carry the No. 23 iPad Portfolio to take notes and transport my tablet, etc. These are but some examples of how I use my Colonel Littleton leather works. For this review, I will be looking at a recent creation in the Colonel's respectable and ever growing list of leather designs…the No. 5 Work Bag in American buffalo. 
Note: Images can be clicked to view a larger size.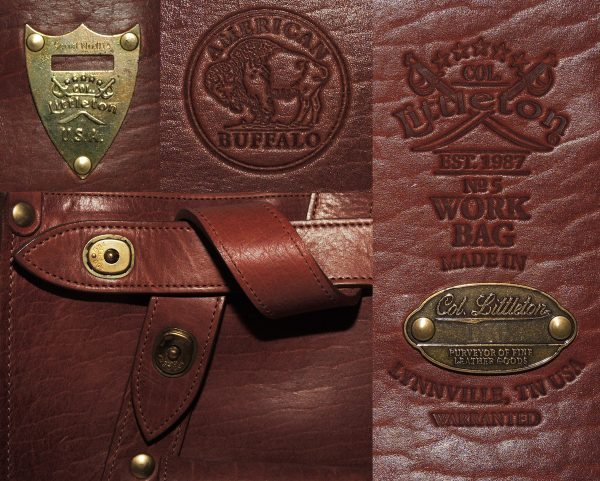 As I have said before in past reviews, Colonel Littleton bags are exquisitely done; soft supple leather, solid brass hardware, Old World styling, finely done stitching and edge finishing. From a craftsmanship and materials standpoint, I can find nothing but positive things to say about every piece from the Colonel's workshop that has crossed my path. That said, now onto my review 😉 .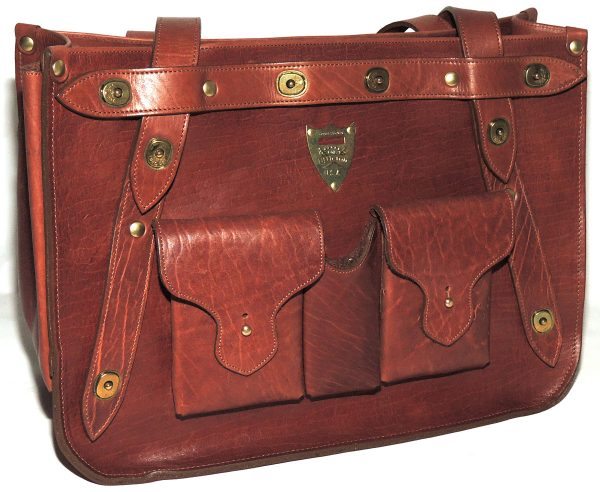 The No.5 Work Bag is made of thick, soft, rugged american buffalo hand-stitched with solid brass hardware for added strength, function, and to some degree, styling. The leather work and craftsmanship are truly second to none. As you can see, brass rivets are used throughout the bag for added strength. Even though the leather is soft and not rigid, due to its design the No.5 Work Bag stands on its own even when empty.
In addition to the Colonel Littleton stamped, serial-numbered pommel brass shield, the front of the bag has two medium sized pockets that sandwich an easy-access slipper pocket in the middle. The two pockets each have a flap that is held closed by a ball stud closure. The middle slipper pocket is meant to carry pens, reading glasses, etc.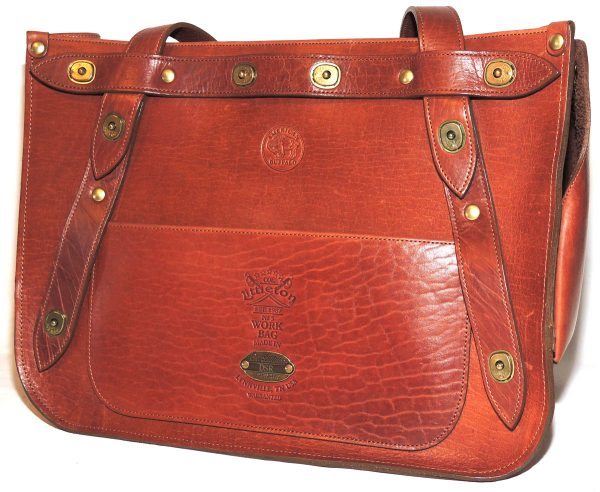 The back of the No.5 Work Bag has a large slipper pocket large enough to hold paperwork or small tablet. The back also has the Colonel Littleton emblem, bag name, and location of manufacturer embossed into the leather. There is a brass oval plate that may be personalized with three initials on the back as well. The Colonel's artisans stamp American Buffalo into the side letting the world know just what kind of leather the bag is made from.
American Buffalo – "Expect a leather that is unapologetically rugged with more character, nicks, scrapes and variations in color." ~ Colonel (Read more about American Buffalo Leather here)
Having spent a good deal of time around buffalo, I can attest to the fact they are unlike domesticated cattle. Even though many/most bison are raised in captivity, they are without a doubt still wild animals. Their hides show their rambunctious, rough and tumble existence with marks and imperfections giving each piece of leather is its own personality. Not only is buffalo leather thicker and softer than most cowhide, it is not uniformed with distinctive marbling and color variation. I prefer buffalo leather over classic cowhide and completely agree with the Colonel comment about buffalo leather, it is thick, ruggedly unique and when finished properly absolutely gorgeous. Though do not be fooled by its stunning good looks, it will easily withstand the road less traveled and without a doubt last you a lifetime of day-in and day-out use.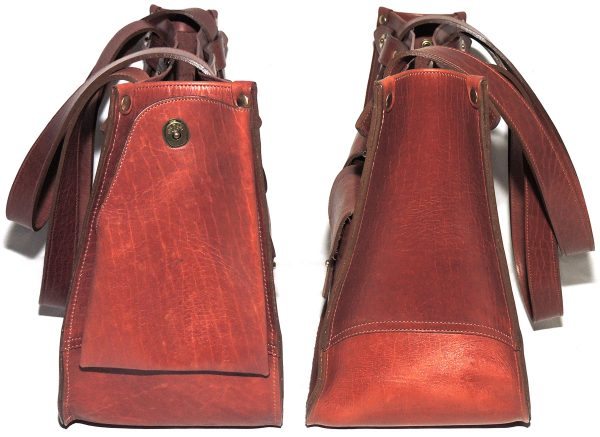 There is also a "quick stash-and-grab" end pocket that can hold everything from a bottle of water to your personal protection. The pocket is held securely closed by a vintage World War II Lift-the-Dot snap. This type of snap is used throughout the exterior of the bag.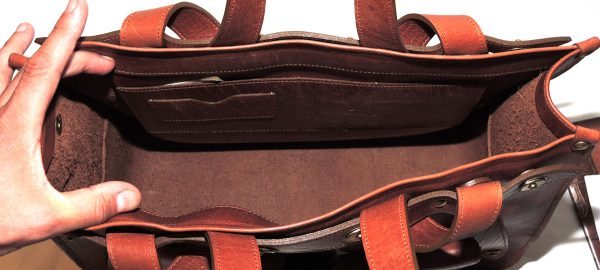 The interior of the bag is a large minimalistic void for carrying everything from your paperwork to your iPad/laptop, to your workout gear and everything in between. The inside dimensions of the Work Bag measure 12.50″ H x 15.50″ W x 7.375″ D. The main compartment has a stitched in leather flap that has pockets for business cards, pens, note cards, paperwork etc.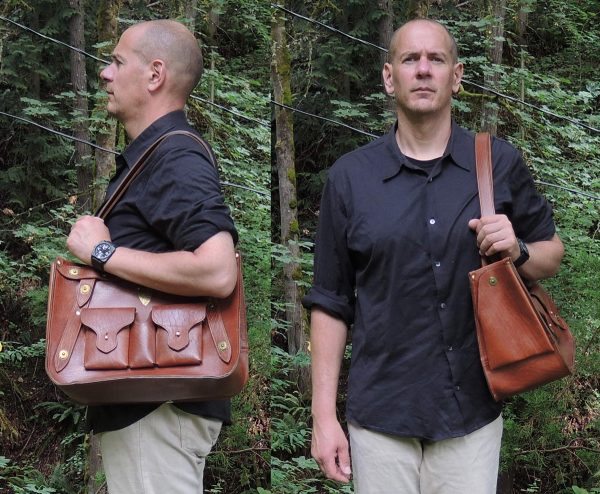 The straps measure 22.50″ for carrying the bag over your shoulder. Overall the bag rides very comfortably even without any padding.
That's all very well and good but let's talk about the elephant in the room…I have been told that the No.5 Work Bag looks very purse-like. And I have to agree it is a murse without a doubt, probably the most purse-like man's bag I have ever reviewed. I do my best to never put fashion before function and this bag does get the job done. It is an ideal size for carrying all my tech, work stuff, lunch and sports gear to and from the office. Where I normally would carry my No.43 Navigator bag AND nylon sports bag; everything I would typically take into the office easily fits within the No.5 Work Bag.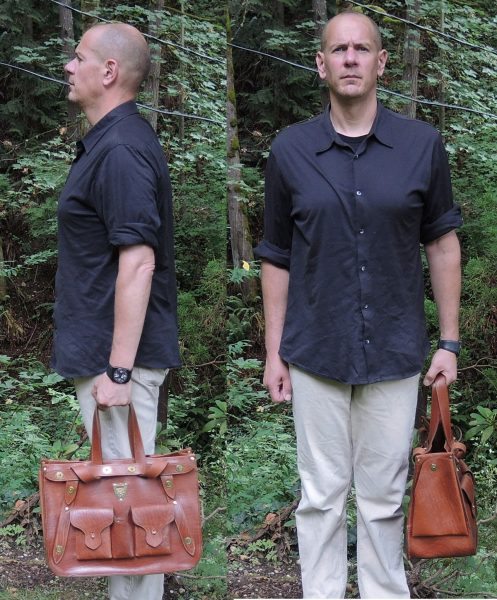 The Colonel did engineer the bag so you have the option to shorten the straps for a "briefcase style" carry by unsnapping the middle leather tabs across the top and looping the straps through. This does lessen the murse look quite a bit. Truth be told, this is how I carry the bag 90+% of the time. Even fully loaded, the Work Bag is reasonably weighted and travels well.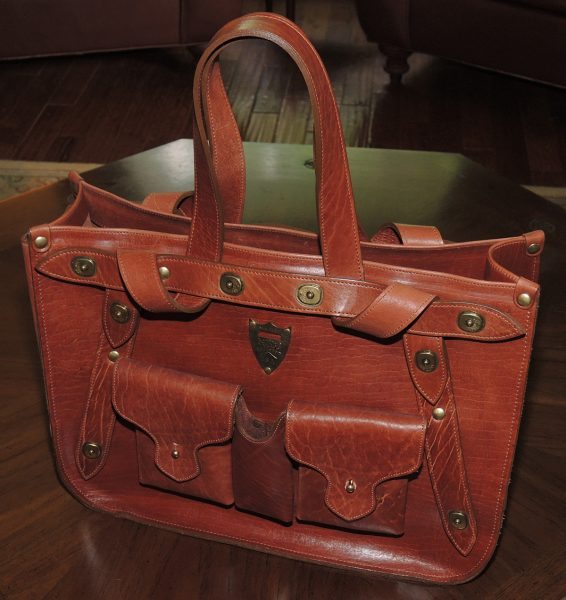 The No.5 Work Bag is another excellent example of how the Colonel brings beautiful design, Old World quality, artistry, and charm to modern times. This heavy-duty, open-top briefcase/general purpose tote is designed to carry all your gear with a style all its own. It is ideal for anyone who has to lug their stuff around with them to and from the office or anywhere for that matter. I have been using the N0.5 Work Bag regularly on the days I go into the office and it has nicely consolidated all my gear into one easy to carry, manly, gorgeous leather bag 😉 .
Source: The sample for this review was provided by Colonel Littleton. Please visit their site for more info.

Product Information
Price:
$990
Manufacturer:
Colonel Littleton
Pros:

Incredible Old World craftsmanship
Designed/made to last a lifetime
Top-shelf materials
Spacious tote/main pocket
Made from thick, supple ruggedly good-looking buffalo leather
Solid brass hardware
Comfortable to wear or carry
Great warranty

Cons: