We use affiliate links. If you buy something through the links on this page, we may earn a commission at no cost to you. Learn more.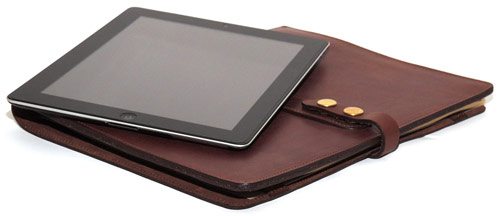 One of my most-used review items is the Colonel Littleton No. 1943 Navigator Bag that I take with me daily. But there are times when I do not want or need to take all my gear with me. When I do not want the weight, need the shoulder to carry something else, or am going from meeting to meeting, wanting my iPad with me but needing something to write on as well,  Col. Littleton's  No. 23 Portfolio for the iPad is an ideal solution for these situations.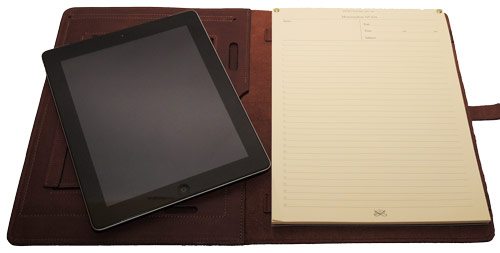 The No. 23 Portfolio is handmade, constructed with thick, soft, finely-finished leather that the Colonel is known for. As with all of Colonel Littleton's creations, its craftsmanship and detail are second to none and does an excellent job of mixing old-world functionality and modern tech in a classic look and form.
I could not say it better than the Colonel's website: Leather frame for iPad on left side – legal pad on right side … combining old and new technology in a full-size portfolio with a snap closure for protection. Made in the Col. Littleton Workshop of brown or black Roadster leather. Two-position solid brass snap front allows room for carrying extra documents. Edge Stitched. Accommodates 8 ½" x 11" ruled pad. However, it comes with the Colonel's own specially-designed Memorandum Pad which may be reordered.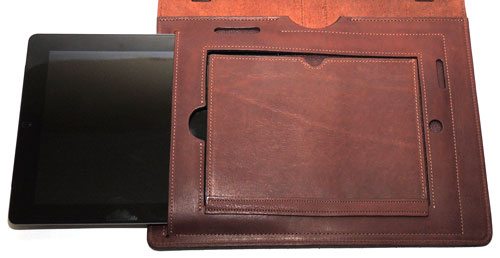 The No. 23 Portfolio is designed and fitted for the iPad 2, 3, and 4. The iPad slides into the top of the leather frame easily, but will not fall out when inverted.

The bottom of the portfolio's frame has cutouts for the iPad's home button and speaker. As you can see, the stitching and finish on the leather are very well done.

The top of the frame has a semi-circle cutout for the iPad's front-facing FaceTime camera. But there is no cutout on the backside of the portfolio for the iPad's rear-facing camera.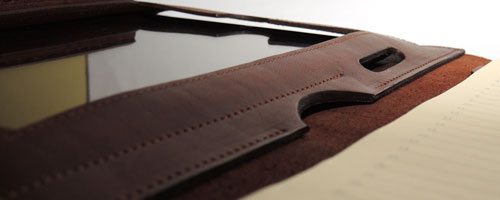 The right side of the frame has a cutout for the orientation/mute switch and volume rocker. Due to how recessed the switch and buttons are, they are a little difficult to access but while worth mentioning, this is not a huge deal.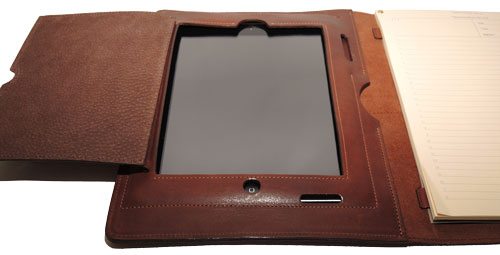 To protect the iPad's screen, the Colonel Littleton designers include a leather flap stitched to the left side of the leather frame. While the flap does a good job protecting the screen, I would have preferred having the option to order the N0. 23 Portfolio without it and just trust a screen protector. I found the flap to be in the way of using the iPad/screen a good deal of the time.

The No. 23 Portfolio is held securely closed by a re-enforced strap that encircles its middle and snaps shut. The snaps are brass and nicely integrated into the leather. The second snap enables you to have added paperwork inside and still be able to secure the closure strap.

The No. 23 Portfolio is similar in size (12"H x 9.5"W) to most non-tech equivalents. Total weight of what you see here is 3.2 pounds. It is available in brown or black Roadster leather.
The Colonel's specially-designed memorandum pad is very nicely done, as well, and worth mentioning. With all of the Colonel Littleton creations I have reviewed over the years, he still surprises me with the top-shelf detail and quality he adds to all of his creations. You might think a notepad is just a notepad, but think again.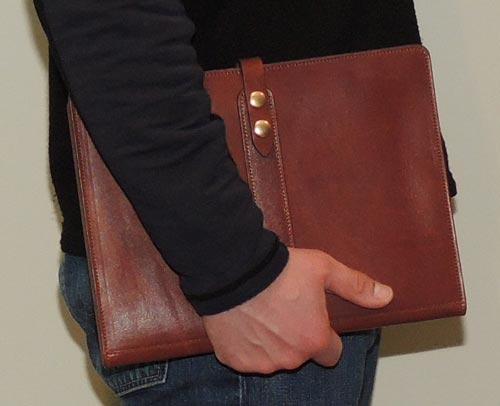 Colonel Littleton's No.23 Portfolio is extremely well made with the finest leathers, integrating Old World craftsmanship and design with accommodations for the latest tech (aka iPad). Due to its design and relatively high price ($275), this portfolio is not for everyone. I envision business people and college professors needing the mixed functionality and sporting this look. So, if this style and hybrid-use appeal to you, the No. 23 Portfolio's combination of old and new technology is definitely worth considering.
Update 02/26/15
In the office or traveling to meetings, I regularly carry my tablet around in my Col. Littleton No. 23 iPad portfolio. In addition to carrying your tech, it has the added benefit of being able to take written notes, draft a letter or doodle when I am bored.
Note that this portfolio is no longer available but Colonel Littleton offer several other portfolios that are very similar.
Source: The sample for this review was provided by Colonel Littleton. Visit their site for more info.
Product Information
Price:
$275
Manufacturer:
Colonel Littleton
Requirements:
Pros:

- Incredible craftsmanship
- Well fitted for the iPad
- Top-notch materials
- Thick supple leather
- Quality brass snaps
- Strap allows for expandability
- Comfortable to carry
- Great warranty

Cons:

- Flap gets in the way
- Relatively expensive