We use affiliate links. If you buy something through the links on this page, we may earn a commission at no cost to you. Learn more.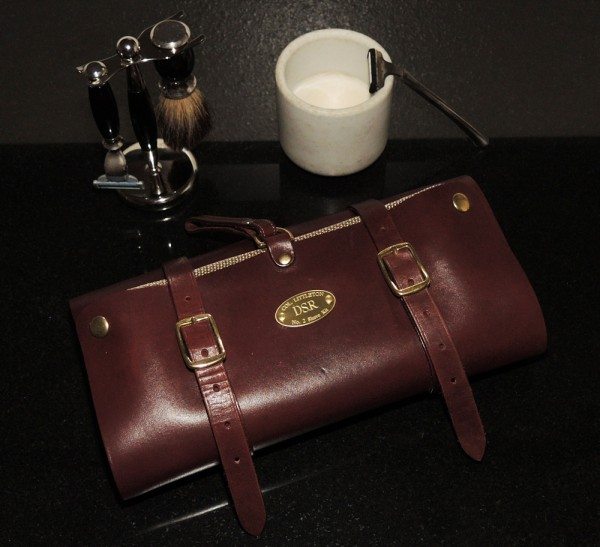 I travel a great deal for work and pleasure (aka when my wife drags me on vacation). Much of that time away from home spans more that just a few days and is usually pretty hectic. So, remembering everything and staying organized is critical for making the time away from home go smoothly and stress-free. This includes not only all the cables and plugs but toothbrush, toothpaste, deodorant, favorite razor, etc. So, when Colonel Littleton asked if I would like to review the No. 2 Shave Kit in association with their Father's Day contest I jumped at the chance to check it out. 
Note: Photos may be clicked for a larger image.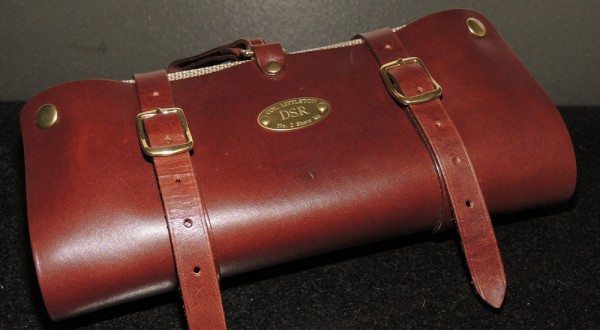 The No. 2 Shave Kit is made from the Colonel's vintage brown polished leather with a No. 8 Khaki Cotton Canvas interior. The combination makes for a travel companion that is not only old-world stylish but very functional as well. Like everything else Colonel Littleton creates, the No. 2 Shave Kit is handcrafted from some of the finest materials and built to take a lifetime of the road less traveled.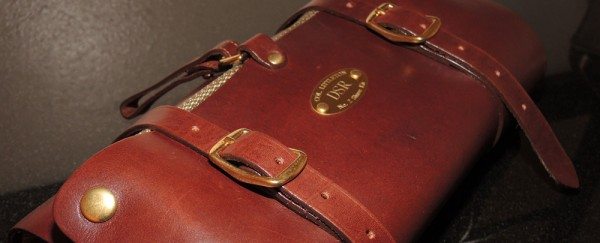 All of the external hardware, rivets, snaps, and buckles, are made of solid brass. The brass, leather, and canvas combine for a gorgeous look.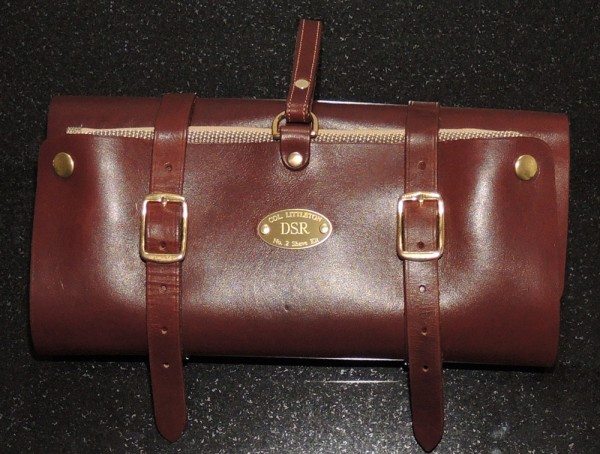 The front of the Shave Kit has a small brass plate that you can have engraved with your initials. The adjustable closure straps enable the carryall to expand a good deal to accommodate more travel gear.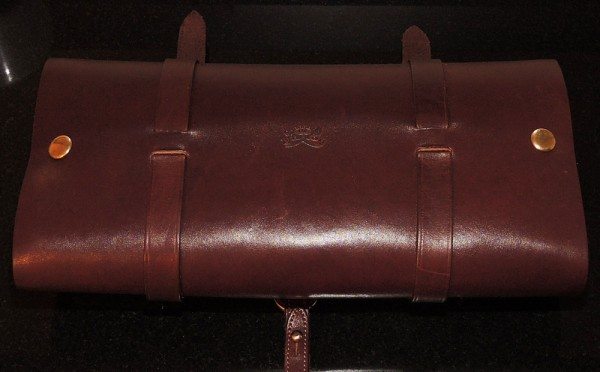 The bottom/base of the Kit has two brass rivets and the straps that keep the the No. 2 Shave Kit closed are laced through two slots cut into the leather.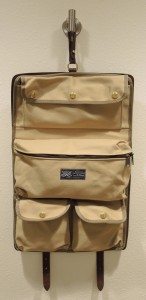 There is a small strap on the top which allows the kit to be hung on back of a door or hook…extremely convenient. Within the "Dopp Kit" (as the Colonel's website calls it) there is a central, large zippered compartment with two smaller snap pockets below and a single larger one above. When opened and hanging the Kit is sized at 19″ x 12 1/2″. The canvas carryall is attached to the leather covering via seven brass snaps. Here you see it hanging with all my bathroom travel stuff in it and you can hardly tell it is full of gear.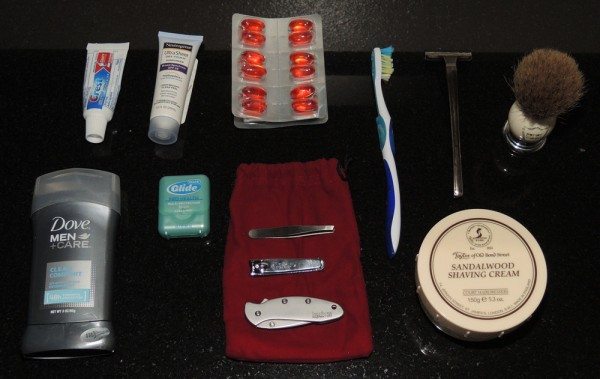 The No. 2 Shave Kit enables me to bring more than 'just the basics' while away:
Razor
Shaving soap
Shaving brush
Toothbrush
Toothpaste
Sunscreen
Finger Nail clippers
Small knife
Tweezers
Deodorant
Motrin
DayQuil/NyQuil

Here is the No. 2 Shave Kit sitting next to my old "pop-open" shaving kit. While the old one is functional and nice enough looking, it does not hold a candle to the No. 2 Shave Kit. The functional design of the No. 2 Shave Kit pockets is much better than my old one which is just a void you dump things in with nearly zero organization.
Here is Colonel Littleton describing the features and functions of the No.2 Shave Kit.
The No. 2 Shave Kit is definitely a keeper and will be replacing my old shave kit travel bag. Over the years, I have had the opportunity to review a multitude of Colonel Littleton's creations, many of which I continue to use to this day. The 1943 Navigator Bag and No. 1 Grip are the two I use the most, the former I use daily and the latter as my carry-on on nearly every trip I take. Bottom line is, this shave kit is second to none and I look forward to having it as a traveling companion for decades to come.
As I mentioned at the beginning of this review, Colonel Littleton is currently conducting a Father's Day promotional contest running through June 17th. To enter the No. 2 Shave Kit contest, you need to do the following:
Share a photo, video or text story about a family heirloom and/or advice, wisdom or stories passed down from your father
Post to Colonel Littleton's Facebook Timeline, tag @colonellittleton on Instagram, or tag @ColLittleton on Twitter
Use the hashtag #StellarDads
Rules: http://www.colonellittleton.com/col-littleton-fathers-day-contest-rules-regulations/
Source: The sample for this review was provided by Colonel Littleton. Please visit www.colonellittleton.com for more info.
Product Information
Price:
302.00
Manufacturer:
Colonel Littleton
Pros:

Old-World craftsmanship
Excellent materials
Solid brass hardware
Very well engineered/reenforced
Great for carrying/organizing travel gear
Removable handle and strap
Great warranty

Cons: