We use affiliate links. If you buy something through the links on this page, we may earn a commission at no cost to you. Learn more.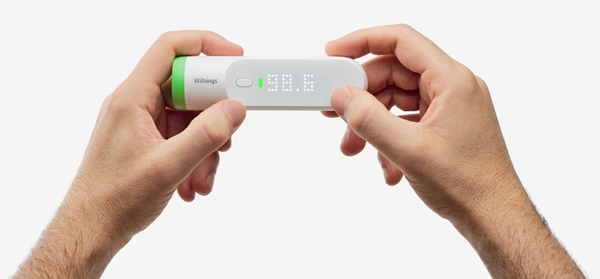 Taking a temperature is something we do when we or our kids are sick. There are old fashioned glass thermometers, more modern digital thermometers, higher tech thermometers that plug into your smartphone and then there's the Withings Thermo. Withings, the well-known and well-respected health products brand has added the battery powered Thermo thermometer to their product line. The Thermo does not go in your mouth, in your ear or in another orifice. It doesn't even need to touch your skin to take a reading. How does it work?
Thermo measures from the temporal artery, considered the best place to detect temperature changes, as the blood that circulates there comes from the core of the body. As Thermo sweeps across the forehead, 16 infrared sensors take over 4,000 measurements to find the hottest point. This is the revolutionary advance, and is what we call HotSpot Sensor™ Technology.
It takes only 2 seconds to get a reading which instantly shows up on the large easy to read LED display. Then Thermo syncs via Bluetooth or WiFi with a mobile app to keep a history of readings and symptoms.
The Withings Thermo is priced at $99.95 from Withings. I have one and will be posting a review soon. If you have any questions that you would like me to cover in the review, please leave them below.