We use affiliate links. If you buy something through the links on this page, we may earn a commission at no cost to you. Learn more.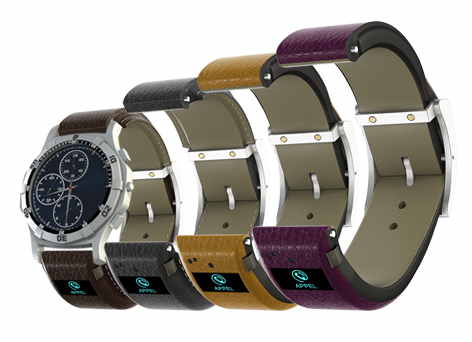 If you've day dreamed about adding smartwatch features to your favorite non-smart watch, the CT Band from French startup Rifft, may make your dreams to become a reality. The CT Band is a replacement watchband for most watches that is made of leather or silicone and comes in a variety of different colors. The band features a high precision 3D accelerometer, physiological sensors, environmental sensors, a microphone and a small OLED display. The strap connects to your Android or iOS phone using Bluetooth and provides info on the strap's LCD display when you have an incoming call, text messages, and other notifications, while it keeps track of your daily activity, steps, heart rate and more. I like the look of the band, but one thing that people probably won't like is that it has to be charged once a day or every other day.
The silicone version of the CT Band can be pre-ordered for 149,00 € and the leather band can be pre-ordered for 169,00 €. That works out to about $165 – $186 US. The bands are estimated to be available this fall 2016. Visit ct-band.com for more info.