We use affiliate links. If you buy something through the links on this page, we may earn a commission at no cost to you. Learn more.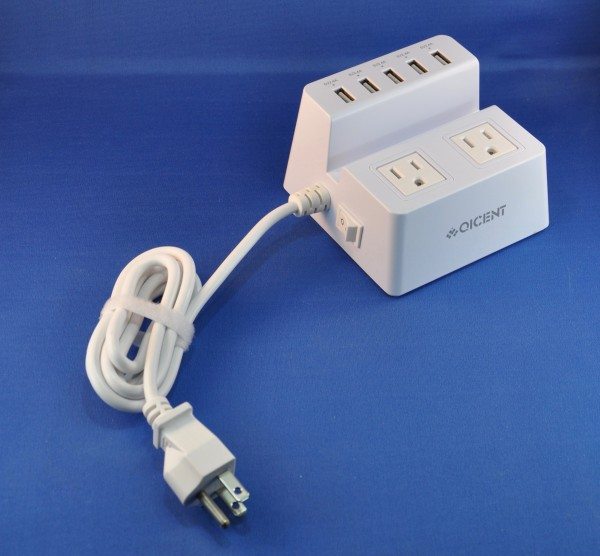 This is another product category that has moved from being a geeky thing to perfectly normal for people in all walks of life. In the last year, I have seen power cords and surge suppressors that have several USB plugs for charging phones or tablets in coffee shops, malls, bars, and waiting areas in healthcare providers' offices. Five years ago, you had to move furniture or stand on your head behind some huge plant to plug in a laptop or phone for juice at the food court. I'm a huge fan of this new access to power, and have the same needs around my house. (Well, I have that need everywhere I go, but that's a Gadgeteer thing, right?) So I was tickled when Qicent's new one landed in the Gadgeteer queue and I was given the task of running it through the stress tests.
Note: Photos may be tapped or clicked for a larger image.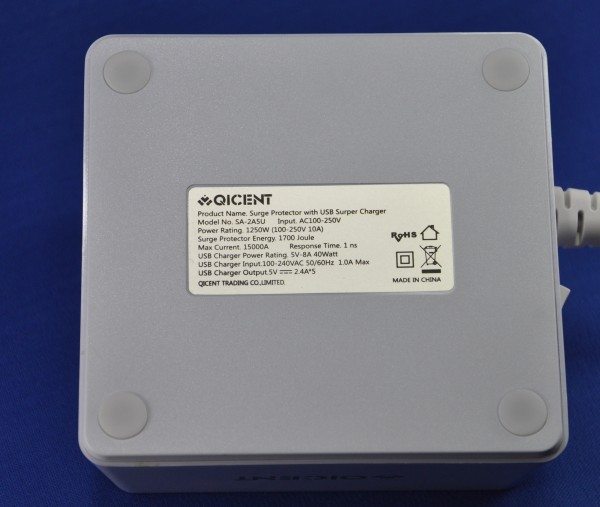 Overall, it's a three-pronged plug connected by a ~4 foot cable to a molded putty-colored outlet that has 5 USB ports and two three-pronged outlets. The two outlets are well-spaced, so if you're using a wall-wart or other larger-than-normal plug, you'll still be able to use both outlets. The USB ports are all 5V 2.4A, which means it'll work for most smartphones, but your iPad Pro is going to take all night to charge. Your larger phablets may take longer than they do using the regular charger, but they'll probably fast-charge up to a certain point fairly quickly.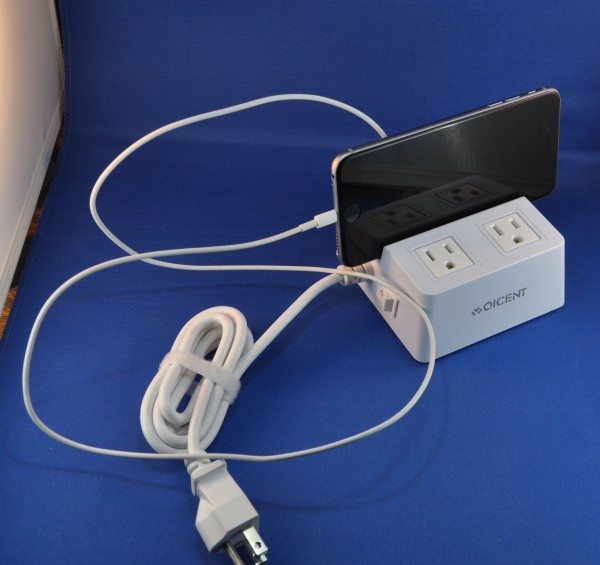 On the side of the box beside the cable inlet, there is a on-off rocker switch, which allows you to turn off all outlets fully, to avoid those vampire charger power uses. And between the two outlets and the 5 USB ports,there is a valley designed to hold a device while being charged.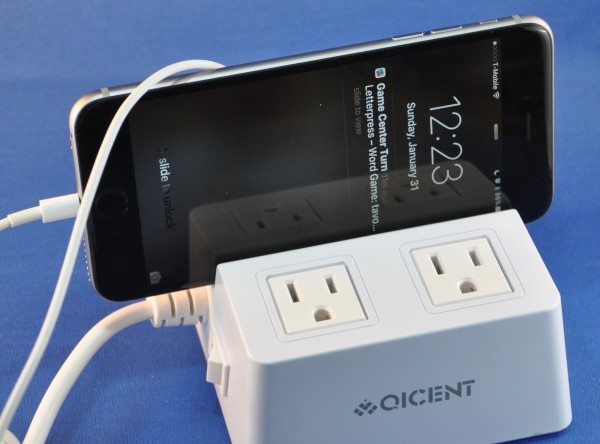 While it's activated, there is a soft blue LED glow from inside the USB ports (which helps finding the plug down under the bed with all the dust bunnies) but may make it too bright for bed-level night stands. We found it to be the latter, but the under-bed illumination didn't really bother anyone. I've been using it for a few weeks now, and have enjoyed the ability to have more than one device on my night table if I wanted. I occasionally want to read or watch movies before going to bed, and like to just place my iPad on the nightstand, but I need it ready to go the next day. With the CPAP in one plug, and my phone in a USB port, I still have 4 USB's and an AC port left! I give it 5 stars!
Source: The sample for this review was provided by Qicent. Please visit Amazon or Newegg for purchasing info.
Product Information
Price:
MSRP $56, currently $25
Manufacturer:
Qicent
Retailer:
Amazon
Requirements:

Standard US power plugs, items that can be powered by USB or standard US power.

Pros:

soft, non-industrial look
limited subdued lighting
on/off switch

Cons:

glowing USB ports, although subtile, may be too much for a bedside table