We use affiliate links. If you buy something through the links on this page, we may earn a commission at no cost to you. Learn more.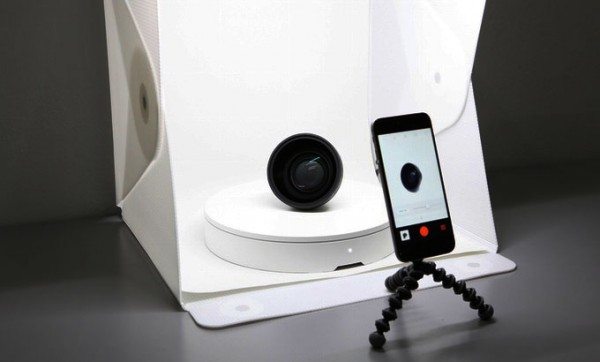 It's difficult.  We see high quality photographs of small objects all the time in tv and print ads. But when we try to use our smartphone to take a picture that looks like that it doesn't work.  We're trying to get something sold on eBay, so we have to have pictures.  Getting the object is easy enough, but it never has the smooth, even illumination with invisible background that the pros get.  What we need is a "light box."
But now they have those rotating gifs or vids where the object turns by itself to show off all sides! Or you can rotate it on your own touchscreen!  How do they make those?  How can we make them so our item will stand out?  Again, we need a professional tool for a strictly amateur price! 
Foldio360 is system for creating those photos.  The Foldio360 uses Bluetooth and IR sensors to connect directly with your smartphone or DSLR camera. Open the Foldio360 app, setup your shot, and press start. The Foldio360 system will automatically rotate, take photos and combine them to create one final 360 image. It's ridiculously simple, but incredibly awesome.
You can't buy it yet, because it is a Kickstarter project. The funding deadline is March 31, and they anticipate shipping in August.  OrangeMonkie already has surpassed their funding goal.  Their goal was $80,000; they already have $350,000 and nearly 3,000 backers.  There are now two primary levels for backers: $89 is rewarded with the turntable and app system itself; $149 also includes the Foldio2 light box.
I've been burned by a couple of Kickstarter projects where a really smart engineer thinks, "I've got a great product! What could possibly be hard about production?"  So I'm skeptical. I check the history if there is any. Two years ago, OrangeMonkie created a wildly successful Kickstarter project called Foldio portable photography studio: 3,850 backers pledged $171,764, and it was shipped 3 months after the campaign closed. A year later, 6,729 backers pledged $541,991 for Foldio2, and it shipped in just over 100 days.  So I'm greatly reassured.  And I've backed it! Visit the Kickstarter Foldio 360 campaign page for more info.