We use affiliate links. If you buy something through the links on this page, we may earn a commission at no cost to you. Learn more.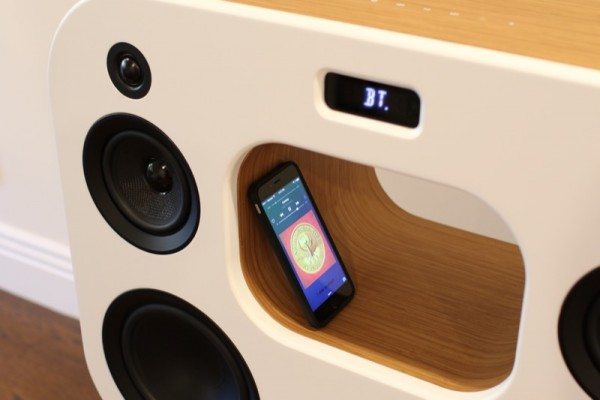 Your eyes do not deceive you.  There's a hole in this speaker.  The first time our own Bill Henderson mentioned the Fluance Fi70, I knew I just had to try it.  But would the unusual looks translate into a something that sounded decent?  I've got enough speakers.  Why would I want another?  I told myself I didn't have anything this big, so why not?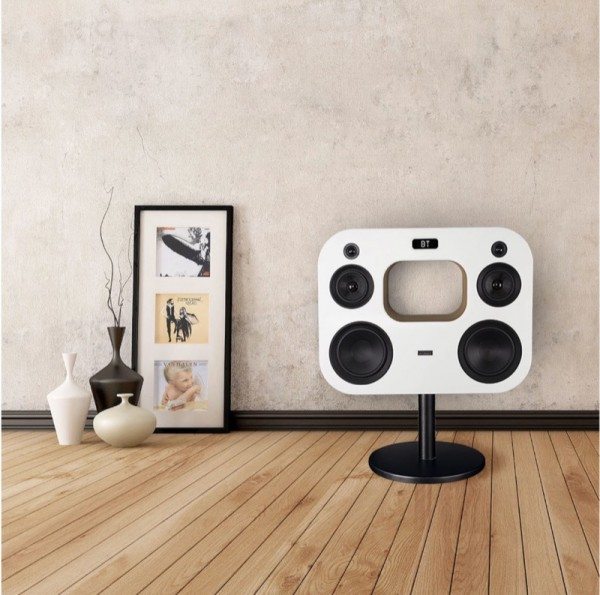 Hardware specs
Speaker Configuration:  3 Way 6 Driver Wireless Music System with Integrated Amplifier
Bluetooth:  2.1 + EDR (Enhanced Data Rate); aptX codec
Input:  3.5mm Auxiliary Audio Input; 2.1 A USB Charging Input, Optical (Digital Toslink), FM/AM Radio Tuner Antennas
Tweeter:  Dual 1 Inch Silk Soft Dome Neodymium Ferrofluid Cooled
Midrange:  Dual 5 inch Woven Glass Fiber Composite Drivers with Butyl Rubber Surrounds
Woofer:  Dual 8 inch Polymer Treated High Excursion with Butyl Rubber Surrounds
Amplifier power (RMS):  280 Watts Continuous Average Output (2x 140 watts)
Frequency response:  30Hz – 20KHz
Crossover frequency:  150Hz / 2500Hz Phase Coherent – PCB Mounted Circuitry
Power:  120V, 60 Hz
Enclosure:  Tuned Rear Port Bass Reflex Design
Dimensions:  29.5 x 11 x 23.2 inch (without stand) 29.5 x 11 x 36 inch (with stand)
Speaker weight:  81 lbs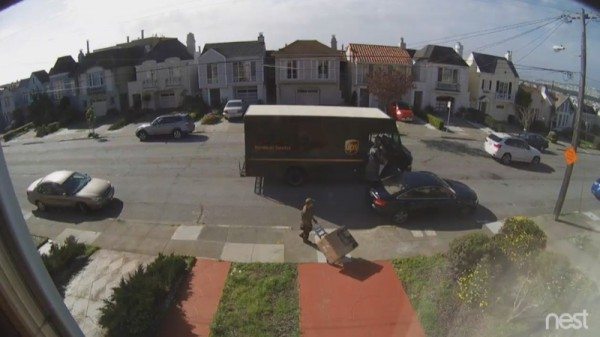 Wait, did you read that last one?  81 lbs?  The actual package weight was about 90 lbs.  My street-facing camera captured the poor UPS driver wheeling the Fi70 up my driveway.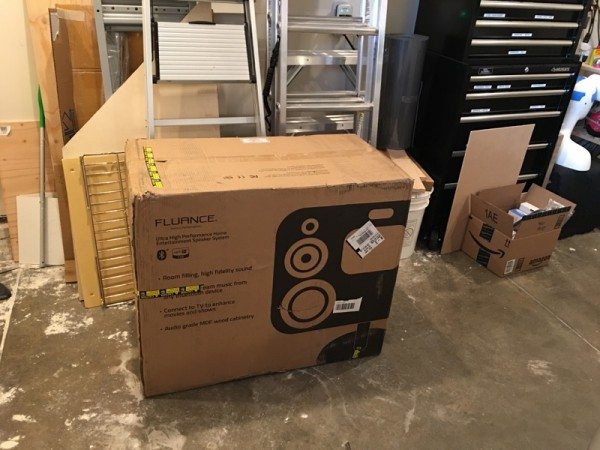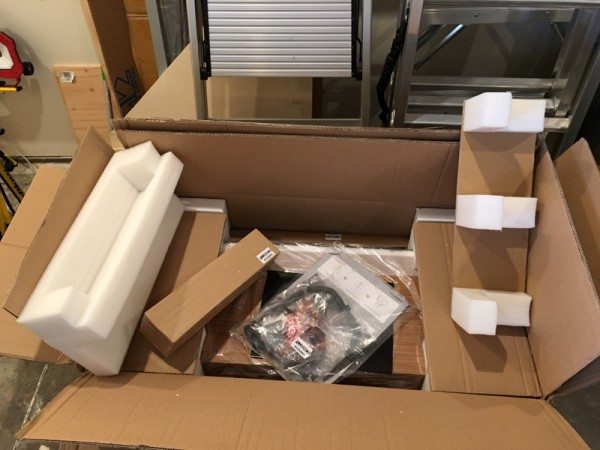 The box is big.  I would have a difficult time stuffing this in my car if I drove this back from a store.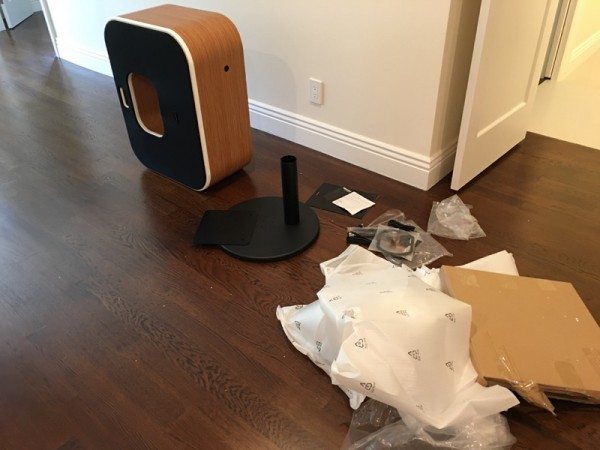 I set out the bits on the floor and went to work.  First up:  Assembling the pedestal stand.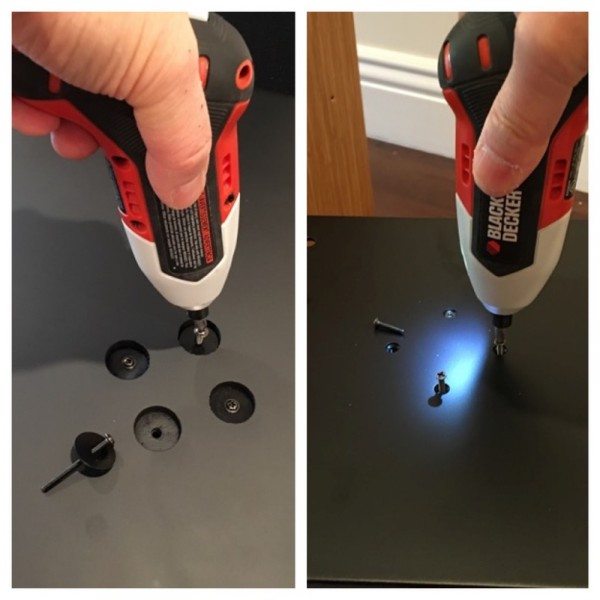 I pulled out my trusty Black & Decker GYRO cordless screwdriver to assemble the pedestal.  Four screws on each end.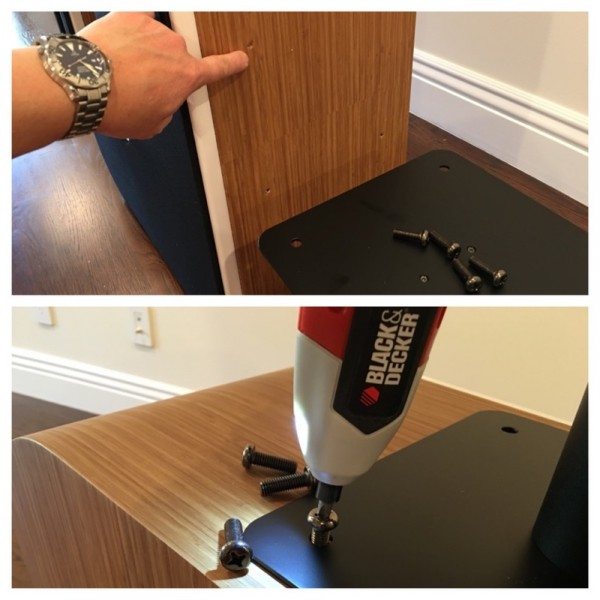 There are four bolt holes that hide behind the laminated wood finish.  The four larger bolts attach the pedestal to the bottom of the speaker.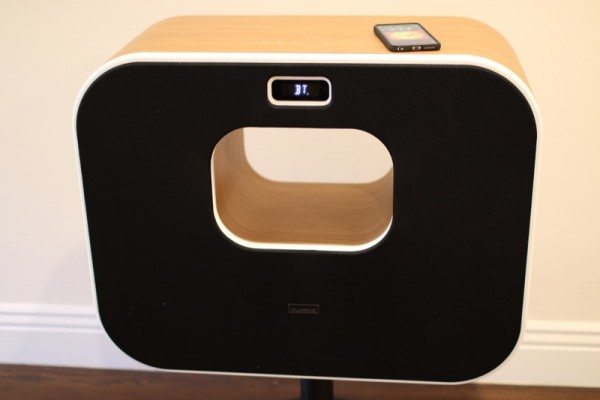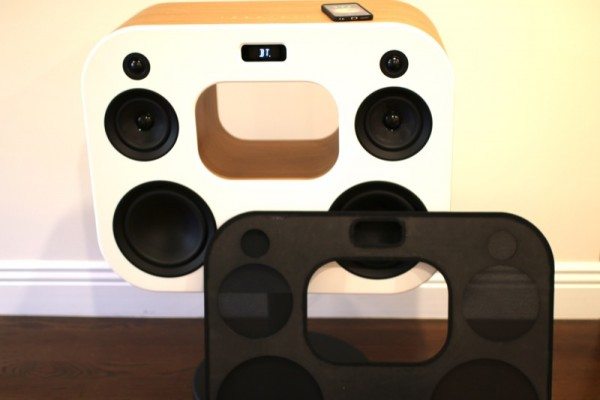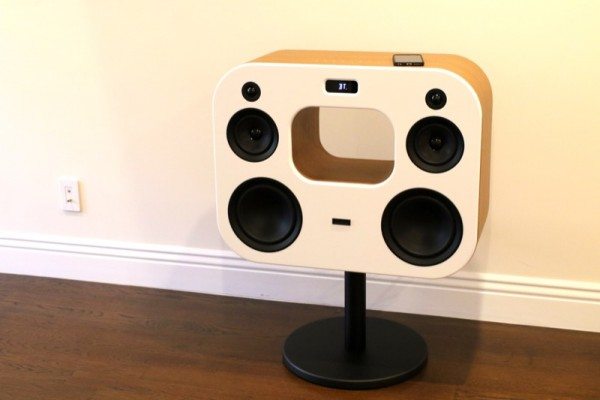 The Fi70 comes with a cloth grille that is attached via hidden magnets.  I actually prefer the look without the grille.  Then again, I don't have toddlers in my household with curious fingers.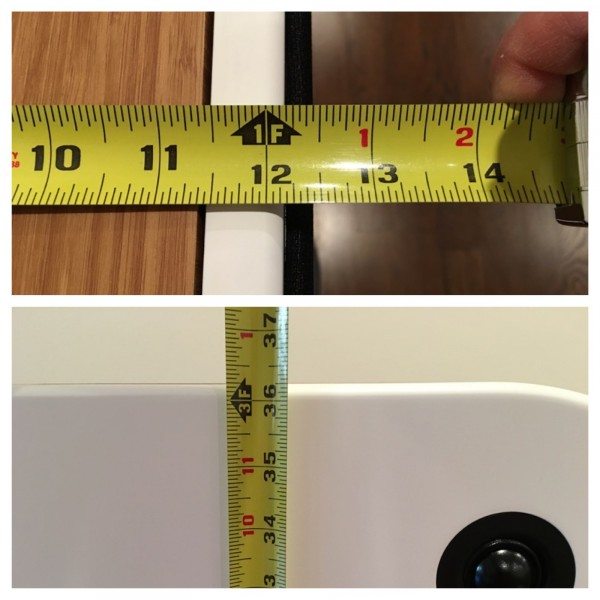 I measured about a foot thickness, and just about three feet in overall height.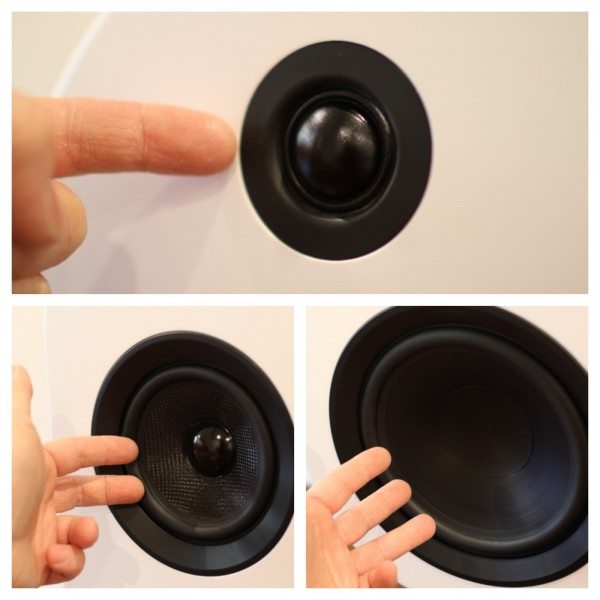 The Fi70 features 1″ tweeters, 5″ midrange, and 8″ woofers (hence, the "three way" designation).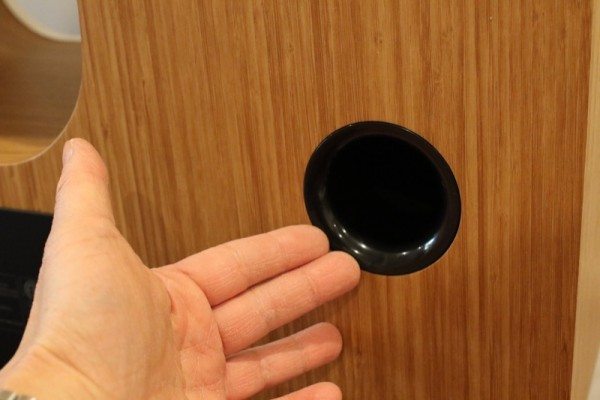 Around the back, you'll find a pair of speaker ports.  If you're a sealed-speaker fan, look elsewhere.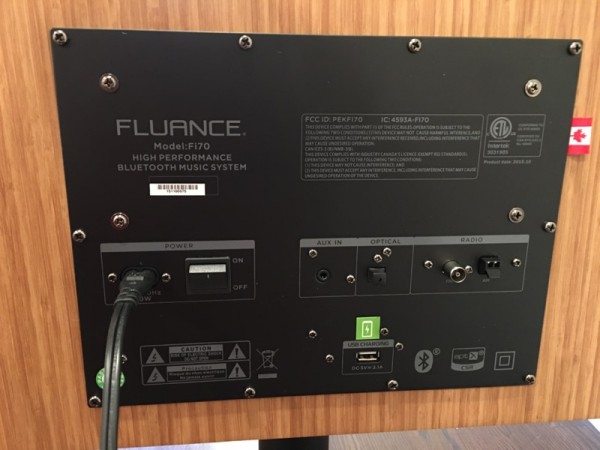 The power cord plugs in the back of the speaker.  It's a straight power cord- no external power brick.  There's a 1/8th inch AUX in jack, optical input, and AM/FM antenna connections.  The USB port at the bottom is for charging only.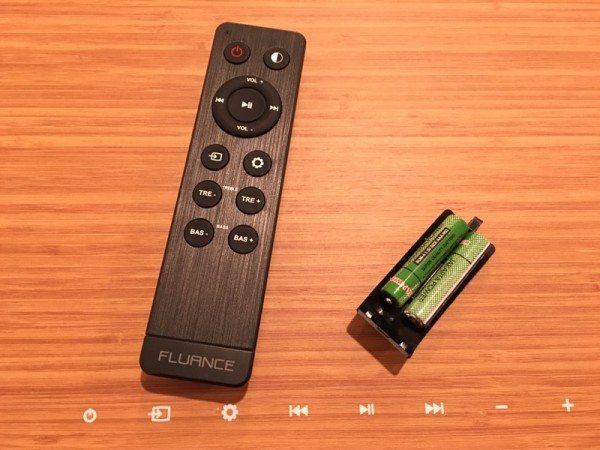 You also get an IR remote control, which takes two AAA batteries (included).  Also note the touch-sensitive controls.  The controls on the speaker are not backlit, and do not have a tactile "click".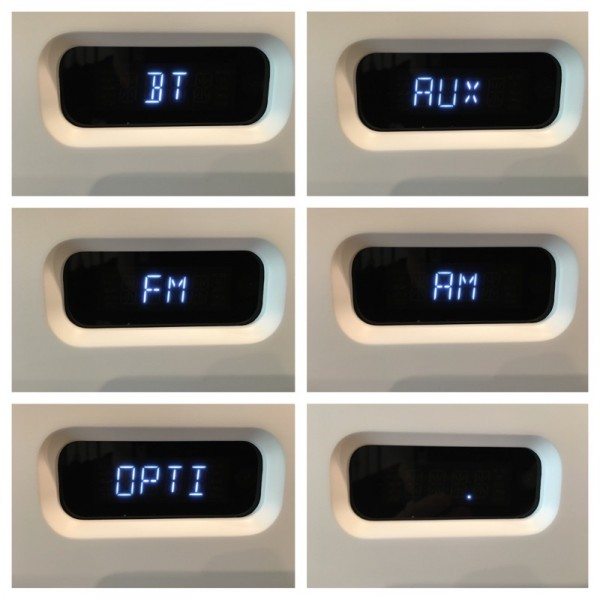 There is a single display on the front that gives VERY basic information.  The display will either show the input (BT, Aux, FM, AM, "OPTI" for optical, or a plain "." when in standby (off).  When playing you can also toggle the display to show current time, or just a blank display.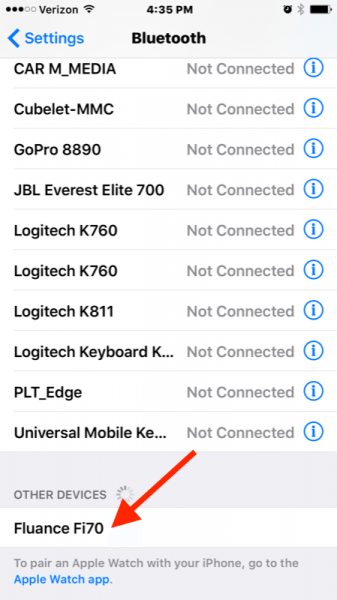 Bluetooth pairing is fairly simple.  Thankfully, the speaker will show up on your wireless device (here, my iPhone) in plain text as "Fluance Fi70".  

It's time to see how the Fi70 sounds!  Now, there are several schools of thought when it comes to audio appliance reviews.  I can describe how certain songs sound like to me, which may be of limited value to you, the reader at home, if you're not sitting here with me (or if you have no idea what music I'm listening to)
Or, if you like quantitative data, like a graph, that might help too.
I'll try to do both.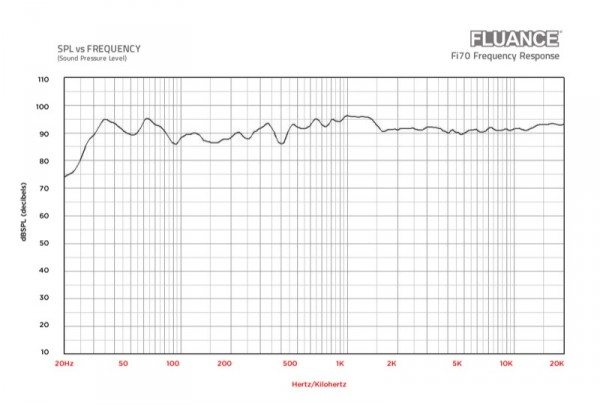 Fluance has a frequency response plot on their site.  Now, I have no idea what conditions they tested under, but it will undoubtedly be different than mine.  The best I can do is to do the same and benchmark the Fi70 speaker against some other Bluetooth speakers I have at home.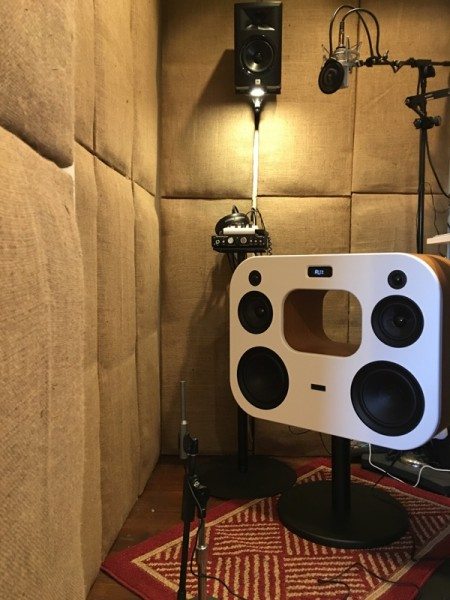 I set the Fi70 in my recording booth.  My space is approximately 5×5 feet with custom-built sound absorbing panels filled with Roxul Safe-n-Sound insulation and wrapped in acoustically porous burlap fabric around tiled framework.  The panels are offset from the wall by about an inch.  The ceiling is lined in 4″ Auralex wedges leftover from my first recording booth.  The walls consist of dual layers of 5/8″ drywall and the door is solid-core and gasketed.
For testing, I'm using a fanless PC running RoomEQWizard (REW), and the microphone is the miniDSP UMIK-1 in the foreground on the short stand.  (The one in the upper right is for voice, not used for speaker testing).  The microphone was placed 24″ from the speaker.  For the best possible connection, I used the wired AUX input on the Fi70.
Why test in this goofy room?  "You didn't account for room modes / eigenvectors / comb filtering / artisanal beards, you HACK!"  It just so happens that I can rule out variables such as street noise, noisy family members, and unwanted reflections.  In other words, what I lack in sophistication I make up for in repeatability.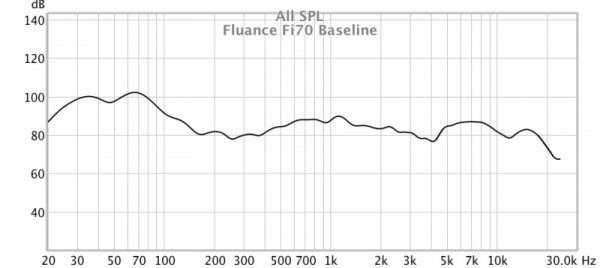 This is the first sweep taken of the Fi70, without any bass or treble adjustments.  I was not surprised to see that it looked nothing like the Fluance plot.  Again, totally different test conditions, no doubt.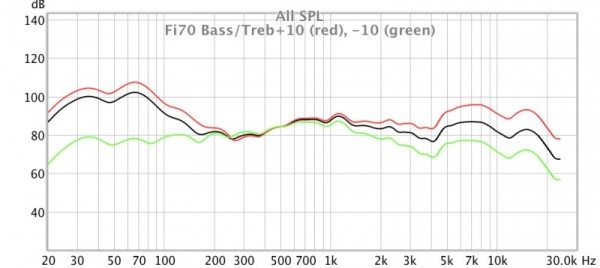 Next we see the effect of the Fi70's bass and treble controls.  You can adjust the bass and treble from the remote or on the speaker by -/+ 10 in either direction in steps of 2.  (If the increments change by 2, I don't know why they just don't call it -/+5, really).  No, that's not 10 decibels.  It's just some arbitrary number as far as I can tell.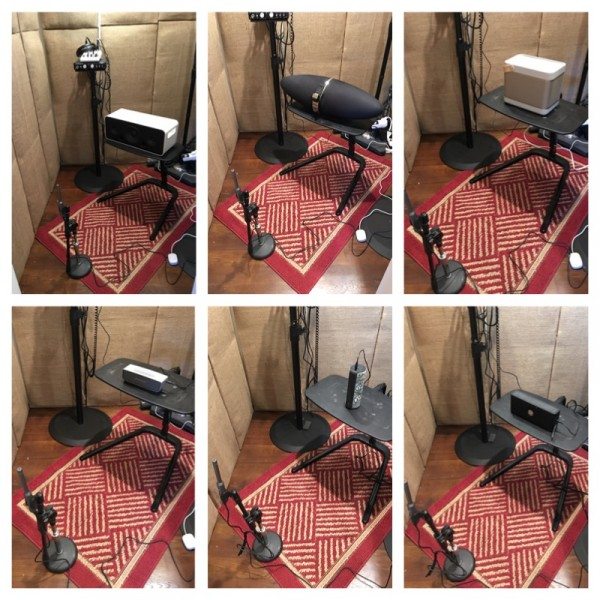 The next logical thing to try was to test a handful of other speakers I had sitting around under the same conditions.  From upper left to right:
Apple HiFi (Not Bluetooth.  What, you don't remember this one?)
Bowers & Wilkins Zeppelin (30 pin) (also not Bluetooth)
Okay, graph geeks!  Here you go: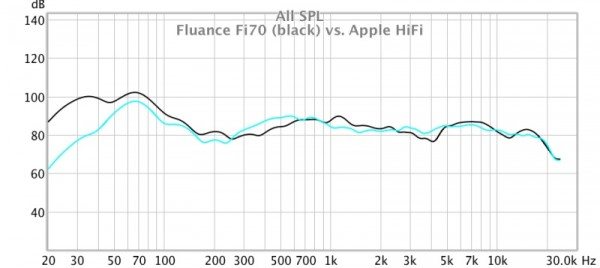 I always thought the Apple HiFi sounded okay.  Yes it was ridiculously expensive at the time, but it holds it's own against the MUCH larger Fi70 until things get below 60Hz.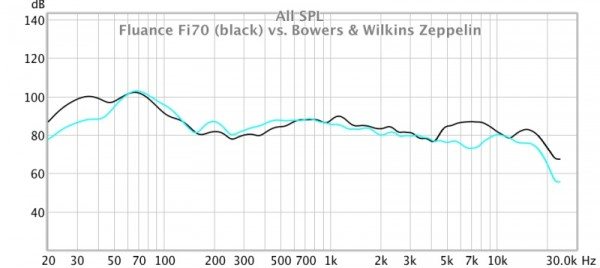 The Zeppelin is a proudly owned by my wife which I… "borrow" in the kitchen.  It's the undisputed AC-powered, non-rechargable king in the house.  It sounds as big as it's price tag and in casual listening.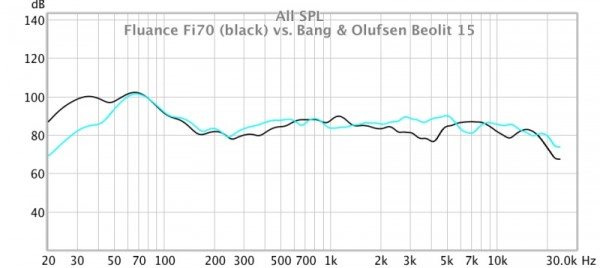 My golden Danish Bluetooth gem.  This is my equivalent of a pair of pricey high heel shoes or a designer handbag (I don't own either).  Headphones are my preferred method of musical enjoyment, but this is my current go-to, "carry around the house" speaker if I'm going to need to rock out when I'm away from my desk.  Like the B&W Zeppelin, I think it sounds great.  I'm sure if the Beolit 15 was 3 feet tall and 80 lbs, it would eat the Fi70's lunch.  Then again, it wouldn't be portable.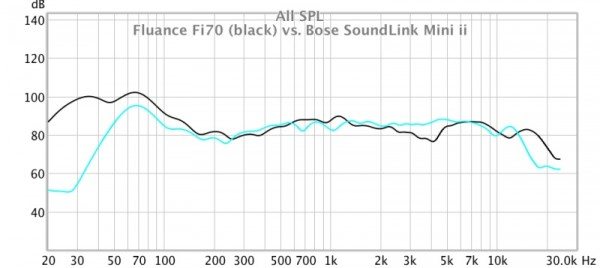 Bose portables are known for having "lots of bass".  Sure enough, even if you hate Bose, the puny SoundLink Mini II DOES sound rather substantial.  Of course it's not really a fair fight against the much bigger Fi70, which has the advantage of sheer size and bulk, as evidenced by the response below 60Hz.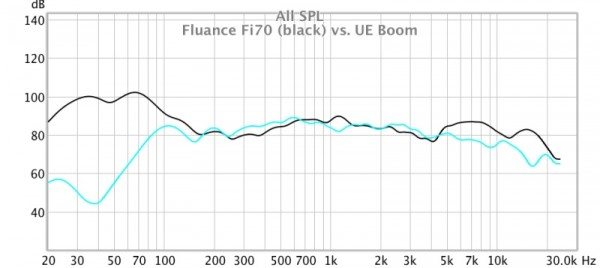 Next, the cylindrical UE Boom.  This is the small speaker you want if you need to fill a room with 360-degree sound, but that's about it.  The UE Boom always sounded clear to me, but lacks the satisfying low-end punch.  I haven't tried the larger UE Megaboom, but you can read Kathleen Chapman's review here.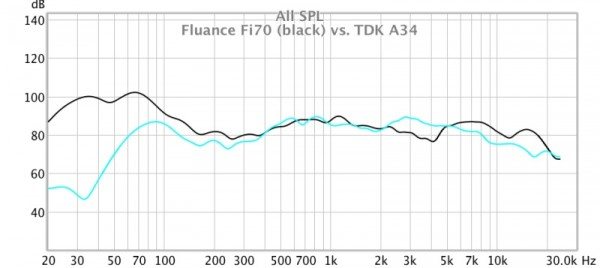 Finally, the TDK TREK A34 speaker.  Like many portables, the A34 has a passive radiator (behind the shiny TDK logo).  I have this one because it's shower-resistant.  I certainly won't be dragging anything like the Fluance in the shower.
Music!  What about music?  This is something you simply have to hear for yourself with a Fi70 in front of you, so I'll do my best.
Do you have a list of songs you know so well, you can recall every nuance and anticipate them?  I compiled such a list reflecting my own poor taste in music and spent some time listening to the Fi70:
Tricycle (Flim & the BB's)
Love Foolosophy (Jamiroquai – Live from Abbey Road)
Ai No Corrida (Quincy Jones)
People Get On Up (Positive Force)
Happy Sad (Pizzicato Five)
Houses Of The Holy (Led Zeppelin)
Eleanor Rigby (Stanley Jordan)
That Girl (Stevie Wonder)
Dindi (Nova)
Chuncho (Koinonia)
Highroller (The Rippingtons – Live in LA)
Chocolate (Jupiter)
Something About Us (Daft Punk)
Cars With The Boom (L'Trimm)
If you want to jump to a clickable YouTube playlist, click here so you can listen along.  No, these aren't the actual files I listened to, but you'll get the idea.  Playlist may change over time.
These aren't ultra-pure, non-compressed remastered audio files played over moonrock-encrusted gluten-free audio cables.  They're just regular plain old songs from my iPhone via the Bluetooth connection.
Will the Fi70 rattle the windows?  Maybe.  If you want a speaker system that makes EVERY song sound like it's coming from a pair of 15″ woofers from some high school kid's car, this isn't for you.  Sorry.  I did find that the Fi70 can get quite loud and plays clean.  No wonder:  The specs call out a 2×140 watt amplifier, and the cabinet is massive compared to more famous purveyors of thump (I'm looking at you, Bose portable speakers).  This is a grown-up audio system that doesn't appear to make use of passive radiators or DSP-trickery.  There is simply no replacement for displacement.
"Eleanor Rigby" will not cause your fillings to rattle, and it's not supposed to.  That's why "Cars With The Boom" is on my playlist.  And egad, I easily annoyed every member in my household, in every room with that song and the Fi70, which never struggled with the laughable beats and asinine lyrics.
The Fi70 is quiet too:  No obvious amplifier noise between tracks or quiet spots, such as the infamous intro in "Tricycle".  Normally, I'll unknowingly crank up the volume when listening to that track, thinking "is this thing playing?" and stop increasing the volume once I start hearing a hissing sound from the amps.  No hissing here.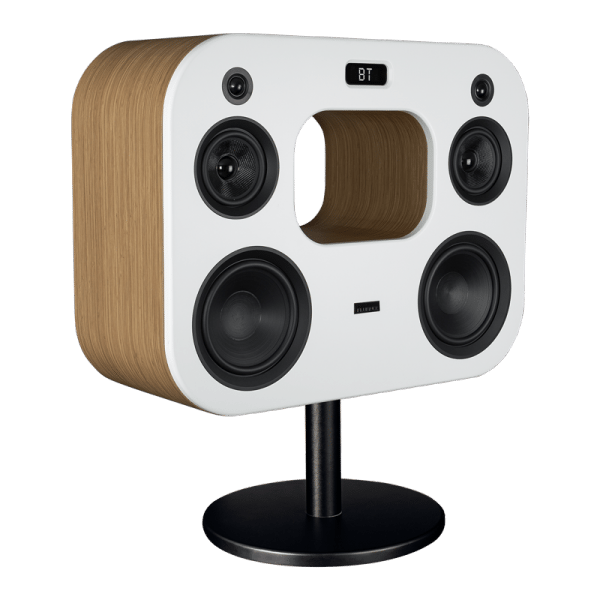 The Fluance Fi70 is large, heavy, and looks one of a kind.  It won't surprise you with sloppy, chest-pounding beats.  However, unlike portable speakers, the Fi70 will sound louder and cleaner than anything that takes a battery.  This is a welcome addition to my home.
Source: The sample for this review was provided by Fluance. Please visit their site for more info and Amazon to order.

Product Information
| | |
| --- | --- |
| Price: | $499.99: also comes in black, walnut or lucky bamboo (as tested) |
| Manufacturer: | Fluance |
| Retailer: | Amazon |
| Requirements: | 120VAC (not battery operated) |
| Pros: | Unconventional looks. 3-way speakers and powerful amplifier combined with sheer mass makes for good, clean grown-up sound reproduction. For grown-up bass-heads. IR remote included. Built-in AM/FM radio. Adjustable bass and treble. |
| Cons: | Unconventional looks. Very heavy (80 lbs out of the box). |