We use affiliate links. If you buy something through the links on this page, we may earn a commission at no cost to you. Learn more.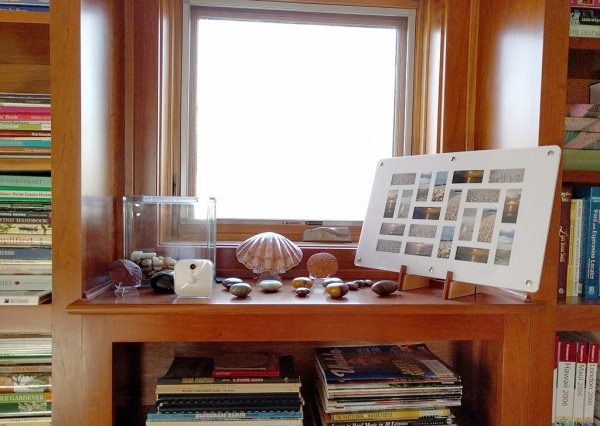 The best thing about security camera systems is that they allow us to keep an eye on our loved ones and property when we're not physically there. The worst things about security camera systems is that the majority of them have to be plugged into a wall outlet for power and probably require a monthly fee for cloud services. The Blink Wire-Free HD Home Monitoring system features cameras that are completely wireless and there are no monthly fees to worry about. Blink sent me their two camera system which I've been using for the past few weeks. Let's see if this system deserves a thumbs up or a thumbs down.
Also check out: CleverLoop Security System with 2 Cameras review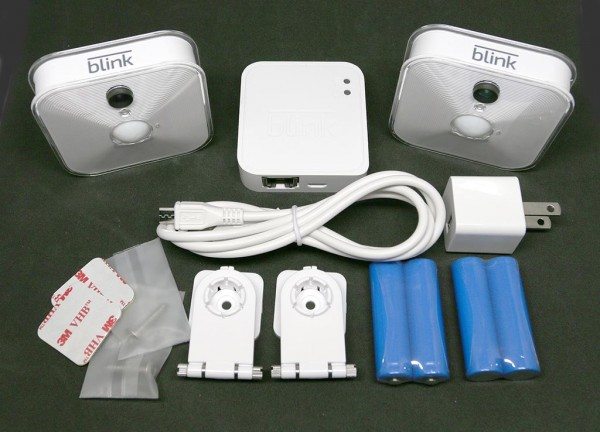 What's in the box (for the two camera system)?
Sync module
2 wireless cameras
4 AA lithium batteries (2 per camera)
2 mounts
Mounting hardware
USB cable
AC adapter
Instruction sheets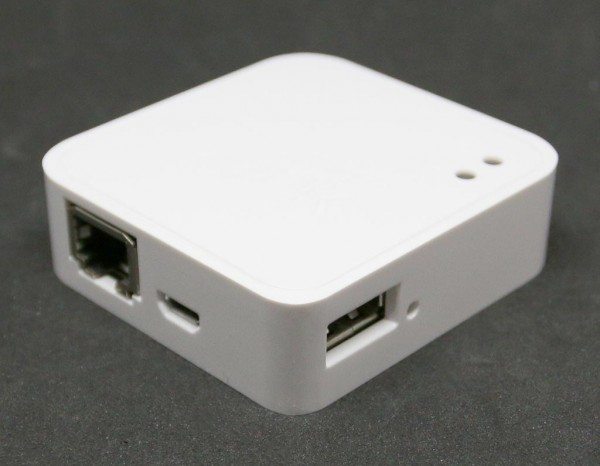 Unlike most security camera systems on the market, the Blink system includes a small Sync Module that you can locate near your wireless router. It's powered by the USB adapter and micro USB cable that are included in the package. What is the benefit of the Sync Module?
It allows the cameras to achieve long and impressive battery life. Because the Sync Module is plugged in and remains on, the cameras can effectively be 'off' when not in use, helping to extend battery life – the Sync Module then uses a low-power communication channel to talk to and wake up the cameras remotely when necessary (motion detected, or Live View being used). All other cameras are either wired or need to remain connected to your wireless network at all times, more quickly draining battery life.
The Sync Module has two status LEDs on top and a couple extra ports including a USB port and an Ethernet port. The Ethernet port is used for troubleshooting and at some point in the future, you'll be able to attach a USB flash drive or hard drive to the USB port so that motion detection video clips will be stored locally instead of in the cloud.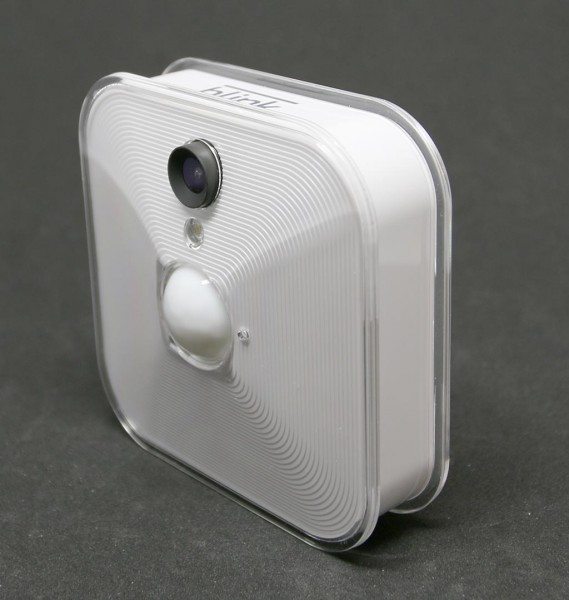 The 720p HD video cameras are small square white plastic modules that have a lens on the front, with an LED light below that and a motion sensor with a microphone next to it in the center.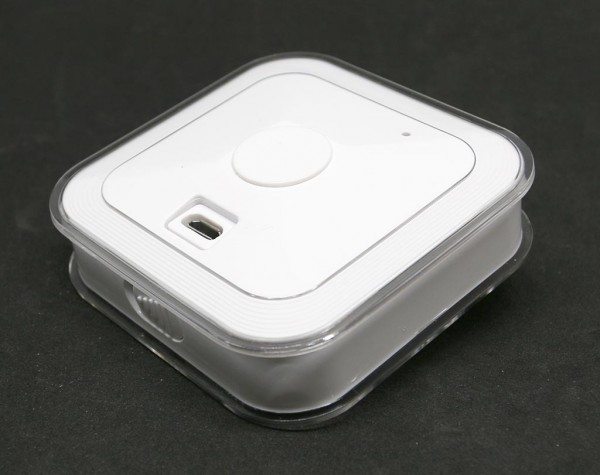 On the back of the camera there is a micro USB port that can be used to power the camera if you don't want to take advantage of the battery power option. The cameras are each powered by two AA lithium batteries which can power the cameras for over a year with standard use. Standard use is defined as 4,000 five-second events per year (or 20,000 total seconds of video recording, to include Live View usage).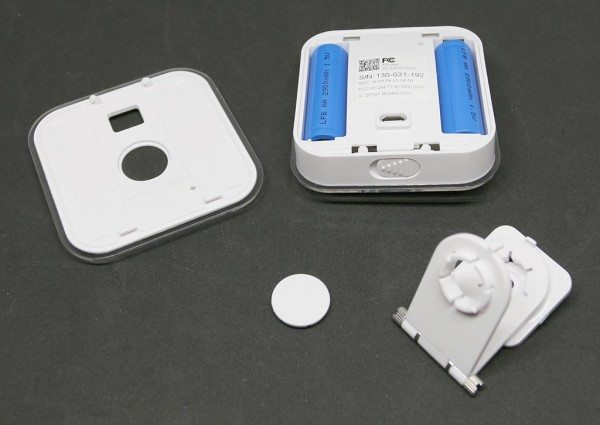 The back of the camera can be removed to access the battery compartment. You can also pop out the center of the back cover to attach the included mounting bracket.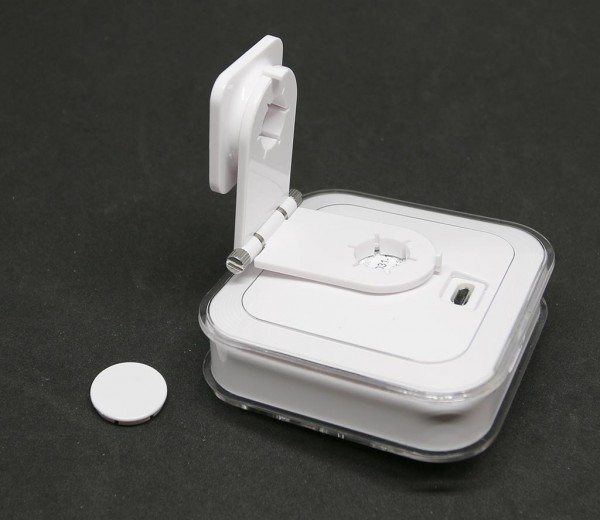 The bracket is mainly used to attach the camera to a wall. It doesn't need to be used if you just want to place the camera on a flat surface.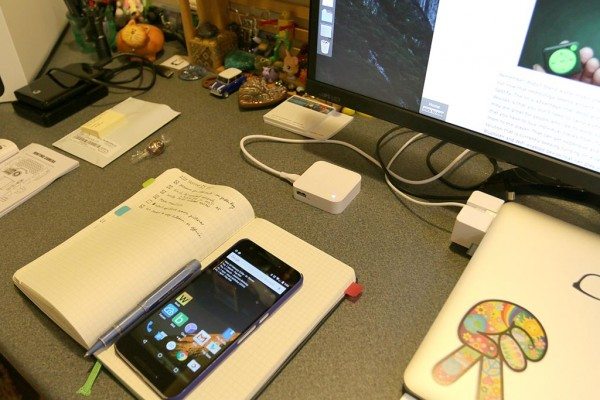 Setting up the Blink system is quick and easy. You first install the Blink iOS or Android app on your mobile device and follow the prompts which tell you connect the Sync Module to power and wait for the LEDs to turn a specific color. From there, the app sets up the cameras one by one.
After everything is setup, the app will display a static image of your cameras. You can arm the entire system with the main slider switch at the bottom of the screen. When the switch is on, the cameras will notify you when they detect motion. You can also toggle the motion detection feature on and off for each camera by tapping the running man icon above each camera image. Tapping the video camera icon will take you into the live view for that camera and tapping the camera icon will take a new snapshot and use that for the static image on the main screen.
The gear icon above each camera will take you into the settings screen which allows you to customize the settings for each camera and see the battery status.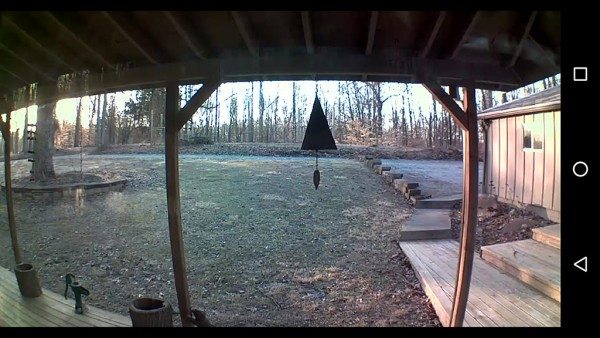 The Blink cameras have 720P resolution which isn't going to blow you away, but it's not that bad considering the perks of the system – being able to easy relocate the cameras just by picking them up and moving them somewhere new. That said, there are a couple things to consider with the Blink system. One big issue I ran into was when I placed one of the cameras on my windowsill facing outside. I wanted the camera to alert me when someone drove by or came into my drive way. I thought I had a defective camera because it never alerted me to motion even when I stood outside and waved my arms at it. I came to find out that the Blink cameras use a PIR sensor for motion detection and will not work through glass.
A passive infrared sensor (PIR sensor) is an electronic sensor that measures infrared (IR) light radiating from objects in its field of view. They are most often used in PIR-based motion detectors.
Another thing to keep in mind with the Blink system is that the night vision feature isn't quite like other security cameras that use IR light. The Blink system uses an LED flashlight to illuminate the area.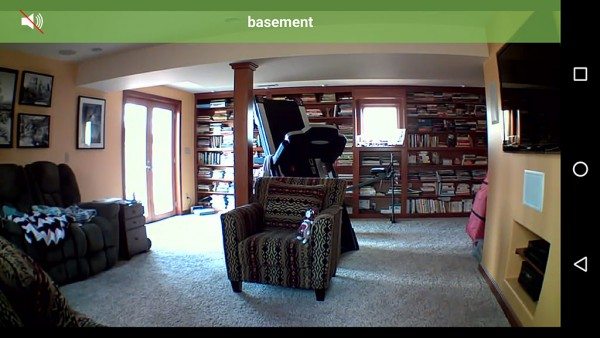 The image above is what you see during the day.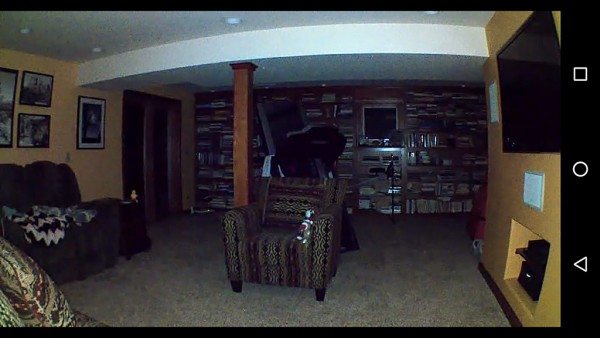 But at night if you want to see a live view of a dark room, the LED illuminator will turn on and it will look like the image shown above. If you're in the room, you'll see the light come on just as if someone turned on a flashlight. That means that you can't covertly watch what's going on at night without being very obvious.
When motion is detected, you'll receive an alert on your mobile device which will take you to a five-second video clip of the detected motion. Five seconds is the default, but you can increase that to a maximum of ten seconds. I have been impressed with the fact that the video clips actually show the detected motion. A lot of systems that I've reviewed will capture video clips, but end up missing the actual motion that caused the alert.
The video clips are stored in the cloud, so you can go back and view them later or delete them. Blink's server provides each system storage for up to 7,200 total seconds of video (or 1,440 five-second events). If you reach your storage limit, your oldest alert clips will be overwritten by the newest clips.
Video clips can be shared to Google Drive, Gmail or beamed to another device with Android beam. Unfortunately, you can not manually record video from the live view. And if it's not already obvious, you can't view events (other than the motion detected events) that happened in the past. The Blink system can only view a live feed or allow you to watch the clips captured due to motion detection.
I'm impressed by the Blink system. Could it be better? Sure! In a perfect world, it would save all the video 24/7 and allow me to check back to see what was happening yesterday at 4am. A perfect system would also include IR night vision and improved video resolution. But even without those things, I really like what Blink is offering. The two camera system that I've been reviewing is $149 and does not require you to pay a monthly fee. You can buy extra cameras to add to the system for only $60 each. Each system can accommodate up to 10 cameras. That's pretty impressive. I also love that I can just pick up the camera and set it somewhere else if I need to monitor a new area for some reason. I'm happy to report that I give the Blink Wire-Free HD Home Monitoring system two thumbs up.
Updates 10/24/16
Since my review I had not been using the Blink cameras as I had switched back to another brand. But when I was recently getting ready to go on vacation, I decided to set them back up again to add even more remote visual coverage for my home. I was happy to find out that the software for the cameras has been updated to allow the lithium batteries to power the cameras for up to 2 years!
Setting up the cameras a 2nd time was as easy as the first and I had no problems accessing the live feed from over 1200 miles away. The motion notifications also worked just fine.
I'm still hoping that they make an outdoor camera soon.
Update 07/21/17
I recently switched internet providers and found that the Nest cams that I've been using for the past couple of years are HUGE data hogs. I'm talking 60-160GB per month per camera data hogs. That is way too much data for my new internet connection method, so I have been looking for alternatives security cameras that don't stream to the cloud 24/7, but still allow for live viewing and notifications to my phone. I ended up setting up the Blink cams again as a temporary solution. While they work great, I would also like a way to record everything to a local hard drive just in case I need the video footage for some reason. Blink can't do that yet. But I'll use this system until I find something that ticks all my must-have boxes.
Update 10/2019
I forgot to update this review back in 2019 when I took 2 Blink cameras with me when we moved out of our house and into an apartment for 2 months while our house was being renovated. The place where we stayed had housekeepers that would come in during the day to clean the rooms and I wanted to just keep an eye on things when they were there. The cameras worked out great.
Update 5/12/21
Blink cameras are not only great for security, they can be repurposed for other uses too – like a wildlife / bird camera. Check out my article: How I repurposed a Blink camera to create the ultimate birdwatching camera
Source: The sample for this review was provided by Blink. Please visit their site for more info and Amazon to order.